Make learning about congruent triangles a blast for your students! This collection of 18 engaging activities is aimed at getting elementary and middle school students to explore the concept of congruence in a fun and interactive way. From hands-on experiments to collaborative team challenges, these activities will bring excitement to your math lessons and deepen students' understanding of congruent triangles.
1. Paper Folding Frenzy
Get those creative juices flowing with a hands-on activity! Students will need to fold paper triangles and experiment with different folds to create congruent shapes. In doing so, they'll explore the concept of congruence through a tactile experience.
Learn More: BBC
2. Triangle Treasure Hunt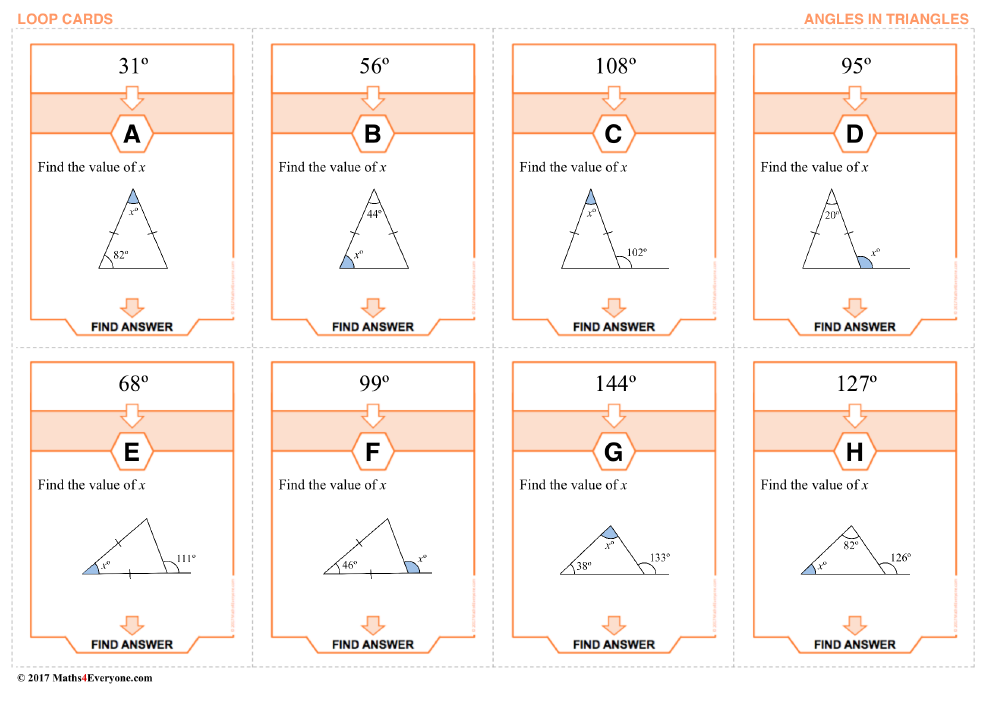 Turn your classroom into a treasure hunt adventure! This activity promotes active learning and sharpens observational skills. Students can search for hidden triangles around the room, identify if they are congruent or not, and record their findings.
Learn More: Teach Wire
3. Congruent Triangle Puzzles
Challenge your students' problem-solving abilities with assorted triangle puzzles. Furthermore, you can enhance their spatial reasoning and develop their critical thinking skills. They will need to rearrange puzzle pieces to form congruent triangles.
Learn More: Teachers Pay Teachers
4. Congruent Triangle Art
Unleash your students' creativity with an arty pursuit! This activity combines art and geometry; allowing students to express their understanding of congruence visually. Learners will use different materials to create unique congruent triangle masterpieces.
Learn More: YouTube
5. Triangle Sorting Race
Let the race begin! This fast-paced activity promotes teamwork and quick thinking. Divide your students into teams and give them a set of triangles. Their mission is to sort the triangles into congruent and non-congruent groups as quickly as possible.
Learn More: Pinterest
6. Triangle Trivia Quiz
Put your students' knowledge to the test with a lively triangle trivia quiz! This activity encourages healthy competition and reinforces key concepts. Create a series of multiple-choice or true/false questions about congruent triangles and challenge your students' understanding.
Learn More: Sporcle
7. Congruent Triangle Relay Race
Get your students moving with an energetic relay race! Divide the class into teams and set up stations with different congruent triangle tasks. Students will need to work together to complete the tasks and race to the finish line.
Learn More: Teachers Pay Teachers
8. Congruent Triangle Bingo
Who doesn't love a game of Bingo? In this engaging twist on the classic game, students will need to match shapes and properties of congruent triangles to their bingo cards. It's a fantastic way to review the characteristics of congruent triangles and reinforce learning.
Learn More: Bingo Baker
9. Congruent Triangle Investigation
Transform your classroom into a detective agency! Students will investigate different sets of triangles, measure their sides and angles, and determine if they are congruent or not.
Learn More: Slide Player
10. Virtual Congruent Triangle Challenge
This is a great opportunity to engage tech-savvy students while reinforcing the concept of congruence. Incorporate technology into your lessons with a virtual challenge! Use online platforms or interactive apps to present students with various congruent triangle puzzles and tasks.
Learn More: YouTube
11. Congruent Triangle Construction
Calling all mathematical architects! Using compasses, rulers, and protractors, students will need to construct congruent triangles based on given criteria. This activity enhances geometry skills and promotes precision in measurement and construction.
Learn More: YouTube
12. Congruent Triangle Memory Game
Challenge your students' memory skills and reinforce the concept of congruence with a fun game. Create a set of cards that depict congruent triangle images and have your students flip them over to find matching pairs.
Learn More: Pinterest
13. Congruent Triangle Relay Drawing
Promote teamwork and collaboration with this relay drawing activity! Each student will need to contribute to a drawing of a congruent triangle before passing it on to the next team member. The challenge is to create a perfectly congruent triangle as a team.
Learn More: Teachers Pay Teachers
14. Congruent Triangle Storytelling
Unleash the power of imagination with a unique storytelling activity. Your learners will need to create stories that involve congruent triangles; incorporating their understanding of the concept into a creative narrative. This activity combines language, art, and geometry; fostering storytelling skills and mathematical thinking.
Learn More: Teachers Pay Teachers
15. Congruent Triangle Human Knot
Get ready for a tangle of fun! This activity promotes communication, problem-solving, and teamwork. Have your class form a human knot and then untangle themselves into congruent triangle shapes.
Learn More: Wikihow
16. Congruent Triangle Outdoor Hunt
Take the learning outdoors with an exciting outdoor hunt! Hide congruent triangle cutouts around the schoolyard and have your students search for them. It's a fantastic way to combine physical activity with geometry exploration.
Learn More: Slide Player
17. Congruent Triangle Song and Dance
Turn up the music and let the congruent triangle song and dance begin! Students will learn a catchy song that reinforces the concept of congruence and can create dance moves to go along with it.
Learn More: YouTube
18. Congruent Triangle Interactive Notebook
This activity fosters organization, creativity, and self-reflection. Get your students to create an interactive notebook that's dedicated to congruent triangles! They can include foldable activities, concept maps, and reflective journal entries to deepen their understanding.
Learn More: Pinterest