Kids are fascinated with the night sky and various constellations. Oftentimes, they can't get enough of the mythical stories and legends surrounding these enchanting groups of stars. Learning about constellations opens up possibilities for discussions about science, history, religion, and even math. Recognizing patterns and shapes is also a key part of developing early math skills in little ones. By adding some of these creative constellation activities to your lesson plans you are not only guaranteeing fun in your classroom but also gold-star learning!
1. Watercolor Night Sky Painting
These free tutorials show you how to create gorgeous paintings. You will need some watercolor paints, watercolor paper, a brush, and some Dr. Ph Martin's Bleedproof white paint for the stars. These make great greeting cards!
Learn More: Clementine Creative
2. Constellation Drawing Activity
This activity requires no prep and is perfect for kids from pre-k to 4th grade. These worksheets provide 28 different constellation drawing activities from across the Northern and Southern hemispheres!
Learn More: Kindergarten Worksheets and Games
3. Glowing Starry Night
Paint an art canvas with black paint and leave it to dry overnight. Then, mix some glow-in-the-dark paint with PVA glue to make your starry scene. Use sequins and stickers to add extra details if you wish.
Learn More: Sun Hats and Wellie Boots
4. Make a Star Finder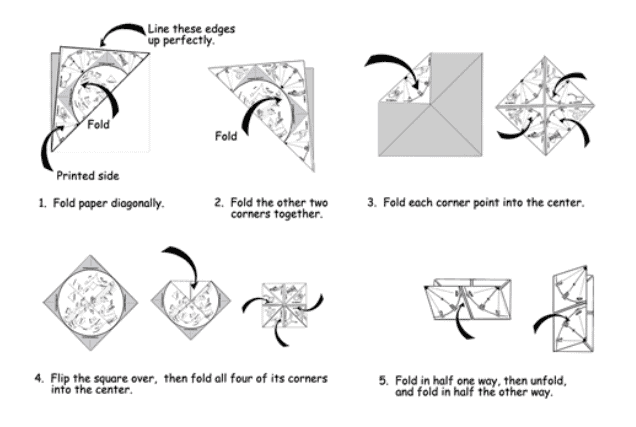 Print off the appropriate star finder for the month. Then, have your learners use markers to color it in. Following the instructions, cut it out on the solid lines, and then fold it as shown.
Learn More: Space Place NASA
5. Night Sky Journal
One of the best ways to learn about constellations is to get outside at night and stargaze. By keeping a journal, kids can log what they view on different days. A perfect activity for a fun family night!
Learn More: Creative Family Fun
6. Dot-to-Dot Printables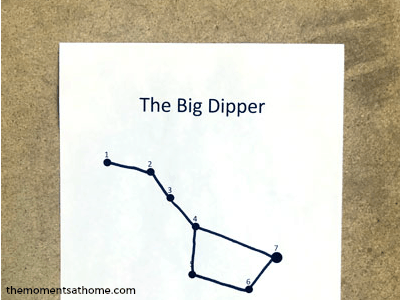 Teaching about constellations is a great way to get kids to recognize shapes and patterns. These dot-to-dot printables can be printed as many times as needed and make a great activity for kids.
Learn More: The Moments at Home
7. Marshmallow Constellations
For this fun constellation craft, have your students construct their favorite constellation from marshmallows! You will need marshmallows, toothpicks, and a diagram of constellations for reference. Challenge your kids to see how many constellations they can make!
Learn More: KC Edventures
8. Night Sky Painting
For this, you will need watercolor paints and paper, oil pastels, a star and circle-shaped hole punch, and some colored cards. Using the circle and star shapes as stencils, you color in with oil pastels and pop your watercolors over the top for a super effective starry picture!
Learn More: 3 Dinosaurs
9. DIY Night Sky Canvas
For this, you will need a canvas, led lights, a glue gun, a safety pin, and a brush and paints. Have your students paint their canvas black and dry it overnight. They can then glue the lights to the back of the canvas and use the pin to slightly pull the lights through. The finished piece looks super effective in a sensory area and is a ton of fun to create!
Learn More: Rule This Roost
10. Constellation Play-Doh Activity
Print off some diagrams of constellations or use a book for reference. Provide dark-colored playdough and some glass beads and have your students copy the constellation shapes by pressing the beads into the dough.
Learn More: Raising Up Wild Things
11. Name in the Night Sky
Using a white wax crayon have your kids write their names and constellation shapes on some white paper. Then, they can color over the top in black watercolor paint to create this creative constellation artwork.
Learn More: Powerful Mothering
12. Sensory Writing Tray
Using these free constellation cards for reference, have your kids trace letters and numbers in a mixture of black sand and gold glitter. This is a super sensory activity that kids will keep coming back to! Once they have mastered single letters, have them level up to create their name!
Learn More: Fun Learning For Kids
13. Sensory Bin
For this sensory activity, you will first need to dye some rice blue using food coloring. Once this is done, add some star-shaped pasta, different-shaped bottle caps, and scoops to the mixture to keep little hands busy! Mix it up by changing the scoops and colors of the rice regularly to keep little learners interested.
Learn More: Preschool Inspirations
14. Constellation Cards
This includes the seven major constellations seen in the Northern hemisphere and describes how to find them. These cards are a great resource for teachers and homeschooling parents, and even include a checklist for a night sky scavenger hunt!
Learn More: Tiny Nest Studio
15. Night Sky Wreath
To complete this fun hands-on activity you will need a paper plate, circle and star cutters, black watercolor paint, glue, glitter, and gold and silver card. These look great hanging in a classroom on some clear thread and kids will love making them!
Learn More: 3 Dinosaurs
16. Make a Star Wheel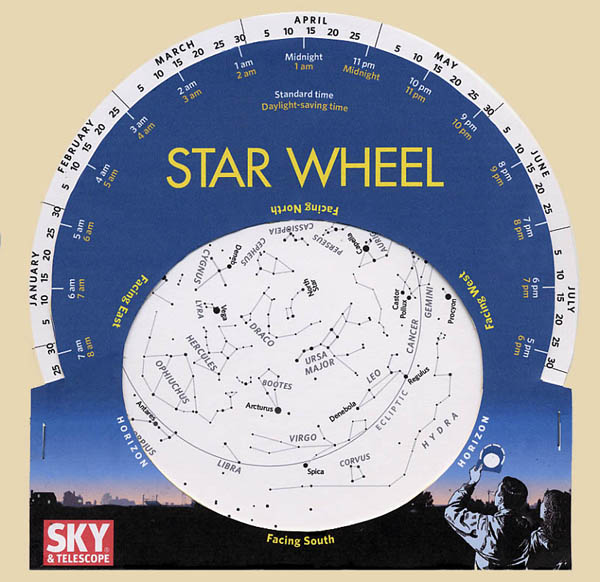 Simply print both constellation discs and follow the instructions to print and fold your star wheel. Once made, by turning the wheel to the correct time of year and direction that you're facing, your learners can see what constellations are above them in the sky.
Learn More: Sky and Telescope
17. Constellation Pin Punching Cards
Using these printable constellation cards for reference, use a children's pin pusher to poke holes through the stars in the constellation. Kids will love to see the light coming through the holes and the exercise is great for fine motor skills!
Learn More: Gift of Curiosity
18. Color by Number
These color-by-number sheets provide awesome practice for preschoolers learning number recognition and pencil control. Kids love anything to do with stars and galaxies so these activity sheets are sure to keep them engaged!
Learn More: Planes and Balloons
19. Paper Tube Telescope
A great way for kids to learn about constellations during daylight hours! You will need a paper tube, scissors, dark paint, glitter, a straight pin, and the free constellation card template. Have your students paint and decorate their tubes and then secure the card template to the end. Next, poke through the holes with the pins, and hold up to a window to view your starry scene!
Learn More: Kids Activities Blog
20. Constellation Playlists
These playlists cover the myths and science behind the different constellations. They're great for slightly older students who are ready for more in-depth learning about constellations.
Learn More: Learning Online Blog
21. DIY Galaxy Soap
This activity does require some planning and time (roughly 3 hours) but is totally worth it! It creates lots of opportunities for discussion about the night sky and is a hands-on constellation activity that kids will love! Simply mix your soap base following the instructions; leaving it to set in-between layers to create different layers of sparkly soap.
Learn More: STEAM Powered Family
22. Galaxy Dough
This dough is super smooth, stretchy, and hard to put down; making it a huge hit with kids! It requires no cooking and just a few ingredients; flour, salt, boiling water, baby oil, cream of tartar, and food coloring.
Learn More: Growing a Jeweled Rose
23. Night Sky Cup Craft
For this cute craft, you need a foam cup, a small glowstick, black paint, a toothpick, and star stickers. Have your learners paint their cups and leave them to dry. They can then decorate them with stickers and poke constellation-patterned holes in them. Lastly, have them insert the glow stick and secure it with tape for this incredible effect!
Learn More: Creative Little Explorers
24. Puffy Paint Night Sky
To make this puffy paint activity you will need; flour, baking soda, salt, water, dark paint, and a squeezy bottle. Using black paper and a white crayon, your students can draw their constellations. Then, they can squeeze puffy paint over the top and leave it to dry!
Learn More: Views From A Stepstool
25. Night Sky Felt Activity
This is a simple activity requiring only black and yellow felt. Littles can cut out star shapes from the yellow felt and use these to make constellation patterns. You could also add this to your math planning by sorting various sizes or for counting activities!
Learn More: Fantastic Fun and Learning
26. Star Tube Craft
This requires a cardboard tube, pin, black paper, and elastic bands. Learners can cut out circles of black paper that are big enough to cover the end of the tube. They can then draw dots for the constellations on their paper circle. Lastly, they need to poke holes through the circle with a pin and secure the paper with an elastic band.
Learn More: Bubba Blue and Me
27. Pipe Cleaner Constellations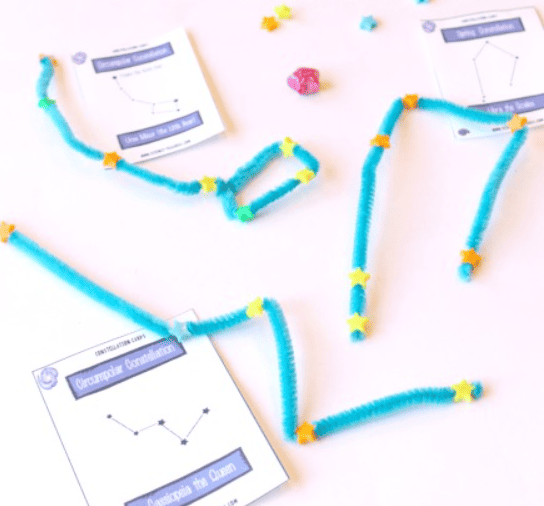 This is a perfect space STEM activity for little hands. You will need beads, scissors, and pipe cleaners. Using a constellation diagram for reference, students can bend the pipe cleaner to the shape of the constellation and add the beads to represent stars!
Learn More: School Time Snippets
28. Constellation Cards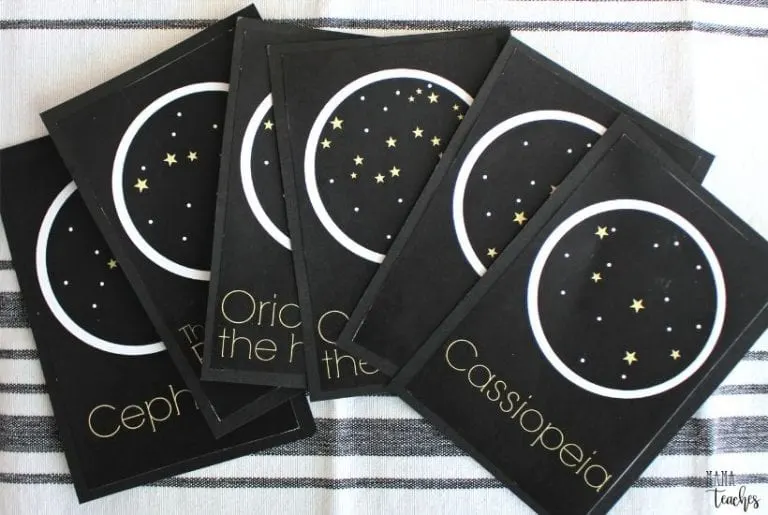 Mini astronomers will love these constellation cards! They make the perfect extension activity and can also be used to recap space knowledge. The cards each feature a different constellation and are clearly labeled.
Learn More: Mama Teaches
29. Constellation Lacing Cards
Lacing is a perfect activity to work on fine motor skills and keeps kids engaged. All you will need is some colored string and these simple lacing cards. Ask your kids to carefully thread their string through the holes to make the different constellations.
Learn More: Living Life and Learning
30. Constellation Cookies
These constellation cookies will be a huge hit at home or in the classroom! The chocolate drops can be placed in patterns; depicting the different constellations. You will need to organize some diagrams for reference!
Learn More: No Time For Flashcards
31. Constellation Word Search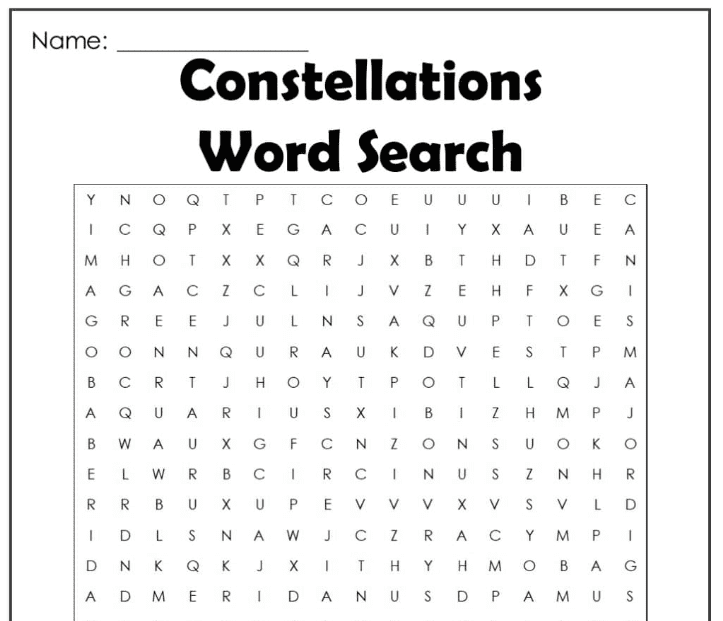 Word searches are fantastic for kids who need to practice tracking text left to right, and for kids who find reading difficult. More advanced puzzlers will be able to look diagonally for words.
Learn More: Monster Wordsearch
32. Constellations Geoboard
This activity requires a geoboard (follow the instructions to make your own if you require one), loom bands, and constellation cards. Learners can pick a constellation for reference, count how many stars there are, and then stretch their loom bands to make the pattern.
Learn More: Schooltime Snippets
33. DIY Constellation Magnets
This neat activity requires magnets, glow-in-the-dark stars, embroidery floss, a baking sheet, and constellation cards. Have your learners stick the magnets to the back of the stars- carefully following the pattern of the constellation, looping the floss behind the magnet, and securing it to the tray. Voila! Their very own magnetic constellation!
Learn More: Laly Mom
34. Constellation Coloring Page
Your kids will love these fun coloring pages. They're perfect when discussing constellations and star signs as each child can find their star sign on a chart and color it in!
Learn More: Stevie Doodles
35. Crayon Constellations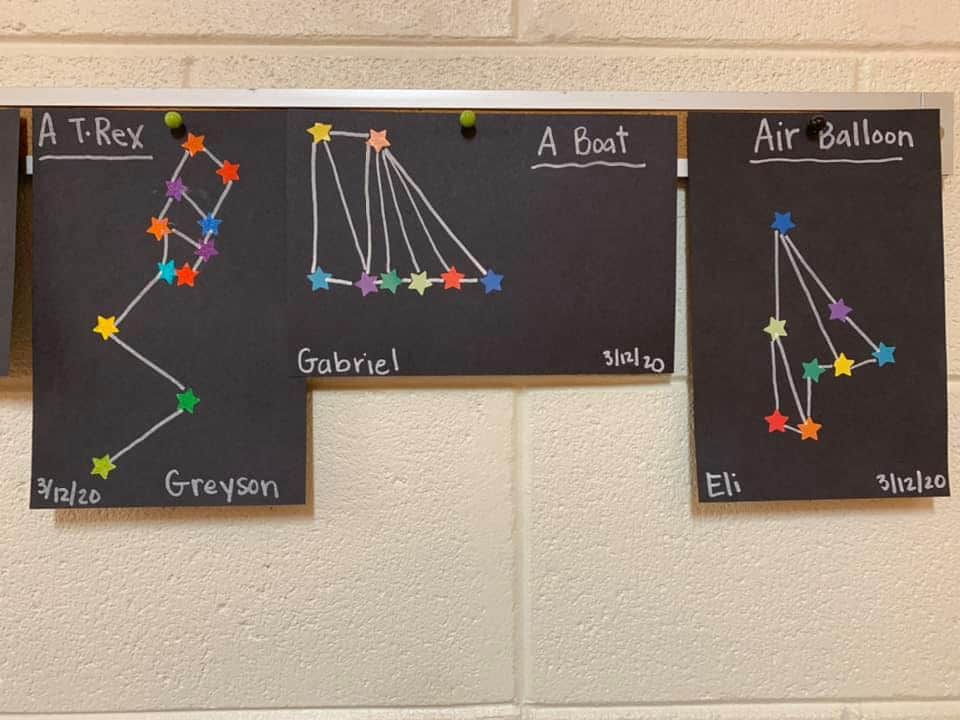 Create these fun constellation pictures by using black construction paper, white crayons, and star stickers. Peeling the stickers and using crayons is great for developing those fine motor skills in little fingers! Just use diagrams of your favorite constellations for reference, and count how many stars you need!
Learn More: Teachers Mag