Contractions are words that we often use when speaking. Since they're a part of our natural fluent language, kids don't often realize that contractions are multiple words "put together" to form a new word. Because of this, teaching students how to spell and write with these words is an important facet of proper grammar. There are many activities available to help kids learn and practice these tricky words and 20 of the best have been compiled here for you to easily access for future lesson prep!
1. Missing Letter
Kids thoroughly enjoy computerized games. This independent activity is perfect for after your students have learned contractions and simply need practice. Throughout the game, they will choose the correct missing letter to complete the contraction.
Learn More: Learning Games for Kids
2. Contraction Monster Matcher
Split the class into half and give the first half the contractions and the second half the words that they are made up of. Learners will then move around the room to find their match. When everyone is done, have them present, shuffle, and start over!
Learn More: Super Teacher Worksheets
3. Contraction Action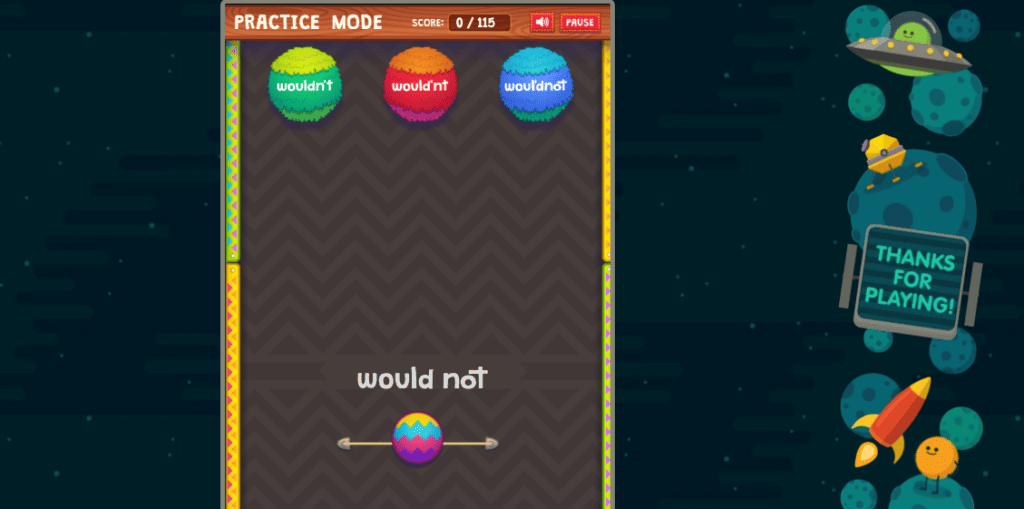 This game would make a great addition to your contraction centers! Students will need to use a slingshot to hit the correct contractions in this engaging game.
Learn More: ABCya
4. Fun With Contractions
By creating contraction word strips, you'll have a fun and simple way for learners to practice commonly used contractions. You can up the difficulty level by providing the words and making them write the contractions.
Learn More: All About Learning
5. Jack Hartmann
This video on contractions is catchy and gives kids a myriad of examples and explains how they can use them. The perfect resource for an introductory lesson on contractions!
Learn More: Jack Hartmann Kids Music Channel
6. Contractions for Beginners
This set of hands-on activities is a great way to introduce contractions to young students. Each worksheet progresses in difficulty; gradually getting students to the point of writing their own sentences that include contractions.
Learn More: Teachers Pay Teachers
7. Contraction Bingo
This game of bingo requires students to use their listening skills to practice learning contractions. Use candy, poker chips, or beads as the bingo markers!
Learn More: Teachers Pay Teachers
8. Memory Match
Memory Match is another virtual game for practicing contractions that kids can play independently. This contraction activity will help expose kids repeatedly to the words themselves, and the combination of words that make up the contraction.
Learn More: Learning Games for Kids
9. How Do Contractions Work
A self-guided lesson like this one is a great study tool or center activity for kiddos who are just familiarizing themselves with contractions. It starts with a short explanation video and then utilizes a quiz to test their knowledge.
Learn More: Study.com
10. Interactive Powerpoint
Allow your students to work in partners on this interactive PowerPoint that will help them learn and practice their contractions. This pre-made digital activity is a great addition to your daily grammar lessons.
Learn More: Around the Kampfire
11. Contraction Find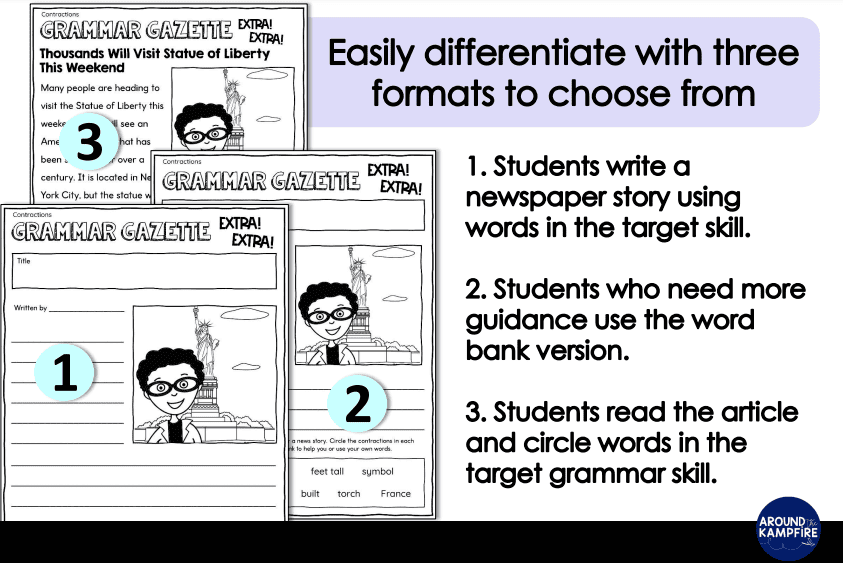 2nd-grade students will reinforce their knowledge of contractions using this cool activity. They will work to locate and identify contractions throughout a text at an appropriate grade level.
Learn More: Around the Kampfire
12. I'm and Won't, They're and Don't: What's a Contraction?
This entertaining read-aloud makes a great introduction to learning about contractions. It will appeal to elementary kids with its silly illustrations and rhythmic patterns.
Learn More: Amazon
13. Work Backwards Worksheet
After introducing contractions to students, have them work in groups to complete this worksheet. They will have to work together to deduce the words that form various contractions.
Learn More: Super Teacher Worksheets
14. Contraction Surgery
With masks and gloves readily available these days, this would be a fun and easy way to help kids learn contractions. As they gear up, they've got to put together the "broken" words to form the contractions.
Learn More: Teachers Pay Teachers
15. Printable Contraction Match Game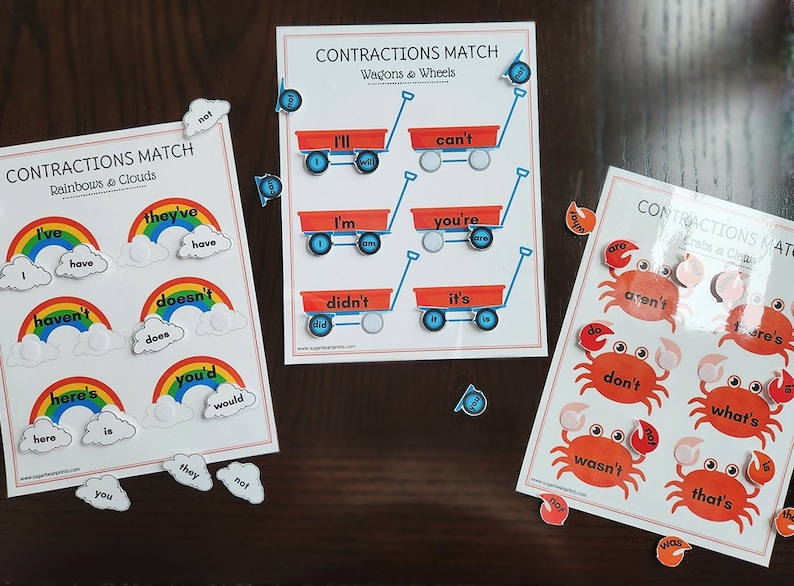 These word mats make the perfect center activity! Once laminated, students will be able to utilize them to break apart contractions into their respective word combinations. There are many versions available that you can match to a specific season or holiday.
Learn More: Etsy
16. Reverse It
This worksheet helps kids create the contracted forms of words as well as reverse them and create the expanded forms. This would be a great exercise for early finishers.
Learn More: Etsy
17. Milk & Cookies File Folder Game
A file folder, velcro dots, and these adorable milk and cookie printables become a fun game for kids to learn contractions. This is yet another great option to include in your center or small group rotations as kids will move the velcro pieces around to match the milk to the cookies.
Learn More: From ABCs to ACTs
18. Contraction Organizer
This handy little organizer will serve as the perfect resource for older students to utilize during writing and reading. After writing the most common forms of contractions on each strip, they can be fastened together to form this easy-to-refer-to fan.
Learn More: Book Units Teacher
19. Contractions Decodable Riddle
Laughter is the best way to engage kids… so why not incorporate contractions? Using contractions, kids will unveil the secret code to reveal the answer to a joke.
Learn More: Carson Dellosa
20. I have Who Has?
This is a great way to get all students interacting throughout the classroom and talking to one another. One student has the contraction, while another has the expanded form. They will take turns saying "I have – who has?" and discovering the correct forms of their contraction.
Learn More: Made by Teachers