Bags of cotton balls are a household staple that is often associated with makeup removal or first aid, but their versatility goes far beyond these common uses! There are countless ways to use cotton balls from arts and crafts to science experiments. In this article, we've compiled a list of 28 cotton ball activities that will inspire you to think outside the box and explore the many ways to use this simple household object.
1. Earth Day Oil Spill Investigation
This activity investigates how difficult it is to clean up oil spills. Students create an oil spill in a small container and then investigate different materials (cotton balls, paper towels, etc) to determine which is better at cleaning up environmental disasters. What a fun way to encourage environmental protection practices!
Learn More: Teach Starter
2. Winter Snow Sensory Bin
A wintery sensory bin is a breeze to make with a bag of cotton balls, shreds of paper, foam balls, lots of sparkly bits, and a plastic container. Encourage students to explore different materials, textures, and colors with cotton ball sensory play.
Learn More: Mommy's Bundle
3. Let It Snow Ornaments
Ah, the classic Winter snow scene created with cotton balls. These adorable Winter lanterns are created from a printable template. Simply print the template, assemble the tiny house, and let the snowstorm begin with a handful of cotton balls.
Learn More: Teach Starter
4. Cotton Ball Apple Tree Count
What a fun counting activity! Draw numbered trees on a large scrap of cardboard and have students count and paste the correct number of cotton ball "apples" onto each tree. When dry, provide each student with water, tinted with food coloring, and a dropper to color their apples.
Learn More: Happy Toddler Playtime
5. Cotton Ball Throw Measurement Station
This is a fun way to meet those measurement math standards! Have students throw cotton balls as far as they can and then use different measurement tools (rulers, yardsticks, tape measures, or non-standard measuring tools) to determine the distances thrown.
Learn More: 3rd Grade Math
6. Cotton Ball Snowman Card
An adorable Christmas card is at your fingertips with just a tiny photo, some craft supplies, and a pile of cotton balls. Cut out a snowman shape (or use a template) and paste a cut-out photo of a student as the face. Surround the picture with snow (cotton balls) and decorate.
Learn More: Easy Peasy and Fun
7. Rainbow Cotton Ball Painting
Using a cardboard cutout of a rainbow or a blank sheet of cardstock, have students dip cotton balls in different colors of paint and dab them onto the rainbow shape to create a textured and colorful piece of art.
Learn More: Kids Craft Room
8. Paper Plate Pig Craft
Create a pig face on a paper plate by gluing it on dyed cotton balls to create the pig's fuzzy texture. Add googly eyes, a nose, and ears made out of construction paper. Then, add a curly pipe cleaner tail. Voila- A cute and simple pig craft!
Learn More: Goodnight Fox
9. Cotton Ball Sheep Crafts
Create a colorful flock of sheep with simple art supplies and cotton balls. Paint craft sticks in rainbow colors and then paste the cotton ball "wool" to the body. Stick on some construction paper ears and googly eyes and you have "Baaa-utiful" Spring stick puppets.
Learn More: Crafts by Amanda
10. Cotton Ball Cloud Formations
In this science activity, students can stretch cotton balls to create different cloud types, such as stratus, cumulus, and cirrus. By observing the changes in shape and size, they can learn about the characteristics and formation of each cloud type.
Learn More: Living Life and Learning
11. Cotton Ball Easter Egg Painting
Similar to the apple tree above, this is a fun Easter-themed activity using cotton balls. Students create Easter eggs by gluing cotton balls onto an egg-shaped cutout. They then use eyedroppers filled with colored water to dye them different colors; creating a fluffy and colorful Easter egg.
Learn More: Happy Toddler Playtime
12. Fine Motor Snowmen
Provide tiny tongs to have students move snowballs (cotton balls) into snowmen bottles for fun and effective fine motor activity. It helps students develop grip strength and transfer skills while also improving their hand-eye coordination and concentration.
Learn More: HomeschoolAEC.com
13. Cotton Ball Splat Painting
Dip cotton balls in paint and throw them on paper to create colorful and unique artwork. It's a fun and sloppy activity that allows kids to experiment with color, texture, and movement. Make sure they're wearing old clothes because this one could get messy!
Learn More: There's Just One Mommy
14. Fluffy Ghosts
Cut ghost shapes from cardboard and provide cotton balls for kids to glue onto the shapes. Punch a hole in the top and attach string or ribbon to make door hangers. Kids can add eyes, a mouth, and other features with markers or paper cutouts.
Learn More: Discount School Supply
15. Cotton Ball Launcher STEM Project
Build a rubber band-powered cotton ball launcher using materials such as rubber bands, a pencil, and a recycled cardboard tube. Watch a handy video tutorial to learn how to make one! This might be fun to combine with the measurement activity above!
Learn More: Mrs. Robles
16. Cotton Ball Christmas Tree
A classic Christmastime art craft is made easier (and less messy) by using cotton balls as paintbrushes! Clip cotton balls to clothespins and provide students with different colors of paint and a tree cutout. Have students dip and dot ornaments onto their tree using their no-mess cotton ball brushes.
Learn More: Playgroup WA
17. Cotton Ball Monster Craft
Cotton balls, construction paper, and googly eyes are all you need to make an adorable yeti. Cover a yeti outline in cotton balls, add his face and horns using construction paper, and put him on the wall for a cool Winter display.
Learn More: Glued to My Crafts
18. Tissue Box Igloo
This 3-D project uses cotton balls and empty tissue boxes to make a fun igloo model. This would be a fun project to use when learning about habitats, housing, or Native Americans of the Arctic.
Learn More: Easy Crafts for Kids
19. Cotton Ball Letter Animals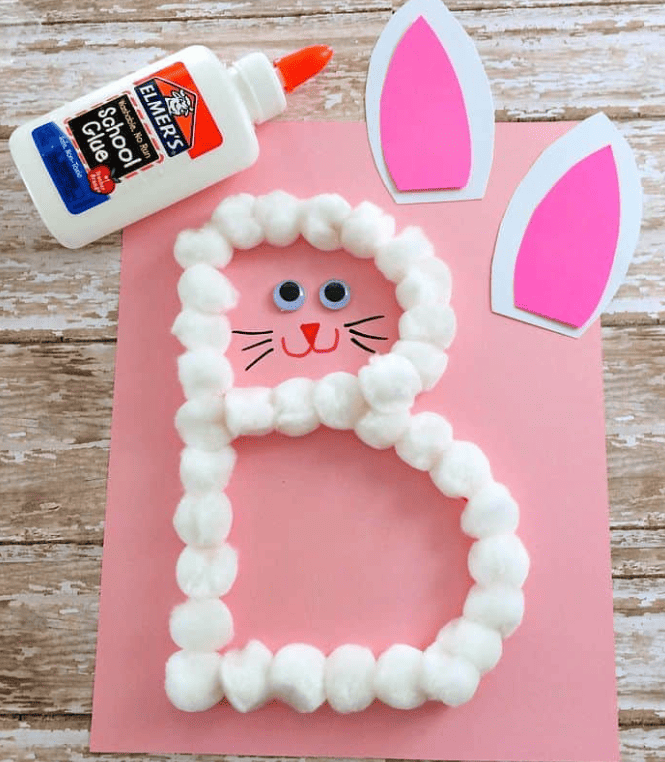 Cotton balls are a great way to practice letter formation and recognition. Use construction paper and letter outlines to make cute, animal-themed alphabet crafts.
Learn More: The Simple Parent
20. Grow Beans on Cotton Balls
There's no need for dirt with this idea! Place cotton balls and dry beans in a glass jar, add a bit of water, and watch your beans grow!
Learn More: The Imagination Tree
21. Cotton Ball ABC Moon Rock Mining
This fun twist on the "Baked Cotton Ball" idea has students smashing the alphabet "moon rocks" to practice letter identification. So fun!
Learn More: Stir the Wonder
22. Cotton Ball Ice Cream Cones
Kids can make an ice cream cone craft by gluing colorful craft sticks together in a triangular shape and then attaching construction paper and cotton balls to the top to create the look of scoops of ice cream. This fun and easy activity are perfect for a Summer-themed art project.
Learn More: Our Kid Things
23. Cotton Ball Animal Mask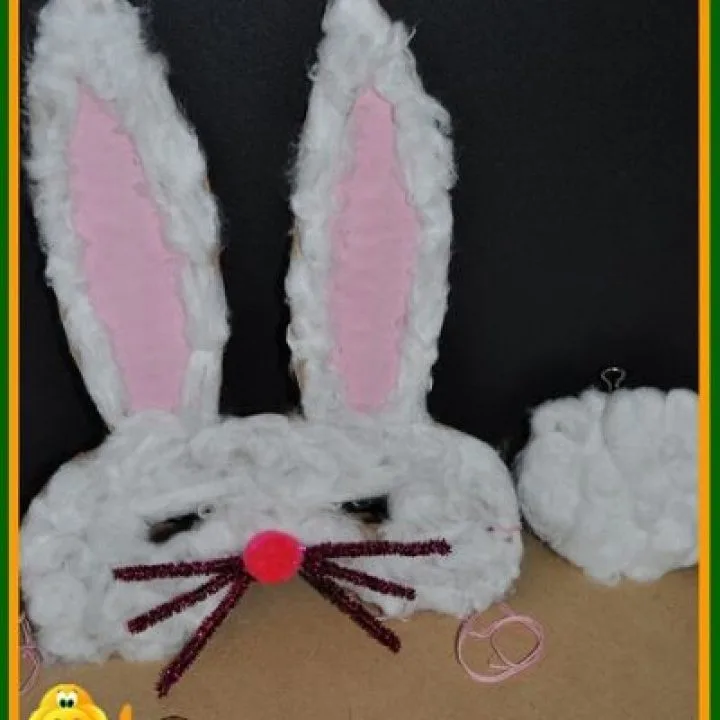 Dress up for Easter this year with a DIY bunny mask! Cut out a mask shape and add ears. Cover the surface in cotton balls to make fur, then add pipe cleaner and pompom accents to create the face. Tie a bit of each string to each side to form a band to hold the mask in place.
Learn More: Easy Crafts for Kids
24. Cotton Ball Spider Web Craft
Practice identifying and using geometric shapes with a Halloween craft. Students will arrange 2D shapes to create a spider and then glue him to a wispy web made from stretch-out cotton balls.
Learn More: Live Well Play Together
25. Cotton Ball Race
Race away from boredom with a cotton ball race! For this activity, students will use nose aspirators (or even straws) to blow their cotton balls across the finish line.
Learn More: Meaningful Mama
26. Flying Clouds
One minute is all kids need to build fine motor skills and have a blast with a friendly game. Give students a "Minute to Win It". The goal is to transfer as many cotton balls as possible from one container to another using the flick of a spoon.
Learn More: Minds in Bloom
27. Santa Christmas Craft
Create a Santa Claus craft using a paper plate and cotton balls. Glue cotton balls on a paper plate to form a beard shape. Then, have students add a red hat, eyes, and a nose to complete the look.
Learn More: A Cultivated Nest
28. Trees Throughout the Year Art
What a beautiful painting project for students learning about the seasons of the year. Provide students with various paint colors, cotton ball brushes, and bare tree cutouts. Have them blend and combine paint colors to show what trees look like during different seasons.
Learn More: Modern Homestead Mama