Coyotes are native to North America and are found in every state (except Hawaii) so it's probably safe to assume your students have seen one before. As these animals are so common and are often found living close to humans, they are the perfect focus for classroom learning! We have gathered 20 engaging games, arts and crafts, and learning activities based on coyotes for your students to learn all about these wild animals.
Art and Craft Activities
1. Create Bright Silhouette Pictures
To create these stunning silhouette pictures use the templates to cut out the animals on black paper. Then, use chalk or pastels to create a colorful background before sticking the black silhouette to the paper.
Learn More: Pinterest
2. Use a Resist Method In Your Artwork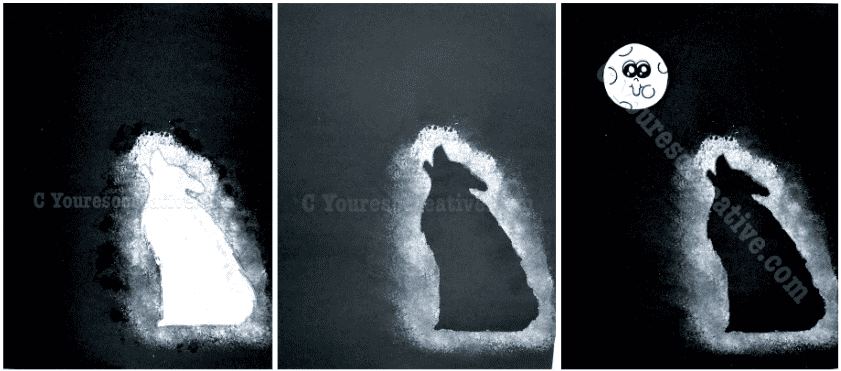 This resist-method artwork is another example of cool coyote artwork. Stick a coyote template to a sheet of black paper. Then, use a sponge to add flecks of white paint around the edge of the template before removing and leaving it to dry.
Learn More: You're So Creative
3. Follow Along to Make This Cool Paper Mask
Make a coyote paper mask with your older elementary students! This video shows students the shapes to draw and cut out and directs them on how to assemble their masks. Simply prepare cardstock, glue, and scissors!
Learn More: Câu Đố Vui
4. Build and Paint Your Own Paper Coyote
Print and cut out the different parts of the coyote before assembling it to create this amazing coyote craft. The resources for this craft are free to download and print, and all you'll need is paint for your learners to add some color to their coyotes!
Learn More: Learn Create Love
5. Print Coyote Tracks
Use dry foam to draw on and cut out the different parts of a coyote's paw print. Glue these onto a wooden block or some foam to create these cool animal track stamps!
Learn More: Pre-K Pages
6. Paint a Coyote Design on a Rock
Take your students outdoors and have them pick a rock to take back to class and paint a picture of a coyote on it. Follow the steps from cleaning, painting, and sealing the rock before going back outside and putting the rocks back for others to find!
Learn More: Inspire Kindness
7. Make a Coyote Shaker Can
A coyote shaker can is a great activity for students to make some noise and scare off any coyotes who are getting too close! Use a tin can, and then let students add a mix of coins, screws, and metal washers to make the can rattle. Carefully seal up the can and cover sharp edges before decorating!
Learn More: The Fur-Bearers
8. Draw a Coyote
The budding artists in your class will love this tutorial on how to draw an amazing coyote! Students can follow along as the video provides a step-by-step walkthrough of how to bring this portrait to life.
Learn More: HTDraw
9. C is for Coyote
To make a unique letter C, students can sketch and then cut out the different shapes needed, such as the coyote's head, the legs, and the letter C. Once the shapes are ready, they can stick them to black paper to make this educational and eye-catching piece of art!
Learn More: Felt Magnet
Coyote Learning Activities
10. Coyote-Themed Reading Comprehension Task
This activity includes a story about two coyotes and provides a few reading comprehension questions to test student understanding. This activity is perfect for first and second-grade students!
Learn More: Teachers Pay Teachers
11. Practice Ordering Numbers 1-10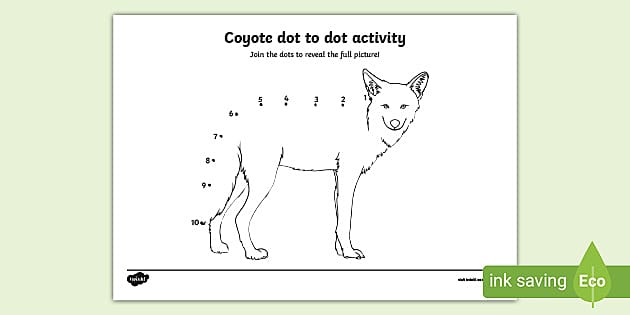 Practice number order with this coyote-themed dot-to-dot activity. This activity is free to download and print and all students need to do is join the dots; starting at 1 and ending at 10.
Learn More: Twinkl
12. Learn Some Basic Facts About Coyotes
This activity is a brilliant opportunity for students to learn some facts pertaining to coyotes. They'll learn things about a coyote's diet, size, life span, and habitat.
Learn More: Education
13. Weave a Food Web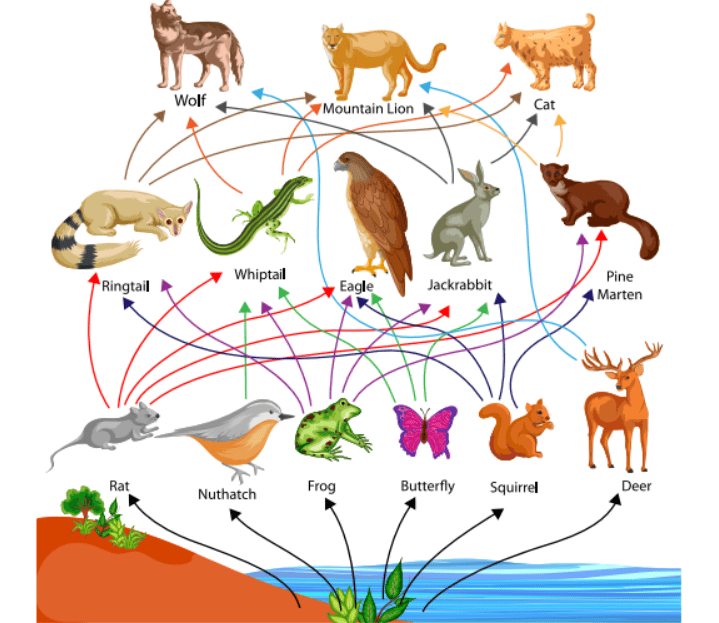 This superfood chain activity is a fantastic way to teach your students about how multiple wild animals within an ecosystem are connected. This pack includes a coyote to use when your students are creating their own food webs.
Learn More: Start With a Book
14. Watch a Mini Documentary
This mini-documentary is perfect for introducing your class to these beautiful animals. The video includes facts about coyotes such as their habitats, diets, and size.
Learn More: Finley Holiday
15. Complete a Coyotes All Around Math Challenge
This printable worksheet is a fantastic math activity to link with a topic on coyotes. It's based on the book Coyotes All Around by Stuart J. Murphy. Students can use the worksheet to work out the math problems that are in the book.
Learn More: Teachers Pay Teachers and Amazon
16. Learn What to Do If You Meet a Coyote
This video is great; especially if your students are likely to come across coyotes in real life! This video teaches students how to act if they meet an aggressive coyote and includes tips for keeping them away from their homes.
Learn More: BRIGHT SIDE
17. Create a Trickster Coyote Comic Strip
This activity pack is perfect to explore the history and mythology of the coyote in Indigenous American culture folklore. The coyote has been portrayed as a trickster, and this lesson plan explores this theme with an activity for students to create their own folklore story in the form of a comic book strip. 
Learn More: Native Indian Education Association and Paper Trail Design
Coyote Games
18. Play a Fun Natural Selection Game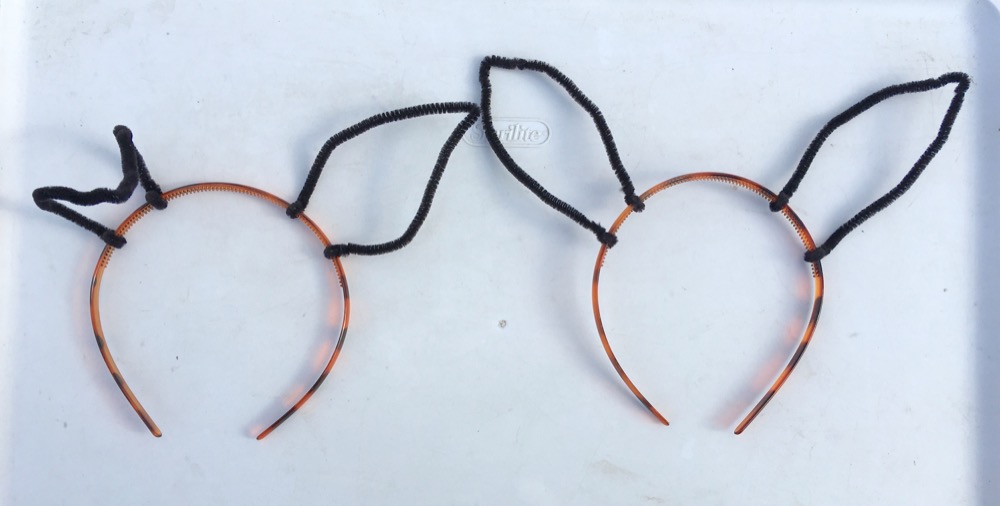 This game is a hands-on way to learn about food chains. Students are given roles as either coyotes, rabbits, or grass who must "catch" and "eat" each other. Through the scenarios described in the pack, learners will explore how natural selection affects population changes.
Learn More: Ingrid Science
19. Get to Grips With Food Chains With a Fun Bottle Cap Game
This fun game is a great way to explore how energy moves through the food chain and how population numbers of certain groups can impact an ecosystem. Although this activity is based on marine animals, it can be easily changed to represent the coyote's food chain.
Learn More: Government of Canada
20. Be a Creeping Coyote
This is a great game to play outside in the fall when there are dried leaves on the ground. One student sits in the middle of the circle blindfolded, and another student must try to creep up to steal the food from the student in the middle. If they are detected, they are out!
Learn More: Fairy Wood Forest School