It can be really difficult to keep students engaged in math lessons. That's why we've sourced 20 fantastic activities that are based on crime scene investigations. The story and mystery pique students' curiosity and will help hold their attention. Use these activities to introduce a new topic or reinforce and reward students' efforts for working on a difficult topic.
1. Crime Scene Math Investigation
Set up the classroom with multiple stations so that students can complete the criminal investigation. Throughout these activities, students will solve word problems, diffuse a "bomb", count money, and more. You can adjust the math skills required based on your current curriculum.
Learn More: Scissors and Crayons
2. Whodunnit
This Whodunnit printable is from Clark Creative Math and is appropriate for middle school learners. During a criminal investigation, students work through math problems to narrow the list of suspects.
Learn More: Teachers Pay Teachers
3. Footprint to Height Activity
This is a fun and simple pre-Algebra CSI Math activity. Each student receives a different shoe print. After measuring the print, students use a formula to calculate the height of the individual and match it to a criminal.
Learn More: Zlife Education
4. Number Line Cipher
This activity could be included in a larger CSI activity day. While investigating the crime, students can decode a secret message from the criminal using a number line cipher. Under each blank is a simple math problem. The solution corresponds to a letter; eventually spelling out the message.
Learn More: Creative Family Fun
5. Math Mysteries
This website has a series of pre-made activities that are aimed at elementary skill building. Students can work individually or in groups to complete each of the criminal investigations in each packet. Each mystery comes with an exciting video hook to kick things off.
Learn More: JJ Resource Creations
6. Broken Ferris Wheel Criminal Investigation
Students must complete a variety of word problems to solve the mystery in this criminal investigation. Teachers can use this packet to reinforce concepts or as part of sub plans. This may also be a good seat activity for center time.
Learn More: Teaching Mini People
7. Polynomials Whodunnit Activity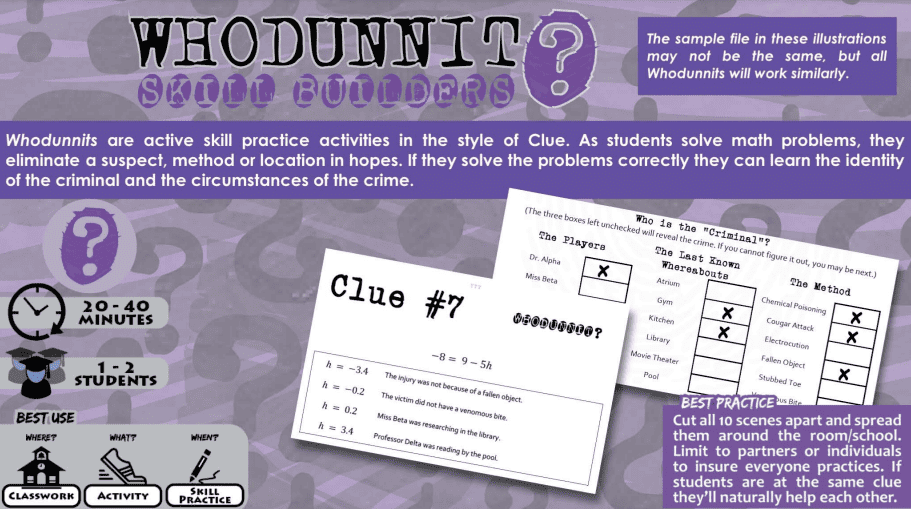 Students have to work through a variety of problems to solve the crime. This is an important skill-building activity for algebra students. It can be delivered as a hard copy or worked through using interactive Google slides.
Learn More: Teachers Pay Teachers
8. Logic Puzzles
Use these logic puzzles as part of a larger activity or by themselves. Students will use the process of elimination and logic to discover who took the wrong pet. Logic is an important part of skill-building in math.
Learn More: Enjoy Teaching
9. Kinematics Crime Scene
Kinematics are physics equations involving constant acceleration. In this kinematics activity bundle, students have to complete a criminal investigation while completing physics skill-building activities.
Learn More: Passionately Curious Sci
10. Mystery Math Series
This DVD series covers a wide variety of math concepts throughout criminal investigations. Students can join the detectives while building skills in 5 domains and 35 standards areas. The mysteries cover everything from systems of equations and probability to two-step equations.
Learn More: Human Relations Media
11. Common Core Math Activities
This book includes a wide variety of math activities for grades 6-8; including a criminal investigation activity. This activity will help students make "real-world connections" with math and explore rather than regurgitate rote concepts.
Learn More: Hooked Lansing
12. Who Stole Time?
This activity focuses on skill building by asking students to read both a digital and analog clock. Students work to complete the criminal investigation by also converting digital clocks to analog time and adding and subtracting time.
Learn More: Made By Teachers
13. STEAM Criminal Investigation
Students have to work together and implement a variety of math and science skills to find the criminal in this investigation. While this activity requires teacher set-up, the instructions are very detailed for ease of use. This is a fun activity to celebrate the end of a year and review skills simultaneously.
Learn More: J Graves Edu
14. Christmas Nativity Mystery
In this activity, students have to solve math problems to figure out who stole the CD for the Christmas Nativity play. Some math problems include using logic while others require converting Roman numerals to Arabic numbers.
Learn More: Ynystawe Primary School
15. Stolen Food
Who ate everything in the concession stand? In this criminal investigation, students must decipher which zoo animal is the burglar! This is a great skill-building opportunity for elementary students to reinforce basic addition and subtraction skills. 
Learn More: Simply Creative Teaching
16. Addition and Subtraction Mystery
Mr. Fluffins, the class pet, is gone! Students will complete various math activities using basic addition and subtraction to solve the criminal investigation. This is a great review activity!
Learn More: The Average Teacher
17. Mystery Math Museum
This is a great app to add to the class iPad. It's a paid app but allows unlimited profiles. Students have to complete multiple math problems to solve the crime scene in the museum. Individualized feedback helps with students' skill-building in a positive way.
Learn More: Commonsense
18. Superbad Superhero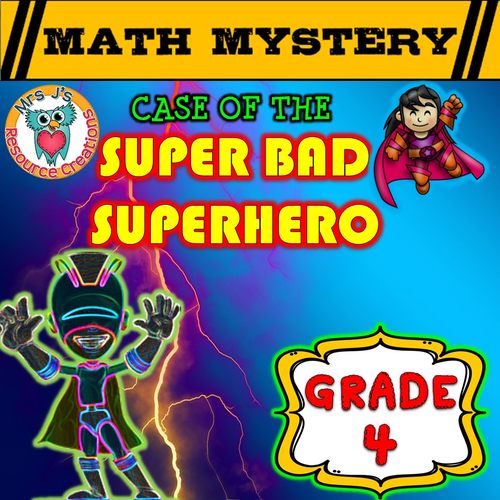 One of the superheroes has gone bad and is acting out! Students must work through rounding activities and other systems of equation problems to complete the criminal investigation. The teacher packet includes awards, answer keys, clue sheets, and more!
Learn More: TES
19. Scarecrow Gone Bad
There's been a theft and everyone in the classroom is a suspect! Each student will adopt a persona in this fun criminal investigation. Students can work through problems using printables in this packet or they can complete them in digital form. In the end, the culprit is revealed!
Learn More: Classful
20. Mystery Math Town
Somebody has trapped the fireflies in jars! Students will help a friendly ghost free the fireflies and discover the culprit. This game encourages students to build equations and employ critical thinking throughout.
Learn More: Artgig Apps