When you want to foster a better understanding of different cultures among your students, culture quilt activities can offer a fun way to promote diversity and cultural awareness. These activities not only showcase the unique backgrounds and traditions of your students but also help build a sense of community within the classroom. You can have students work together to create unique quilts, hold discussions about diverse cultures, or even organize field trips. Here are 22 fun and unique culture quilt activities that promote critical thinking.
1. The Keeping Quilt
Explore the lessons in The Keeping Quilt by Patricia Polacco with your students. It'll help the students understand the importance of culture and family heirlooms that are passed down for generations. Students can then create their own culture quilt focused on their family.
Learn more: Cloudfront
2. Quilt of Belonging
Discuss the concepts of diversity and belonging in terms of the community and ask the students to interpret their understanding of individual quilt blocks. It's the perfect activity to expand students' understanding of diverse perspectives while creating beautiful and meaningful art.
Learn more: Quilt of Belonging
3. Class Culture Quilt
Some construction paper and drawing materials are all you need to weave a tapestry of camaraderie! This fun activity involves creating a word web around quilting and cultural theme. It will expand the students' understanding of culture as well as their vocabulary.
Learn more: Houston ISD
4. Heritage Quilt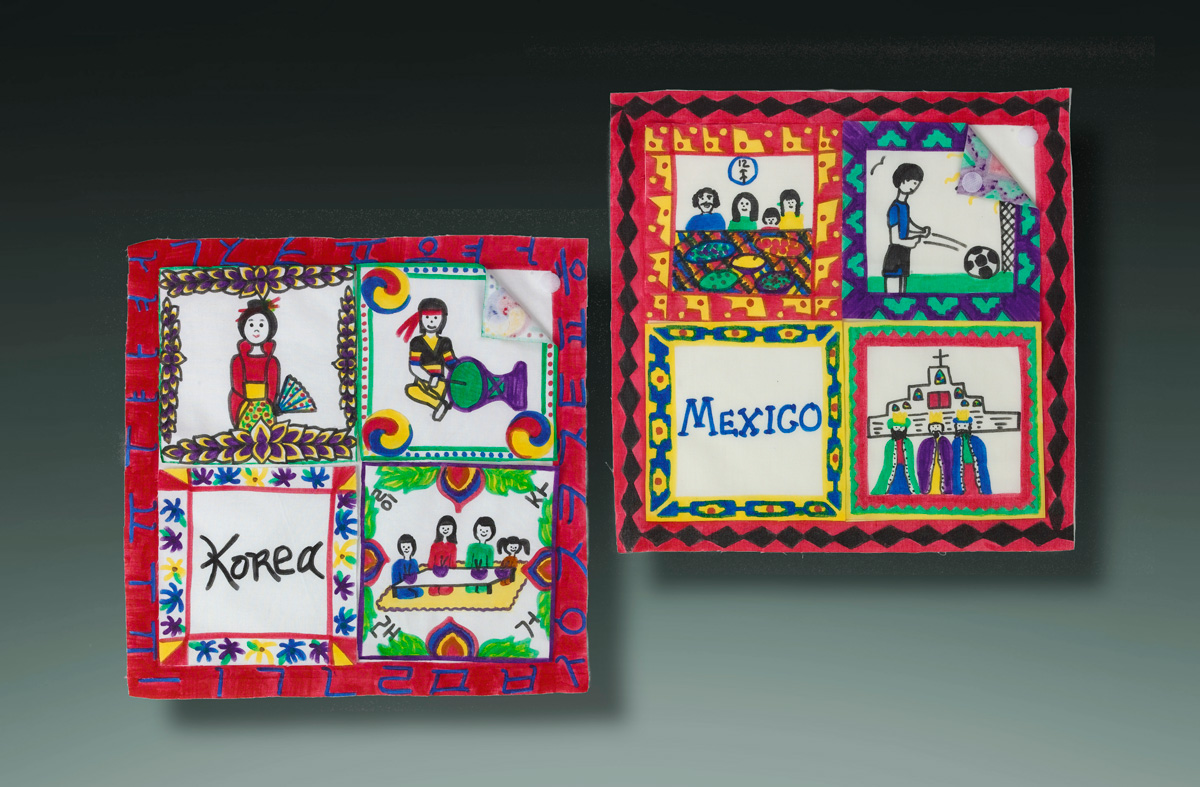 Creating this heritage quilt will help your students showcase their family's cultural roots and share their cultures with each other. It will also help them create a visual biography of their ancestors and the diverse traditions that make them who they are.
Learn more: Crayola
5. Collaborative Quilt
Stitching together a collaborative quilt is like weaving the cultural threads of a community into a beautiful tapestry; that's precisely what this activity promotes! Students will learn about slavery, the quilts of Gee's Bend, and the Freedom Quilting Bee and their impact today.
Learn more: The Art of Education
6. Diversity Quilt

This fun activity involves students stitching together a colorful tapestry that showcases diversity and unity. Have the students interview each other about their cultures while they work on their own quilt squares.

Learn more: Lesson Planet
7. Collaborative Cultural Quilt
This unique culture quit activity helps students learn about elements of design while appreciating their culture. They will explore ideas of heritage and unity as they examine how a quilt embodies different shapes, yet comes together to create something special.
Learn more: Nasco Education
8. Family Quilt
Have the students put together memories and stories from each member of their family to celebrate their unique family units. Students can share cultural family stories in the classroom or discuss what family means to them.
Learn more: Operation Respect
9. Family Culture Quilt
Let the students create their own patchwork quilt that puts their family culture front and center. They can include patterns and collage art to represent their culture. Finally, ask all students to share their quilt with the class as they explain the different pieces.
Learn more: Museum of Tolerance
10. Family Memory Quilt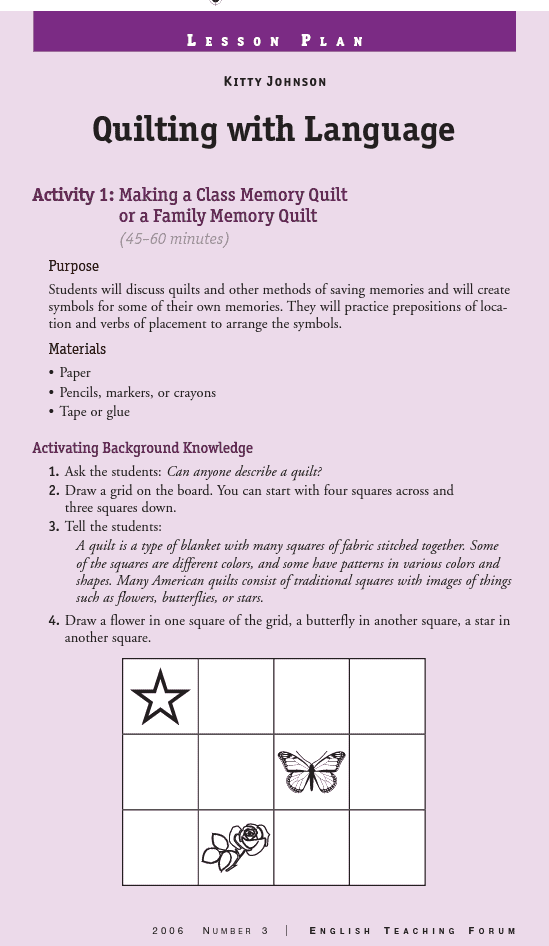 Allow each student to create their own quilt with each square representing different family members with interesting information about them. They can also add symbols for each member and further explore their family's culture.
Learn more: Quilting with Language
11. Quilting the Past and Present

Students will interview elders in their family or community to get a unique perspective of life in another generation. Have them draw symbols that represent the past and present and then use these symbols to create past and present paper quilts! It'll help them appreciate their culture and their elders.
Learn more: The National Center for Quality Afterschool
12. Peace and Harmony Quilt
The "Peace and Harmony Quilt" represents a culture quilt of togetherness and unity. The entire quilt could be used in the next school year's inaugural display as a symbol of peace and understanding among all students and teachers regardless of their backgrounds.

Learn more: Craft Project Ideas
13. Quilt Around the World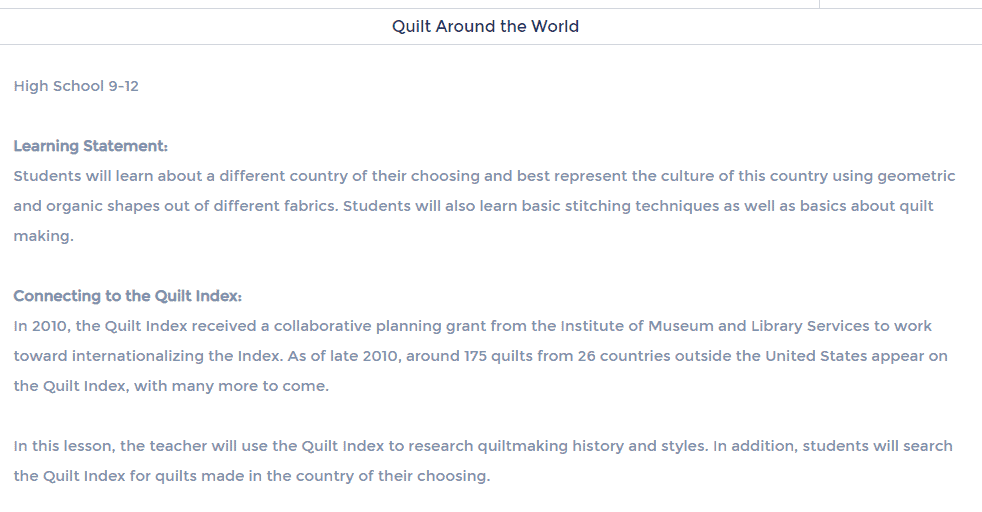 Get students to pick one country and learn about its culture as well as quilts made in this country. They will then cut out different shapes from various fabrics to represent this country's culture and stitch them together to make a unique quilt!
Learn more: Quilt Index
14. Faith Ringgold Inspired Quilt
Make families the center of this culture quilt activity! Students can draw family portraits or other cultural elements of their family in their quilt squares. They can even share stories if they want to!
Learn more: Artis Basic
15. Culture Quilt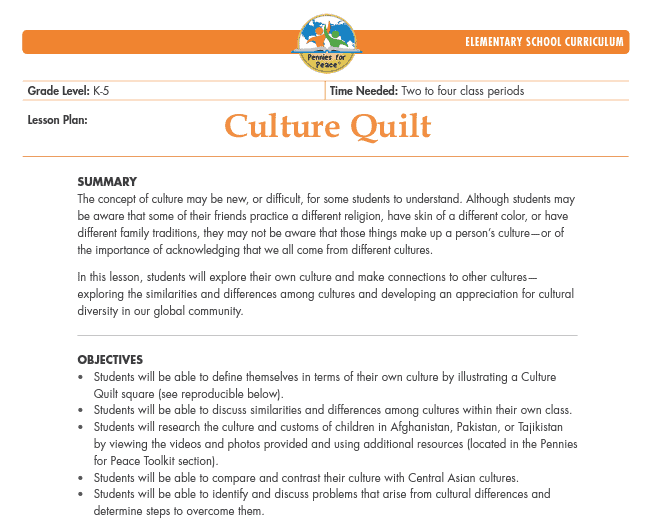 Weave an exciting classroom experience with this culture quilt activity. Students will fill out different quilt squares and then discuss the similarities and differences between different cultures. You can then pin all the quilt squares together and display them on your classroom bulletin board!
Learn more: Pennies for Peace
16. Flag Quilt Block
Stitch together a class quilt that celebrates national pride. This activity is perfect for social studies and literature students while helping them study American history and culture.
Learn more: Teacher Pay Teachers
17. Memory Quilt Project
Have your class read stories about memories and generational heirlooms like The Keeping Quilt by Patricia Polacco or The Quilt by Ana Jonas. Students can share traditions that are passed down in their cultures. And finally, they create paper memories about a person or event they want to memorialize!
Learn more: Atlas ABE
18. Quilt of Many Cultures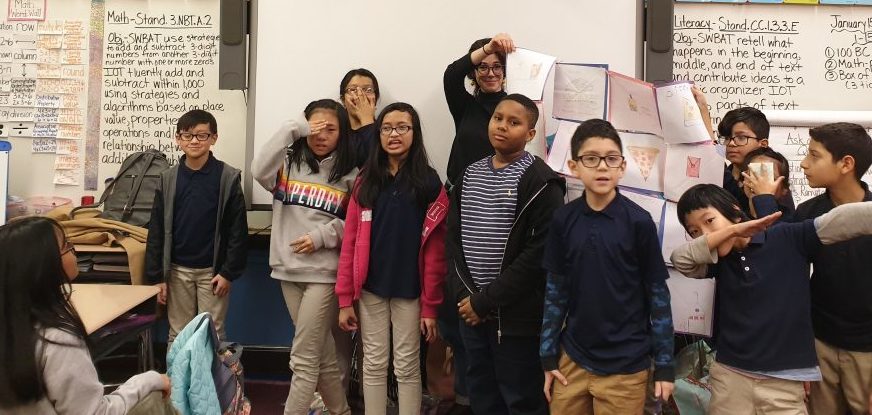 Teach your students to be proud of their cultural differences as they work together to create this class quilt. The activity is not only fun and educational but will also help your students learn more about each other's cultures and traditions.
Learn more: Art Sphere Inc.
19. Quilting, Art, and Connection to Place
Help your students explore how quilt-making has deep-rooted connections to the past. Watch a short film about quilters in Gee's Bend and then discuss the civil rights movement in that region. You can then examine how quilts can reflect traditions and cultural stories; reinforcing bonds between generations.
Learn more: Global Oneness Project
20. Read Aloud the Story "The Arabic Quilt"
Reading can encourage conversations about culture. After reading the story, encourage students to discuss cultural themes in the plot and how they relate to their own identities. Students can then create a quilt that reflects their own culture, incorporating symbols and images that represent their heritage and personal experiences.
Learn more: Read Aloud The Arabic Quilt
21. Visit a Local Quilt Shop
Take your students on a fun field trip to a nearby quilt shop. They can explore fabrics and patterns that embody a beautiful fusion of cultures and learn more about the work that goes into it.
Learn more: Quilt Shop Tour
22. Host an Elementary Art Lesson on the History of Weaving
Introduce students to the history of weaving by exploring traditional techniques, materials, and patterns used in ancient cultures.
Learn more: History of Weaving: Lesson for Kids