Christmas is in the air when December rolls along and kids are beside themselves with festive cheer. It is the time to bring out the tinsel, red glitter, and pine cones and get crafty with a number of festive December activities. From Christmas tree yoga to Santa beard masks, there is no limit to the fun that is to be had this December. Here is a look at 31 of the coolest Christmas-themed activities that preschoolers can do in December.
Fun learning activities are made exponentially better when food (especially candy) is involved. This STEM activity lets kids build a tower with toothpicks and Christmas-colored gum drops.
Learn more: Lessons 4 Little Ones
This homemade gift bag is the perfect addition under the Christmas tree this year. Make a  green footprint on a paper bag and decorate it with paint and glitter for a creative gift bag.
Learn more: Coffee Cups and Crayons
This fun holiday craft makes the perfect mantlepiece ornament or table decoration. All you need is a few basic craft supplies like paint and pom-poms and you can turn any old pinecone into a cute miniature Christmas tree.
Learn more: Homeschool Preschool
Start each morning off right this December with a session of Christmas-themed yoga. These poses are perfect for preschoolers and are a great holiday activity to get kids moving and breathing deeply.
Learn more: Kids Yoga Stories
Santa's beard offers tons of ways to get creative with crafts and holiday activities. Use this cutting activity for motor skills development as they need to cut thin strips and then curl them with scissors if they can.
Learn more: Fun With Mama
This fun art project is a great way to upcycle old paint chips and create cool decorations for the holiday party. Let kids draw holiday-themed shapes like candy canes and stars on the colorful card, cut them out, and string them up.
Learn more: A Girl and A Glue gun
Recreate the iconic red and white stripes of a candy cane with shaving cream, glitter, and some food dye. Cut the outline of a candy cane from some white paper and dip it into the marbled shaving foam for a fun effect.
Learn more: Growing a Jeweled Rose
9. Holiday Lava Lamp Experiment
Turn a classic lava lamp science activity into a holiday-themed one by using green and red food coloring. Use colored water, cooking oil, and Alka Seltzer tablets to create this fun visual spectacle and teach kids about the density of liquids.
Learn more: Fun Learning For Kids
10. Christmas Tree Writing Tray 
The scent of pine needles is an essential part of Christmas so why not introduce it into your December learning activities. Dump some salt (aka snow) in an oven tray and let kids practice sight words or letter writing by using a small pine branch.
Learn more: Happy Toddler Playtime
11. Christmas Tree Counting
Cut up a sheet of green paper into strips, descending from smallest to biggest, to create a Christmas tree. Number each strip from 1 to 10 and let kids arrange them in the correct order. To make it a little more difficult, you can cut each strip into smaller pieces and create math problems like 1+1 for the strip numbered "2".
Learn more: Tot Schooling
12.  Christmas Playdoh Mats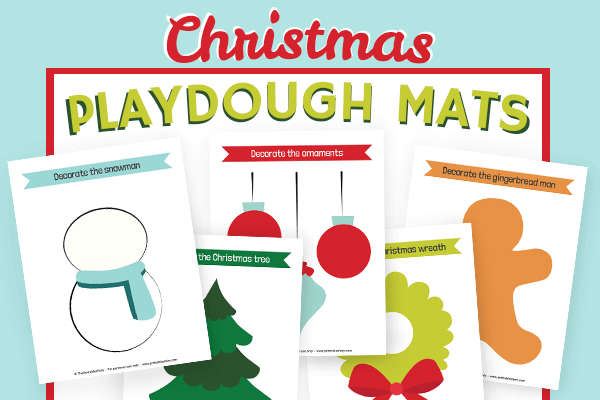 Play-Doh mats are a fun and easy way to make playtime themed. These printable mats let kids add clay to a snowman, wreath, gingerbread house, and more!
Learn more: Printable Fairy
13. Christmas Tree Garland
There is no limit to the amount of fun holiday decor kids can make this December. Use colored card stock or flattened toilet rolls to cut these shapes and stick them together to make cute Christmas trees.
Learn more: Average Inspired
14. Christmas Tree STGEM Activity
Another way to introduce the holiday into your lesson plan is to make Christmas trees from straws and clay for a STEM challenge. See which group hand builds the strongest or tallest tree for some added fun.
Learn more: Little Bins for Little Hands
Balloon races are always a hit and combine the fun of crafting and the wonder of science. This is a great activity for preschool kids who like a bit of competition as they will spend hours racing reindeer across the room.
Learn more: Steam Powered Family
Kids love all sorts of Santa-themed crafts and this mask is a sure-fire way to get them laughing and role-playing. Cut out a beard template and cover it in cotton wool. Then glue it to a popsicle stick and you have a fun Santa beard in an instant!
Learn more: Laughing Kids Learn
Salt dough recipes are easy and non-toxic, the perfect medium to make tree decorations with. Use cookie cutters to cut out stars, trees, and gingerbread man shapes, paint them, and add some glitter. This is the perfect art activity for the beginning of the month before you set up your tree for decorating.
Learn more: In the Playroom
Mooseltoe is a fun and kookie book that kids can read in December. Make Moose's mustache with some pipe cleaners and a washing peg and decorate it just like in the book. Kids will beg you to read this book over and over again!
Learn more: Laly Mom
19. Gingerbread Man Paper Craft
20. Hungry Gingerbreadman
This adorable gingerbread activity is the perfect way to practice fine motor skills and color recognition. Kids use small plastic tongs to sort pom poms into the correct bins and feed the hungry gingerbread people.
Learn more: Planning Playtime
Kids love getting their hands dirty with some finger painting. This snow-covered tree art project is the perfect excuse for them to dip their fingers in some white paint. Use a q-tip to make snowflakes around the tree for some added flair.
Learn more: Easy Peasy and Fun
22. Painting With Colored Ice
Keeping with the winter theme, make some colored ice and let kids use it to paint beautiful watercolor pictures. Add some popsicle sticks to the ice to prevent them from freezing their little fingers off though!
Learn more: Play To Learn Preschool
This is just another way kids can get their hands dirty and make a super cute craft at the same time. Let them print their painted hands on some colored paper and cut it out in the shape of mittens. Add some pom poms for decoration and some string to keep them together.
Learn more: A Dab of Glue Will Do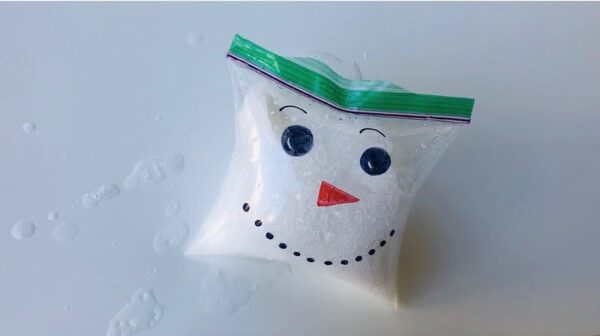 There are tons of fun science experiments kids can do that fits in perfectly with the winter theme. This exploding snowman will blow kids away but all it takes is some baking soda and vinegar.
Learn more: Mom Brite
 25. Make Snowflake Crystals
Kids love making crystals but in the winter this is an especially appropriate activity. It takes a little patience but before long, mesmerizing salt crystals will start to form around your snowflake-shaped pipe cleaners.
Learn more: Modern Homestead Mama
26. Build an Indoor Ice-Skating Rink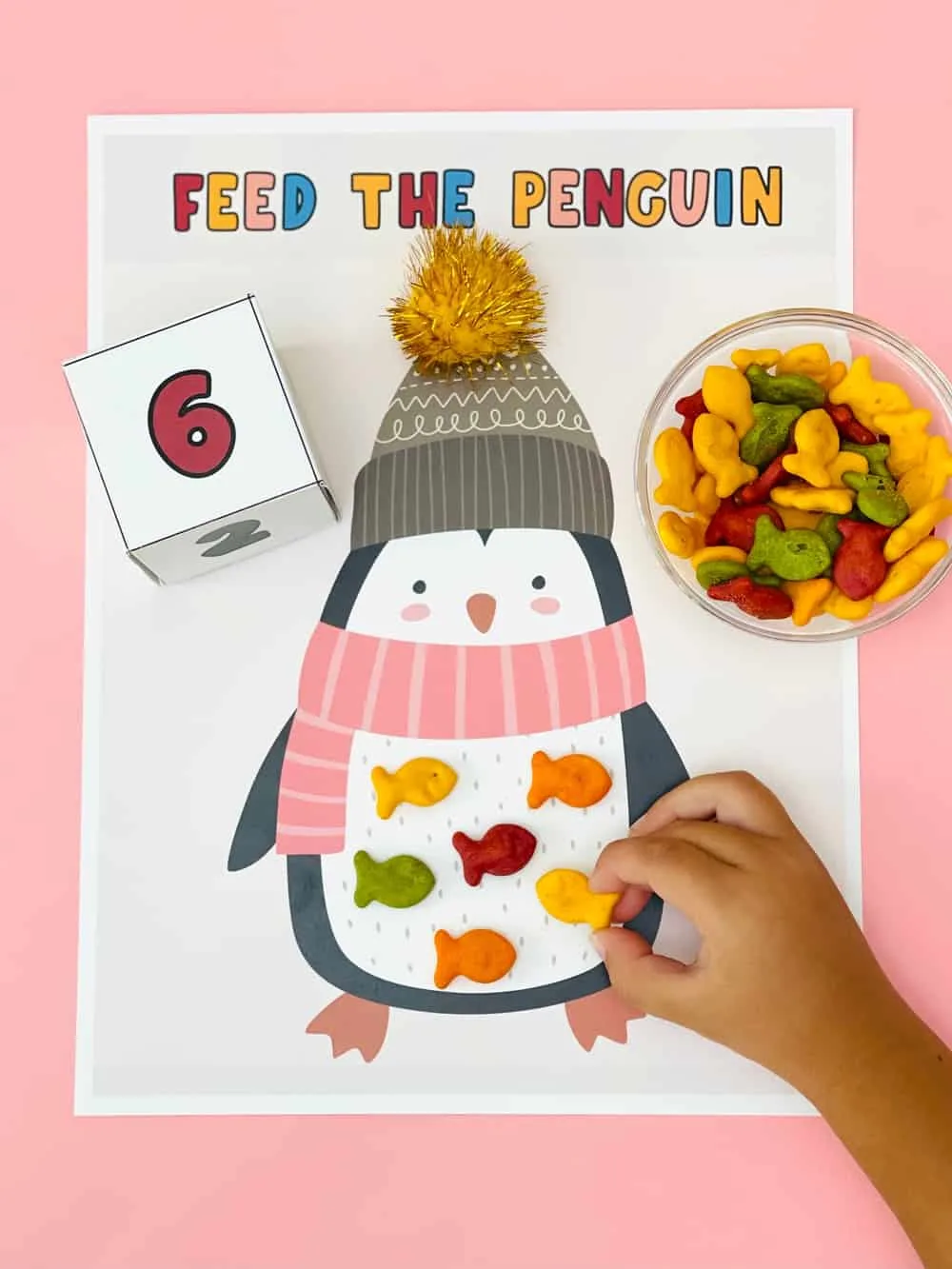 This is the perfect preschool math activity for December. Kids roll a dice to see how many goldfish the hungry penguin gets. If they do a good job, kids could even share the goldfish with the cute little penguin!
Learn more: Hello Wonderful
28. Winter Animal Movement Dice
Print out this cool (no pun intended!) winter-themed die that features 6 frosty animals. Each one comes with a fun prompt that kids can follow. This gross motor activity will see preschoolers crawling like a polar bear, running like a fox, and waddling like a penguin.
Learn more: Natural Beach Living
Snow can be cold, messy, and dirty, that is if you are even lucky enough to get snow where you live. Opt for this easy-to-make 2-ingredient snow that is clean and never melts. And who would have guessed: the surprising 2 ingredients are hair conditioner and baking soda!
Learn more: The Purposeful Nest
Kids always love a good old-fashioned DIY confetti canon. Give this craft a wintery twist by decorating the paper cup like a snowman and only adding white confetti, marshmallows, or cotton balls to the cup. Kids will love to make it snow with their new snowman launchers!
Learn more: 123 Homeschool 4 Me
This time around, kids get to paint on the ice instead of WITH the ice. Fill a bin with ice cubes and prepare some water by mixing it with paint. Kids then paint the ice in an array of fun colors and get to practice their motor skills at the same time.
Learn more: Modern Preschool