Dia de los Muertos, or "Day of the Dead," is a Mexican holiday observed on the 1st and 2nd of November. Although it may seem gloomy, it's a happy and colorful celebration of life where families remember loved ones who have passed on. With entertaining and instructive activities, teachers and parents can make the day of the dead celebrations even more interesting by incorporating cultural teachings and storytelling activities to educate youngsters about the celebration's meaning and history. These are 22 activities for the day of the dead activities that your kids will love!
1. Go Through Family History Together
Looking through family history with your children might be a significant Día de los Muertos activity. It allows them to learn about and commemorate their forefathers by sharing tales and experiences. Through this exercise, children can better grasp their family's cultural heritage and how their ancestors have contributed to defining their identity.
Learn More: Lingo Kids
2. Make an Altar
Building a day of the dead altar is essential to the Día de los Muertos celebration. Youngsters may take part by collecting photographs, candles, flowers, and other mementos of their dead loved ones. This exercise allows individuals to reminisce about and honor their departed family members.
Learn More: Lingo Kids
3. Make Calavera Sugar Skulls
This entails shaping sugar into skull forms and decorating them with frosting, glitter, and other accessories. This fun activity allows youngsters to learn about the significance of Calaveras while also honoring their dead loved ones in a meaningful way.
Learn More: Parent Map
4. Making Día De Muertos Lanterns
These beautiful and symbolic lanterns can be built from colored tissue paper or other materials. Youngsters can adorn them with images of their ancestors or other Día de los Muertos symbols before lighting them in memory.
Learn More: Parent Map
5. Color a Calavera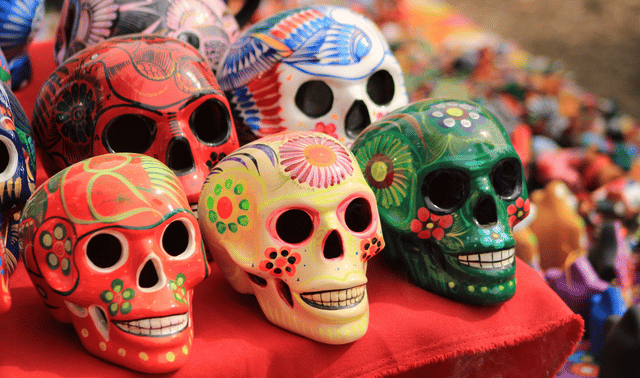 Children may customize their Calavera by using bright colors and unique designs. This project also allows them to learn about the symbolism of Calaveras and their importance in Mexican culture.
Learn More: Globe Totting
6. Bake Bread of the Dead
Children can help make this classic sweet bread adorned with bone-shaped dough pieces. This exercise teaches participants the significance of food and offerings in commemorating dead loved ones.
Learn More: Globe Totting
7. Creating Papel Picado
Making papel picado is a fun Día de los Muertos activity that your kids will love. They can cut intricate designs into colorful tissue paper to make beautiful banners or garlands. Children can decorate the papel picado with symbols and colors representing their ancestors and then hang them on the ofrendas.
Learn More: Mr. Schuette's – ART CLASS
8. Making Marigold Flowers Out of Tissue Paper
Making tissue paper marigold flowers is a fun and creative way for children to honor their departed loved ones on Día de los Muertos. These paper flowers mimic the popular Mexican marigold flower that is native to Mexico. Children may use the opportunity to learn about the cultural significance of marigolds.
Learn More: Harris County PL
9. Dressing Up in Calavera (Skeleton) Costumes
Dressing up in Calavera costumes lets children get creative and have fun while celebrating the holiday. Kids can design their costumes and embrace the playful spirit of Día de los Muertos.
Learn More: Pop Sugar
10. Watching or Creating a Performance of a Traditional Calavera Poem
Children may learn about Mexican culture and language by watching or making a performance of a traditional Calavera poem— a great opportunity to incite artistic expression in them.
Learn More: PBS
11. Making Piñatas in the Shape of Skulls
Making and breaking open piñatas will always be a fun and collaborative activity for kids. People might collaborate to make a lively and bright décor to remember loved ones who have died.
Learn More: Growing Up Bilingual
12. Painting Faces With Calavera Makeup
Painting faces with Calavera makeup is a fun way for youngsters to express themselves creatively during the festivity. Students may experiment with different colors and patterns while learning about the holiday's meaning and history.
Learn More: Santa Cruz Mah
13. Reading Books or Watching Videos About Día de Los Muertos
Transport your kids to a world of vivid colors, fascinating characters, and unique rituals by reading books or watching films about this yearly event. Students will be exposed to the holiday's rich history and cultural importance in a pleasant and engaging way.
Learn More: Five Books
14. Creating Play-Dough Figurines of Calaveras
A creative way to engage and stimulate your young ones during this festive season is to allow them to play with play-dough to make figurines of Calaveras or other symbols.
Learn More: Activa Products
15. Coloring Calaveras
This activity may assist learners in developing their artistic abilities as well as learning about the many colors and designs utilized in traditional Día de los Muertos art. Kids can be allowed creative freedom to color their calaveras with their favorite colors.
Learn More: Caribu
16. Participate in a Community Parade
Children may enjoy a colorful and educational Día de los Muertos march. Kids can dress up in bright costumes, dance to exuberant music, and participate in a cultural event honoring their ancestors and celebrating life.
Learn More: Online Milwaukee
17. Making Paper Mache Skulls
This messy activity involves utilizing recycled materials such as newspaper and cardboard to make distinctive and colorful skulls that may be exhibited as part of a Día de los Muertos altar or as holiday decorations.
Learn More: Hispana Global
18. Listening and Dancing to Traditional Mexican Music
Dancing to traditional Mexican music will help your kids connect with their cultural heritage and express themselves through movement. Students may learn about several styles of Mexican dance, including salsa, cumbia, and mariachi.
Learn More: FOX59 News
19. Buying Veladora Candles for the Ofrenda
Involve your kids when picking and decorating candles with images of loved ones who have passed on. This exercise enables children to focus on the memories of individuals who have passed away while also adding a lovely touch to the ofrenda.
Learn More: Chile Mojo
20. Creating a Mural With Día de Los Muertos Symbols and Colors
Let your kids create a mural. They can draw or paint skulls, flowers, and other significant symbols in bright colors at home or in the classroom.
Learn More: Crafty Chica
21. Making Catrina Dolls or Figurines
Kids can make their own Catrina dolls out of materials like clay, paper mache, or fabric and dress them in colorful accessories. It will help them learn about this figurine's importance in Mexican culture.
Learn More: Deep Space Sparkle
22. Visiting the Cemetery and Burial Sites of Loved Ones
This activity provides a special time for kids to pay their respects to those who contributed greatly to their families and have passed. The site can be decorated with flowers, candles, and other graveside memorials. The highlight of such events could be the interesting stories of the departed loved ones.
Learn More: Day Of The Dead