Millions of people around the world celebrate Diwali; the Festival of Lights. No amount of planning can match the exhilaration that Diwali brings. The list of activities includes everything from traditional clothing and Indian sweets to décor crafts, and more! Teach your students about the importance and meaning of Diwali as you engage them in a host of 25 fun activities! 
1. Paper Diya Craft
This paper diya craft activity is a fun idea to enhance your student's motor skills. All you need to create this papercraft is a variety of vibrant paper, scissors, and glue to adhere the cutouts to one another.
Learn More: Artsy Craftsy Mom
2. Clay Diya Lamp
To symbolize Indian culture, traditional Diya lamps are made of oil and feature cotton wicks soaked in ghee. You can help students create these colorful versions with white air-drying clay and then get them to personalize them with paint and embellishments.
Learn More: Smiling Colors
3. Paper Plate Rangoli
Ask students to combine their favorite colors by adorning paper plates with paper pieces, gems, stickers, and other embellishments to create a Rangoli pattern that changes the look of the plain plate.
Learn More: Hannah and the Twiglets
4. Rangoli Coloring Page
In this activity, learners can use different designs to create a beautiful rangoli design. Simply give students markers or crayons and ask them to color in each shape.
Learn More: Messy Little Monster
5. Paper Lanterns
Nothing beats making paper lanterns for the biggest festival of lights! All you need is glitter glue, markers, and paper in the color of your choice. 
Learn More: Crayola
6. A Marigold Paper Flower Garland
The orange and yellow marigold garlands worn during Diwali traditionally represent achievement and fresh starts. Prompt learners to make these beautiful garlands using paper, string, and glue. 
Learn More: Grateful Art
7. Handmade Lamp Greeting Card
Creating greeting cards for friends and family is another fun Diwali activity. Foldable Diya lamps made from glittery paper make these cards a keepsake to remember!  
Learn More: Made by Lakshmi
8. DIY Paper Marigold Flowers
The paper marigold flowers involve cutting yellow and orange paper into petals before shaping them into a marigold flower using wire and glue. The flower is then attached to a stem made of green paper or wire. The process can be repeated to create a beautiful bouquet! 
Learn More: Free Printable Cards
9. DIY Macramé Lantern for Diwali
This DIY macramé lantern is a fun craft for students. You can form groups and ask learners to apply their creativity and make a beautiful lantern for Diwali. With assistance from an adult, this is a fantastic project for older kids to try.
Learn More: YouTube
10. Colorful Firecracker Craft
This craft involves cutting construction paper, gluing it together, adding glitter or sequins, and decorating it with markers to create paper firecrackers. This activity is easy to conduct with basic materials and can be adapted for different age groups and skill levels.
Learn More: Sugar, Spice, and Glitter
11. DIY Diwali Tealight Holder
How can we forget candles in the festival of lights? Engage students in this amazing Diwali-themed craft. Ask them to create a lovely Diwali tealight holder by transforming colorful glass bangles into candle holders by gluing them together. 
Learn More: The Sunshine Corner
12. DIY Lantern with Bottle
Students will love creating these DIY lanterns for Diwali. To make recyclable plastic bottle lanterns, your learners will need plastic bottles, paint, a craft knife, and a string of LED lights. They can begin by cutting the bottle's bottom and top off and then cutting out shapes on the sides. Next, they can paint the bottles, insert LED lights through the openings, and hang them using the bottle's handle.
Learn More: Handmade Charlotte
13. Counting to Diwali
This is a humorous Hindi counting book for Diwali! It includes jhumke, kandils, rangolis, diyas, and more! It's a good approach to teaching new vocabulary to students. 
Learn More: Good Reads
14. Shubh Diwali- A Read Aloud
This lovely book describes a Diwali celebration from the perspective of an Indian family living outside of India. The beautiful images of friends and family sharing Diwali celebrations with neighbors from different cultures will amaze students.
Learn More: YouTube
15. Diwali Tiles Puzzle
This Diwali-themed puzzle involves assembling scattered puzzle pieces to form an image related to Diwali, such as a rangoli or a diya. What a fun and engaging way to celebrate the Festival of Lights.
Learn More: Pinterest
16. Diwali Stained Glass
To create a Diwali-inspired stained glass window using tissue paper and contact paper, learners can cut tissue paper into small pieces and arrange them on one side of a sheet of contact paper. Next, they'll cover the arrangement with another sheet of contact paper before cutting out shapes such as diyas or fireworks. Stick the finished product onto a window to create a colorful and festive display! 
Learn More: Pinterest
17. Diwali Party Photo Booth Props
To create Diwali party photo booth props, select materials such as cardboard, craft paper, or foam sheets, and have your students cut out assorted shapes. Decorate them with paint, markers, and glitter. Add sticks or handles for ease of operation. Place the props in a photo booth area and encourage guests to take memorable photos! 
Learn More: Pinterest
18. Diwali-Inspired Sun Catcher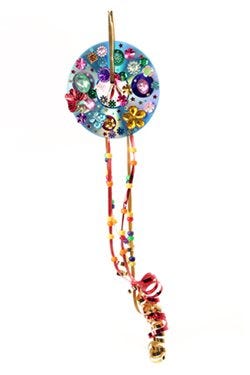 To create a Diwali-inspired sun catcher using tissue paper and contact paper, have your students cut tissue paper into small pieces and arrange them onto one side of a sheet of contact paper. Cover with another sheet of contact paper and then cut out shapes such as diyas or fireworks. Hang the sun catcher in a window to enjoy a colorful display.
Learn More: Espo
19. Vegetable Diyas
The edible Diya craft is a healthy and creative activity for kids. Your kiddos can create these simple diyas using common vegetables and crackers. 
Learn More: Little Food Junction
20. Diwali-Themed Sugar Cookies
Isn't it that time of year when receiving and giving presents makes us so happy? Help students make these vibrant Diwali cookies. They include delicate, ethnic designs that are breathtaking and will uplift all learners! 
Learn More: Whisk Affair
21. Firecracker Fruit Skewers
Keep your students safe, healthy, and entertained with these easy fruit skewers that look like fireworks! Placing the already-cut fruit on a table and letting the kids make their edible firecracker is a lovely firework activity for during Diwali.
Learn More: Eats Amazing
22. Breadstick Sparkles for Kids
As kids typically like firecrackers, these breadstick wands are ideal for Diwali snacks! Simply cover the breadsticks in melted chocolate and coat with sprinkles for leaving to set. Once dry, enjoy! 
Learn More: Baby Budgeting
23. Fan Folding Diya
To make a fan-folding Diya with paper, start with a square piece of paper. Have your kiddos fold the paper diagonally and make multiple creases to form a fan-like pattern. They can then cut out a Diya shape from the folded paper and carefully unfold it to reveal the intricate design. 
Learn More: YouTube
24. DIY Diya Toran
Toran is a decorative wall hanging that can be hung on a door or a wall for decoration. You can make torans using metal, fabric, or flowers. To make them, simply give students flowers, beads, and crepe paper, and ask them to get designing. 
Learn More: YouTube
25. Diwali Bingo Game for Kids
The game involves distributing bingo cards with pictures related to Diwali such as diyas, rangoli, and sweets. The caller reads out words related to the pictures and the players mark the corresponding picture on their cards. The game continues until someone gets a complete line and shouts bingo! 
Learn More: Teachers Pay Teachers