You can easily make reading for beginners more engaging and delightful with the right blend of fun and educational activities! Our collection of 23 Dolch Sight Words activities is designed to help students master common sight words in a variety of engaging ways. These activities are perfect for creating a stimulating environment where they can broaden their vocabulary while having a great time. Dive right in to discover more!
1. Word Detective Game
Have your students channel their inner detectives as they hunt for Dolch sight words in their favorite books. Once they spot a sight word, they can jot it down and add it to their 'clue' collection.
Learn More: Teachers Pay Teachers
2. Bingo
Try a round of site word bingo to get your little learners better acquainted with the common sight words. The first to completely cover a row with buttons or pom poms wins!
Learn More: 123 Homeschool 4 Me
3. Word Jump
This is a fun exercise for both body and mind! Your littles can hop, skip, and jump on chalk words dotted throughout the playground. Call out the words and prompt your students to jump on the corresponding drawing.
Learn More: Fun Learning For Kids
4. Word Musical Chairs
Jazz up the classic game of musical chairs by adding a fun twist! As the music stops, students must swiftly spot a chair, correctly read out the attached sight word, and sit down.
Learn More: Spoonfuls of Kindergarten
5. Interactive Sight Word Wall
Transform your classroom wall into a lively space that can be dedicated to facilitating learning in a fun way. As your students master a new sight word, they can write it on a paper balloon and pop it on the wall.
Learn More: The Moffatt Girls
6. Sight Word Bean Bag Toss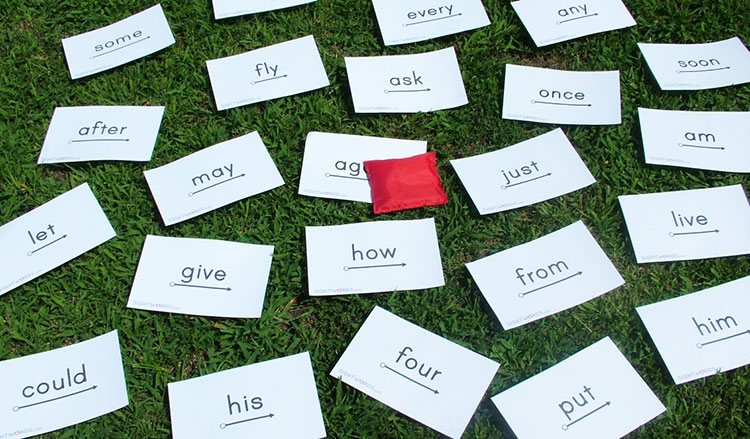 Aim, toss, and learn with a game of sight word bean bag toss! Create a 3×3 sight word board in which you insert singular words into each square. Students must then aim bean bags at the squares and shout out the word they land on.
Learn More: Sight Words
7. Sight Word Chain
Invite your students to create a chain of words to adorn one of the classroom walls. Each student can write a sight word on a strip of paper before looping it around others to create a chain!
Learn More: Adventures in Literacy Land
8. Word Construction Zone
Take a hands-on approach to learning by incorporating building blocks into your lessons! Give your students letter blocks and task them with constructing sight words that are called aloud.
Learn More: Family Education
9. Sight Word Race
On your marks, get set, read! Ignite a friendly competition where students must race to read sight words. This high-energy game will motivate them to speedily master their sight words.
Learn More: Sight Word Mania
10. Flashcard Swap
Time for a swap meet! Set up a flashcard swap session where your kiddos can create and trade sight word flashcards.
Learn More: The Many Little Joys
11. Sight Word Treasure Hunt
Your littles are bound to love this treasure hunt with a linguistic spin! Hide sight word flashcards around the room and let your students have a go at seeking them out before reading them aloud to discover the ultimate treasure.
Learn More: Homeschool Creations
12. Fly Swat Game
This quick-paced game is a fun and interactive way to familiarize your students with sight words. Hand each learner a fly swatter and call out sight words for them to 'swat'.
Learn More: Way Fair
13. Word Relay Race
Get your students' adrenaline pumping with a sight word relay race! Teams must dash to a board filled with sight words, read a word aloud, and then dash back to pass the baton to their awaiting teammate.
Learn More: YouTube
14. Sight Word Story
Make storytime a sight word delight! Challenge your students to craft a narrative that's brimming with sight words. The best part you ask? They won't just write, they'll draw too! Every illustration they etch will be paired with a sight word and will reinforce the meaning of these words.
Learn More: Lucky Little Learners
15. Artistic Words
This activity is fantastic for Summer learning! Allow your littles to use markers to write sight words on large paper towel sheets before spraying them with water as they sound them out.
Learn More: Montessori From The Heart
16. Sight Word Bookmarks
Embrace creativity and literacy with a splash of color and imagination! Have your students design bookmarks peppered with Dolch sight words!
Learn More: Fun In First
17. Sight Word Song
Reinvent your learning space as your transform it into a recording studio! Ask your students to tap into their inner songwriter as they compose catchy tunes using sight words.
Learn More: Larry Heilman
18. Word Search Puzzles
Ready for some sight word detective work? Create word search puzzles featuring sight words and let your students put on their thinking caps to uncover all the words!
Learn More: Stop And Smell The Crayons
19. Memory Match
Make a set of cards that display the same sight word. Mix them up, place them face down, and have your students turn two over at a time to find a match.
Learn More: Sight Words
20. Sight Word Charades
Try a round of sight word charades to test learner understanding in a fun way! Have your students draw sight words and then act them out while the rest of the class makes guesses as to what they are.
Learn More: Everything AJA
21. Tic-Tac-Toe
Have a go at a game of sight word tic tac toe- aiming to get three in a row! Instead of using Xs and Os, use sight words. Your students will need to correctly pronounce a sight word before placing their marker over it.
Learn More: Confidence Meets Parenting
22. Sight Word Sand Writing
Hit the beach, or at least imagine you did with this sensory activity! Fill trays with sand and have your students write sight words using their fingers.
Learn More: Mrs. V's Chickadees
23. Sight Word Sentence Building
Give your students sight words and encourage them to create sentences. Watch their linguistic confidence bloom as they weave words into meaningful sentences; further enriching their communication skills.
Learn More: Pinterest