Dot markers provide an endless assortment of simple, engaging, and fun activity ideas for kids. This tried-and-true art supply promotes children's creativity while helping to introduce letters and numbers.
They are also a great choice for developing pattern and color recognition and improving fine motor skills. The good news is that you only need a few to generate all sorts of exciting learning opportunities, including math, literacy, and art-based projects.
1. Dot Marker Name Tracing
This simple dot-learning activity makes use of jumbo dot markers to boost color recognition. Using a marker, spell your child's name in giant letters, using a different color for each letter. Then, invite your young learner to match the color you used for the letters by tracing them with the dot marker.
Learn More: Pinterest
2. Dot Marker Rainbow
After tracing a rainbow using crayon dot markers, have your child fill in the spaces using colored dot markers. This activity, which can also be done with 3D shape dot markers, is a wonderful way to improve fine motor and color recognition skills.
Learn More: Pinterest
3. Dot Marker Numbers Fun
Using a number worksheet, invite your child to select what color marker they wish to use and have them trace each number to develop core numeracy skills.
Learn More: @creativelearningactivities
4. Dot-to-Dot Marker Activities
After adding several dots to a piece of paper, challenge your young learner to connect all the dots of the same color. This simple activity is a great way to boost color recognition skills and hand-eye coordination.
Learn More: Pinterest
5. Dot Marker Shapes
Print a couple of shape dot marker worksheets or invest in dot marker shape mats. Tracing the different shapes using dot markers or washable markers is an engaging, hands-on way to build core geometry skills.
Learn More: Brecken's Playtime
6. Dot Marker Painting
Children's imagination knows no limits, so why not let them explore producing creative shapes such as flowers or ice cream cones using only dot markers?
Learn More: @helenafineart7934
7. Dot Marker Patterns
Patterns can be taught in many ways, but using concrete manipulatives is certainly the way to go. Start with a few simple color-based patterns and invite your child to complete them before coming up with their own.
Learn More: Positive Playroom Activities
8. Dot Marker Counting
What better way to improve counting and number recognition than with simple-to-use dot markers? After writing various numbers on one side of a piece of paper, invite your child to add the corresponding number of dots to the other side.
Learn More: Show My Crafts
9. Dot Marker Counting Worksheets
There are a plethora of dot coloring books filled with creative activities, such as matching the number of objects in an image with the correct number of dots.
Learn More: Homeschool Giveaways
10. Dot Marker Animal Matching Game
Head to your favorite dot marker printables and activities site and print some activities to keep your child engaged for hours. A popular activity involves matching the first letter of the image to the correct letter of the alphabet.
Learn More: Pinterest
11. Themed Dot Marker Art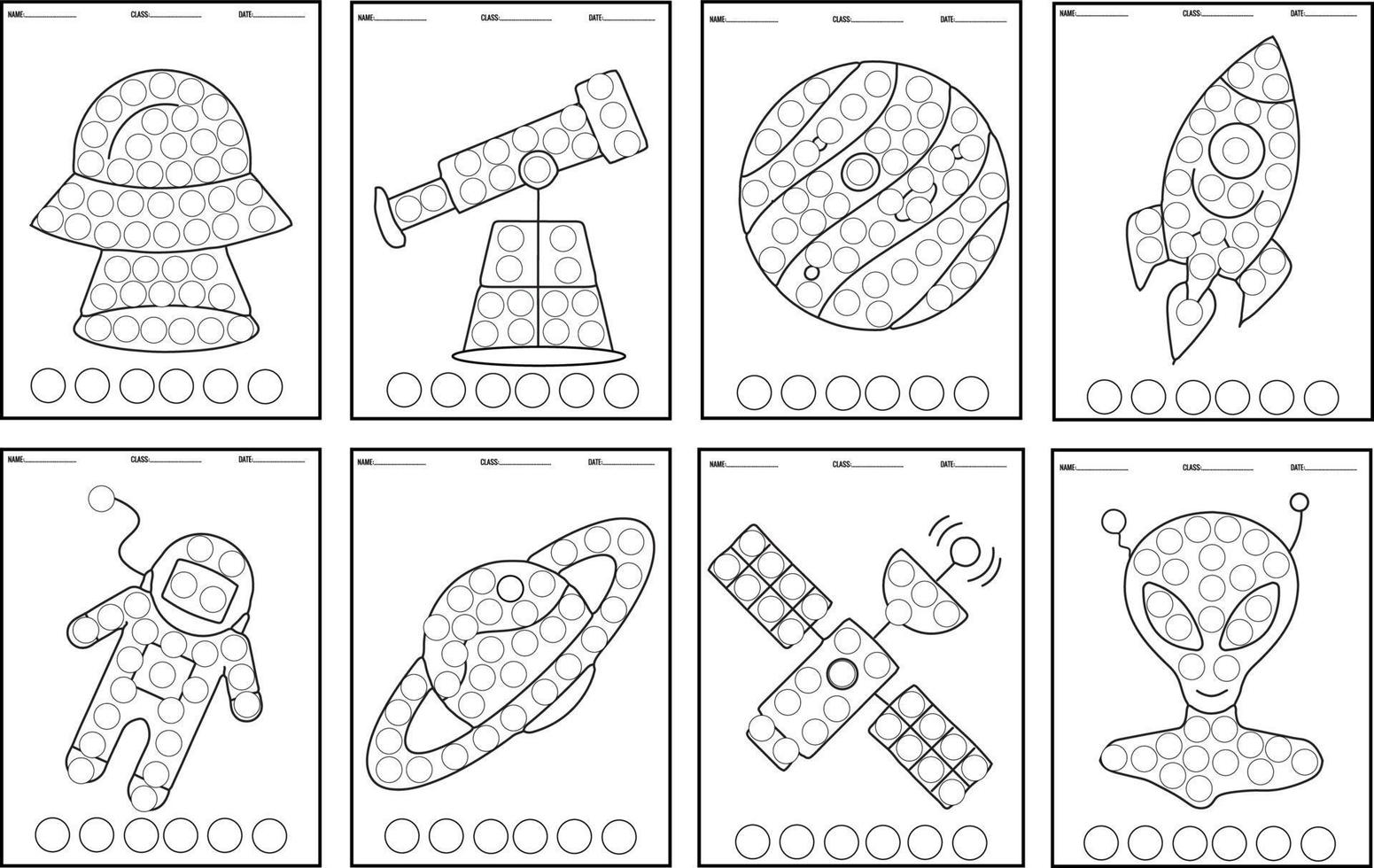 You can choose from a variety of themed dot marker printables and activities. Summer dot marker worksheets, spring dot marker worksheets, Valentine's Day dot marker worksheets, or bug dot marker worksheets are just some of the options available. Or simply print your child's current interest—a printable with a polar animal theme, perhaps.
Learn More: Pinterest
12. Dot Marker Changing Seasons
Using a dot marker tree, teach your child how the seasons change, by having them show the different colors of the leaves as the seasons shift. Why not extend their Science-based learning by trying Earth Day dot marker worksheets, winter dot marker worksheets, or ocean dot marker worksheets?
Learn More: Pinterest
13. Dot Marker Coloring Activities
Dot markers teach children to color predefined shapes while staying within the lines. Why not try an added challenge with a gingerbread man dot marker, containing both big and smaller areas?
Learn more: Sharpen That Pencil
14. Alphabet Sounds and Dots
Have your child produce the sounds of the letter as they dot a specific alphabet on ABC dot marker printables. This ABC dot marker letters activity builds letter and sound recognition, while the colorful markers pique toddlers' interest.
Learn More: @kidszoneusa2573
15. Dot Marker BINGO
Print a BINGO card with random numbers or letters and have your child dot the number or letter with Bingo daubers. What's great about this activity is that it can easily be adapted based on the age and interests of the players.
Learn More: wikiHow
16. Dot Marker Capitalization
Teach your child how and when to capitalize the first letter of sentences and certain words. For example, all first letters of proper nouns can be dotted with a red marker, while those of common nouns might be dotted with a different color to help visually reinforce their learning.
Learn More: Pinterest
17. Fun Idea with Dot Marker Vowels
Distinguishing consonants from vowels can be tricky for young learners, but a hands-on motor activity can help! Write or print a series of random letters and have your child identify the vowels using dot markers.
Learn More: Pinterest