Thing captivates a child's imagination like a powerful and majestic dragon! Flying, fire-breathing, and offering wisdom and protection are all exciting themes for children to explore while learning about these magical creatuNores.
This collection of dragon-themed activities includes hands-on crafts such as; dancing Chinese dragons, vibrant masks, sparkling dragon eggs, puzzles, games, books, and more! They are sure to inspire plenty of dragon-tactic-fun while providing them with an exciting variety of learning opportunities!
1. Colorful Dragon Craft
Encourage a love of reading with this cute dragon paper clip bookmark. It's easy and fun to make; requiring only a large paper clip, pipe cleaners, googly eyes, and perhaps a pointy dragon tail and horns made from construction paper or craft foam.
Learn More: Carolyn Warvel
2. Dragon Mask Printable
Are you ready to unleash your inner dragon and create a fierce mask? Gather some colorful construction paper, scissors, glue, and any other decorations you might want to add, like glitter or paint.
Learn More: Ruffles and Rainboots
3. Chinese Dragon Puppet Craft
Have kids cut out these free dragon pieces and then glue them together to form their own fire-breathing dragon. Add some wiggly eyes and a tongue for extra fun. Now they can make their dragonfly, dance, and breathe fire with their own two hands!
Learn More: Crafts by Ria
4. STEM Dragon Activity
To make this sparkling dragon egg geode, mix water and salt in a container. Then, add food coloring and pour the mixture over an egg before allowing it to dry completely. Kids are sure to love cracking the egg open to reveal a beautiful geode interior!
Learn More: There's Just One Mommy
5. Cute Dragon Craft
To make this neat flying dragon STEM craft, use a cardboard tube as the dragon's body. Attach paper or plastic wings and a tail to the tube. Create a launcher with a rubber band and launch the dragon into flight. Why not experiment with different wing and tail shapes to see how they affect flight?
Learn More: There's Just One Mommy
6. Delightfully Dragon Hand Puppet
To make this ferocious dragon sock puppet, grab an old sock and some markers or paint. Draw or paint a dragon face on the sock and add googly eyes or buttons for the eyes. Cut out paper or felt for the dragon's wings and glue them on. Use your new dragon puppet to tell stories and have fun with classmates!
Learn More: Kids Craft Room
7. Try a Fiery Dragon Song
Let kids express their fierce inner dragon by dancing to this catchy song! Music can be used to improve communication skills, as well as encourage kids to express themselves through singing and dancing.
Learn More: Ryan's World
8. Fierce Dragon Handwriting Activity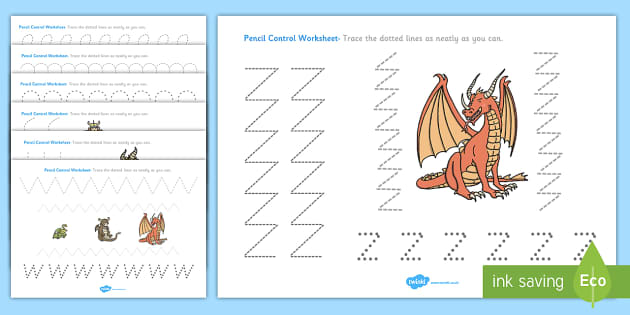 This pencil control worksheet can help children develop fine motor skills and hand-eye coordination, which are important for writing and other tasks that require precise hand movements. The gorgeous dragon theme is a great motivator and is sure to inspire plenty of handwriting practice!
Learn More: Twinkl
9. Bring a Dragon to Life in Words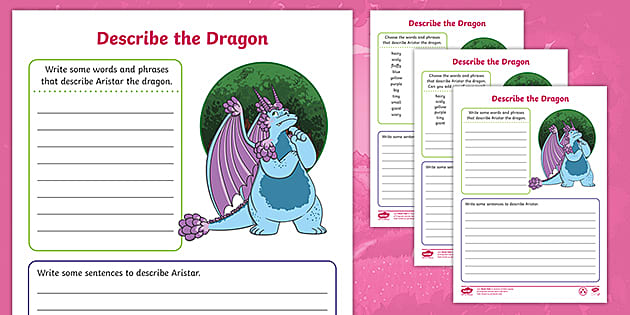 Help children practice writing character descriptions by choosing from a list of adjectives or coming up with their own to create dragon-inspired sentences.
Learn More: Twinkl
10. Book About Dragons
Get ready for an epic adventure! How to Catch a Dragon is a thrilling tale of bravery, cunning wit, and a bit of luck. Follow a brave knight on a quest to capture a fierce dragon and win the heart of a fair maiden. Will he succeed? Read to find out!
Learn More: Amazon
11. Dragon Word Search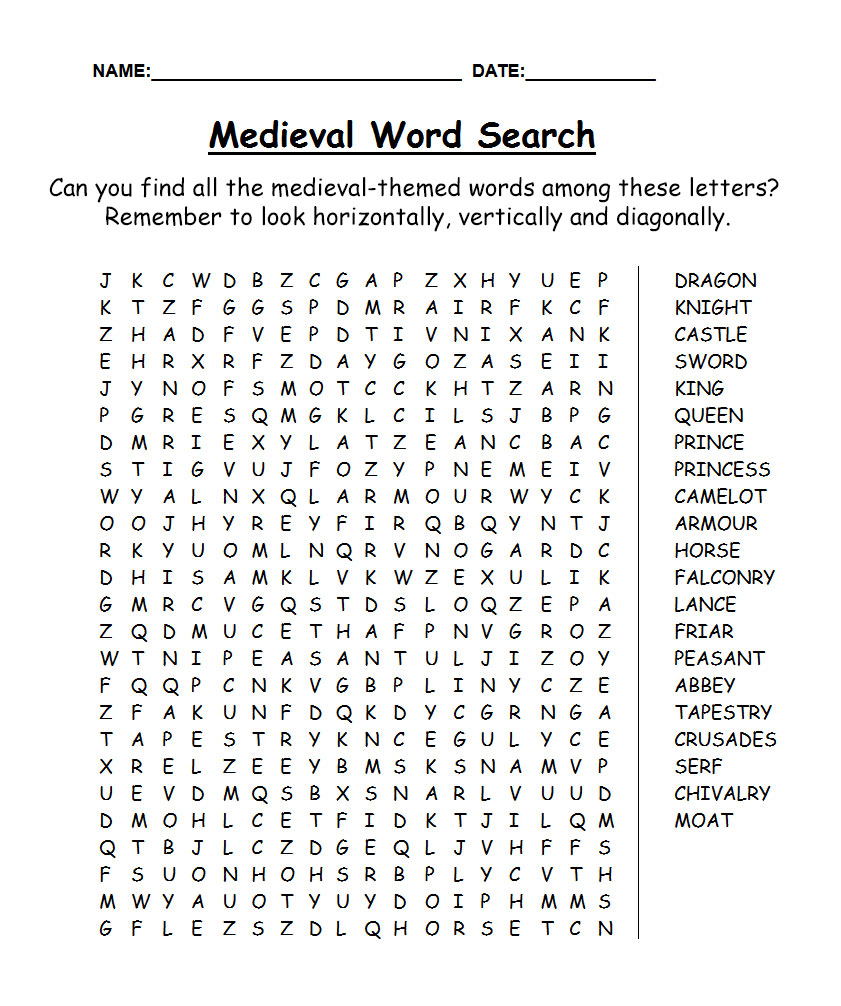 Doing a dragon-themed word search is a great way for kids to improve their spelling and vocabulary skills, while also having a blast! Plus, it's a great way to get them excited about reading and learning. Let the dragon-hunting begin!
Learn More: Puzzles to Print
12. Dragon Crossword Puzzle
Let kids unleash their inner dragon-slaying genius with a dragon-themed crossword puzzle! Not only is this dragon-sized challenge a fun brain boost but it also helps improve problem-solving skills and increase knowledge of vocabulary.
Learn More: WordMint
13. Dragon Coloring Pages
Coloring dragon pages is an excellent way for kids to express their creativity and have fun at the same time. It helps improve fine motor skills and hand-eye coordination. Additionally, it's a relaxing, stress-relieving activity that can help them focus and concentrate. So, grab some crayons and get going!
Learn More: Skip to My Lou
14. Smoking Dragon STEM Activity
Get ready for some smokin' hot science fun! With this STEM activity, you'll use dry ice to create a "smoking dragon" effect. It's a great way to introduce kids to the principles of matter and states of matter.
Learn More: Hessun Academy
15. Make an Origami Dragon
Teach kids how to make their very own dragon that can fly and breathe fire in their imagination. This origami craft is excellent for building fine motor skills and attention to detail while learning to follow instructions.
Learn More: Origami with Jo Nakashima
16. Rice Crispy Dragon Treats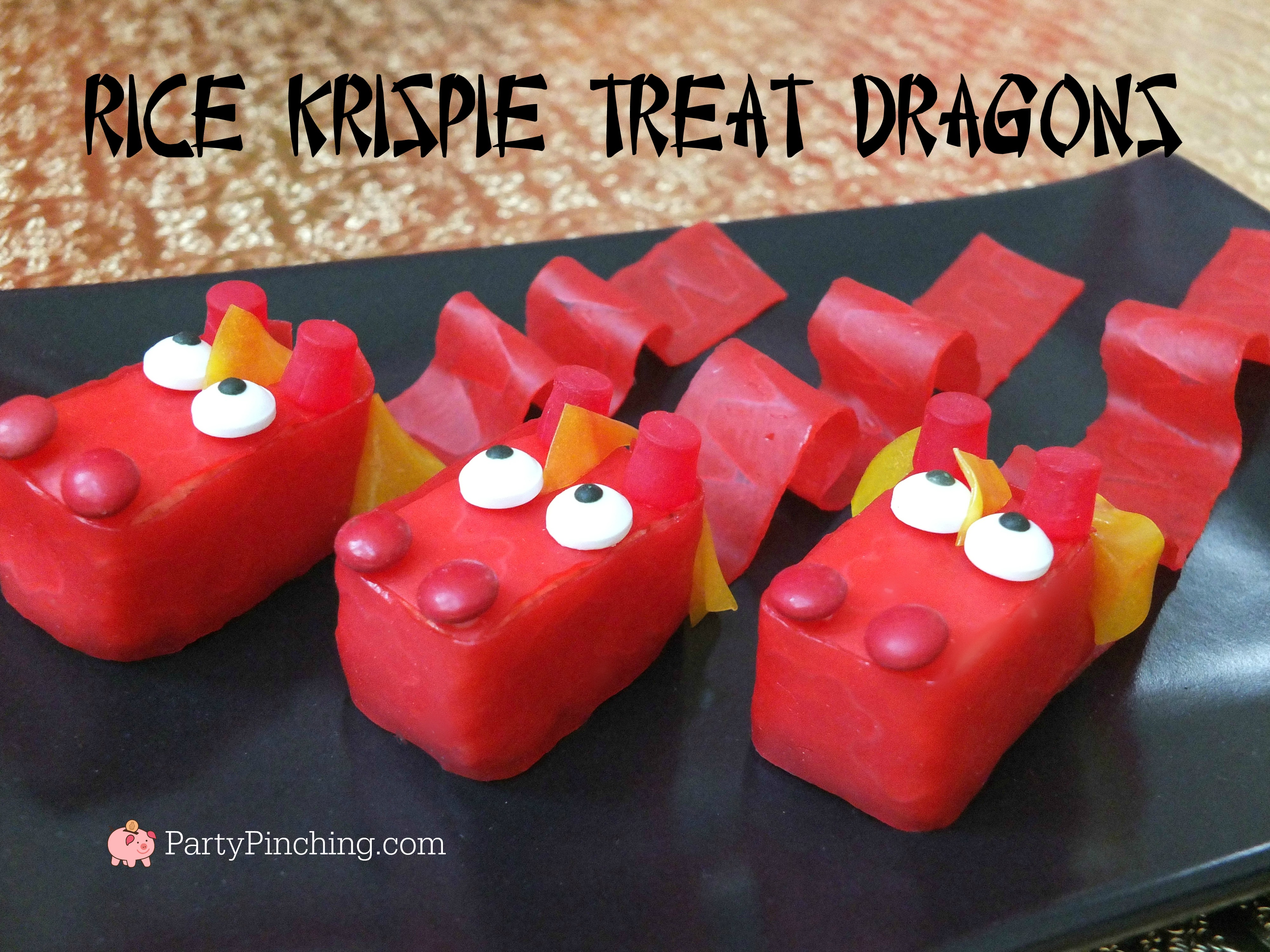 Rice Krispy treats are a yummy and fun snack made with crispy rice cereal, marshmallows, and butter that can be shaped and decorated to look like dragons!
Learn More: Party Pinching
17. Watch a Movie About Dragons
Watching a dragon movie can be a fun and exciting experience for kids. It can also have many benefits such as encouraging imagination and creativity, fostering a love of storytelling, teaching children about different cultures and beliefs, and helping them understand and process emotions.
Learn More: Mom Junction
18. Chinese Style Dragon Art
To make this colorful Chinese dragon, you'll need paper, scissors, and glue. Start by cutting out dragon shapes from the paper, and then glue them together to make a long dragon body. Add details like eyes and a tongue. You can also make a tail and legs. Now you have your very own Chinese dragon to play with!
Learn More: Teach Starter
19. Play a Dragon Game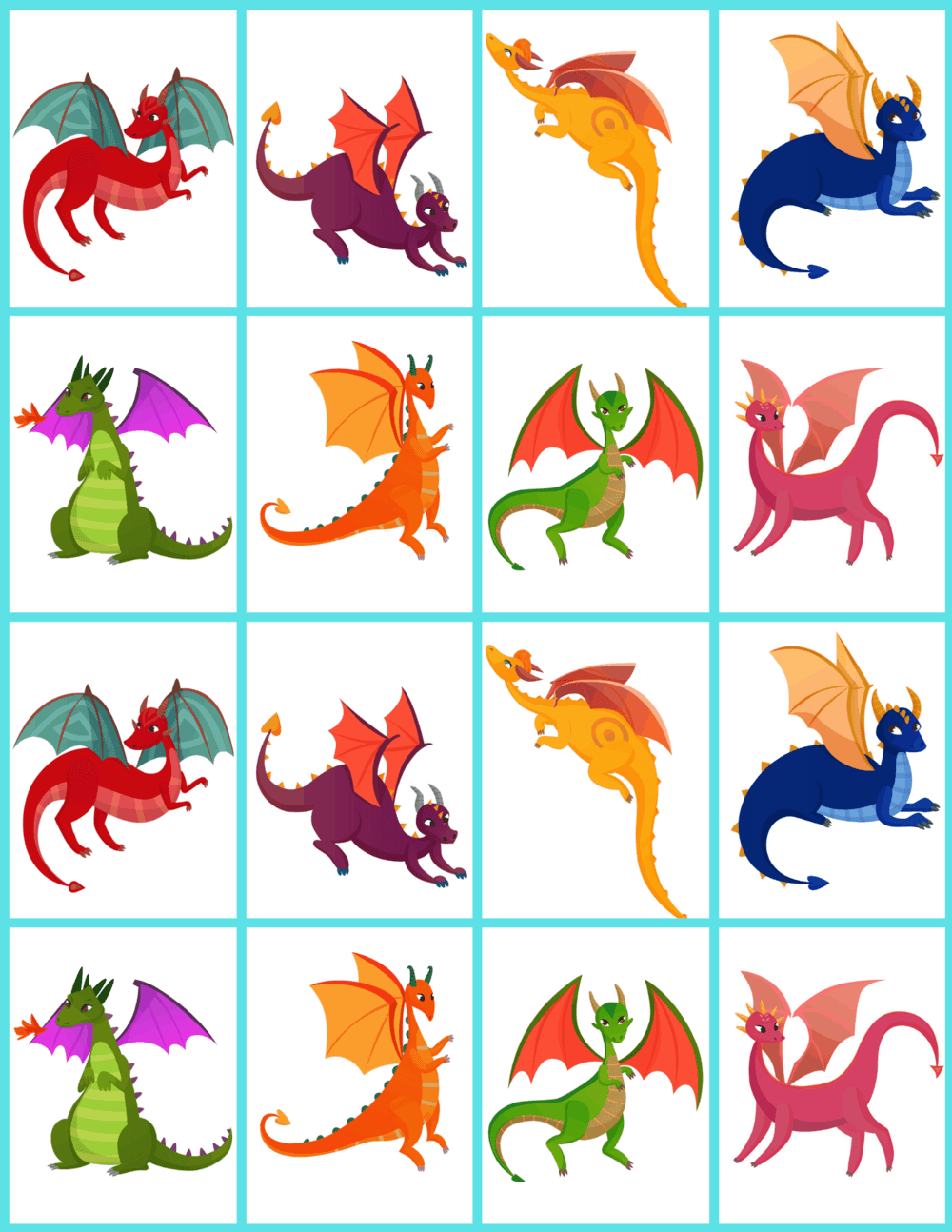 To play this interactive dragon board game, take turns rolling a die and moving your dragon piece around the board. Watch out for obstacles and be sure to collect treasure along the way! The first player to reach the end of the board wins and is dubbed the ultimate dragon master!
Learn More: Mama Smiles
20. Paper Plate Dragon
To make this roaring dragon, you'll need a paper plate, paint, and some fun embellishments like googly eyes and pom poms! First, paint the paper plate in your dragon's colors. Next, add some fun details like googly eyes, pom-pom spikes, and even pipe cleaner horns!
Learn More: Learn With Play at Home
21. Bejewelled Dragon Craft Idea
A bejeweled dragon's egg craft is a fun and sparkly way to let kids unleash their creativity and imagination. Not only do they get to decorate and personalize their own egg, but they also get to pretend it's a real dragon egg and maybe even hatch a dragon!
Learn More: Quite Frankly She Said
22. Make a Dragon Mask
To make a dragon mask, grab some colorful felt, scissors, and some glue or tape. Cut out a dragon face shape from the felt, then add some fun details like green dots and red flames. Now you're ready to fly around your house and roar like a dragon!
Learn More: Lia Griffith
23. Letter of the Week Dragon Craft
The "D is for Dragon" alphabet craft is a fun and creative way for kids to learn their letters while getting creative with felt and other materials.
Learn More: No Time for Flash Cards
24. Egg Carton Chinese Dragon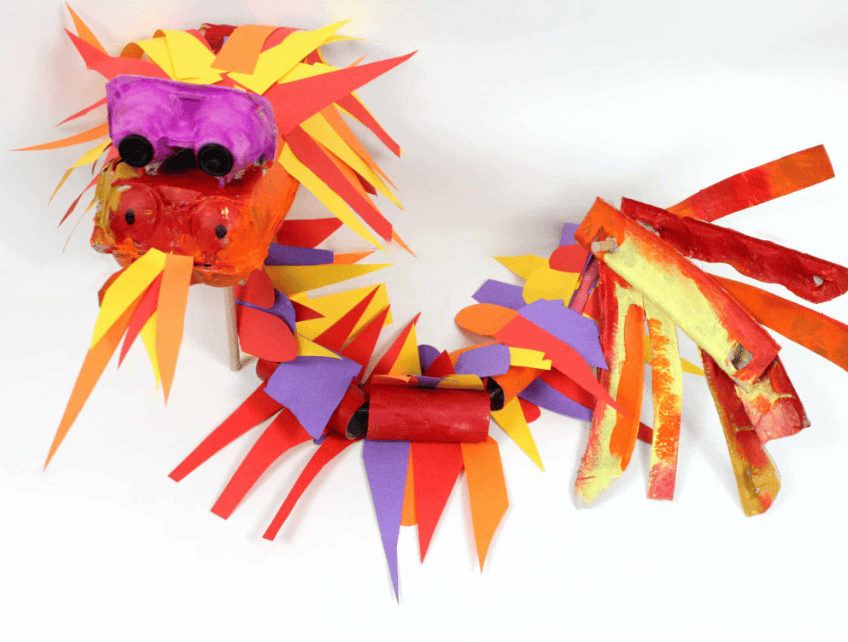 To make this vibrant recycled dragon, you'll need an egg carton, paint, and some fun embellishments like markers and pipe cleaners. Cut the egg carton into a dragon shape, paint it in bright colors, and add cardboard eyes and construction paper horns. Now your dragon is ready to breathe fire and play!
Learn More: Activity Village
25. Try a Dragon Maze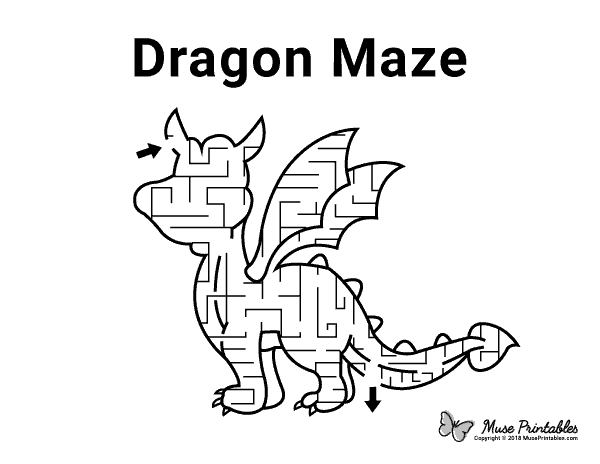 Dragon mazes are a fun and engaging way for kids to improve their problem-solving skills and hand-eye coordination while helping them to think critically and strategize as they guide their dragon through the maze.
Learn More: Muse Printables
26. Fire Breathing Dragon Craft
Making a fire-breathing dragon craft using recycled materials is an economical and creative way for kids to exercise their imagination and pretend to breathe fire like a real dragon!
Learn More: Laughing Kids Learn