Dragonflies are beautiful insects and much is still to be discovered about them. Making dragonfly crafts and activities that fit into an insect unit is a great way to teach your little ones more about these adorable creatures. As you dive into your unit, browse our selection of 25 spectacular activities and crafts! With so options ranging from a gorgeous handprint dragonfly to a cute dragonfly made from a clothespin, you won't know where to begin!
1. Handprint Dragonfly
For this cute craft, use a craft stick for the dragonfly body and handprints for the wings. Let students trace and decorate their cut-out handprints to use as colorful wings. Add some wiggly eyes and pipe cleaners for antennae.
Learn More: Raising Little Superheroes
2. Clothespin Dragonfly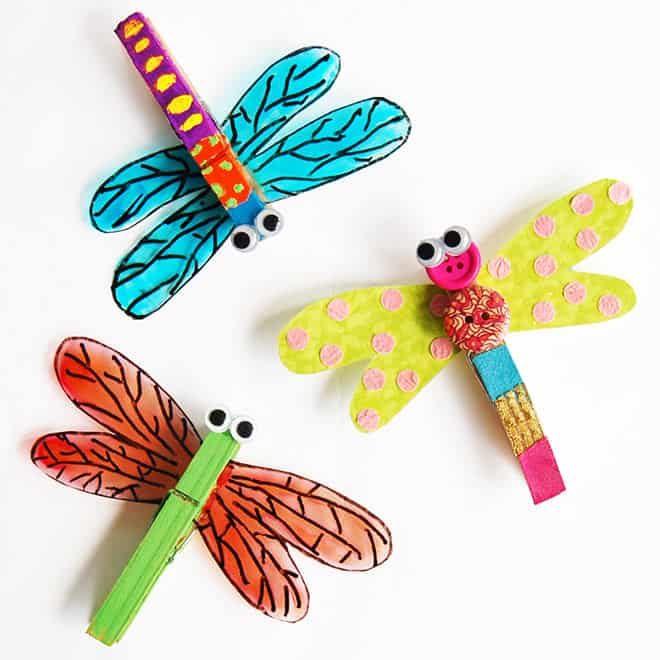 This craft calls for a clothespin to serve as a dragonfly body. The wings are made from clear laminator sheets or protective sleeves. Students can add decorative designs using permanent markers. Encourage them to get creative with colors, materials, and designs for finishing the body and wings.
Learn More: First Palette
3. Colorful Dragonfly Craft
This craft is made with a few kitchen items. With a plastic spoon serving as the body, and some colorful plastic bags or cellophane as the colorful wings, this project is pretty easy to make. Use a pipe cleaner to wind around the body and hold the winds in place and top it off with some googly eyes.
Learn More: Laughing Kids Learn
4. Watercolor Dragonfly
The watercolor painting will make for some beautiful dragonfly wing patterns. Use heavy-duty cardstock or a blank canvas to paint a unique and colorful dragonfly. This is a great craft to make during the Springtime when the seasons change and the dragonflies start to come out.
Learn More: Homemade Heather
5. Sparkling Dragonfly
This sparkling dragonfly would make a great refrigerator magnet! Using a colored craft stick, and some sparkly paper, you can use a dragonfly template to make this simple craft. Add a cute face and some sparkly pipe cleaners for antennae to finish it off!
Learn More: All Kids Network
6. Coffee Filter Dragonfly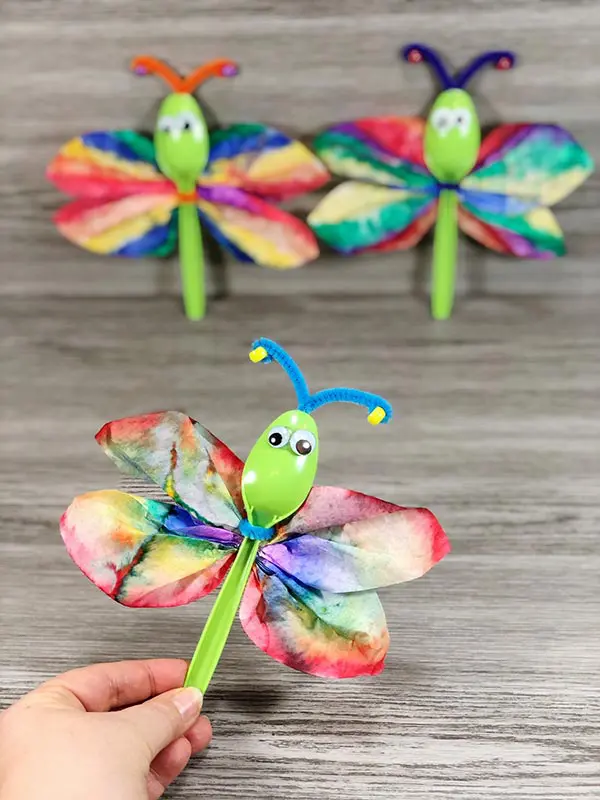 Super colorful and so adorable, this craft uses coffee filters to craft wings. You can color them using markers before adding a few drops of water to create a tie-dye effect. Tie the filters onto a plastic spoon using a piece of pipe cleaner and you're all set! You could draw on your eyes or glue on some googly eyes instead.
Learn More: Darcy and Brian
7. Beaded Dragonfly
Perfect for little hands needing fine motor practice! This beaded pipe cleaner dragonfly makes for a super cute craft. Add a matching pompom as the head and glue on some super small googly eyes to complete the craft.
Learn More: A Crafty Life
8. Dot-Painted Dragonfly
Students love painting; especially q-tip painting! This is easy for teachers to organize as it requires little prep work and cleanup. Use a template for the body and wings, and then let students get creative with the design as they dot on a colored paint.
Learn More: A Crafty Life
9. Egg Carton Dragonfly
Super easy and very easy to assemble is this egg carton craft. Cut strips of the egg carton and simply add eyes to the end once the carton has been painted. Fold a piece of paper and use watercolors to add different colors to the wings.
Learn More: DLTK's Sites for Kids
10. Dragonfly Heart Craft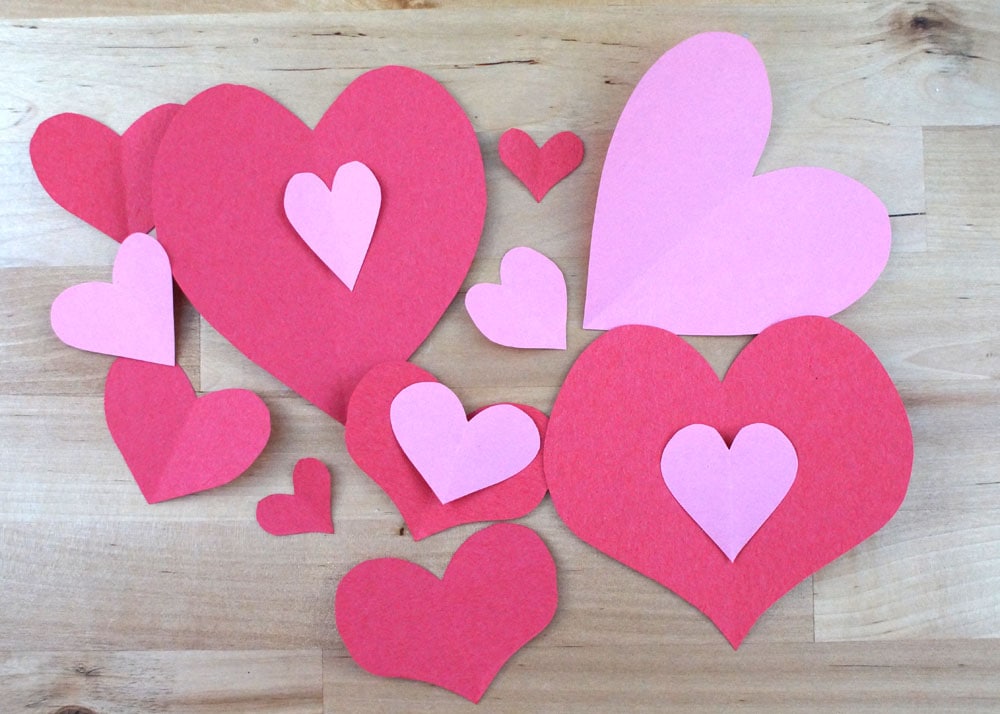 Cut out an assortment of cute and colorful hearts ahead of time, or allow students to do this. Use solid-colored hearts to form the body and patterned hearts to form the wings. Glue it into a piece of paper before displaying the artwork around the classroom.
Learn More: DLTK's Sites for Kids
11. Craft Stick Dragonfly
Students can color their dragonfly's wings or wrap them in tissue paper, as shown above. Then, simply get them to glue on a painted popsicle stick and pipe cleaner antennae before drawing on the face.
Learn More: Simple Everyday Mom
12. Nature Dragonfly
These dragonfly crafts are made solely from nature. Find twigs or other skinny items to form the body. Glue leaves or seedlings onto the twig to form the wings. Students can really get creative as they hunt outdoors for the perfect materials for their dragonfly crafts.
Learn More: Church Street Designs
13. Button Dragonfly
For this cute button craft, add a variety of shapes and sizes to create a unique dragonfly body. Simply cover the craft stick with the buttons to give it character. Add paper, felt, or foam wings to the back of the craft stick using a dab of glue. Top it off with wiggly eyes and pipe cleaner antennae!
Learn More: Artsy Momma
14. Pipe Cleaner and Clothespin Dragonfly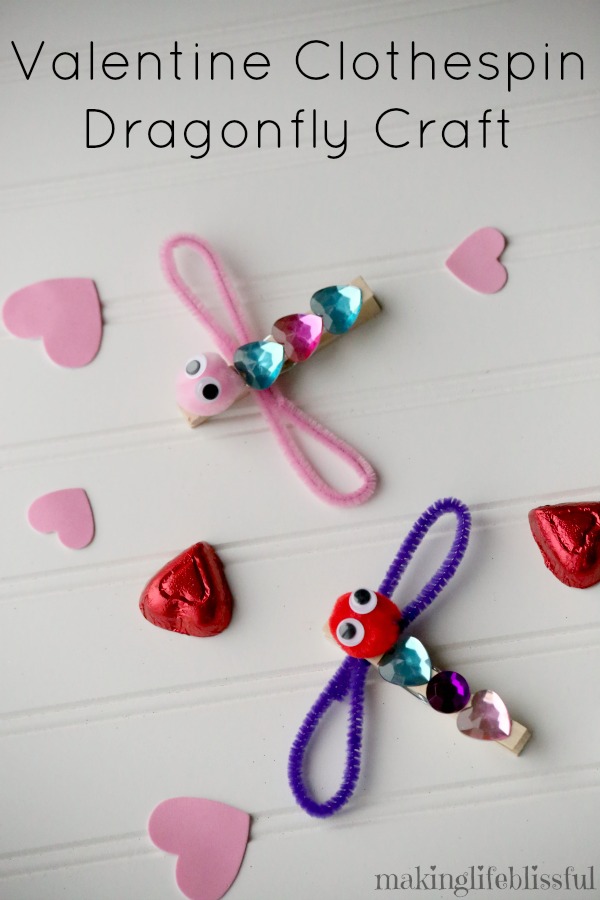 Perfect for Valentine's Day- this clothespin craft is easy and great for a station rotation. Supply clothespins, colorful jewels, some glue, a pompom, a pipe cleaner, and some wiggly eyes. Show students a sample and let them have a go at assembling it on their own.
Learn More: Making Life Blissful
15. 3D Dragonfly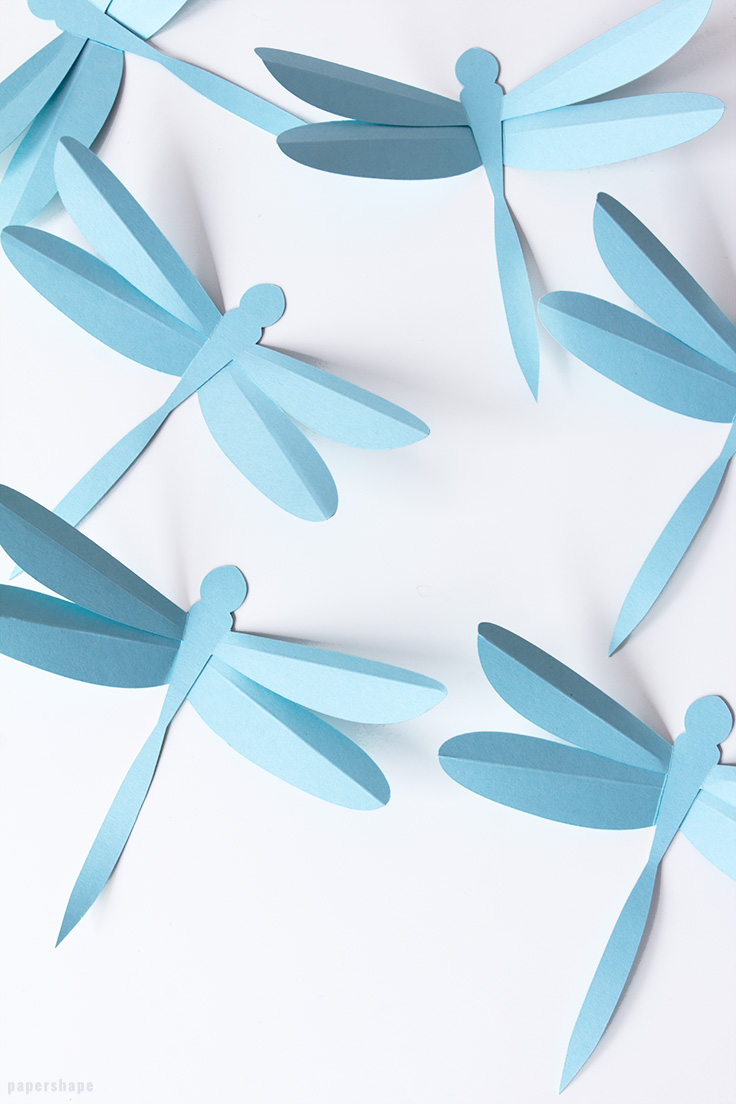 This 3D dragonfly is formed using only paper. Use a template to cut out the pieces and then fold them to create a 3D effect by adding dimension to the simple paper pieces. Assemble the pieces by gluing them into place.
Learn More: PaperShape
16. Construction Paper Dragonfly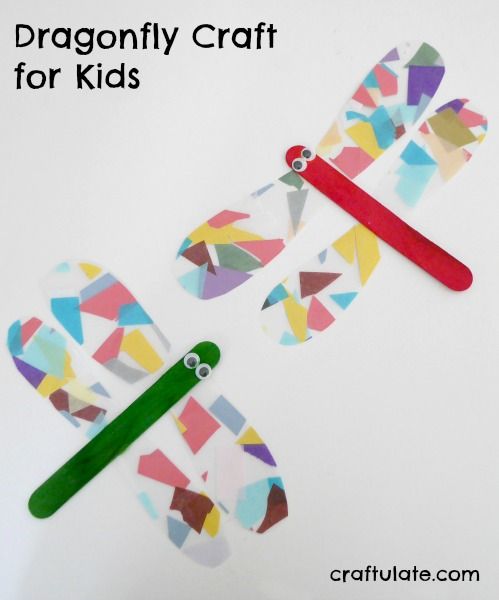 This dragonfly craft looks like a beautiful mosaic. Use a colored craft stick for the body and add two wiggly eyes. Add scraps of colorful construction paper to the contact paper and you will have the wings.
Learn More: Craftulate
17. Toilet Paper Roll Dragonfly
Start by trimming and rolling your toilet paper rolls tightly; creating the long body of the dragonfly. Paper wings cut to the size you want are the next step. You can then add color or glitter for some sparkle. Decorate the body and add some wiggly eyes to complete this cool-looking critter.
Learn More: Red Ted Art
18. Wax Paper Dragonfly
Form a paper or cardstock body for your dragonfly. Then, decorate clear wax paper to form colorful and beautifully-detailed wings! Attach them by gluing them onto the body of your dragonfly. Add some string so you can hang this pretty craft!
Learn More: The Pinterested Parent
19. String Wrapped Dragonfly
A paper towel roll, plus some colorful string, equal this cute craft! Let students choose colorful yarn to wrap their painted tubes and create the body of the dragonfly. Add some foam or paper wings before gluing on googly eyes.
Learn More: Our Kid Things
20. Suncatchers
Suncatchers are a great craft to make on a rainy day and then use on a sunny day! Use a template to create the paper body and outline of this dragonfly. Use contact paper to form the wings, but add in some colorful snippets of paper before you seal it up.
Learn More: Crafts on Sea
21. Bottle Cap Dragonfly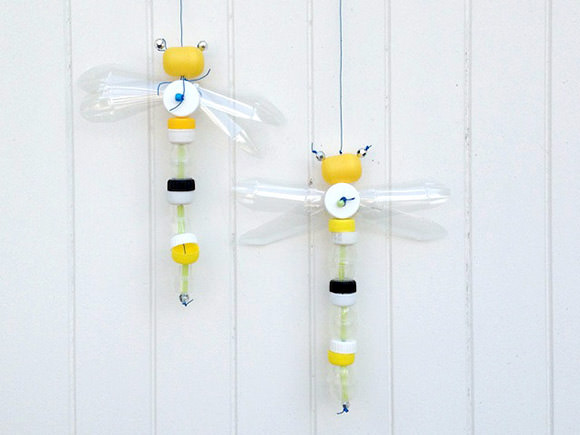 A great way to recycle and make a cute craft at the same time! Different colored bottle caps form a unique body and head. Add in some small beads for the eyes and simply string them together. Finally, add some clear plastic pieces to form wings.
Learn More: Handmade Charlotte
22. Paracord Dragonfly
Students will love this paracord dragonfly craft! This is best suited to older learners as they will need to tie and wrap the cords to form their dragonflies. They can also add beads to this for the eyes. This will be a fun and challenging activity, as students must follow instructions carefully in order to complete the craft correctly.
Learn More: Red Ted Art
23. Squish Painted Dragonfly
Squish art can be made using a stencil, paint, paper, and a sponge. Learners will simply place a stencil over a piece of paper, drop it on some paint, and then use a sponge to blend the colors together.
Learn More: The Craft Train
24. Folded Paper Dragonfly
This dragonfly craft is good for working on motor skills. Using tissue paper, cut small pieces and then fold the wings to make them into the shape you want. Note that a few beautiful folds will add dimension to the craft. The finished product makes a stunning suncatcher.
Learn More: The Enchanted Tree
25. Recycled Dragonfly
This dragonfly craft is a great way to also teach learners about recycling. Create this dragonfly solely from recycled paper and magazines. Have students use cut-out segments of paper and apply their recycled cutouts over that. Don't forget antennas to bring the dragonfly to life!
Learn More: Art is What I Teach