Drama games are a wonderful way to build confidence, imagination, and self-expression skills. They also encourage students to work cooperatively and strengthen their empathy and listening skills all while having plenty of fun!
This collection of drama games features classic favorites and creative new ideas, ranging from movement-oriented improv games to pantomime, characterization, focus, and listening-based games. Whatever your choice, you can rest assured that they are each designed to develop teamwork, tolerance, and creativity!
1. Lines From a Hat
The traditional game begins with the audience writing down sentences on pieces of paper and placing them in a hat. The other actors then have to tell a coherent story that incorporates the phrases into their scenes. This is a classic improv game for building communication and on-the-spot thinking skills.
Learn More: CornerStoneSF
2. Music Conductor with Emotions
In this awareness-building exercise, students take on the role of musicians in an orchestra. The conductor creates sections for various emotions such as the sadness, joy, or fear section. Every time the conductor points to a particular section, the performers must make sounds to convey their assigned feeling.
Learn More: Live About
3. Challenging Drama Game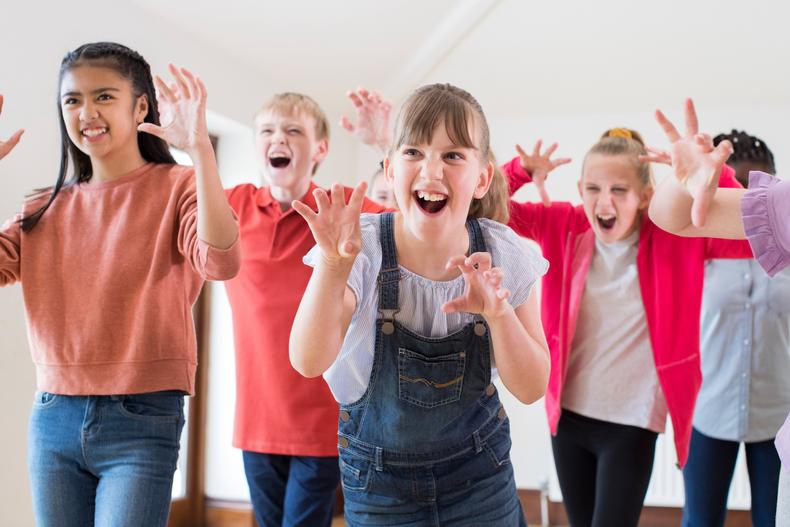 In this language-based acting game, students stand in a circle and begin to tell a story with one sentence each. The catch is that each player must start their sentence with the last letter of the last word of the person before them. This is an excellent game to develop listening and concentration skills while keeping students engaged and having fun.
Learn More: Tasty Cupcakes
4. Fun Drama Game for Teenagers
In this theater game, students are challenged to perform an entire scene composed only of questions or interrogative sentences. This is a great game for developing communication skills while telling a cohesive story.
Learn More: Drama Trunk
5. Tell a Story with Props
Students are sure to enjoy gathering a group of interesting objects and combining them together to tell an engaging story full of dramatic tension. You can make this activity more challenging by providing objects that are unrelated and require more critical thinking to combine together in a meaningful way.
Learn More: Teaching Ideas
6. Fun Improv Miming Game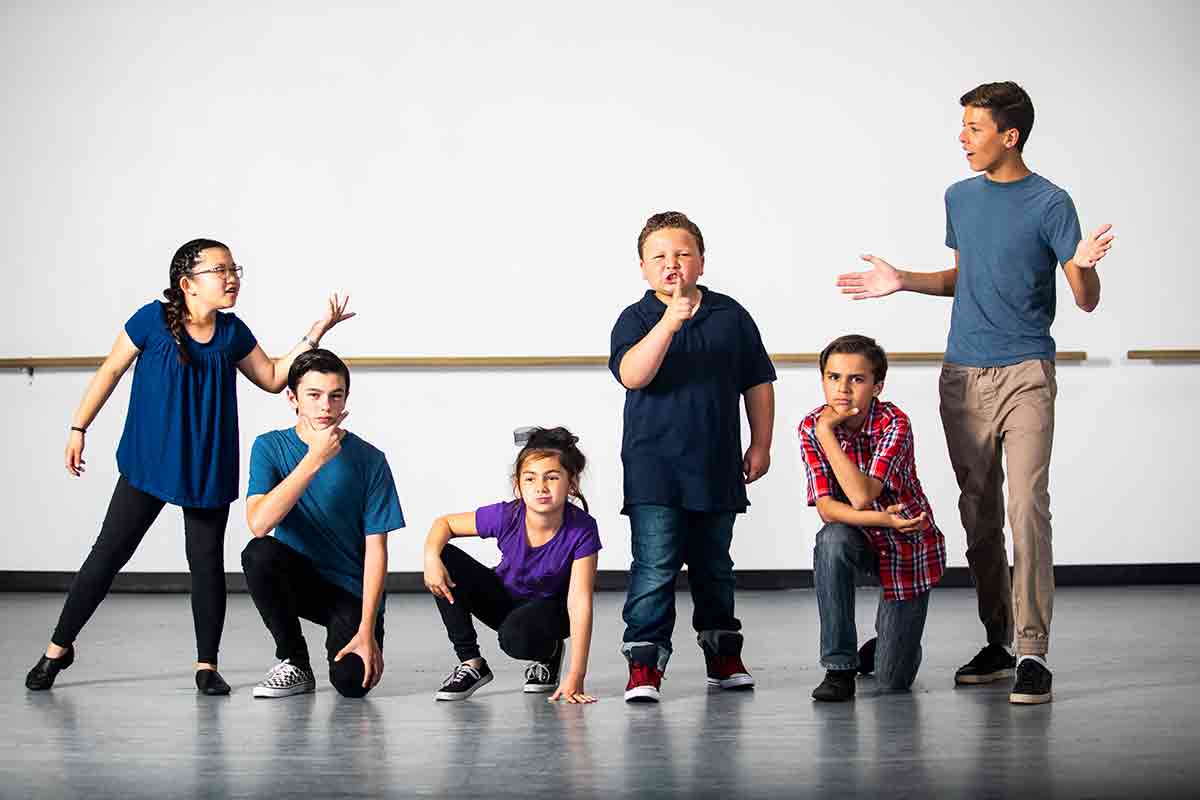 Students start the game in a circle, passing a mimed ball to each other. The teacher can instruct the students to mime that the ball is heavy, light, getting bigger or smaller, becoming slippery, sticky, or hotter and colder. It's a fun improv game for incorporating acting exercises into everyday lessons and easy enough for every drama student.
Learn More: Drama Trunk
7. Two Truths and a Lie
In this classic drama game, which also serves as an easy ice breaker, students have to tell two truths and one lie about themselves and everyone else has to guess which statement is false. It's a fun and easy way to put their acting skills to the test while getting to know their fellow classmates.
Learn More: Ice Breakers
8. Animal Characters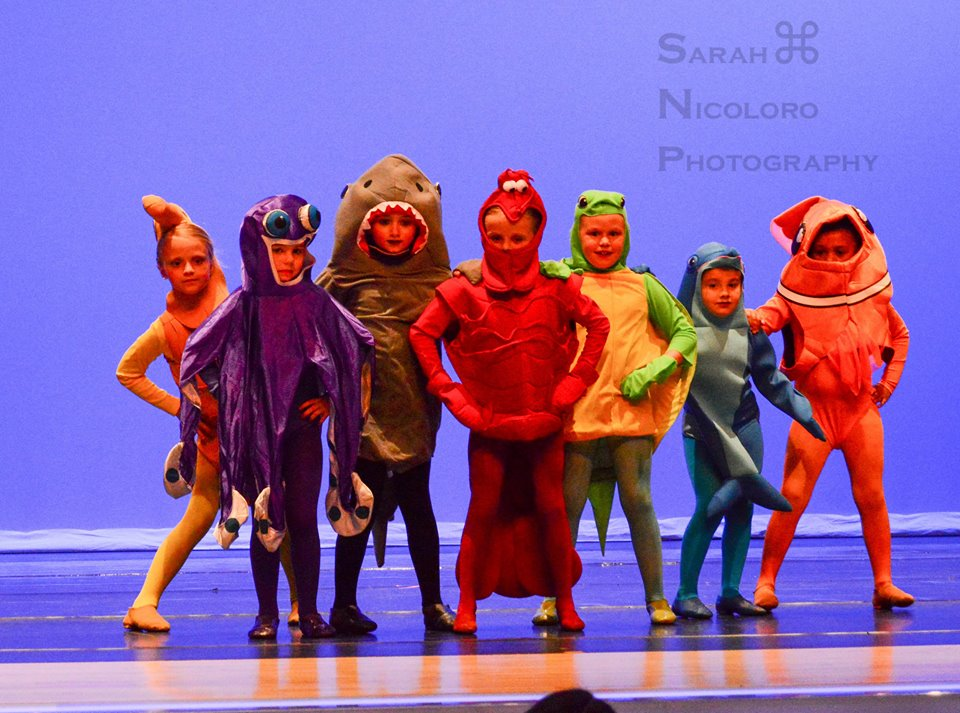 Students are each shown an animal card and have to pretend to become that animal by miming, gesturing, and making sounds and movements in order to find the other members of their animal tribe. This game leads to a lot of giggles when lions get mistakenly teamed up with mice or ducks with elephants!
Learn More: Kids English Theatre
9. Themed-Musical Chairs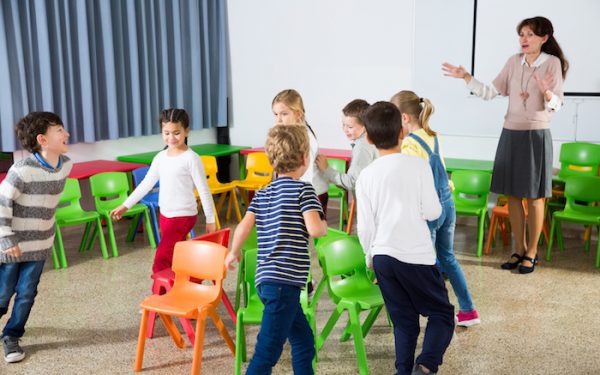 This creative twist on musical chairs casts students as different actors in a well-known story. The player in the center calls out a character trait, such as everyone with a tail or everyone wearing a crown, and the students who have those traits have to rush to find an empty seat.
Learn More: Ice Breaker Ideas
10. Speak in Gibberish
One student picks a random sentence out of a hat and has to communicate its meaning by using only gestures and acting. They are allowed to speak in gibberish, but cannot use any real language. The other students then have to guess the meaning of the sentence based only on actions and intonation.
Learn More: Child Drama
11. Yes, And
In this captivating drama game, one person starts with an offer such as suggesting they go for a walk, and the other response with the word yes, before expanding on the idea.
Learn More: Hoopla Impro
12. Stand, Sit, Kneel, Lie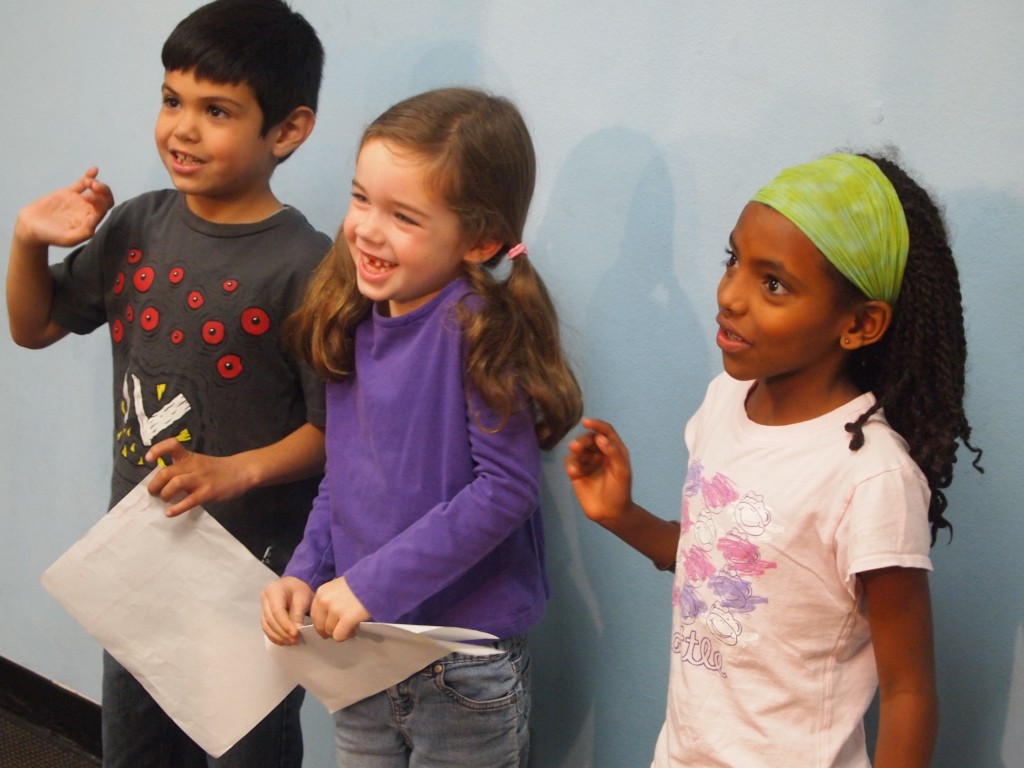 A group of four students explores a scene in which one actor must be standing, one sitting, one kneeling, and another lying down. Anytime one changes a posture, the others must also change theirs so that no two players are in the same pose.
Learn More: Improv Dr.
13. Imaginary Tug-of-War
In this movement-based game, students use pantomime and expressive acting to pull an imaginary rope over an indicated center line.
Learn More: Theatre Dance UTexas
14. Transform an Everyday Object
Students get to put their creativity to the test in this inventive game that challenges them to turn everyday household objects into anything they can imagine. A colander can become a pirate's hat, a ruler can become a slithering snake and a wooden spoon can become a guitar!
Learn More: Kids English Theatre
15. Repurpose Selfies to Capture Emotions
In this drama game, students take selfies while attempting to express different emotions with their facial expressions.
Learn More: Ontario Curriculum
16. Simple Idea for Drama Class
In this character name game, students call out their name using a unique gesture and the rest of the circle has to echo their name and gesture.
Learn More: Teach Mag
17. Wink Murder
This simple and wildly popular drama game can be played with small or large groups and does not require any equipment. One student is chosen to be the 'murderer' and has to 'kill' as many people as possible by secretly winking at them.
Learn More: The Spruce Crafts
18. Pass the Sound
In this classic drama lesson, one person starts a sound and the next person picks it up and transforms it into another sound. Why not add movement to give the game a fun twist?
Learn More: Vaughan.ca
19. Build a Machine
One student starts a repetitive movement, such as bending their knee up and down and other students join with their own movements until a whole machine has been built.
Learn More: Bright Hub Education
20. Mirror, Mirror
Once partnered up, students face each other. One is the leader and the other has to duplicate their movements exactly. This simple game is a wonderful way to build spatial awareness and cooperation skills.
Learn More: Child Drama