Looking for unique activities that tap into areas of science, technology, engineering, and math this Easter? We've got just the thing! 24 hands-on ideas are just waiting to be explored by you and your littles. From parachute crafts to solar system delights, our range of activities is sure to challenge your student's problem-solving and spatial reasoning abilities! Hop right in and let the adventure begin!
1. Egg Drop Challenge
Ready for a high-stakes challenge? Challenge your learners to see if they can design a contraption that safeguards a raw egg from a towering drop using only their creativity and ingenuity! This classic engineering test imparts an understanding of impact forces and the significance of shock absorbers.
Learn More: YouTube
2. Bunny Parachute
Who said bunnies can't fly? Lead your students in devising a parachute for a courageous bunny using available materials. In doing so, they'll be able to scrutinize air resistance mechanics and terminal velocity; witnessing their bunny's soft descent from the sky!
Learn More: WikiHow
3. Egg Launchers
Fire up your homemade egg launcher with simple household materials! The potential energy is provided by rubber bands, but the question stands- can it be transformed into maximum kinetic energy?
Learn More: Little Bins For Little Hands
4. Jelly Bean Structures
Fancy replicating Gaudi's architectural genius using jelly beans and toothpicks? Engage your students in creating towering structures using only toothpicks and these sweet treats. This engaging project introduces learners to the fundamentals of structural stability in a fun way.
Learn More: Pinterest
5. Egg Floatation
What's it going to be: sink or float? Dive into the captivating science of density and buoyancy by exploring various liquids that either make an egg float or sink.
Learn More: Science Sparks
6. Egg Solar System
Invite your little artists to transform ordinary eggs into a stunning representation of the celestial bodies of the solar system. This creative approach makes the introduction to the planets and their relative sizes a true masterpiece!
Learn More: Red Ted Art
7. Egg Towers
Armed with plastic eggs and tape, get your students to construct a skyscraper masterpiece! We're calling on budding architects to defy gravity and stability as they tape towers together in an attempt to reach new heights!
Learn More: Little Learning Moments
8. Bunny Sleds
This is the perfect STEM task if you're looking to educate your students on the concepts of friction and momentum in a fun way. Have them design an icy sled for an adrenaline-loving bunny using only straws, pipe cleaners, and a piece of cardstock.
Learn More: Carly And Adam
9. Egg Roll
Get your kiddos to set up an egg roll ramp and witness the magic that ensures! They can adjust angles, examine the egg's path, and analyze the distance it rolls off the ramp; a simple demonstration that perfectly illustrates gravity's pull and slope effects!
Learn More: The Confused Millennial
10. Peep Races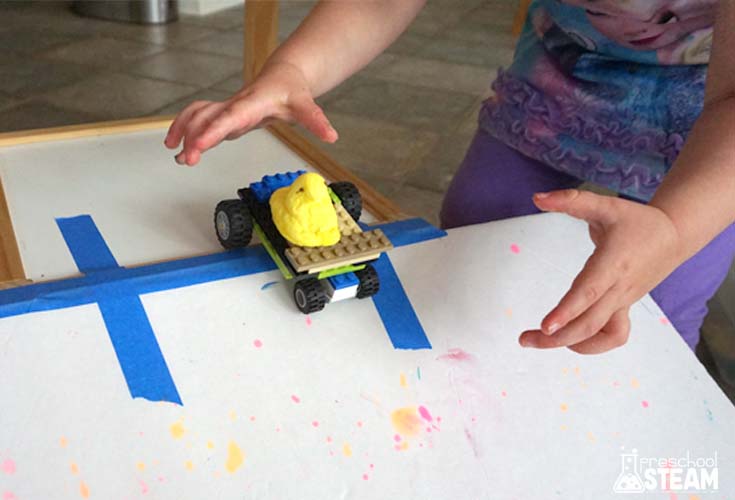 There's nothing like a thrilling race! Design a basic ramp and lanes and brace yourself for a sugar-coated speed fest as your littles race their peeps on Lego carts. May the fastest marshmallow claim victory!
Learn More: Preschool STREAM
11. Bunny Mazes
Transform your classroom into a maze for toy bunnies. Learners can use paper or cardboard to design complex mazes- the perfect hands-on task to teach direction and strategic planning concepts!
Learn More: Pinterest
12. Bunny Coding
Transform an ordinary bunny into a coded explorer. Students can then practice guiding their bunny's movements using code sequences to foster logic and problem-solving skills amid the fun.
Learn More: Code Golf
13. Egg Geodes
Indulge in a shiny affair as your learners create glittering geodes within eggshells. This sparkling science experiment introduces the process of crystal formation and saturation. What an egg-citing way to learn!
Learn More: YouTube
14. Bunny Circuits
Get crafty and create light-up bunny cards using copper tape, LEDs, and batteries. This brilliant activity allows students to experiment with simple circuits and enjoy a crafting venture at the same time!
Learn More: Tech Age Kids
15. Egg Whirlygig
Transform your classroom into a dynamic wonderland of color and movement with a piece of cardboard, string, and paint. Learners will uncover the simple yet mesmerizing mechanics of rotational motion with this vivid project!
Learn More: The Craft Train
16. Egg Insulators
This activity offers a practical exploration of heat transfer and insulation. Prompt your kiddos to embrace the fascinating role of a material scientist as they investigate and test insulating materials to keep a boiled egg warm for as long as possible!
Learn More: YouTube
17. Bunny Races
Prepare for edge-of-your-seat excitement as you engage your kiddos in a balloon-powered bunny race! Using a drinking straw, barbeque sticks, bottle caps, an empty milk box, and a balloon, they'll build a contraption and discover principles of thrust and aerodynamics in a fun-packed way.
Learn More: YouTube
18. Egg Dyeing Experiment
Bring the colors of science to life by having your learners examine different acidic liquids' effects on an eggshell. Which will give the most vibrant results- vinegar or lemon juice?
Learn More: Science Kiddo
19. Bunny Puzzles
Design mind-bending bunny-themed jigsaw puzzles that will prompt young learners' problem-solving skills as they piece them together.
Learn More: DIY Unlimited Fun
20. Egg Slime
Who said Easter can't be a bit slimy? Whip up a batch of slime using glue, borax, and Easter-themed add-ins for a squishy and satisfying science lesson that highlights chemical reactions.
Learn More: Little Cooks Reading Books
21. Bunny Artbots
Let the worlds of art and technology collide in a creative explosion as you build vibrating art robots. Then, sit back and watch these talented bunnies create abstract masterpieces while offering students an insight into basic robotics.
Learn More: TikTok
22. Egg Sound Amplifiers
Are you up for a sound challenge? Build amplifiers using everyday materials to magnify the sound of vibrating eggs.
Learn More: New Lives Unfold
23. Egg Arch Bridges
Have your learners embrace the role of a civil engineer by building bridges using egg cartons, markers, rubber bands, and a ruler. They can then investigate which design can bear the most weight and use the contraption to introduce students to the fascinating world of stress and strain.
Learn More: JDaniel4's Mom
24. Bunny Tangrams
Cut out bunny-shaped tangram puzzles and you've got a geometric brain teaser to challenge your learners! This task provides an interactive way for students to delve into the world of spatial reasoning and shape manipulation.
Learn More: Persia Lou