Get ready for Easter with creative writing activities for your classroom or homeschool students. Explore 30 eggcellent ideas that include fun prompts, engaging projects, Easter-themed stories, and poems. Perfect for students of all ages and skill levels, these activities will get your students excited about writing while getting into the holiday spirit. From bunnies and egg hunts to crafting Easter tales, let's hop to it and dive into the world of Easter writing!
1. Planning a Community Egg Hunt
Project-Based Learning allows students to learn by engaging in a project related to real-world problems. Students will plan an Easter Egg Hunt at a fictional community event, promoting collaboration, research, planning, design, and communication skills.
Learn More: Not So Wimpy Teacher
2. Writing Craftivity
Students can combine crafting with creative writing in a fun Easter activity by making an Easter bunny craft and writing a story on how to catch the Easter Bunny. This promotes creativity, builds confidence, and improves presentation skills when shared with classmates.
Learn More: Rainbow Lessons
3. Anchorage, Alaska Good Friday Earthquake
To engage your middle or high school students in earthquake-devastation research, divide them into small groups and assign each group a subheading from the article. Have them conduct research and report their findings to the class by creating a slide presentation or writing a summary essay on their assigned section.
Learn More: Live Science
4. Descriptive Writing
Watch a cute video that asks "Where does the Easter bunny live?" and have your students use descriptive writing skills to answer the question. This activity engages students' imagination and encourages them to express their ideas while practicing descriptive writing skills.
Learn More: Mme T
5. The Most Ridiculous Easter: Group Writing Activity
Split the class into small groups and give each group a list of Easter-related words. Students must use these words to create the most ridiculous Easter story possible while encouraging them to think outside the box while and enjoy playing with language.
Learn More: Ottiya – Creative Learning for Kids
6. Easter Bunny Prompts
Easter Bunny Prompts are writing exercises that encourage students to create bunny-themed stories at school or home. Sharing stories can build confidence and presentation skills, making it an engaging way to incorporate Easter-themed writing activities.
Learn More: Blessed Beyond a Doubt
7. K-2 Easter Writing Prompts
This 80-plus page writing packet is perfect for K-2 classrooms and offers four unique page options for each writing prompt, including a picture, full-page and half-page prompt, as well as a blank space for students to illustrate their ideas.
Learn More: Sight and Sound Reading
8. Read-Aloud
"How to Catch the Easter Bunny" is a colorful and engaging children's book, making for a perfect read-aloud. Students will love hearing the story of kids trying to catch the Easter bunny while developing their language skills and a deeper understanding of the holiday. Why not invite them to rewrite and re-imagine their own ending?
Learn More: Storytime Anytime
9. Rhyming Pairs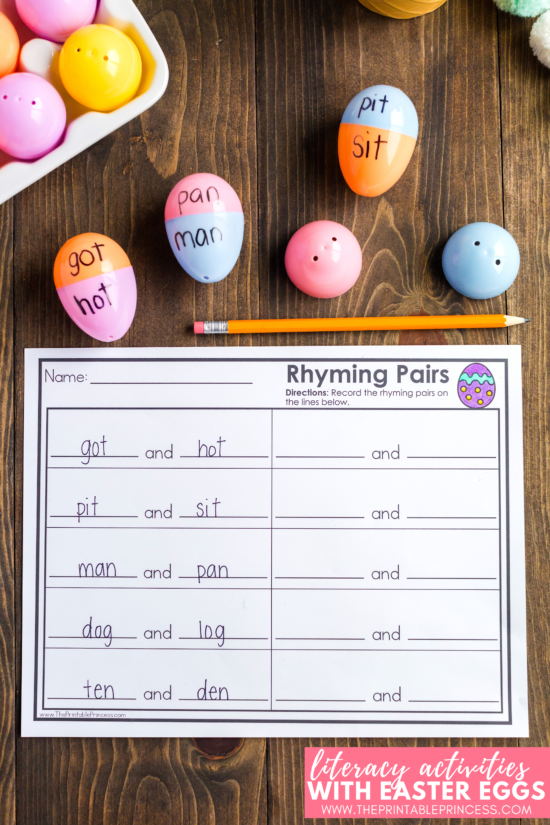 Practice writing rhyming pairs with this festive activity that challenges students to match rhyming words. With Easter-related vocabulary, this worksheet promotes writing skills and phonological awareness and can be used as part of an Easter-themed unit.
Learn More: The Printable Princess
10. Narrative Writing Skills
This printable Easter narrative writing activity, with five prompts available, is a fun and engaging way for students to practice journaling their narrative writing skills while learning about this meaningful holiday.
Learn More: JJ Resource Creations
11. Student-Made Bulletin Board
Have your students create colorful paper cutouts, and crafts, or write inspirational quotes before showcasing their work on a bulletin board or classroom wall!
Learn More: Creative Shapes Etc.
12. Easter Poems
Easter poems are a great way to encourage creativity and literacy skills. Students can write original acrostic poems and haikus about Easter, the Easter Bunny, and springtime.
Learn More: Christ Church Beckenham
13. Story Sequencing Activities for Students
Children can order the story of the resurrection of Jesus Christ by arranging these pictures and words in chronological order. This activity helps them develop their story sequencing skills while strengthening their comprehension of the Easter story.
Learn More: Sparkle Box
14. Postcard Writing Activity
Students can learn and write about the history and traditions of Easter while using their creativity to design and write postcards. Use spare paper or Easter-themed pieces of paper cut to postcard size, before inviting students to write to the Easter bunny!
Learn More: Orange Kid Min
15. Time for Chocolate Bunnies!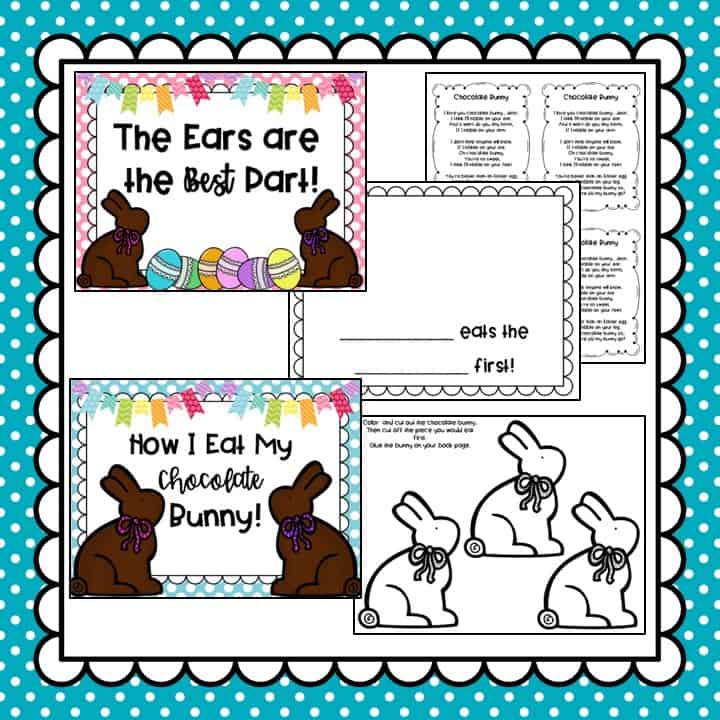 This activity includes easy-to-follow lesson plans in which students can create their own chocolate bunny craft, write a poem about it, and contribute to a wonderfully diverse class book they can show off with pride.
Learn More: Little Kinder Bears
16. Religious Thematic Writing Center
The children's book, "The Easter Story", has been adapted into an animated retelling, explaining the origins of Easter. While it can be quite somber at times, it also conveys a message of great joy and hope. Students can use the 5Ws format to summarize the story.
Learn More: Learn With Sam
17. Religious Easter Creative Writing Prompts
Easter biblical creative writing prompts encourage students to delve deeper into the spiritual meaning and significance of Easter. Why not have them answer the prompts in their journal?
Learn More: Write Shop
18. Opinion Writing with Sentence Starters
After watching "The Easter Bunny's Assistant" read-aloud, students can practice opinion writing using sentence starters such as "I liked the part where…" or "My favorite character was…because…" to share their thoughts about the story.
Learn More: Killion's Kindergarten
19. Diverse Writing Activities
Students can benefit from this fantastic video, which provides a variety of activities related to Easter celebrations and traditions. These activities include writing prompts and fill-in-the-blank, multiple-choice, and true-and-false questions to test their comprehension of the topic.
Learn More: Alyona's Class Live
20. Quick Substitute Teacher Plans
Students can explore Easter traditions through reading, writing, and drawing. These activities aim to deepen their understanding of Easter and include sorting, cutting, and drawing exercises suitable for both traditional and home-based classrooms. Simply print and go!
Learn More: Teacher Vision
21. Write About Easter Island
Watching an engaging video about Easter Island is a great way for students to learn about its history and culture. Afterward, they can write a summary of the video, share their thoughts and opinions, or even create a fictional story set on Easter Island.
Learn More: Geographics
22. Parts of Speech Mad Lib
Easter-themed Mad Libs promote language development and creativity in the classroom. Students can work individually or in pairs to fill in the blanks with holiday-themed words and then share their silly stories with the class. This activity is adaptable for different ages and skill levels, making for a versatile lesson.
Learn More: Teach-nology
23. Bunny-Lined Paper
Provide students with Easter bunny-themed lined paper as a fun way to practice writing skills with an Easter twist. Students can write stories, poems, or even letters to the Easter Bunny! This craftivity promotes imagination and is a great addition to any Easter-themed lesson plan.
Learn More: Primary Theme Park
24. Easter Scattergories Game
In Easter Scattergories, students get a list of categories and a letter. They must write a word or phrase for each category that starts with the assigned letter. For example, if the category is "Easter candy" and the letter is "C," students could write "Cadbury Creme Eggs" before sharing their responses with the class.
Learn More: Homeschool of 1
25. How-to Writing: Origami Bunny
Using origami to teach "how-to" writing is a great way to engage students and improve their writing skills. The process involves breaking down a complex task into simple steps and explaining each one in detail, making it an effective way to practice both writing and sequencing skills.
Learn More: Art for Kids Hub
26. Printable Easter Worksheets for Kinder
This set of worksheets aimed at kindergarten students helps build their writing skills while celebrating the Easter holiday. They feature a variety of fun and engaging activities that focus on different aspects of writing, including handwriting, spelling, sentence construction, and creative writing.
Learn More: Teaching Littles
27. Crossword Puzzle Writing Practice
Easter crossword puzzles feature a grid with holiday-themed clues, like Easter eggs and traditions. This activity engages students, improves vocabulary and spelling, and develops critical thinking and problem-solving skills. Teachers and parents can use these worksheets to provide an educational and enjoyable activity for young learners during the holiday season.
Learn More: Busy Teacher
28. Online Fill-in-the-Blank Game
An online Easter game is an interactive way to improve writing and comprehension skills. Students must fill in the missing word from a list of options or by typing their answers. It's a great way to develop language skills such as grammar, syntax, and spelling while celebrating the holiday season.
Learn More: ESOL Courses
29. Digital Writing Activity on Seesaw
The Easter Digital Writing CVC Word Activity on the Seesaw app is an engaging way for students to practice their CVC word skills in a fun Easter-themed setting. With interactive activities and colorful visuals, it is sure to keep students engaged and learning during the holiday season.
Learn More: Carla Calderon
30. Easter Escape Room
The Easter escape room activity is an exciting and challenging way to celebrate the holiday. Students solve puzzles and clues related to Easter traditions in order to escape the room. This activity encourages teamwork, critical thinking, and problem-solving skills while eliciting plenty of giggles!
Learn More: 2 Peas and a Dog