No matter what their native language is, people all over the world are familiar with riddles. From famous riddles in world literature to simple riddles that hint at everyday objects, there's something to suit everyone's fancy! So how can you incorporate riddles into your ESL classroom as a way to boost vocabulary and comprehension? We've collected eighteen of the best riddle resources from around the web to help you add some puzzling fun to your English language classes. Let's explore them together!
1. Riddle Slides for Classroom Fun
This premade slideshow is a great way to introduce the topic of riddles and to get a feel for the student's range of vocabulary. It is ready to go, which means you just have to project it at the front of the classroom and dive right in!
Learn More: Slideshare
2. "Riddles to Ponder" Worksheet
This riddle sheet is a great one to send home with students. Or, you can offer it as an activity for students who finish their classwork or exams early. It features several riddles that take a bit of thinking, and maybe even a dictionary for beginner-level students.
Learn More: Super Teacher Worksheets
3. Riddles and Point of View Lesson Plan
This lesson plan uses basic riddles to introduce the concept of point of view. It's a great way to get your students thinking from a new perspective, and you can also teach them the idiomatic uses of different words with this lesson. It's perfect for intermediate and advanced students transitioning from language learning into language arts.
Learn More: Speak English Podcast
4. Long List of Easy Riddles
This is just a long list of riddles to help ESL students think outside the box with their vocabulary knowledge. You can use them as vocabulary riddles to help introduce new words and concepts throughout the year. Each riddle also includes the correct answer so you can provide immediate feedback.
Learn More: Stickyball.net
5. Riddles With Indefinite Pronouns
English uses indefinite pronouns to express so many ideas and using riddles to teach this concept really benefits students. Creative students will find superb ways to contextualize indefinite pronouns, especially where their native language may lack this specific structure.
Learn More: ESL Brains
6. Vocabulary Riddles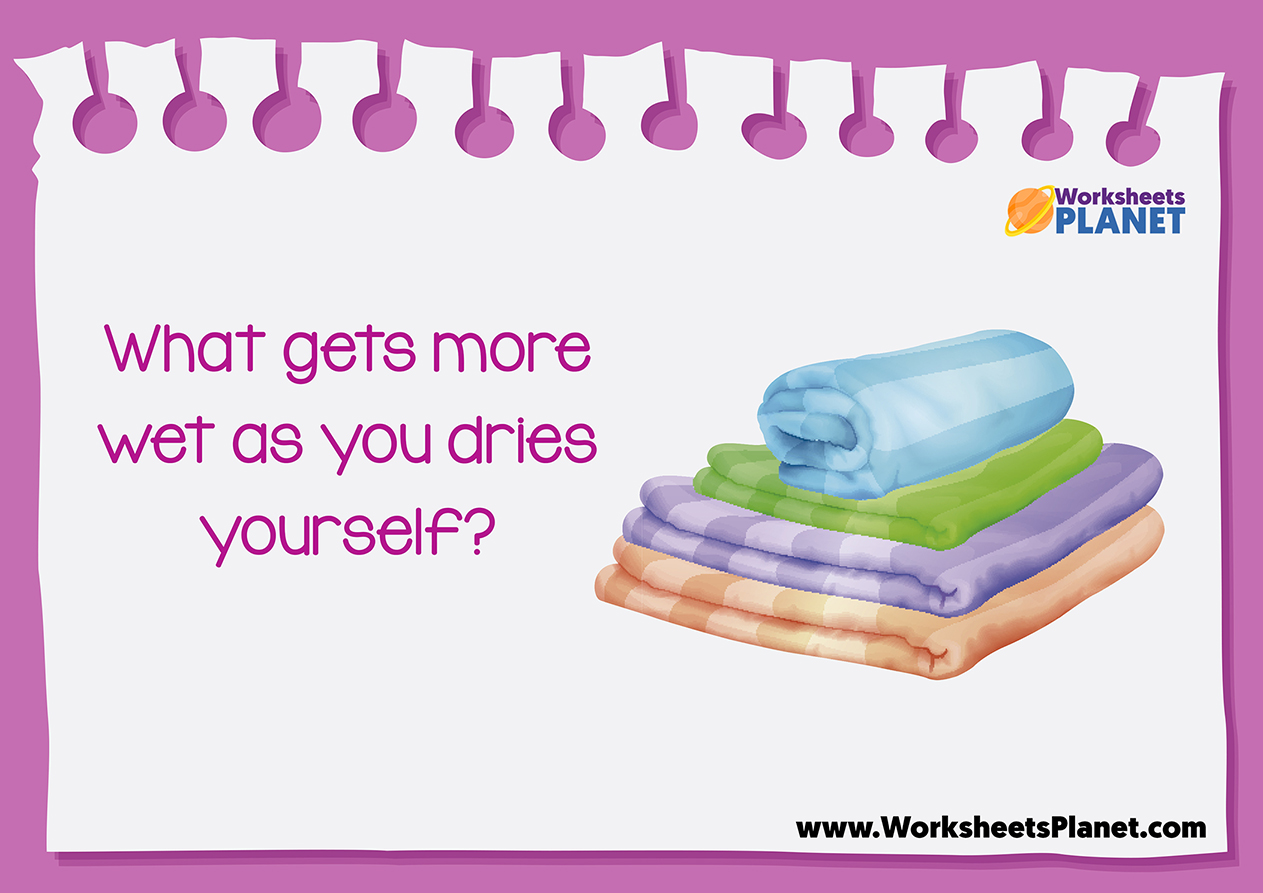 These vocabulary riddles are specifically geared toward kids who are learning English as a second language. The correct answer for each riddle is an everyday object that young learners will be familiar with, including school supplies and other household things.
Learn More: Worksheets Planet
7. Einstein's Riddle For ESL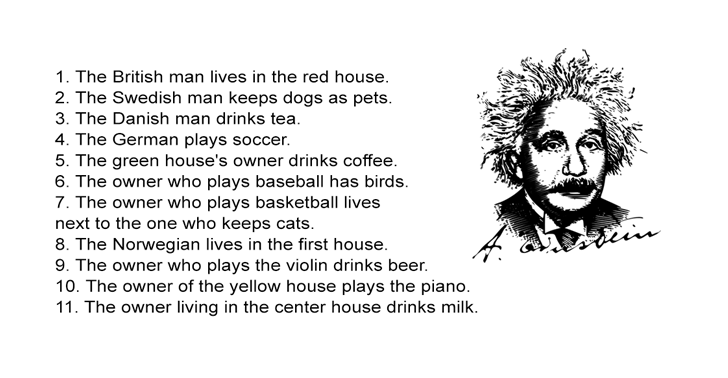 This is a great way to get ESL students to exercise their critical thinking skills. It combines critical thinking with reading comprehension. You might get several wrong answers from your students before they solve it. Since it's a long-form riddle, it's perfect for group or pair work.
Learn More: Einstein's Riddle
8. Animal Riddle Activities for Beginner-Level Students
You can test young kids' knowledge of vocabulary about animals with these super easy riddles. They're appealing to young kids who are learning about animals and animal sounds in their native language at the same time. You can use pictures to make the tasks easier, too!
Learn More: Scribd
9. Halloween Riddles for ESL Students
Celebrate everyone's favorite horror night with these spooky riddles for Halloween. You can use these as classroom riddles or send them home for some extra Halloween fun. It's also a fun way to introduce the Halloween holiday as a cultural lesson for kids who might not be familiar with it.
Learn More: Anglomaniacy
10. Christmas Riddles for ESL Students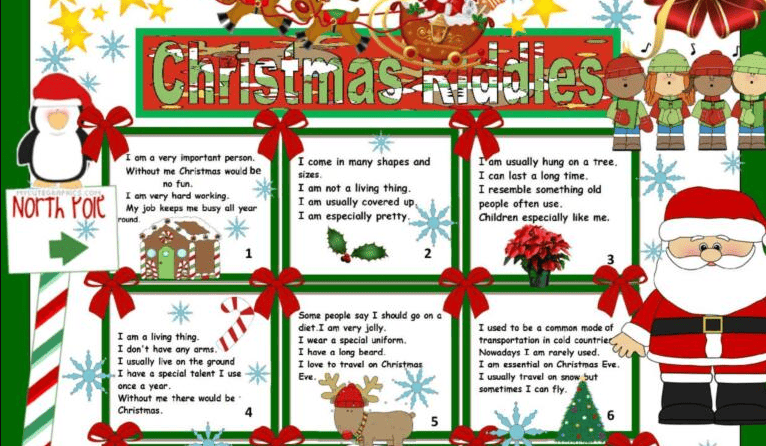 Here is another great set of holiday riddles! They are pretty easy, and they touch on all of the major Christmas vocabularies. This worksheet might be best for students who are already semi-familiar with the Christmas holiday since the vocab featured here is targeted to the holiday.
Learn More: ISL Collective
11. Brain Teasers for Bell Work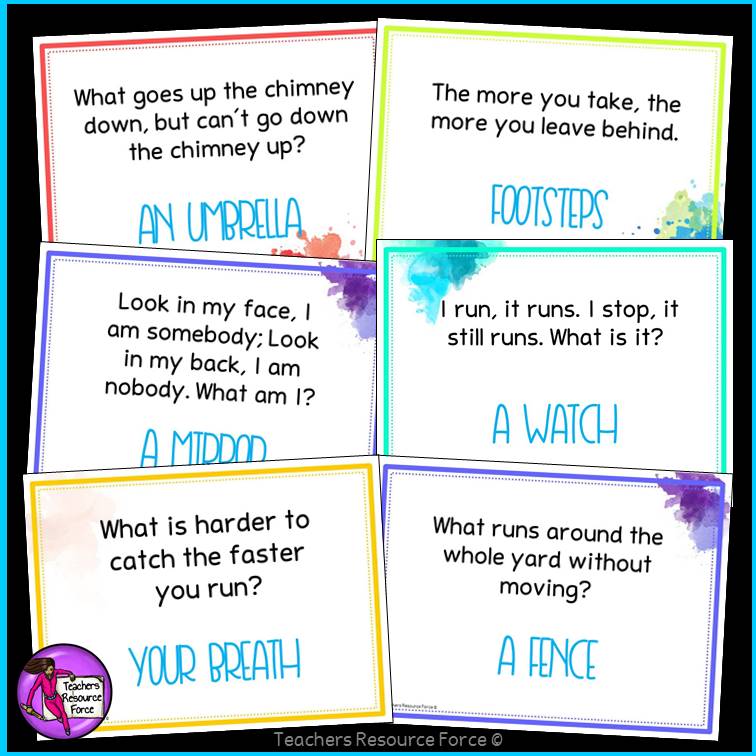 Here is a great resource for bell work activities that will get kids' minds working before you even start the formal lesson. They take just a few minutes and are perfect for starting the class in a fun way. You can also use them to fill time at the end of class if you have a few minutes free to spare.
Learn More: Shane Schools
12. Rhyming Riddles for the ESL Classroom
Introducing the topic of rhymes and paired rhyming words is easy with this riddle activity. It offers so many great examples of rhymes, and the engaging questions will have kids discovering the answers with their new rhyming skills.
Learn More: DigiNo
13. Information Gap Riddles for Speaking Practice
These riddles are designed to get your intermediate-level students to speak. They are geared towards starting discussions that everyone can join and are a great starting point for any speaking class. You can use them individually, in small groups, or as a whole class.
Learn More: Everyday ESL
14. TED-Ed Riddle Videos to Use in Class
If you still don't know what to do for school tomorrow, consider these fun riddle videos from TED-Ed. They're definitely best for teen or adult ESL students who have an intermediate to advanced grasp of the language.
Learn More: Educators Technology
15. Detective Riddles for ESL Students
This activity is great for fans of Agatha Christie or Sherlock Holmes. They combine short and easy detective stories with a big riddle at the end. So, intermediate ESL students can practice reading comprehension and critical thinking skills with these fun and attainable riddles.
Learn More: ISL Collective
16. Summertime Riddles Powerpoint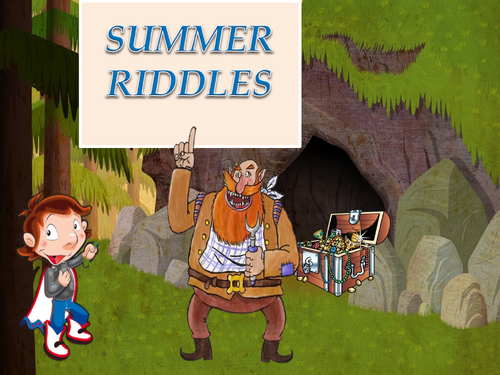 Here's a quick way to get students excited for the Summer holidays! You can use this premade PowerPoint to introduce summer vocabulary words through riddles. You can also use the pictures and engaging content in the presentation to help the vocab really stick, even through the long holiday break.
Learn More: Tes
17. Online Puzzlemaker to Make Riddles More Fun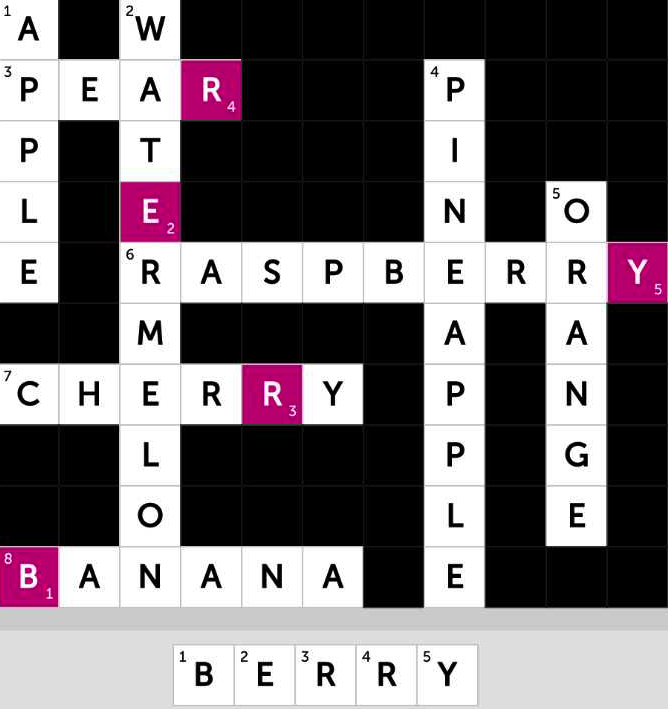 If you have a great list of riddles, you can use this puzzle-making app to set up an awesome crossword puzzle. Simply use the riddles as clues, plug in the correct answers, and let the machine create a cool puzzle that your students will love!
Learn More: Puzzlemaker
18. More Animal Riddles for Young ESL Students
Here is another round-up of animal riddles to keep your young English learners engaged. Combine it with discussions of animal sounds and motions for a more complete lesson plan.
Learn More: Animal Riddles