Get ready to crack open a world of fun and learning with our egg-cellent activities for preschoolers. Eggs are not only a breakfast favorite but are also a versatile teaching tool that can inspire curiosity and creativity in young learners. In this guide, we've compiled 24 unique egg-themed activities that are sure to engage your preschoolers and promote their cognitive, sensory, and motor skills development. Let's get cracking and delve right in!
1. Egg Sorting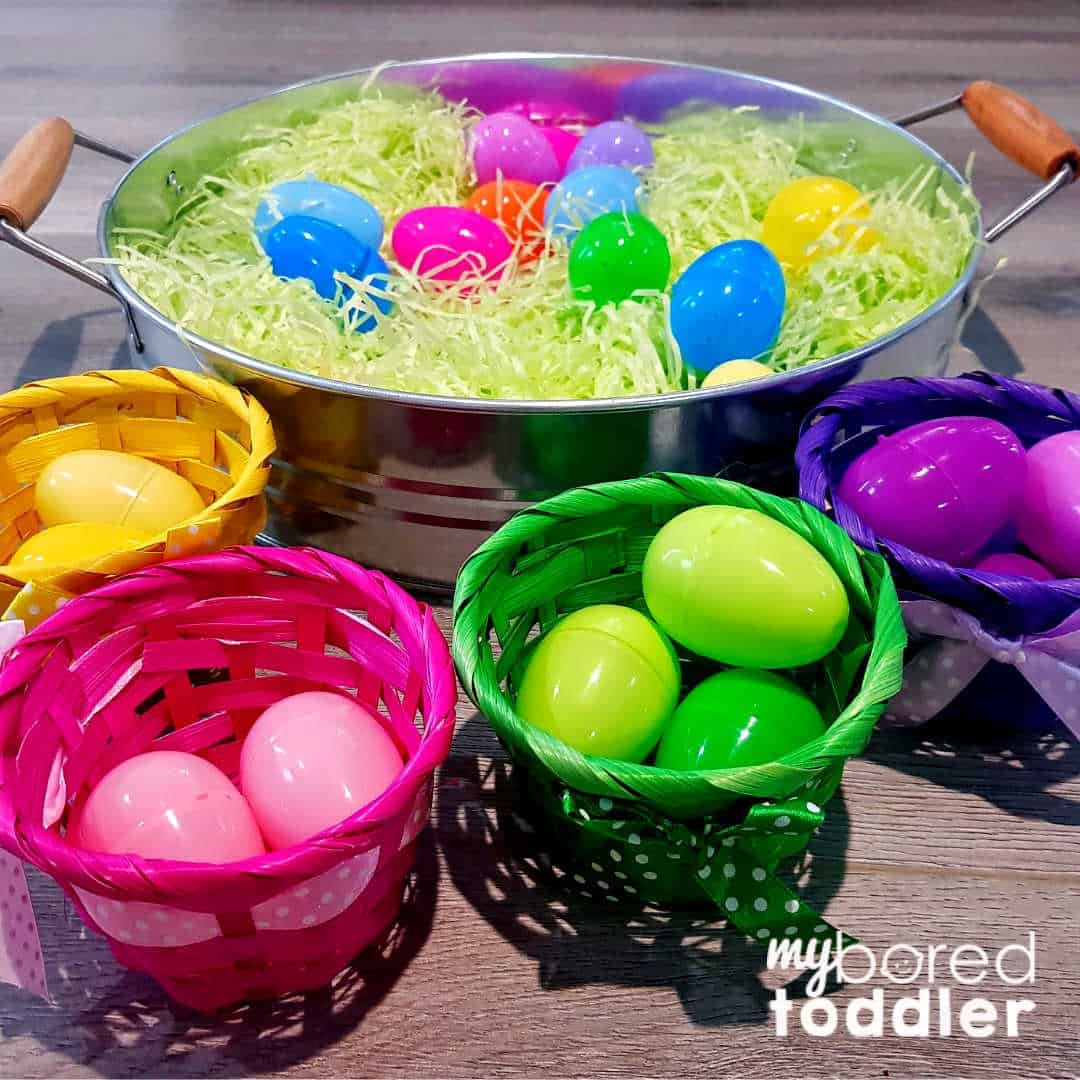 Provide a variety of plastic or foam eggs in different colors and sizes. Encourage your students to sort and group the eggs based on attributes like color, size, or pattern. This activity promotes categorization skills and hand-eye coordination.
Learn More: My Bored Toddler
2. Egg Toss
This activity enhances gross motor skills, hand-eye coordination, and teamwork. Organize a gentle egg toss game where learners must stand in pairs and toss a plastic or soft-boiled egg to each other. The objective is to catch the egg without breaking it.
Learn More: Montreal Families
3. Egg Painting
Set up a painting station with hard-boiled eggs, washable paints, and brushes. Your learners can then unleash their creativity and paint the eggs as they, please. They can experiment with patterns, and designs, and even mix colors!
Learn More: Sunshine Whispers
4. Egg Math
Strengthen early math skills and number recognition in a hands-on way! Use plastic eggs with numbers or dots on them. Challenge your students to count the dots or identify the numbers on the eggs. They can also practice simple addition and subtraction by combining or removing eggs.
Learn More: Fun Learning for Kids
5. Egg Relay Race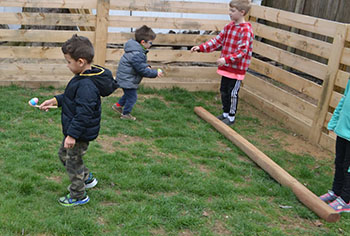 Looking to promote balance, coordination, and teamwork? This activity's for you! Divide your students into teams and create a relay race using plastic eggs and spoons. Each child must carry an egg on a spoon and pass it to the next teammate without dropping it. The first team to finish the race wins!
Learn More: Kids Soup
6. Egg Letter Matching
Write upper and lowercase letters on plastic eggs. Scatter them around the classroom and challenge your littles to find the matching pairs. They'll develop their letter recognition and matching skills while having an egg-citing time!
Learn More: Mom Wife Busy Life
7. Egg Science Experiment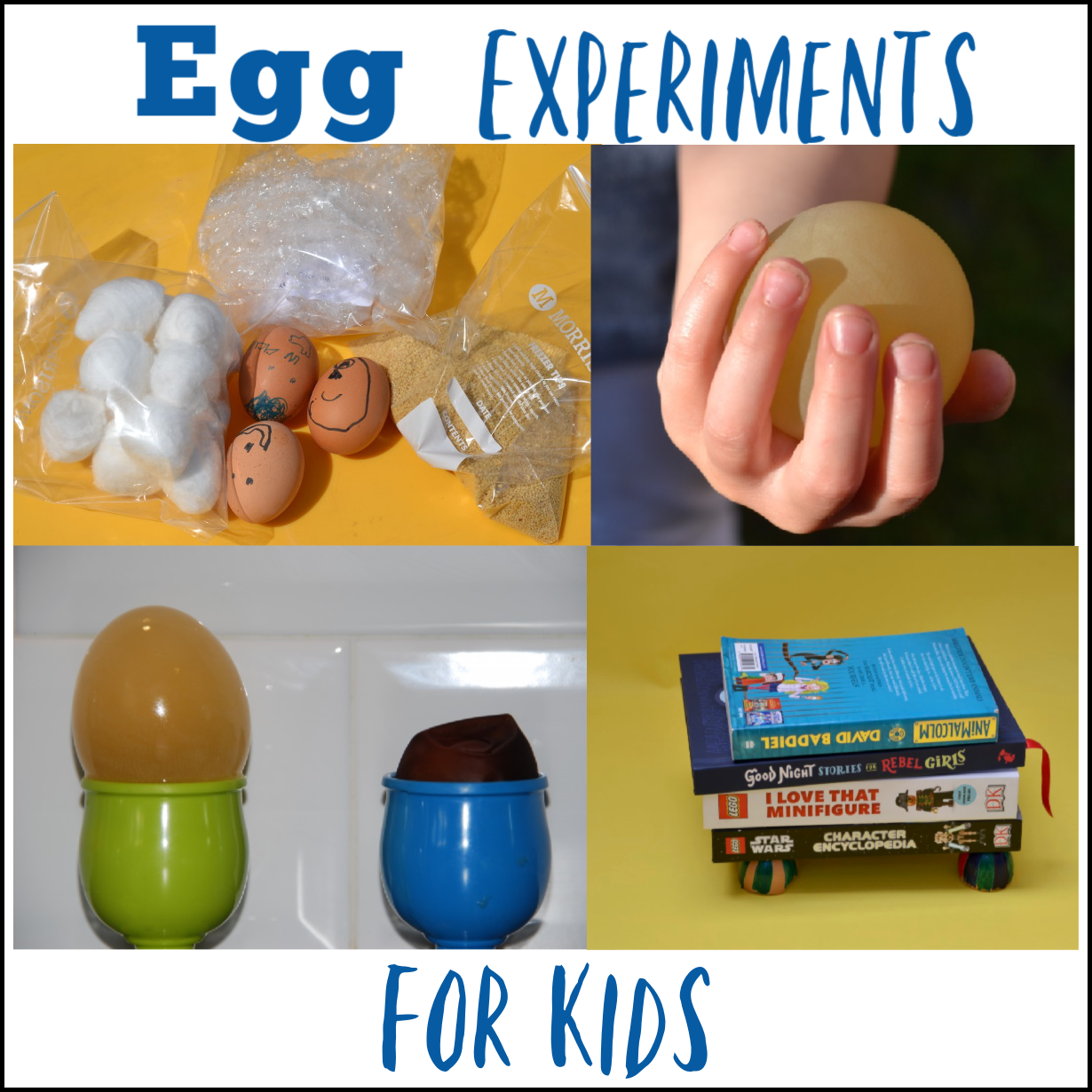 This activity introduces preschoolers to basic scientific concepts and encourages observation skills. Conduct a simple egg science experiment by placing a raw egg in a jar filled with vinegar. Have your students observe and discuss how the eggshell reacts to the vinegar over time.
Learn More: Science Sparks
8. Egg Puzzles
Develop problem-solving skills and fine motor coordination with a puzzling adventure! Create egg-shaped puzzles by cutting a picture or drawing into puzzle pieces. Learners can then assemble the pieces to complete the egg-shaped picture.
Learn More: Happy Toddler Playtime
9. Egg Roll
Set up a designated area where preschoolers can participate in an egg rolling competition. Each child will roll a hard-boiled egg using a spoon. The egg that travels the farthest wins!
Learn More: The Confused Millennial
10. Egg Sensory Bin
Fill a sensory bin with shredded paper or straw and hide plastic eggs inside. Let your littles explore the bin, dig for eggs, and discover the surprises inside. This activity enhances sensory exploration, fine motor skills, and tactile sensitivity.
Learn More: Busy Toddler
11. Egg Patterns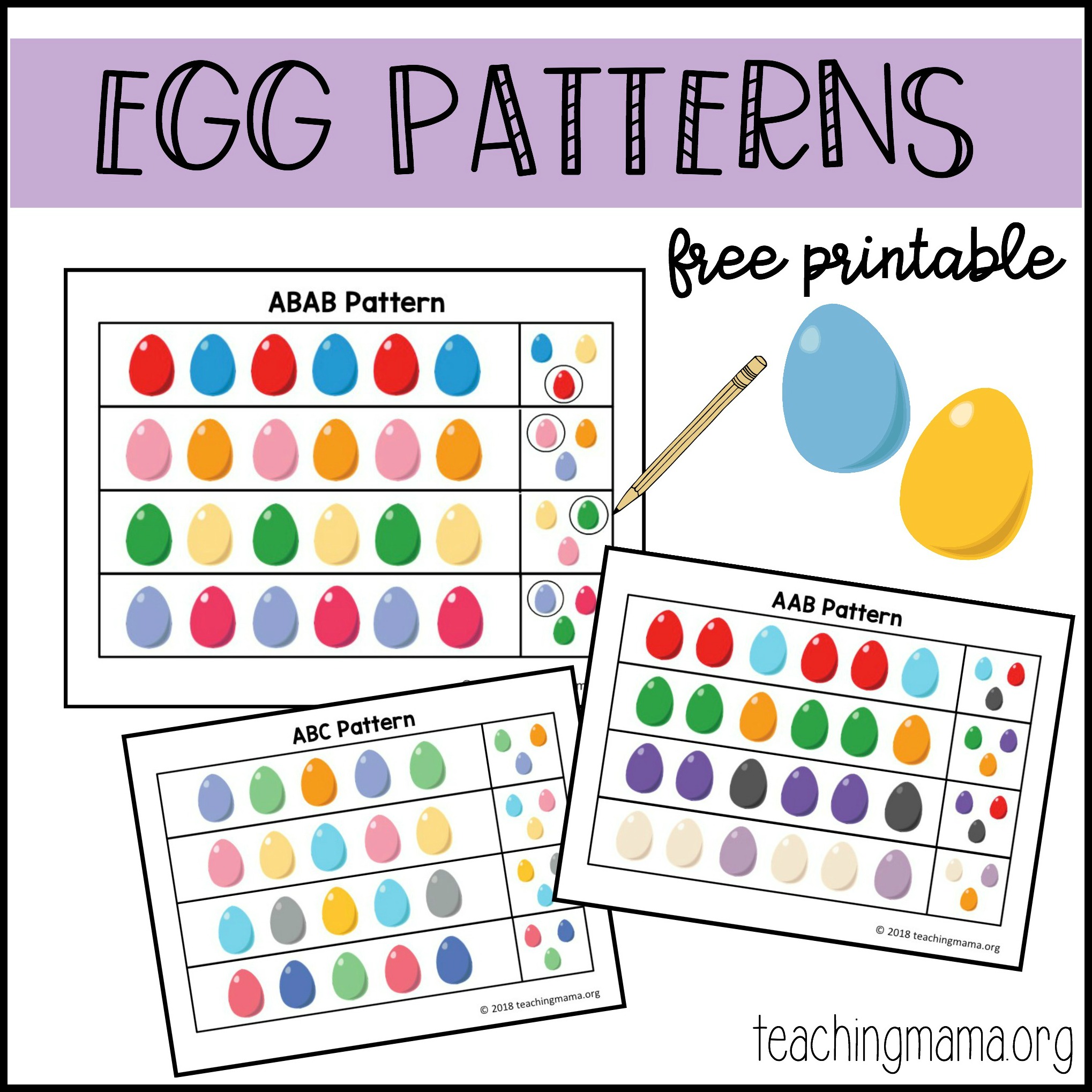 Create a pattern sequence using plastic eggs (e.g., blue, yellow, green, blue, yellow, green). Have your learners continue the pattern by placing the corresponding colored eggs in the sequence.
Learn More: Teaching Mama
12. Egg Carton Counting
Give each learner an empty egg carton and small objects like buttons or pom-poms. Instruct them to place a specific number of objects in each section of the carton and practice their counting and one-to-one correspondence.
Learn More: That's Country Living
13. Fine Motor Tray
Set up a tray with plastic eggs and small manipulatives, such as beads or mini erasers. Your students can practice opening and closing the eggs, transferring the manipulatives inside, and enhancing their fine motor skills.
Learn More: Modern Preschool
14. Egg Memory Game
Create a memory game using pairs of plastic eggs. Turn the eggs upside down, mix them up, and challenge your learners to find the matching pairs by flipping over two eggs at a time.
Learn More: Gift of Curiosity
15. Egg Cooking Class
Engage preschoolers in a pretend cooking class where they can crack and whisk eggs, mix ingredients, and make simple egg-based recipes like scrambled eggs or omelets. This hands-on activity promotes dramatic play, fine motor skills, and following directions.
Learn More: Raising Arizona Kids
16. Roll and Paint
Here's a fun idea for incorporating eggs into artwork! Dip plastic eggs in different colored paints and roll them on a large sheet of paper to create unique patterns and designs. Your learners can experiment with rolling techniques and observe the colorful prints that they can create.
Learn More: Busy Toddler
17. Egg Rhyme Time
Introduce your class to nursery rhymes or songs that feature eggs, such as "Humpty Dumpty" or "Five Little Speckled Eggs." Encourage them to sing along, act out the rhymes, and develop language and phonemic awareness.
Learn More: Homeschool Preschool
18. Excellent Measurement Activity
Provide your students with various measuring tools, such as rulers or tape measures, and plastic eggs of different sizes. They should then measure and compare the height, circumference, or weight of the eggs; developing a good understanding of early math concepts and basic measurement skills.
Learn More: Gift of Curiosity
19. Egg Tasting Adventure
Arrange a tasting experience for your learners to sample different egg-based foods. They can try anything from hard-boiled eggs and egg salad to deviled eggs and meringue. Encourage them to describe the taste, texture, and preferences for each food item.
Learn More: Healthy Children
20. Egg Story Sequencing
Choose a story that features an egg, such as "The Good Egg" by Jory John and Pete Oswald. After reading the story, provide picture cards representing key events and challenge your students to sequence the story in the correct order.
Learn More: Keeping My Kiddo Busy
21. Egg Shell Mosaic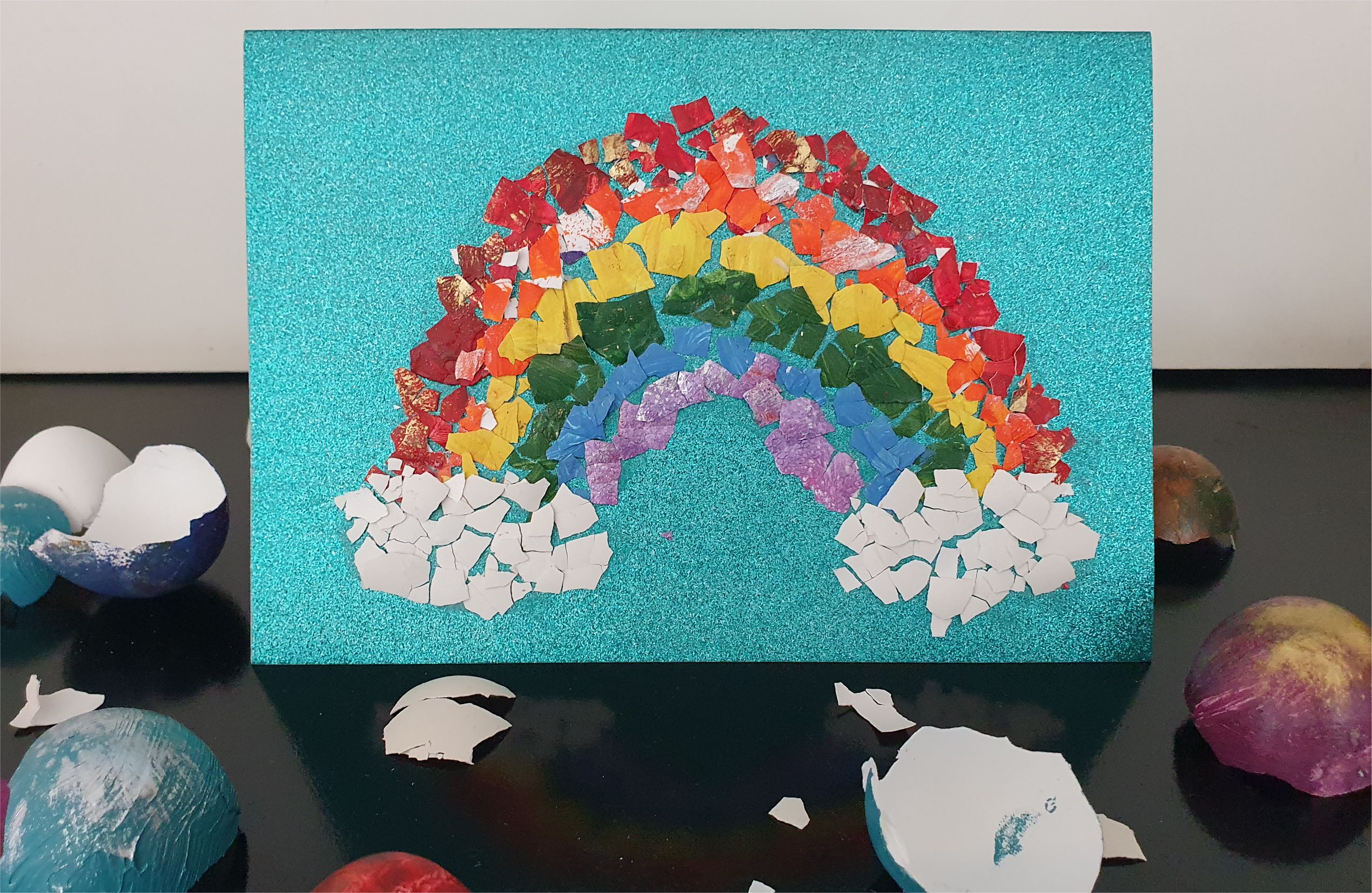 Put those broken eggshells to good use with a colorful mosaic craft! Have your learners paint crushed shells and, after waiting for them to dry, assemble the pieces into a striking rainbow mosaic by gluing them onto a sparkly piece of blue poster board.
Learn More: Mom Made Moments
22. Egg Obstacle Course
Promotes gross motor skills, coordination, and problem-solving with an obstacle course like no other! Create an obstacle course using plastic eggs as markers or stations. Students can crawl under egg tunnels, hop from one egg to another, and balance eggs on spoons while maneuvering through the course.
Learn More: Fair Fax Fundamentals
23. Egg Emotion Faces
This activity supports emotional awareness and social-emotional development. Draw different emotions on hard-boiled eggs using markers or stickers. Encourage your students to then spend time identifying and discussing the emotions depicted on each egg. They can also practice matching their own facial expressions to the emotions represented.
Learn More: A Little Pinch of Perfect
24. Egg Dance Party
Turn on some lively music and host an egg-themed dance party. Your littles can dance, wiggle, and twist like eggs cracking open or chicks hatching from their shells.
Learn More: YouTube