What is your favorite emoji? I would have to say mine is the smiley face that has hearts for eyes! Communicating with emojis can be lots of fun. Emoji crafts and learning activities are super engaging for children of all ages. Learning emotions with emojis can be beneficial for students to recognize their own feelings as well as the feelings of others. Teachers and caregivers can incorporate these awesome emoticons to engage children in learning and collaboration with peers.
1. Emoji Math Practice
Interested in spicing up your math lessons? Try using emoji math! Students will need to figure out the value of the emojis to solve each problem. Incorporating popular emojis is an effective way to engage students in learning math.
Learn More: Creativiteach
2. Emoji Mystery Multiplication Worksheet
This is an activity that any math teacher could use! Students will need to solve the multiplication problems in each box. They will then use the color key to color in a hidden image. Students will discover a fun emoji when they are finished coloring.
Learn More: Artsy Fartsy Mama
3. Guess the Story Game
For this activity, children will use emojis to figure out which children's story it represents. For example, the emojis could show three pigs, a house, and a wolf. That would represent the story of the "Three Little Pigs". Have your students work together to solve them all.
Learn More: Just Family Fun
4. Emoji Twister
If your children are fans of the classic game of twister, they will be very excited to play emoji twister! The rules are exactly the same, just instead of putting their right hand on red, they will put their right hand on the smiley face! What a fun activity!
Learn More: Just Family Fun
5. Emoji Playdough
Children will take a ball of playdough and flatten it like a pancake. Then, use a cookie cutter or bowl to form a circle out of play dough. Cut different shapes of various colors to make fun emojis and expressions. For example, you could cut out stars and hearts for eyes.
Learn More: Kidadl
6. Emoji Beach Ball
Has an old beach ball lain around the house? Try out this fun emoji craft to bring it back to life! Children can use waterproof paint to design their beach ball to look just like their favorite emoji. I recommend the classic smiley face wearing sunglasses.
Learn More: Kidadl
7. DIY Emoji Magnets
Children of all ages will love this hands-on emoji activity. They will make their own magnets using wood circles for crafting, paint, red and black felt, scissors, and glue sticks. The adult helper will need to use a glue gun to adhere to the magnet strip on the back.
Learn More: This Mama Loves
8. Emoji Rock Painting
Calling all creative teachers and students! Allow your child to express themselves by painting their favorite emojis on smooth river rocks. These rocks are easy to find in nature or at any crafting store. This is also a great way to keep kids busy on a rainy day.
Learn More: Jay Lee Painting
9. Emoji Bingo
Bingo is fun with emojis! Check out this free printable bingo game the whole family will enjoy. You will draw an emoji card and show the players each round. Players will mark the emoji on their individual cards. The first person to complete a row and call out bingo wins!
Learn More: My Party Games
10. Emoji Bead Coasters
To create emoji bead coasters, you will need a Perler bead peg board and colorful beads. You will design your emoji craft using the peg board with beads. When your design is complete, place a piece of parchment paper over the top and use an iron to melt the beads.
Learn More: Metro Parent
11. Emoji Paper Puzzle
This emoji paper puzzle is very interesting! It is all connected but is flexible so you can create different emojis. See for yourself with this step-by-step video tutorial. You will need 27 strips of paper with 6 squares (3×3 cm), 1 strip with 12 squares, and 2 strips with 7 squares.
Learn More: Kiwi Show
12. Emoji Matching Puzzle
This emoji-matching puzzle is the perfect game for teaching emotions to young children. Children will match the emoji puzzle piece to the associated word. For example, the emoji of a laughing face matches the word "funny". Children will build problem-solving skills while having fun!
Learn More: Amazon
13. Emoji Cubes
This is one of my personal favorite emoji activities. Children can express creativity by building hundreds of different emoji expressions. You can incorporate this as part of your morning routine by having children create an emoji to share how they are feeling.
Learn More: Amazon
14. Emoji Uno
This Uno game with emojis is the perfect indoor activity for students. Included are customizable cards so you can write your own house rules for each game. All of the cards are of a different special character with a unique emoji expression. Students will mimic the emojis!
Learn More: Triple S Games
15. Emoji Dice
There are many games with emojis that can be played with emoji dice! First, students can make their own dice using a printable template, paper, scissors, glue, and printed emoji pictures. They will glue the faces onto the sides making a cube. They can take turns rolling the dice.
Learn More: DLTK Kids
16. Shamrock Emoji Craft
This shamrock emoji craft is a fun idea for St. Patrick's Day or any emoji-themed lesson. It is a good reminder that emojis don't always have to be the typical yellow smiley face. To create, you will need green construction paper and various shapes to make many expressions.
Learn More: DLTK Kids
17. Emoji Sticker Collage
Creating a sticker college is an awesome classroom activity. You can have one large classroom sticker collage where all the children contribute to the same poster. Students could also work with a partner or independently to create sticker collages. Students can take turns explaining why they chose various expressions.
Learn More: Etsy
18. Feelings Coloring Sheet
The feelings coloring sheet is a fantastic class activity to check in with students on an emotional level. It's important for children to identify how they are feeling and what makes them feel that way. This activity can be used daily with students to help facilitate a discussion about feelings.
Learn More: Etsy
19. Emoji Paper Garland
Crafting paper garland can be used to decorate any home or school event with emojis. You will need colorful construction paper, pencils, scissors, a ruler, and markers. Fold each sheet into 5 equal parts. Draw shapes with a pencil on the top section of the folded sheets and trim.
Learn More: Cutefetti
20. DIY Emoji Wreath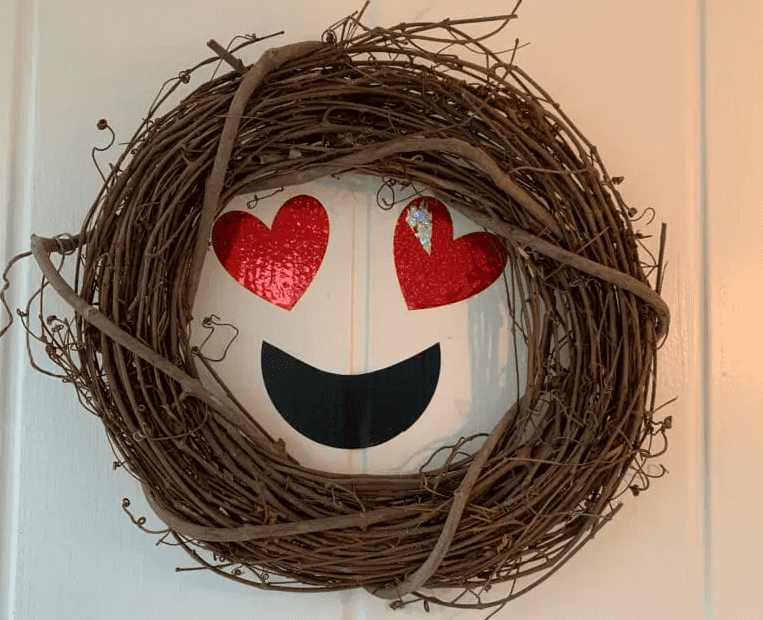 I love this simple homemade wreath! Whether it's for Valentine's Day or just to decorate your classroom, this wreath is fun and easy to make. You will need different sizes of grapevine wreaths, crafting wire, vinyl, and wire clippers. You may use a Cricut machine, but it is not required.
Learn More: Cassie
21. Emoji Popcorn Balls
Crafts are better when you can eat them! The recipe includes marshmallows, buttered popcorn, chocolate melts, and red candy hearts. First, you will combine melted marshmallows with buttered popcorn. Form a ball and flatten it, add red hearts for eyes, and pipe melted chocolate for the smile. Enjoy!
Learn More: Michelle's Party
22. Emoji Pillow Craft
No sewing is required for this comfy craft! To create, you will cut 2 circles with a 7-inch radius out of yellow felt. Use hot or fabric glue to attach the front and back leaving about 3 inches unglued. Flip it inside out, decorate, stuff it, and glue it closed.
Learn More: Julia Nicole Live
23. Emoji Word Search Puzzle
Word search puzzles are one of my favorite student learning activities. You can incorporate an emoji theme to begin a unit on recognizing emotions and discussing feelings. Learning about human emotions with emoji games and puzzles will help keep students focused and engaged.
Learn More: Teachers Pay Teachers
24. Online Emoji Quiz
This online game is free to play and can keep students entertained during their free time. You will see two emojis that will make a phrase. For example, a picture of a chocolate bar emoji along with a cup of milk would make the phrase "chocolate milk".
Learn More: Guess Emoji
25. Emoji Pictionary
What is better than a lively game of Pictionary? Emoji Pictionary! Students will work in small groups to put their brains together to figure out the winter-themed emoji phrases. For example, the emojis of fire and chocolate bars translate to "hot chocolate".
Learn More: Etsy
26. Mystery Emoji
Mystery Emoji is a color-by-number activity. Students will start with a blank grid of numbered boxes. They will color the boxes according to the key. For example, all boxes with the number 1 will be colored yellow. The mystery emoji will be revealed as they color.
Learn More: Coloring Squared
27. Emoji-Inspired Notebook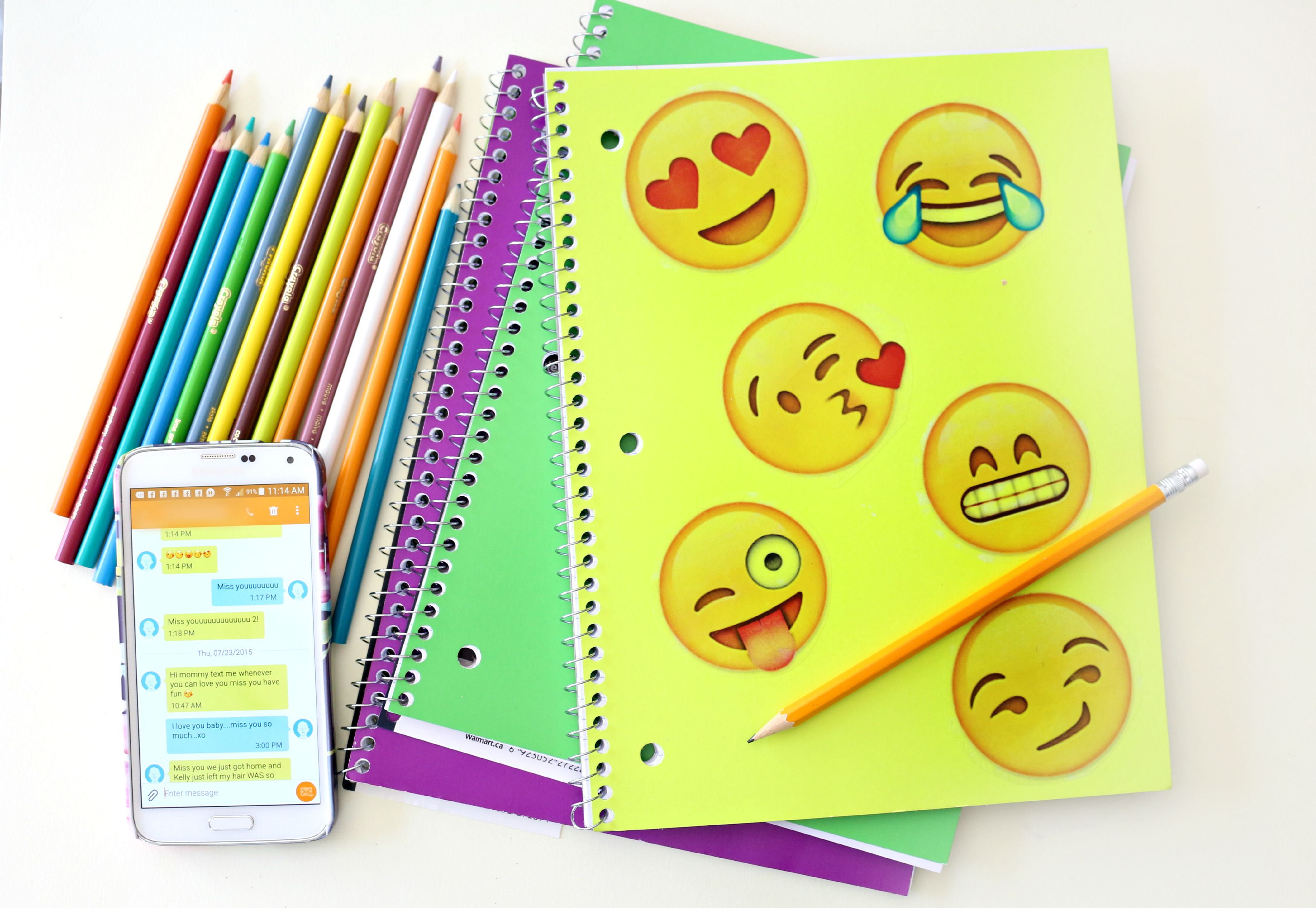 Emoji notebooks are very popular! Why not make your own? To start, print out pictures of emojis using a laser printer. Place them on wax paper and cover them with packing tape. Press down over the tape with a craft stick. Peel off the paper and press them onto the notebook.
Learn More: Craftberry