Can you believe there are about 34,000 different emotions? That sure is a high number for even adults to process! It's our responsibility to guide children through their very real emotions. The emotion wheel was developed by Robert Plutchik in 1980 and has continued to evolve and be adapted over time. The wheel itself is made up of various colors representing different emotions. It can be used by children to help them learn to identify their feelings. Enjoy our collection of 10 activities that are sure to help your little ones navigate their feelings.
1. Calming Corner
Trade traditional "time out" for a positive calming space in your home. This space is for those times when your child is dealing with difficult emotions. Have them use the emotion wheel to identify and communicate the color of their feelings and begin to know when they are calming down.
Learn More: He's Extraordinary
2. Emotions Writing Prompt
Writing has always helped me process my emotions throughout my childhood and adolescence. Encourage students to keep a journal or diary about their feelings. Allow them to keep their journal private from classmates. Provide writing prompts about emotions along with a copy of the emotion wheel to use as a guide.
Learn More: Teacher's Notepad
3. Draw a Word
You can use a basic emotion wheel to play a simple game with your child every day. You will encourage them to pick a word from the emotion wheel that describes their current emotion. Then, have them draw a picture that represents that specific word.
Learn More: Anchor Light Therapy
4. Exploring Identities
Young children are able to recognize the different roles they may have in the world. For example, they may also identify themselves as an athlete, brother, or friend. Use the emotions wheel to guide the conversation according to the child's developmental level. This activity will support basic emotional awareness.
Learn More: Anchor Light Therapy
5. Wheel of Emotion Check-In
It is helpful to have emotional check-ins with children from time to time. You can conduct daily emotion check-ins or just as and when needed. You can provide each child with their own emotion wheel. This feeling wheel can be laminated to keep it protected and allow students to write on it.
Learn More: Mentally Healthy Schools
6. Sentence Starters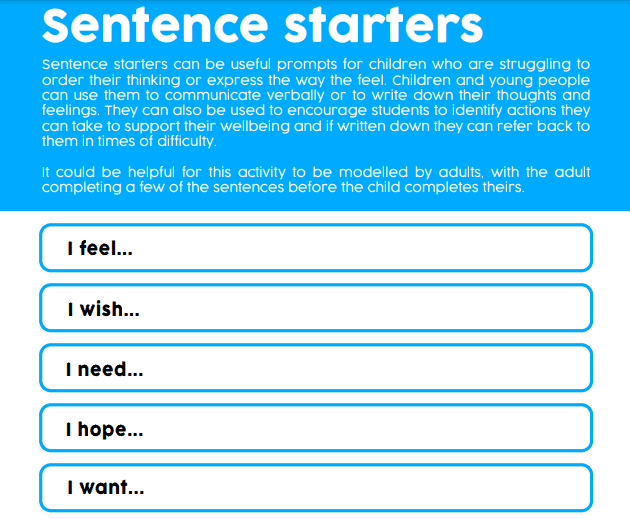 Help children build an emotional vocabulary with this sentence-starter activity. Students can use the feelings wheel as a resource while they complete this fun activity to help them think of what to write. You can also provide a list of emotions for them to choose from.
Learn More: Mentally Healthy Schools
7. Emotions Color Wheel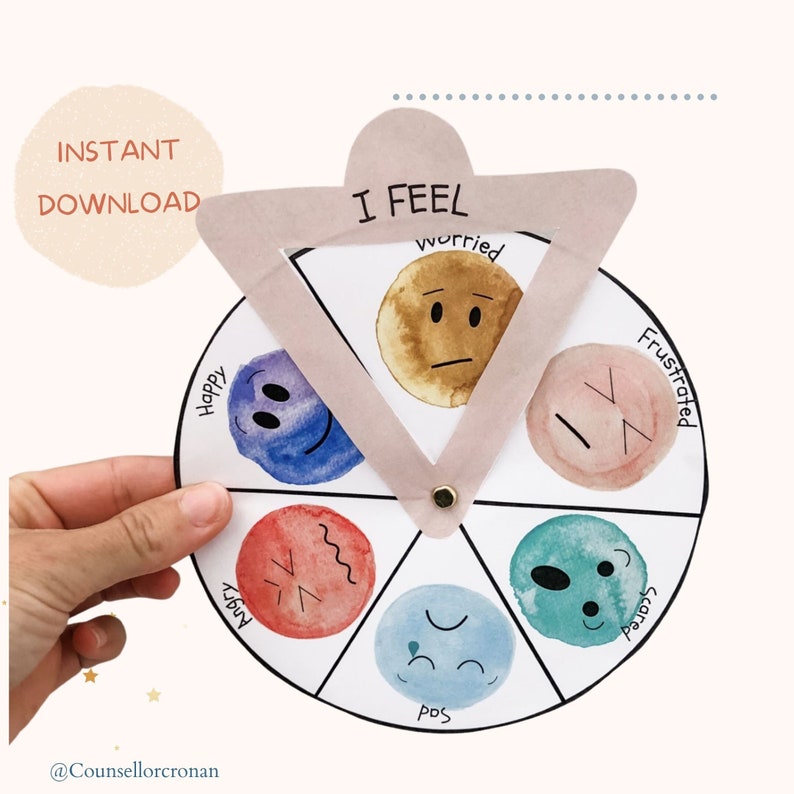 This resource includes two printable options, one with color and one with black and white. You can show your students the emotions color wheel and have them color in theirs to match how they feel. You can fasten a triangle window for students to select a specific emotion.
Learn More: Etsy
8. Feeling Thermometer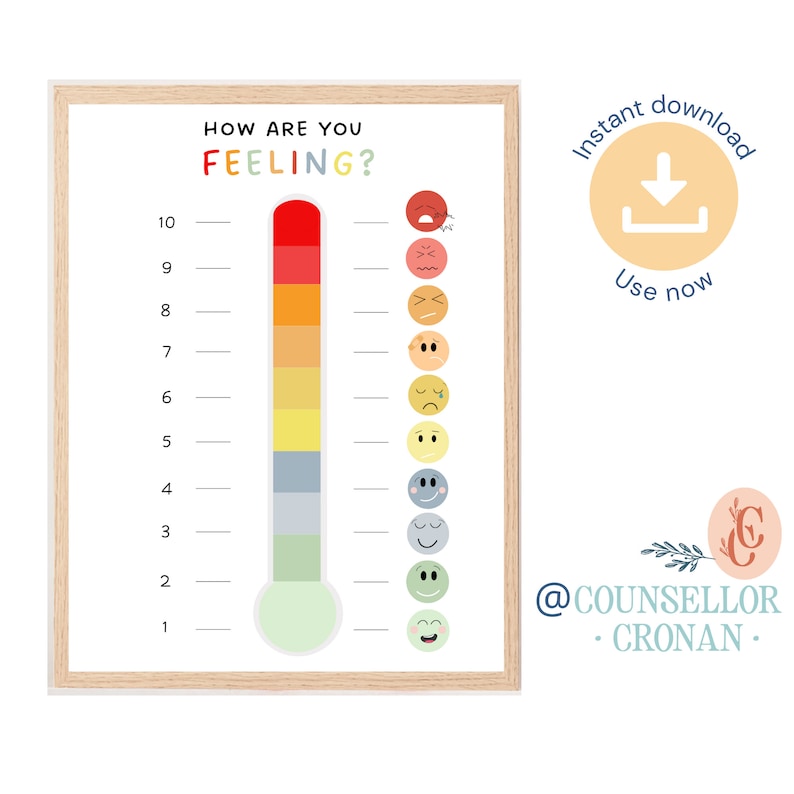 The feeling thermometer is another emotion wheel option for students. It is a thermometer format for children to identify a feeling according to their facial expressions. By identifying emotions with colors, students may recognize strong emotions. For example, a child can associate the emotion of anger with the color red.
Learn More: Etsy
9. Feelings Flash Cards
For this activity, students can use their emotion wheel to help them sort flashcards according to feelings and colors. Students can work in pairs to ask each other questions about the flashcards and when they experience challenging and positive emotions.
Learn More: Amazon
10. DIY Emotion Wheel Craft
You will need three pieces of white paper cut into circles of the same size. Then, draw 8 equal sections into two of the circles. Cut one of the circles to a smaller size, label the distinct emotions and descriptions, and assemble the wheel with a fastener in the center.
Learn More: 2 Monkeys and Me