Emotional literacy is an important stepping stone in child development. These interactive activities help your little ones learn how to read facial expressions and build positive behavior responses to all kinds of situations. Whether you're looking for an emotion chart or engaging activities to fill your morning activity hour, there's something here for all your emotional health unit needs! Your kids will build essential skills needed to read body language cues and learn how to express their emotions healthily.
1. Facial Expression Cups
This fun cup activity is perfect for starting any lesson on emotions! Cut a large square out of one cup. Have your kids draw different emotional faces on another cup. Place one inside the other, and ask your kids to display their emotions every day!
Learn More: Raising Dragons
2. Cup-O-Feelings
This is an easy emotional activity for kids that gives you real-time student data about how the class is doing. After coloring how they feel, take time to discuss everyone's emotions with the class. Turn it into a kindness activity by asking how students can help others feel better.
Learn More: Myle Marks
3. Feelings Identification Tiles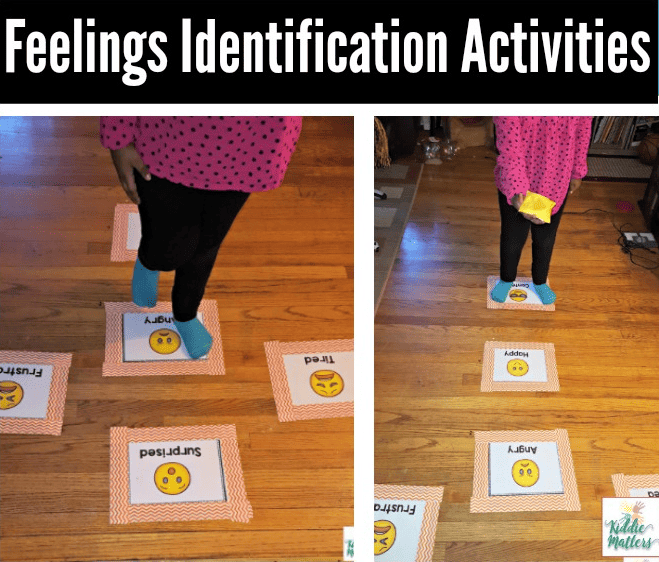 Build your kids' emotional vocabulary with a simple print-and-go activity. Place the emotion squares on the floor. Your kids can then toss a beanbag on how they're feeling, or you can turn it into a fun game by having them race to the correct emotion!
Learn More: Kiddie Matters
4. Emotion Wheels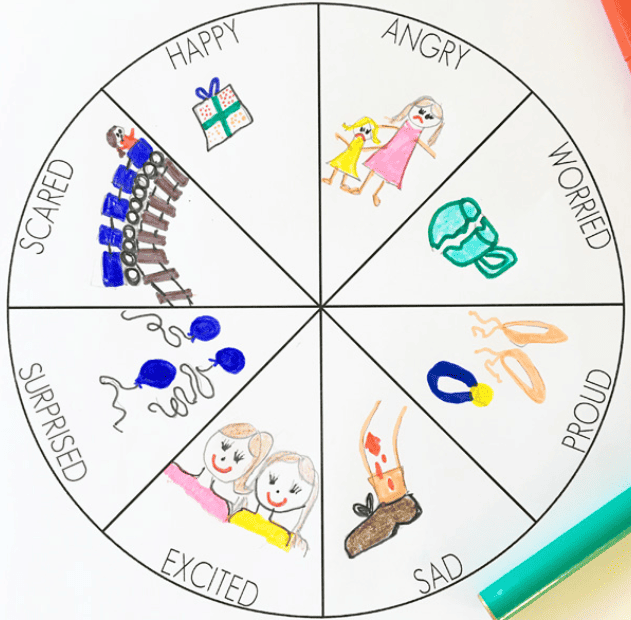 A low-prep craft that's great for teaching kids about extreme emotions and how to help others feel better. Print out the wheel and ask kids to illustrate what makes them feel each emotion. Then, use the wheel to check in with your kids throughout the day!
Learn More: Childhood 101
5. Make A Face
This easy printable is awesome for teaching kids how to recognize facial expressions! Print and cut out the different eyes and mouths. Next, give your kids an emotion and see if they can choose the correct expressions without offering suggestions of your own.
Learn More: Elsa Support
6. Story Stones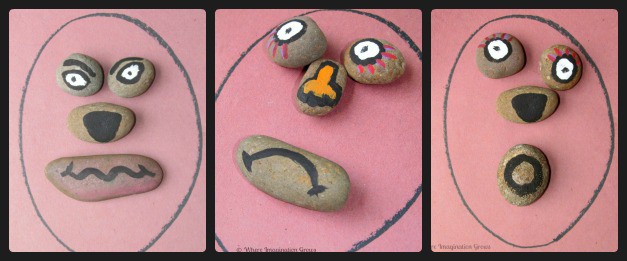 Paint eyes, noses, and mouths on stones expressing different emotions. Draw an oval on a piece of paper and let your kids design their emotions with a face story! Great for building emotional communication skills with K-2nd grade children.
Learn More: Where Imagination Grows
7. Lego Emotion Stations
A great, hands-on activity for your emotional health unit! Build Lego figures to represent different emotions. Then place them in an easy-to-reach location. Ask your kids to grab their emotions to check in throughout the day. This is a useful tool to work through tantrums and complex emotions.
Learn More: Laly Mom
8. Stress Balloons
Have your kids fill colorful balloons with playdough or sand. Then, talk about different emotions as they draw emotional face graphics on each balloon. Kids can squeeze the balloons for a good finger muscle workout as they learn how to express their emotions and use different coping skills.
Learn More: Pre-School Play
9. Paper Plate Emotion Masks
Cut paper plates in half and attach them to craft sticks for this crafty activity. Either write an emotion on the back or act out the face for your kids to illustrate. Perfect for playtime with parents to build emotional recognition and life skills!
Learn More: No Time For Flash Cards
10. Emotion Songs
Create healthy habits with a sing-a-long for your K-2 students! Play the video to learn emotional vocabulary and build language skills. Afterward, ask your kids to describe the body posture associated with each emotion in the video.
Learn More: Pinkfong Baby Shark
11. Emotion Matching
The perfect emotional activity for preschool classrooms! Bring out each emotion face and ask your kids to say what it is. After you add the label, have everyone make the face. Use them in a morning meeting activity to see how the students are feeling.
Learn More: Miss Mary Libbery
12. Playdough Emotions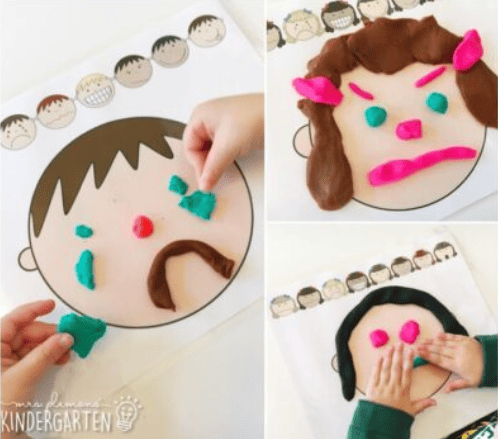 Break out the playdough for a fun and interactive emotional activity! Have students make faces based on the examples given. Afterward, give them additional emotions to design. It's sure to be a lot of fun for students of all ages.
Learn More: Mrs. Plemon's Kindergarten
13. Balloon People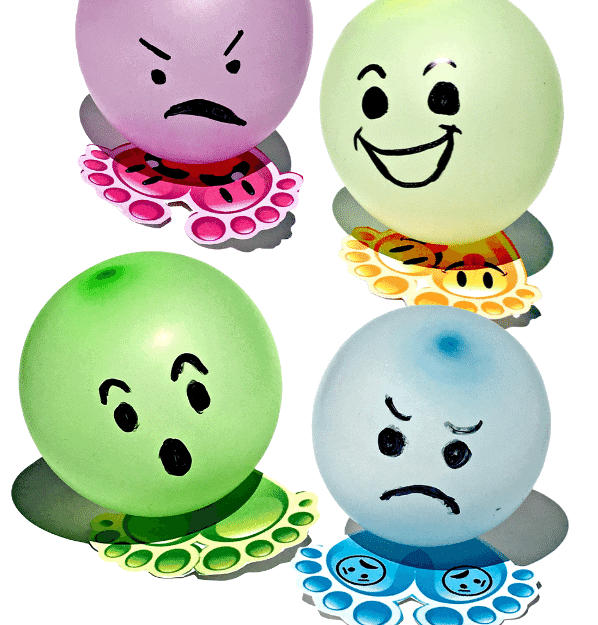 Balloon people are an amazing interactive counseling resource that uses the play language of children to tackle tough emotions! Carefully draw different expressions on balloons and then have your kiddos catch their emotions and share why they feel like that.
Learn More: Moss Wood Connections
14. Emotion Color Poems
Read your favorite book about emotions. Ask your kids to then write how they feel when they see each color. Have everyone share their poems and talk about different care strategies to help everyone feel like their favorite color!
Learn More: School Time Snippets
15. Emotions Jenga
Use a super fun game to build essential skills about emotions! Write different emotions on Jenga blocks in three different colors. For the different colors, have students make a face, describe how their body feels, or talk about a time they felt that emotion.
Learn More: Childhood 101
16. Monstrous Emotions
Help your little ones learn coping skills with cute monsters. Cut out the flaps, and have your kids color the figures and faces. They can then take time to match the faces to the monster and talk about different body language cues linked to emotions.
Learn More: Lemon Lime Adventures
17. Emotion Action Songs
If you're happy and you know it claps your hands! Add some music to your morning meetings in preschool classrooms with an awesome song. For each emotion, have your kids add a new body language move that expresses that emotion.
Learn More: No Time For Flashcards
18. Emotion Flipbook
Craft your very own book about emotions! Cut and decorate different emotions on each layer of paper. Then, your kids can fold the circles in half and use them to discuss how they're feeling each day.
Learn More: Mungfali
19. Active Emotions Game
Add some exercise to your emotional activity! Have your kids think of an action for each emotion. Then, as the music plays, have them run with their emotions before the music stops. Shout out an emotion and have everyone act it out!
Learn More: In The Playroom
20. Feelings Bingo
Add a fun board game to your emotional health unit! Show the different emotion cards to your students and see who completes their board first. Turn it into a cooperative activity by having younger students work together to find the emotions.
Learn More: Homeschool Giveaways