Energizer activities, also known as brain breaks, help our learners to reactivate their brains after extended periods of sitting, writing, and listening; giving them time to re-adjust and re-focus their attention back to healthy learning. They can be used at a variety of times such as transition periods, after recess to calm down, and in the morning to energize as well as to develop team building. The following activities are all tried and tested ideas of successful energizer activities to help you give your classroom a boost!
1. Rainbow Yoga
Yoga is a great energizer activity; designed to realign and focus the body using careful movements and stretches. This easy-to-follow video is suitable for a wide range of ages and is just the thing your students need to relax after an intense learning session.
Learn more: YouTube
2. Mindfulness Coloring
A great way to readjust and refocus is with a calming mindfulness coloring session. Even spending just fifteen minutes coloring will give students a much-needed brain break.
Learn more: Shutterstock
3. Task Cards
These easy-to-print brain break task cards have a range of simple instructions and activities to use during times when kids need a quick energizer in the classroom.
Learn more: The Teacher Next Door
4. Do This, Do That!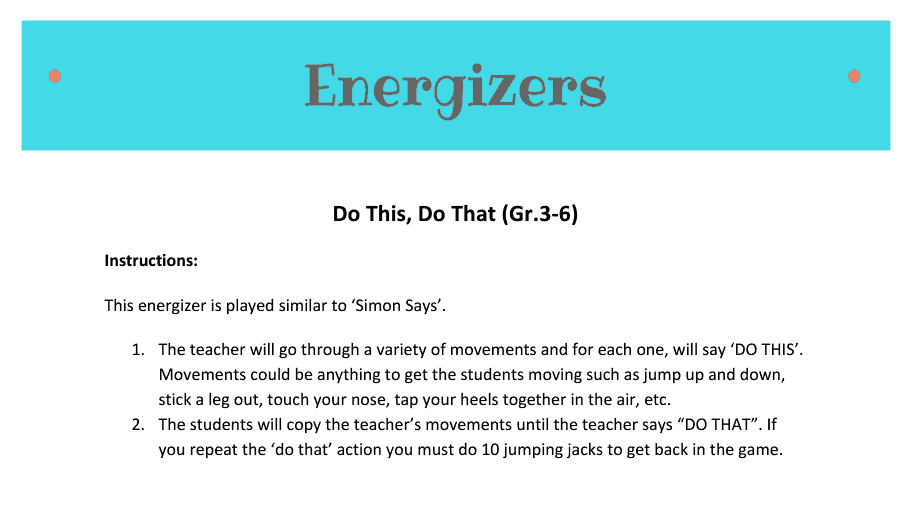 This fun game is similar to Simon Says. Make it as silly or as structured as you choose, depending on your students, and motivate them to be active participants in this active energizer game.
Learn more: Apple Schools
5. Go Noodle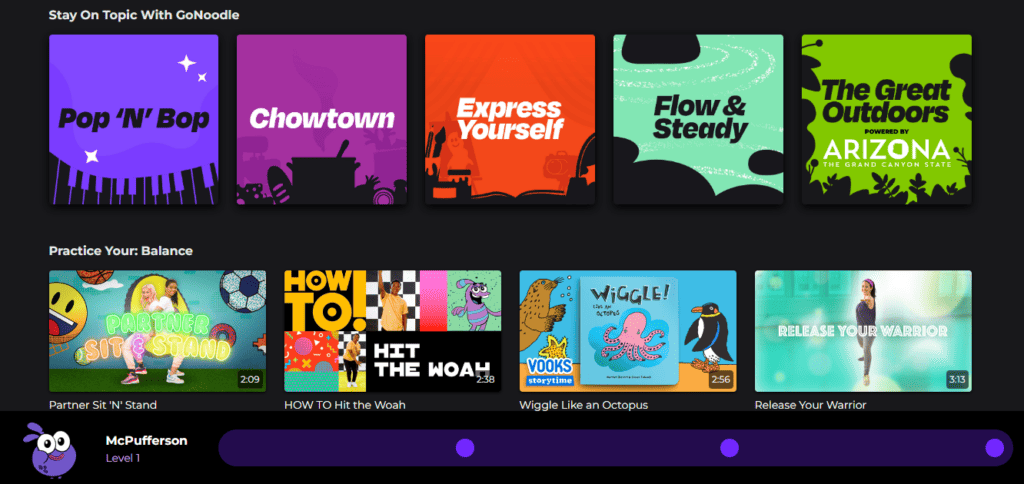 This is a fantastic website full of resources for short brain breaks, mindfulness activities, and short dance routines to energize your kids and get them ready for the next part of their day!
Learn more: Go Noodle
6. Mirror, Mirror
This activity is great for developing coordination skills and having a bit of fun! Students copy each other's body movements in this no-prep brain break activity.
Learn more: The Inspired Treehouse
7. Shake Break
Inspired by the cool creatures at Pancake Manor, this fun song encourages students to 'shake' themselves back to learning. It's perfect after sitting for long periods or for use when your learners need to readjust their focus!
Learn more: YouTube
8. Activity Sticks
This simple resource is created using lolly sticks and decorating them with a range of activities that keep kids active and engaged. Create the sticks best suited to your students and place them in a small container for safekeeping. Students can then choose one to complete during 'energize' time!
Learn more: Keep Calm and Teach On
9. Keep me Rollin'
These brightly colored printables use a simple dice-rolling method to choose which activity to complete during energizer activities. These can be laminated and stuck to tables or classroom walls to help students self-regulate and be independent.
Learn more: Your Therapy Source
10. Fun Flash Cards
This set contains 40 brain break cards with a variety of activities. These can be printed on colored cards, laminated, and displayed in a handy box so that students can choose one to complete during an energizer period!
Learn more: Teachers Pay Teachers
11. Play with Play-dough
This is a great sensory activity! Have children create shapes, models, and designs using play dough. With this easy recipe, you can make small batches for students to squeeze and squish during a much-needed energizer break!
Learn more: I Heart Naptime
12. Five-Finger Breathing
This mindfulness and energizing activity allows children to re-focus and get back 'in the zone' using a simple breathing technique. They breathe in for 5 breaths; using their fingers to count, and then repeat on the exhale; again using their fingers as a focus to count down.
Learn more: Education
13. Heads Down, Thumbs Up!
Students simply follow the instructions of 'heads down-thumbs up' in this classic game. Several students are elected to be the sneaky thumb pincher and other students have to guess who has pinched their thumb without looking!
Learn more: Jubed
14. Solving Riddles
Kids love a brainteaser and after a long period of sitting down, what better way to re-energize your students than to give them some riddles to solve with their friends? Why not make it a competition between the students to see how many can be solved?
Learn more: Prodigy Education
15. Minute To Win It
Some of these 'minute' games take a little setting up, but the students will have a huge amount of fun completing high-energy tasks and games within one minute! It's a fun energizing game, with a competitive edge, that's bound to give kids the buzz they need to continue their learning in a more focused way.
Learn more: Teach Mama
16. Activity Cubes
Encourage students to construct their own activity cube; choosing 6 of their favorite activities to complete during an energizer activity time!
Learn more: Little Family Fun
17. Say What You See
These excellent brain teasers will keep kids occupied during valuable energizer sessions! Not only do they promote thinking and cognition skills, but they can also be used as a competition between students and groups. Students are required to solve the puzzles using the clues from the brain teasers provided.
Learn more: Free Home School Deals
18. Brain Break Spinner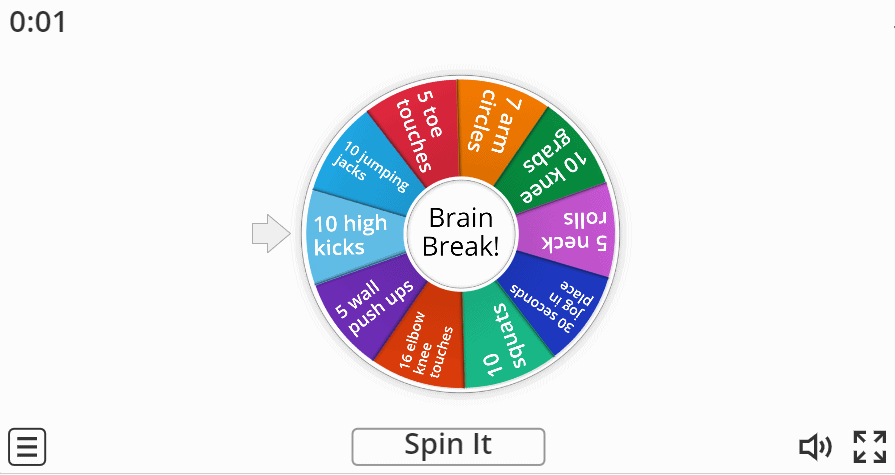 This interactive spinner stops on a range of different activities for students to participate in during much-needed brain break times!
Learn more: Word Wall
19. Brain Break Bingo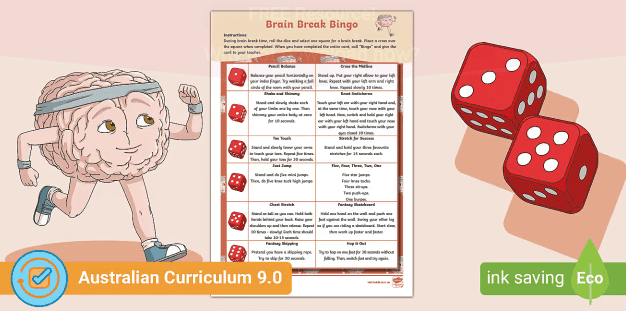 This free bingo sheet is a great resource for energizer time. Students can choose and mix up a range of activities to stimulate the brain and have a few minutes of fun before refocusing on their learning.
Learn more: Twinkl
20. Fizz, Buzz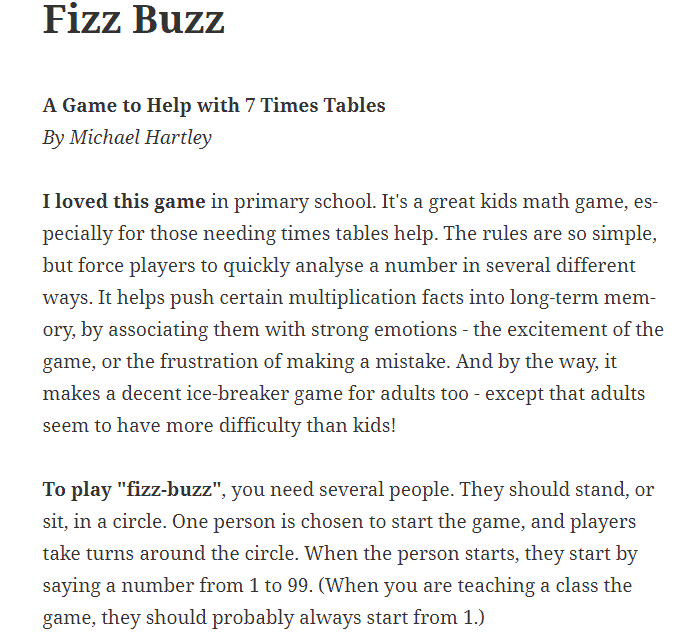 A great math game to incorporate times tables and have a bit of brain-teasing fun too! The rules are easy; simply choose different numbers to be replaced with the words fizz or buzz. This is great in a big group or classroom setting.
Learn more: Dr Mike's Math Games for Kids
21. Jigsaw Puzzles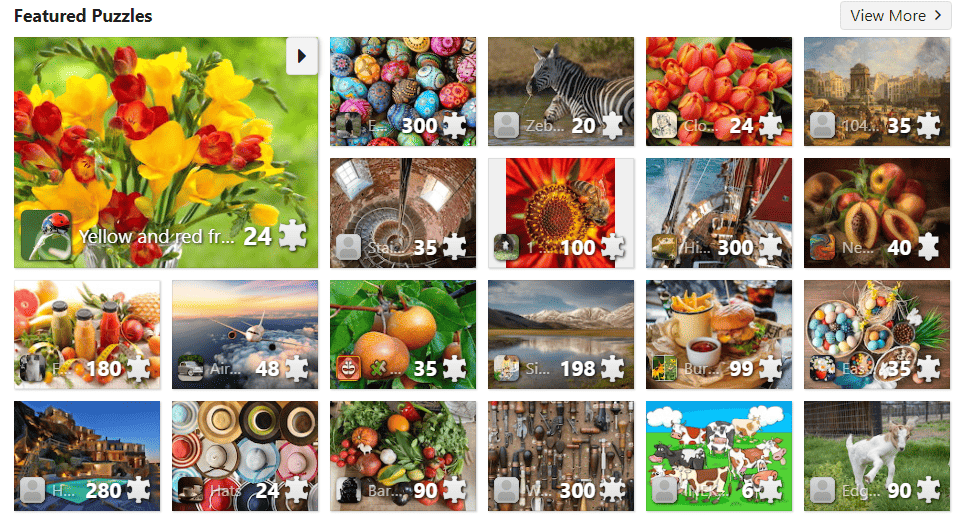 These online jigsaw puzzles are the perfect energizer activities for young minds. Spend some time readjusting and completing a puzzle to give students the opportunity to get back into a good learning frame of mind and be ready for the next task ahead.
Learn more: Jigsaw Planet
22. Countdown Math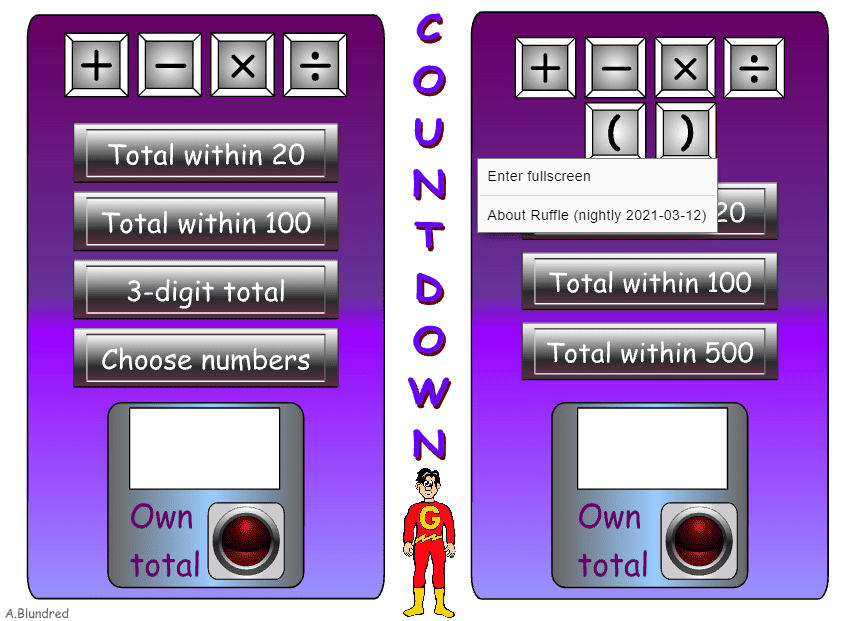 This excellent math-inspired game is a great energizer activity to get kids motivated and ready to learn. Based on the TV show, students have to come up with the target number on the screen using the digits and operations in an allotted time.
Learn more: Topmarks
23. Crosswords for Kids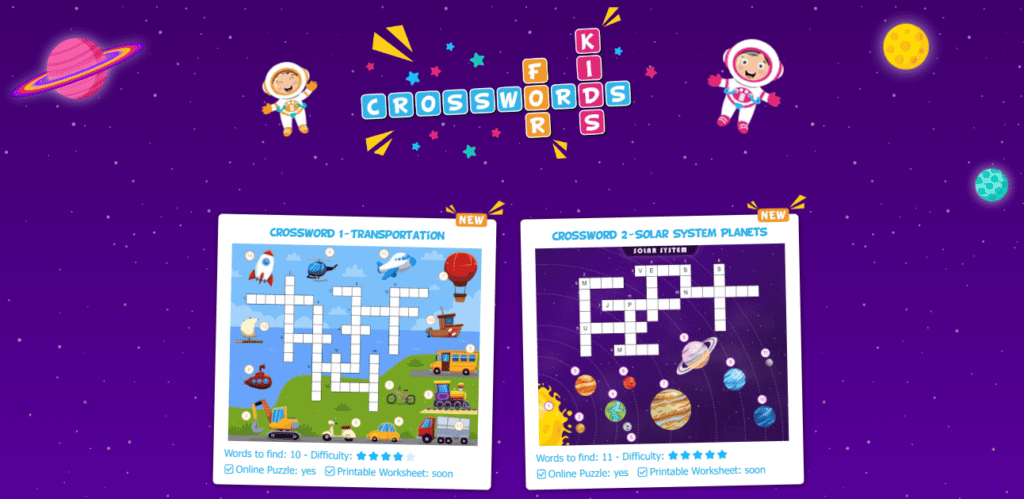 These fun and colorful crossword puzzles make great energizer activities. In a range of topics, colors, and themes, there will be one to suit every learner in your class!
Learn more: Crosswords For Kids
24. Beat The Teacher
This is another energizer game to develop math skills and cognition. Students will love competing against their teacher to solve simple puzzles and riddles. Create a scoreboard to keep track of points!
Learn more: Teaching Ideas
25. Jumping Jack
This highly energizing exercise brings movement and energy back to students; perfect after long periods of sitting down or being still. Display the printable for students and complete some jumping jacks together to get re-energized and ready for the next part of the learning day.
Learn more: Pinterest