Learning about enzymes is important to build basic skills and an understanding of biological processes. An enzyme is a protein that helps chemical reactions to occur in the body. Digestion, for example, wouldn't be possible without enzymes. In order to help students better understand the ability of enzymes, teachers often assign labs and lab reports. The experiment activities below explore how enzymes react under different experimental conditions such as temperature, pH, and time. Each enzymatic activity is engaging and can be adapted for any level of science class. Here are 13 enzyme lab report activities for you to enjoy.
1. Plant and Animal Enzyme Lab
This lab explores an enzyme that is common to both plants and animals. Firstly, students will explore important concepts about enzymes; including what enzymes are, how they help cells, and how they create reactions. During the lab, students will look at plants and animals and discover enzymes that are common to both.
Learn more: Amy Brown Science
2. Enzymes and Toothpicks
This lab explores enzymes using toothpicks. Students will practice different simulations with toothpicks to see how enzyme reactions can change with different variables. Students will look at enzyme reaction rates, how enzymes react with substrate concentration and the effect of temperature on enzyme reactions.
Learn more: Science Buddies
3. Hydrogen Peroxide Lab
In this lab, students explore how enzymes break down hydrogen peroxide using different catalysts. Students will use liver, manganese, and potato as catalysts. Each catalyst produces a unique reaction with hydrogen peroxide.
Learn more: Royal Society of Chemistry
4. Critical Thinking With Enzymes
This is an easy assignment that encourages students to think about what they know about enzymes and apply their knowledge to real-world scenarios. Students will think about how enzymes impact bananas, bread, and body temperature.
Learn more: The Science Teacher
5. Enzymes and Digestion
This fun lab explores how catalase, an important enzyme, protects the body from cell damage. Kids will use food coloring, yeast, dish soap, and hydrogen peroxide to simulate how enzymes react in the body. Once students complete the lab, there are also several activities for extension learning.
Learn more: Science Buddies
6. Enzymes in Laundry and Digestion
In this activity, students will take a look at how enzymes to aid digestion and laundry. Students will read A Journey Through the Digestive System and Amazing Body Systems: Digestive System, along with watching several videos in order to prepare to discuss how enzymes aid in digestion and the cleaning of clothes.
Learn more: Teach Engineering
7. Lactase Lab
Students investigate the enzyme lactase in rice milk, soy milk, and cow's milk. During the lab, students will be able to identify the sugars in each type of milk. They will run the experiment with and without lactase to assess the glucose levels in each sample.
Learn more: Learning Undefeated
8. Catalase Enzyme Lab
In this lab, students assess how temperature and pH affect catalase efficiency. This lab uses potatoes to measure how pH affects catalase. Then, students repeat the experiment by changing the temperature of either the potato puree or the hydrogen peroxide to measure the effect of temperature on catalase.
Learn more: Science Lessons that Rock
9. How Heat Affects Enzymes
This experiment combines heat, jello, and pineapple to observe how temperature affects reactions. Students will repeat the experiment at different temperatures to see at which temperature the pineapple no longer reacts.
Learn more: Education
10. Enzymatic Virtual Lab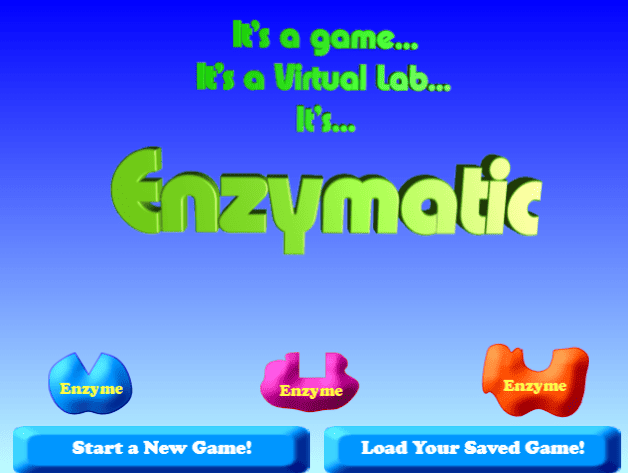 This website offers games that teach students about biology concepts such as enzymes. This virtual lab covers enzymes, substrates, enzyme shapes, and variables that affect enzyme reactions. Kids complete the lab online via a virtual portal.
Learn more: Bioman Biology
11. Enzyme Simulation
This website shows students how enzymes react in real-time via an online simulation. This simulation helps students make cognitive connections from physical labs. This simulation shows how starch breaks down with different enzymatic reactions.
Learn more: Biology Simulations
12. Enzyme Function: Penny Matching
This is another online activity that challenges students to see the similarities between using a penny machine and the enzymatic process. Students will view the penny machine in action and then compare this process to an enzyme-catalyzed reaction. Then, students can answer challenging questions.
Learn more: CK-12
13. Apples and Vitamin C
For this experiment, students will test how vitamin C affects apples. Students will observe an apple sprinkled with powdered vitamin C and an apple without any powder over a period of time. Students see how vitamin C slows the browning process.
Learn more: The Homeschool Scientist