When babies learn to talk, they often learn to say family members' names first. For language learners whose second language is English, learning the names of family members is just as important! Lessons on the topic of family fit in perfectly with many classroom themes, from "All About Me" to holidays and special celebrations. Use these fantastic family activities to inspire students' understanding of family vocabulary in useful, engaging contexts!
1. Finger Family Song
The Finger Family is a classic nursery rhyme/song to help little ones learn family vocabulary terms. Sing it together during your morning meeting each day to help children connect with your theme! This interactive family song is sure to become a favorite!
Learn more: The Learning Station
2. The Wheels on the Bus
This classic preschool song includes plenty of family-type vocabulary words, and it's easy to make up new verses to incorporate even more! This song, though simple, explores basic family relationships between children and their comforting parents and guardians. It's an easy addition to your lesson plans on families, holidays, and travel!
Learn more: Super Simple Songs
3. Family Dominoes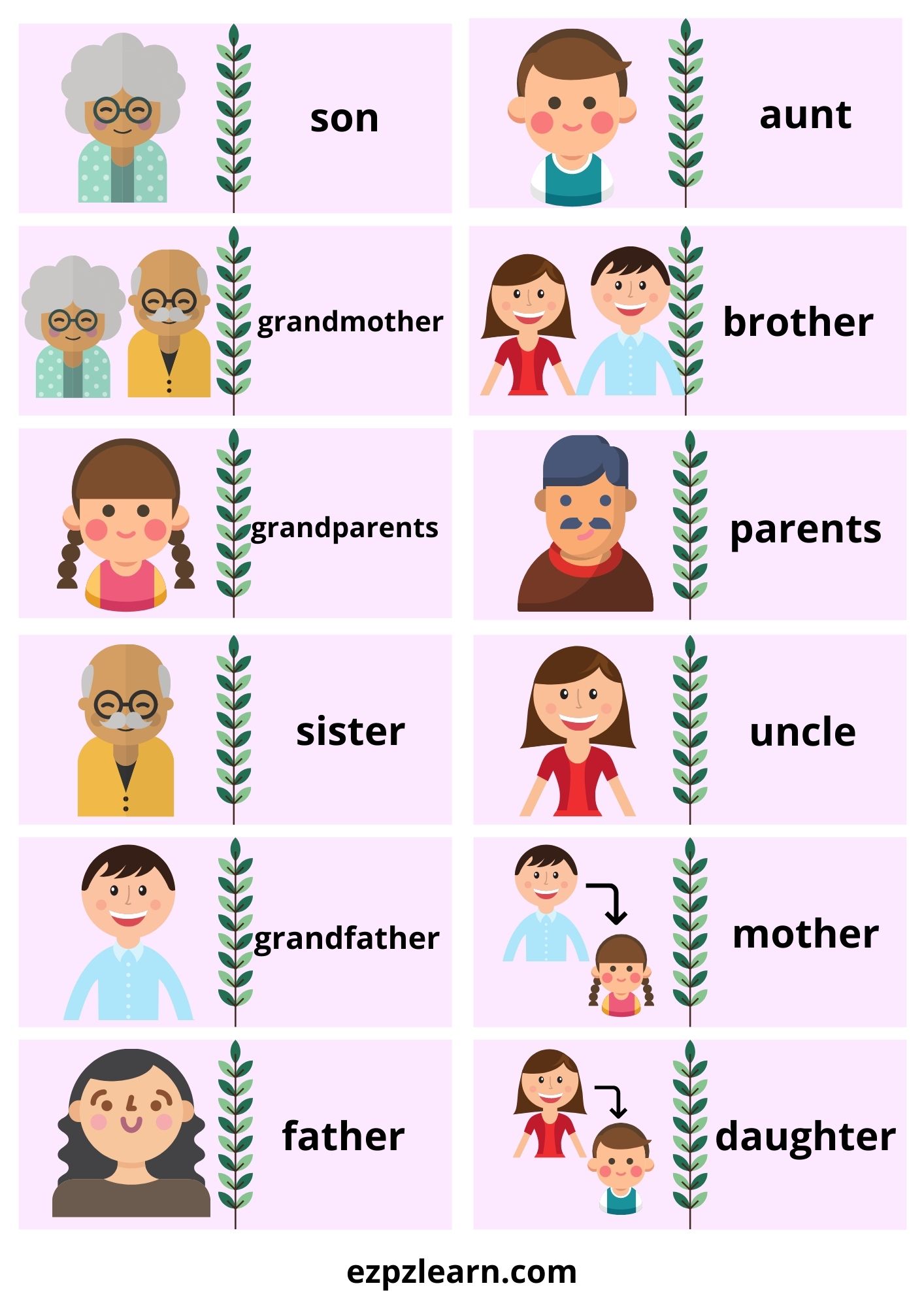 Dominoes is the perfect game for your early readers to play as they learn the names of family members! Children will connect dominoes by matching the term to the depicted family member. Feel free to expand this game by making your own dominoes to cover even more vocabulary terms!
Learn more: EZPZ Learn
4. Family Bingo
Family bingo is another engaging way to get children to practice the names of family members without even realizing they're doing it! One person will choose a card, while the students mark off the correct family member on their boards. Use the linked printable or create your very own boards with family photos!
Learn more: Itsy Bitsy Mom
5. I Have, Who Has?
I Have, Who Has is possibly the most easily-adaptable game for any theme! Create your own set of family word cards or purchase them online. Ask the questions on the cards to make matches and win the game! This is the perfect activity if you need to save time on lesson planning.
Learn more: Teachers Pay Teachers
6. Concentration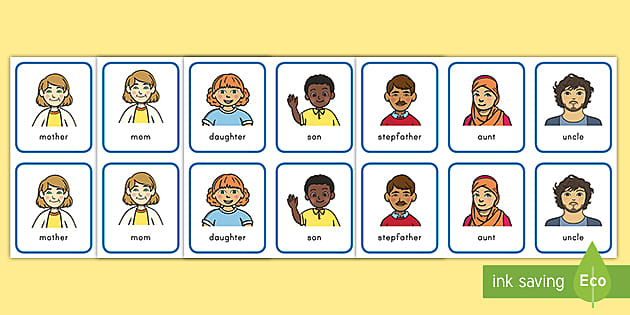 After a few basic lessons on families, put students in pairs or small groups to play Family Concentration! Students will have to access their short-term memories and knowledge about family vocabulary to remember where matching cards are hidden. Increase the challenge by having children look for a picture and the matching term!
Learn more: Mental Up
7. Who's On the Tray?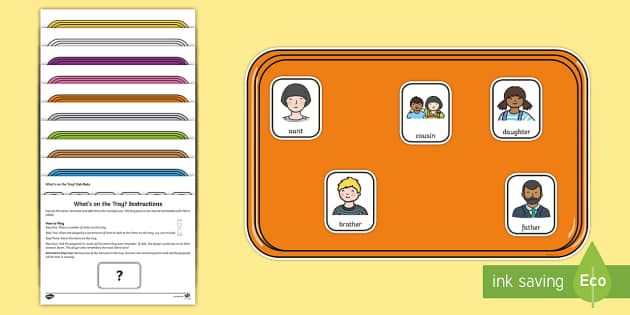 This fun family exercise benefits students' visual discrimination skills and strengthens their working memory! Lay family flashcards or photographs out on a tray. Let children study them for about 30 seconds. Then, have them close their eyes while you remove a card. Students will then have to guess who is missing!
Learn more: Twinkl
8. Just a Minute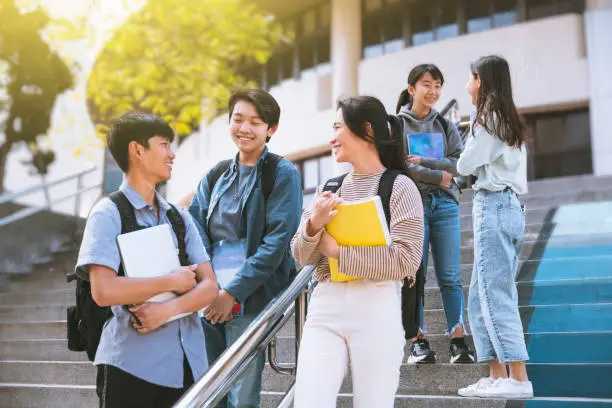 Just a Minute is a great game for your middle-to-older elementary students to play using any topic! Students have to speak on a particular topic for a full minute without pausing or being repetitive. This encourages students to utilize their new vocabulary terms and practice using them in the correct sentence structure.
Learn more: Busy Teacher
9. Mixed-Up Sentences
Write a few simple sentences about family member relationships on sentence strips. Cut them into pieces and scramble them. Then, challenge students to reassemble the phrases and read them. This exercise will help children practice using their vocabulary terms in context and work on language concepts like proper sentence structure.
Learn more: Teachers Pay Teachers
10. Cardboard Tube Families
Integrate artistic expression into your study of families with this cardboard tube family activity! Have children create their family from recyclables and then let their peers view and ask follow-up questions about them. This is the perfect craft if you're wanting a little more than the traditional family tree activity!
Learn more: Fantastic Fun and Learning
11. Family Puppets
What child doesn't love a good puppet show? Challenge your students to create their families in puppet form and then use them to put on a show! You could give prompts like "going on vacation" or "a trip to the store", or simply let children come up with their own ideas!
Learn more: Like a Pretty Petunia
12. Family House Craft
Put all those popsicle sticks to good use to build a frame for a family drawing! Children will have fun decorating this house-shaped border with buttons, sequins, or whatever else you have on hand and then creating a drawing of their family to go inside. Display students' pictures on your bulletin board after they have walked you through who each member is!
Learn more: NewTchrTips
13. Hedbanz
Hedbanz is one of those games that inspires tons of laughter every time you play! Write basic family vocabulary words or names on index cards and then insert the cards into the players' headbands. This is an excellent conversation exercise as children have to describe family relationships as they guess.
Learn more: Enlightening ELLs
14. Guess Who?
Personalize your old Guess Who board to include members of a fictional family. Put students in pairs to play and have them ask each other basic questions to try and identify the correct family member chosen by the other player. Homeschoolers: try this with photos of real people in your family!
Learn more: ESL Kids Games
15. Mother, May I?
Have children play this classic recess game with a spin: have the person who is "it" adopt a different family member persona for each round i.e. "Father May I?" or "Grandpa, May I?". It's an easy, active way to get children to use the names of people during play!
Learn more: Ice Breaker Ideas
16. Pictionary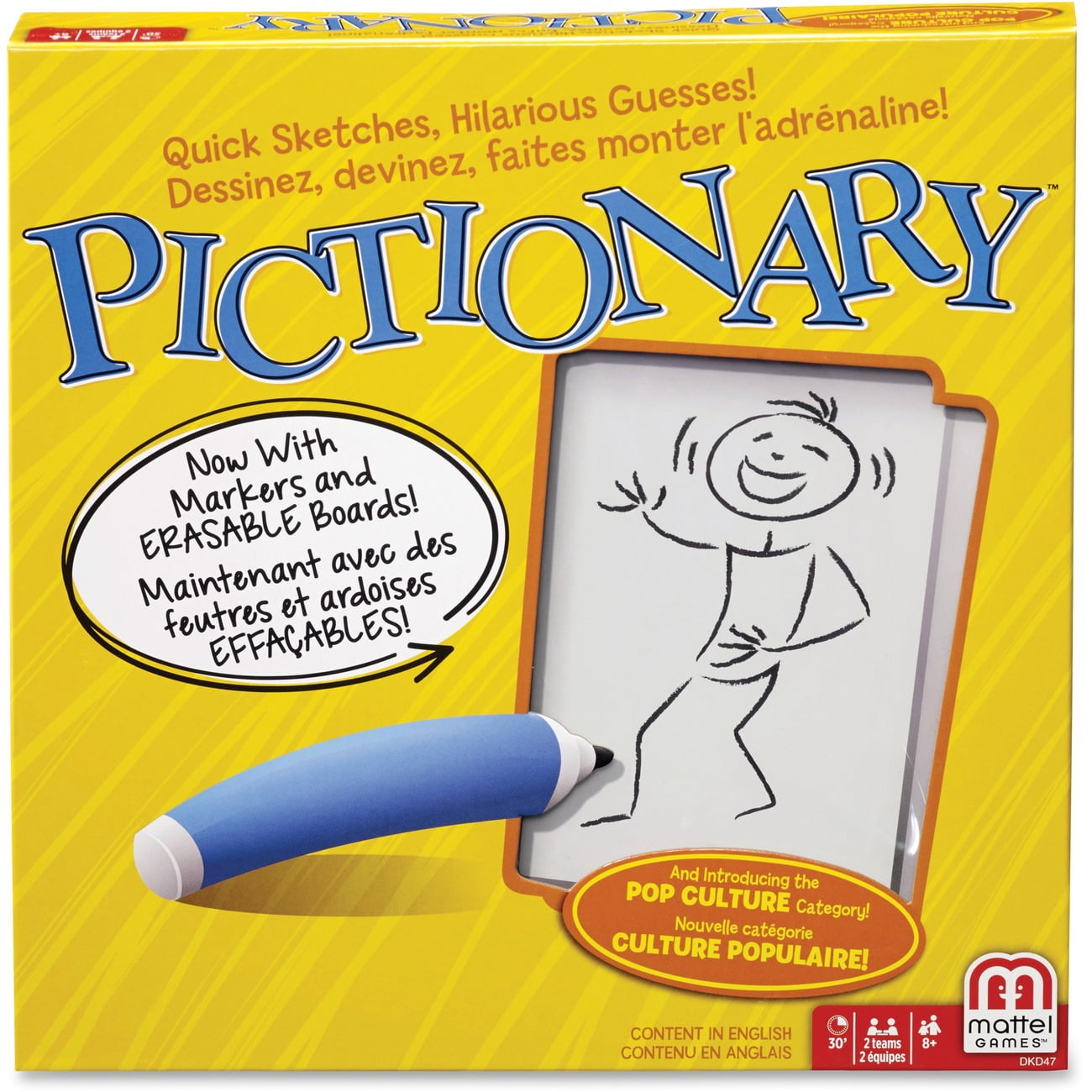 Pictionary is the perfect game for practicing new terms in your English classes. Students will try to guess which family members their classmates are drawing on a whiteboard. Students' pictures may lead to a few funny answers, but that's all just part of adding joy to your daily lesson plans!
Learn more: ISL Collective