Journey to the future with 19 creative and interactive ESL activities. Designed to help your students master the use of future tense, these activities encourage imaginative thinking, goal setting, and collaborative storytelling while simultaneously solidifying their understanding of future tense structures. Follow along as we take you through activities such as diary entries, predictive weather entries, and more!
1. Predict Your Day
Start your day with a fun future-tense exercise. Ask your students to write a paragraph predicting what their day will look like. This activity promotes forward thinking and encourages them to use the word, 'will' when making predictions.
Learn More: Active For Life
2. Classroom Weather Forecaster
Give your students a chance to be weather forecasters. Provide a few pictures that symbolize different weather conditions and have them predict tomorrow's weather.
Learn More: Fun365 Oriental Trading
3. Future Career Fair
Spark new passions and encourage your learners to dream big by hosting a career fair. Your students can present what they're going to be in the future and practice using the expression, 'going to' when making plans.
Learn More: Sign Up Genius
4. Time Capsule
Get your learners to write a letter to their future selves. They can write letters stating what they think they'll be doing in 10 years; practicing the use of the word, 'will'.
Learn More: We Are Teachers
5. Plan a Trip
Ask your students to plan a trip somewhere. They should explain where they're 'going to' visit and what they're 'going to' do there; practicing making use of the expression, 'going to'.
Learn More: ISL Collective
6. Classroom Talk Show
Turn the spotlight on your students as you host a classroom talk show. In pairs, learners can interview each other about their plans for the weekend; using the present continuous for arrangements that they're making.
Learn More: YouTube
7. What's for Dinner?
Get those tummies grumbling by asking your students to write about what they're 'going to' cook for dinner. This activity makes them practice the phrase, 'going to' for making plans and further enables them to understand the sequencing of a process.
Learn More: Teachers Pay Teachers
8. Future Inventions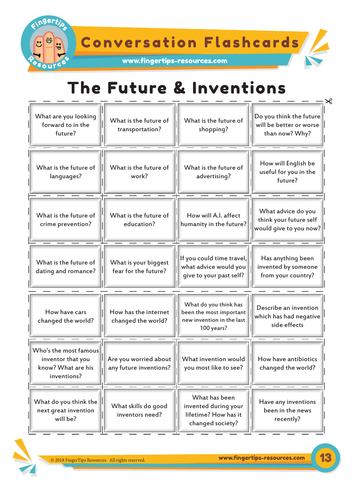 Peer into the future by having your students draw and present an invention that they think 'will' exist in 100 years; allowing them to use 'will' for predictions and ignite their creativity in the process.
Learn More: TES
9. Acting Out a Scene
Get ready for some drama as you rope your learners into a performance. Provide students with a scene (like having a phone conversation), and ask them to act it out using the future tense when making arrangements.
Learn More: Stage Milk
10. Resolutions and Goals
This task affords your learners an introspective opportunity whilst getting some practice using the future tense. Ask them to each write down five goals that they 'are going to' achieve this year; focusing on using the phrase, 'going to' when making plans.
Learn More: Live Worksheets
11. Dear Diary
Have your learners write a diary entry for a day next week; describing what they plan to do; using future tense to craft their entry.
Learn More: Kids World Fun
12. Comic Strip Stories
Once your learners have the swing of things, up the stakes by challenging them to craft artistic comic strips that feature a future event. In doing so, they'll need to focus on using the phrase, 'going to' for plans that are being made.
Learn More: Magoosh
13. Predict the Story's Ending
Tie this fun future tense activity into your next reading lesson. Give students a half-finished story and ask them to predict the ending using 'will'.
Learn More: Twinkl
14. Arranging a Classroom Party
Arranging an event is never simple, but can certainly be made easier with thorough planning! Have your students plan and discuss a future class party using the future tense; focusing on the use of, 'going to' for plans.
Learn More: ESL Printables
15. Future Perfect Tense
Up the ante by taking a deeper look at the intricacies of the future tense. Students can write a letter to a friend describing things that they will have done by a certain point; using the future perfect tense to help them do so.
Learn More: Kids World Fun
16. Dream House Description
This activity is perfect for all engineering and graphic design learners! Students can take a crack at designing and describing their future house using the phrase, 'will'.
Learn More: Bored Panda
17. Future Continuous Tense
Introduce your class to the future continuous tense by playing a simple, animated video! In the activity depicted, students describe what they will be doing at various points in the future; helping your learners get a better idea of how to do the same!
Learn More: YouTube
18. Job Interviews
Have your learners consider and discuss the future by interviewing each other for jobs; using the phrase, 'going to' for future plans, and present continuous for future arrangements.
Learn More: YouTube
19. Storytelling Relay
End your future tense lesson with a unique, collaborative task. Group your students and give each group a starting sentence. Learners can then take turns adding a sentence to create a story using the future tense.
Learn More: Mom Junction