Ethos, pathos, and logos are rhetorical strategies that every student of language arts should learn about. These three elements form the foundation of persuasive language and effective arguments, so they're extremely important, but these Latin-named rhetorical devices aren't always easy to understand and identify on the first go. That's why language arts teachers often have to explain and practice these concepts several times with their English students before the rhetorical devices really stick. Here, we've collected 17 of the best activities to help your language arts students understand and analyze ethos, pathos, and logos.
1. Introduction to Ethos, Pathos, and Logos: Video
This video is a great introduction to different kinds of arguments and the key components that make a convincing one. It also talks about Aristotle's approach to persuasive speech and the difference between ethos, pathos, and logos.
Learn More: Tolentino Teaching
2. Lesson Plan: Ethos, Logos, and Pathos
This lesson plan covers the basic appeals of ethos, logos, and pathos. It introduces the concepts and provides several examples of each. You can use this as an introduction to the topic, or you can use it as a review before the exam.
Learn More: Study.com
3. The Benefits of Understanding Ethos, Pathos, and Logos
This article and accompanying activities look at the benefits of learning about persuasive language- both inside and outside of the classroom. It looks at the transferable aspects of the classroom concepts, and how students can make use of this knowledge in their everyday lives. It also poses some persuasion questions that will help these topics become familiar strategies that students use every day.
Learn More: Top Hat
4. Template for Persuasive Writing
With this template, students can work on their persuasive writing as they practice making connections between ideas and practicing the implementation of ethos, logos, and pathos in their own writing. They will learn to make their own persuasive argument as they apply each rhetorical appeal in these writing assignments.
Learn More: Twinkl
5. The Rhetorical Triangle Study Notes
This is a perfect guide for teachers and students who want to make persuasive appeals easy to grasp. It covers the basics of the ethos appeal, the pathos appeal, and the logos appeal, and you can use it as a lesson plan or as student materials for self-study.
Learn More: LSU.edu
6. Teaching Middle Schoolers to Analyze Rhetorical Strategies
This video and lesson plan includes everything you'll need to teach middle school students about ethos, logos, and pathos. It focuses on each logical appeal and gives clear definitions and examples that are age- and level-appropriate.
Learn More: Learn Teaching Channel
7. Ethos, Logos, and Pathos Game-Storming
This activity focuses on bringing balance to ethos, logos, and pathos in writing and presentations. It's perfect for small groups, and it requires some sort of finished creative output before you can start the activity. So, students should have already prepared some persuasive writing or persuasive presentation before they start brainstorming and analyzing rhetorical elements.
Learn More: Game Storming
8. Online Rhetorical Strategies Sorting Game
In this fun assessment activity, students have to apply their knowledge and understanding of the rhetorical triangle to correctly sort definitions and examples according to whether they are an ethical appeal, an emotional appeal, or an appeal to credibility.
Learn More: Class Tools
9. Examples of Logos, Ethos, and Pathos in Modern Advertisements
Analyzing advertising is an important skill for students and adults alike, and this activity helps students identify and analyze examples of the rhetorical triangle in different commercials that they see in their daily lives. The worksheet and lesson plan draws on "real life" commercials, and these authentic materials are a great way to test students' understanding of the topic.
Learn More: Twinkl
10. Ethos, Pathos, and Logos Jeopardy Game
With this pre-made Jeopardy Game, you can just click and play! The setup offers an engaging activity for students, and it encourages a bit of healthy competition in the classroom. The questions are meant to assess and reinforce the concepts of ethos, pathos, and logos with definitions and examples.
Learn More: Jeopardy Labs
11. Presentation: Rhetorical Strategies with "The Incredibles"
This presentation is ready to go, so you just have to project it and talk the students through it. It features the beloved characters from "The Incredibles", which makes it appealing for middle school students.
Learn More: Prezi
12. Rhetorical Strategies Vocab: Online Games
With this online, self-checking game, students can benefit from curated assessment items that target different rhetorical strategies including ethos, logos, and pathos.
Learn More: Word Wall
13. Interactive Rhetorical Strategies Quiz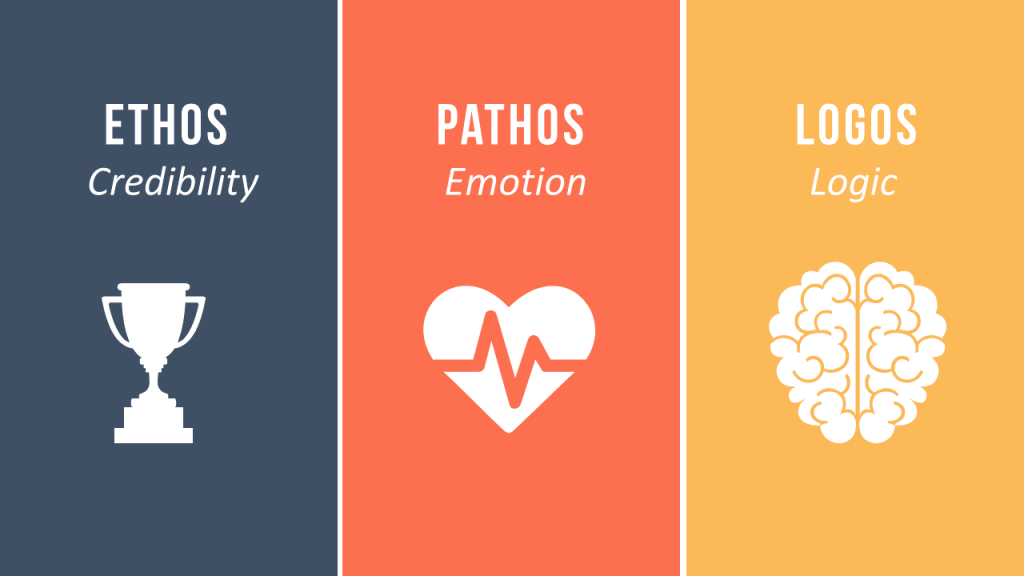 This is an interactive quiz that you can play with your students in the classroom. It lends a bit of competition to your review of the rhetorical strategies, and it's a great way to bring some fun to the process of exam revision.
Learn More: Quizizz
14. Popular Ads with Ethos, Pathos, and Logos
Take a look at some of the popular ads of today with this activity. It brings in real-life, authentic examples of rhetorical strategies which is beneficial for the long transfer of these skills. This means that students will be able to apply their understanding of ethos, pathos, and logos in the real world to the benefit of their wallets and their well-being!
Learn More: Boost Learning
15. Guided Notes: Introduction to Persuasive Language
With these guided notes, students will be able to follow along as they learn about rhetorical strategies. The notes follow the basic outline of the introductory lessons to the topic, and it gives some examples and tips along the way. Use this as an intro resource or as a recap for exam review.
Learn More: Studocu.com
16. Can You Pass the Ethos, Pathos, and Logos Definition Test?
This is an online test that allows students to show off their knowledge of ethos, pathos, and logos. It also provides immediate feedback and explanations for each correct answer, which can help make the concepts really stick.
Learn More: Lindsay Ann Learning
17. Aristotelian Appeals: Logos, Ethos, and Pathos Worksheet
This worksheet includes practice in identifying and explaining logos, ethos, and pathos, and it also includes some notes for a broader lesson plan on the topic. It's a great way to have students follow along with the lesson before they apply their knowledge and understanding to this worksheet.
Learn More: PB Works