This collection of our favorite fall activities for preschoolers combines literacy and numeracy-based lessons with hands-on science experiments, tactile-rich sensory bins, and inventive nature-based crafts.
What better way to celebrate this beautiful season than combining fun and learning while getting plenty of outdoor exploration time?
1. Nature-Based Science Fall Activity
This interactive, hands-on autumn activity answers the perennial question: "Why do leaves change color?" Kids will learn how chlorophyll breaks down, allowing the vibrant reds, yellows, and oranges of fall leaves to emerge.
Learn more: How We Learn
All you need for this physical leaf color exercise is to print the leaf cards, tape them down and start stomping. Why not let your young learner choose their own music to stomp, hop or jump to?
Learn more: Toddler Approved
3. Dancing Corn Experiment 
This simple baking soda and vinegar experiment will have kids thinking they are seeing magical dancing corn! It's also the perfect time to teach them about chemical reactions and states of matter.
Learn more: Little Bins for Little Hands
This curated list of songs and fingerplays is the perfect fall activity to get kids moving. Let them get creative and choose their own dance moves!
Learn more: Teaching 2 and 3 Year Olds
This easy fall sensory bin includes a variety of fall textures and vibrant colors for kids to explore, creating a rich tactile experience while giving them plenty of motor activity practice.
Learn more: And Next Comes ESL
This fun fall read-aloud tells the story of a grandfather and his granddaughter welcoming the wonders of fall together. It makes for excellent sight word practice and can be combined easily with other literacy activities such as retelling and letter recognition.
Learn more: Grandma's House
7. Play a Game of Fall Bingo
This fun fall activity is perfect for active preschoolers as it incorporates math, literacy, and creative play all in one dynamic lesson.
Learn more: Little Bins for Little Hands
This creative fall craft requires only a few items from the backyard and is a wonderful way to develop shape and color recognition while strengthening cutting skills.
Learn more: Mother Natured
36. DIY Acorn Marble Necklace 
After going on a nature hunt for acorn caps of all sizes, assemble them together for this homemade charm that your preschooler will love showing off!
Learn more: Rhythms of Play
37. Fall Leaf Finger Puppets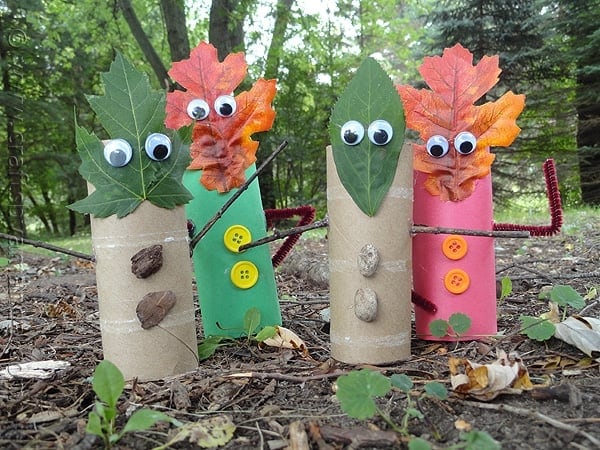 These adorable fall leaf finger puppets are not only environmentally friendly but can make for some great laughs during dramatic playtime.
Learn more: Crafts by Amanda
38. Salt Dough Leaf Impressions 
This hands-on nature-based activity is a great way to develop creativity, science, and fine motor skills all at once.
Learn more: The Imagination Tree
Combine leaves, twigs, acorns, and whatever fall scents you would like to create with this scented sensory soup.
Learn More: Happy Toddler Playtime