Celebrate the special father figures in your kids' lives with adorable Father's Day-themed writing activities! Our range of writing activities includes exciting stories, flip books, and one-of-a-kind gift ideas. Kids will love spending one-on-one time with Dads, Grandpas, or wonderful Uncles while learning more about them! This Father's Day, why not take a trip down memory lane and help your little ones write down their favorite stories to celebrate Dad? Have a read below to get inspired on where to begin!
1. All About My Dad
This simple writing activity is perfect for beginner writers! Your kids can fill in the blanks themselves or interview classmates about the special men in their lives. When they've filled in the blanks, have them share their responses with the class and then with their Dads.
Learn More: Classroom Freebies
2. See Him From My Eyes
This fun writing prompt celebrates Dad through his kids' eyes. The bold design is sure to earn a giggle or two. Ask your kids to write down the things they love about their Dads and remember how they can always count on him!
Learn More: Made By Teachers
3. Father's Day Coloring Pages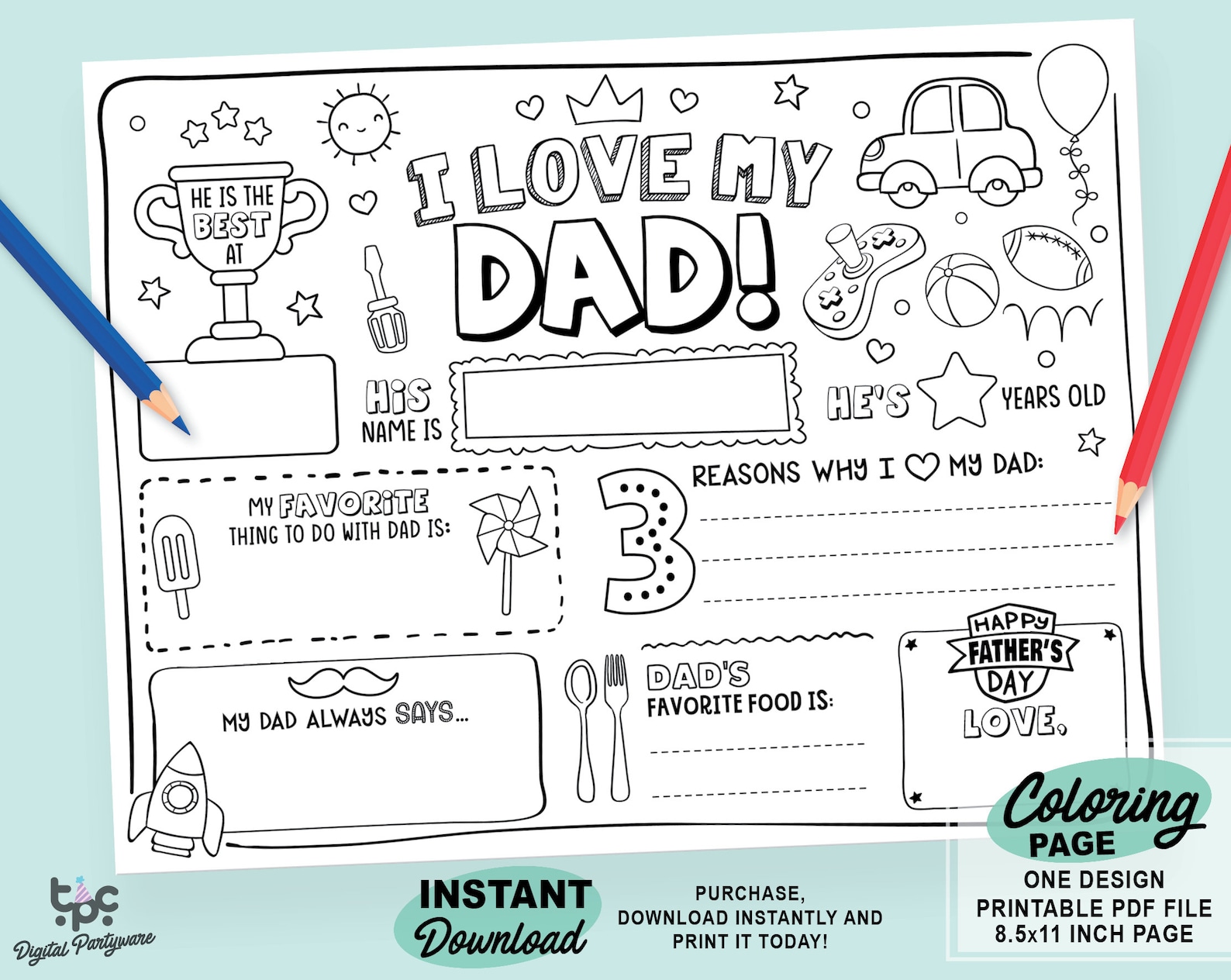 For the littlest of learners, ease into writing exercises with a coloring page. After they've colored the pictures, help them write all about their Dads. Write their responses on a different piece of paper and then have them copy the phrases onto their coloring pages to work on handwriting skills.
Learn More: Etsy
4. World's Best Dad
Every kid thinks their dad is the best! This worksheet is a fantastic way to hone persuasive writing skills. Once they've reflected on their favorite things, use persuasive vocabulary words to see if they can convince the audience that their dad is the world's greatest dad!
Learn More: Picklebums
5. Directed Drawing Message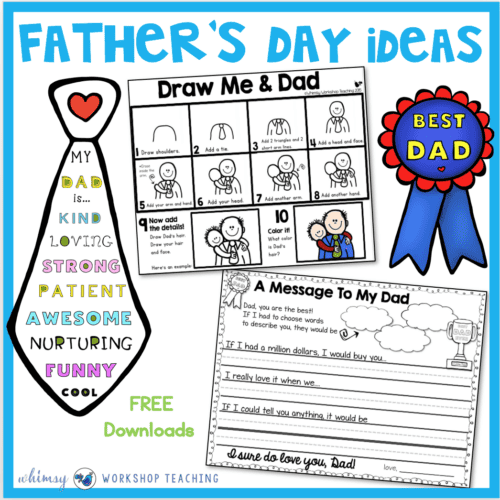 Write a heartfelt message to Dad this year. Get your kids to break out a thesaurus to find new adjectives to describe how awesome their Dads are. Turn it into a Father's Day card by following the step-by-step illustration guide on the back!
Learn More: Whimsy Workshop Teaching
6. Father's Day Flipbook
Flipbooks are a fun descriptive writing exercise. On each page, kids share special things about Dad and what makes him awesome! Kids can also practice scissors skills by cutting out the pages before assembling them into a book.
Learn More: The Barefoot Teacher
7. Father's Day Scrapbook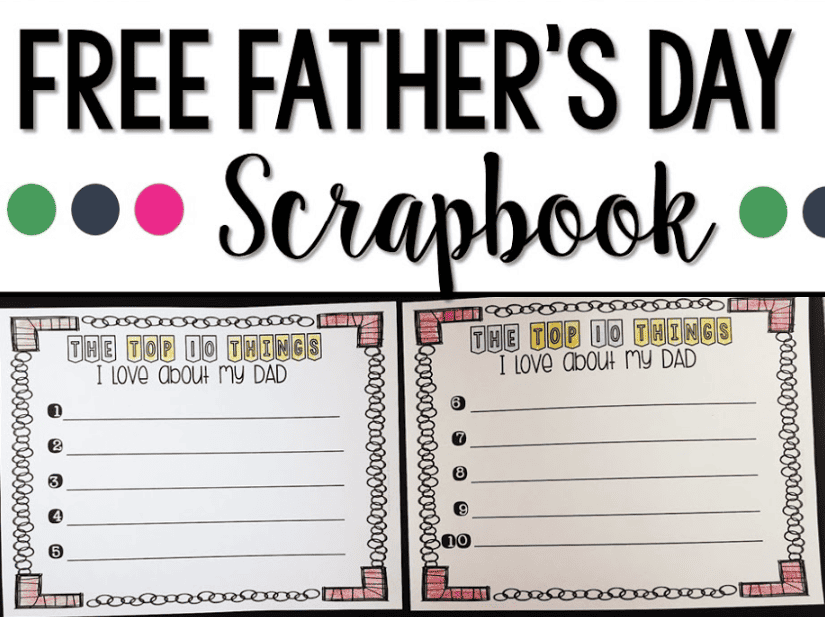 A scrapbook is a sweet gift that Dads will love receiving on Father's Day. Kids can share their earliest, funniest, and best memories about their Dads in their books. You can choose to let kids illustrate their books or include their favorite family photos instead!
Learn More: Sara J Creations
8. Father's Day Coupons
Looking for a unique gift idea? A coupon book is a great way for kids to practice writing skills and avoid gifting Dad another boring tie or pair of socks. Ask your kids to think of fun things to do with their Dads or chores they can help with for each coupon.
Learn More: Children's Ministry Deals
9. The Daily Dad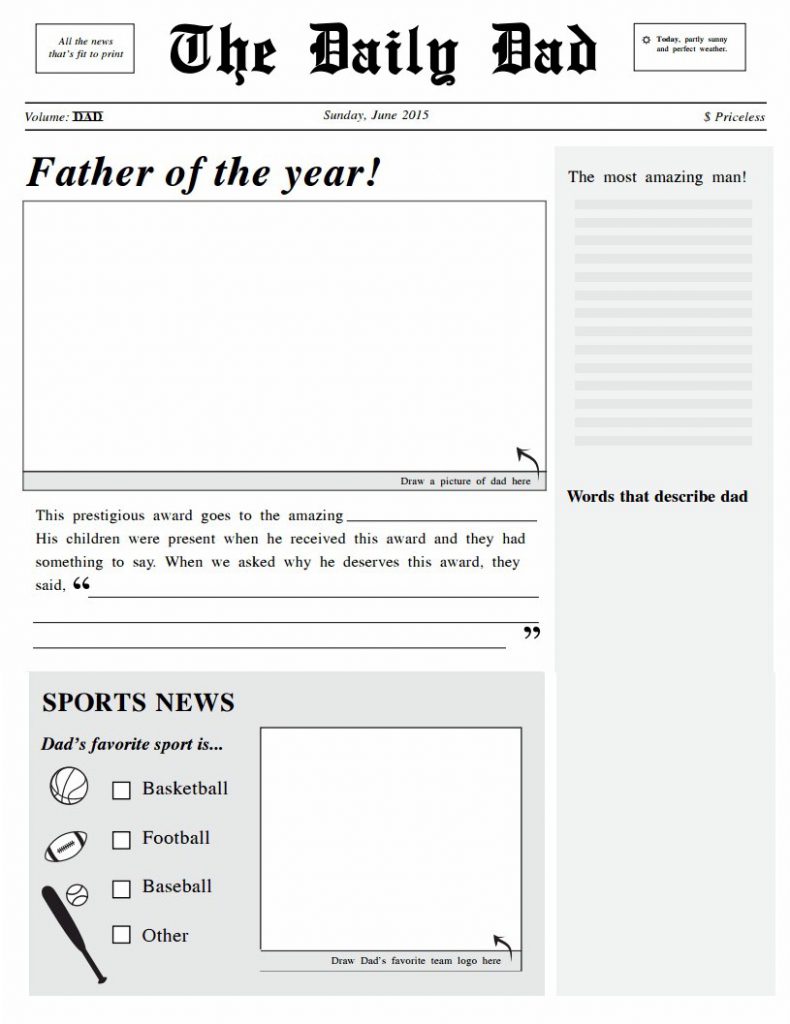 Make Dad the star of his very own newspaper! This classroom activity is great for the budding journalist in your class. They can practice interviewing people and writing reports about their discoveries.
Learn More: Free Kids Crafts
10. Father's Day Questionnaire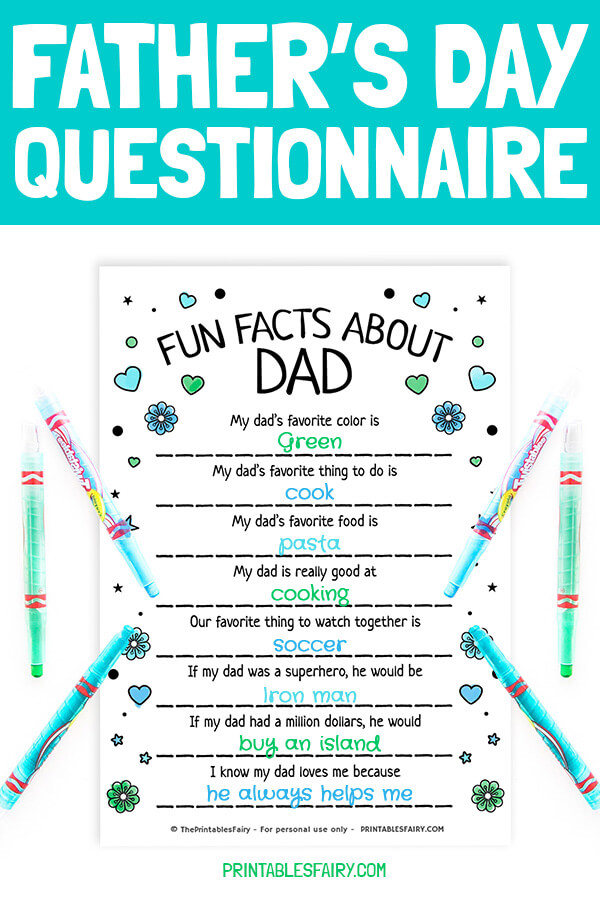 Kids can interview their dads to get the inside scoop on all of their favorite things. Once they've recorded their answers, use the information to plan out the perfect Father's Day activities and gifts!
Learn More: Printables Fairy
11. Father's Day Awards
Give Dad an award for all the amazing stuff he does! Print out the trophy template and have kids write a unique award title. Whether it's a trophy for World's Best Dad or World's Loudest Snorer, he's sure to love the hand-made present.
Learn More: What the Teacher Wants
12. A Story About Dad
Mad Libs are great for practicing vocabulary and learning different parts of sentences. Once students have completed their stories, read them aloud in class. For little learners, work together as a class to complete the story.
Learn More: Par-tay Like a Cherry
13. My Fun Day With Dad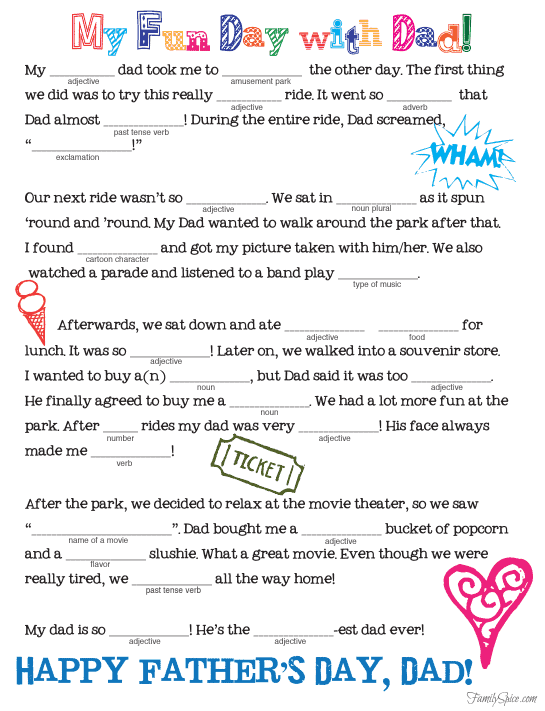 Plan the best day ever while improving sentence-building skills! Kids can choose to write about a memory of a fun day with Dad or imagine one for the future. Turn it into a fun Father's Day activity by filling in the blanks with Dad.
Learn More: Family Spice
14. Father's Day Writing Practice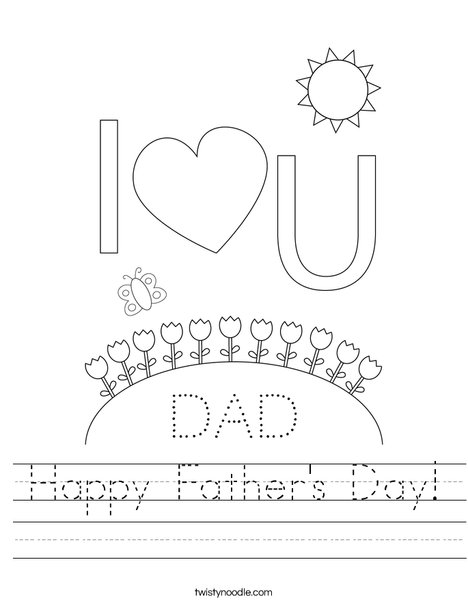 This printable template is perfect for beginner writers. They can practice tracing the letters before trying to copy them on their own. You can choose to practice print or cursive letters. Makes a great Father's Day card!
Learn More: Twisty Noodle
15. My Dad Rules
Work on neat handwriting by staying between the ruled lines. Kids can write one sentence per line or try writing a whole paragraph. Prompt your kiddos to use the guidelines to practice making capital and lowercase letters the correct heights.
Learn More: Tales from Outside the Classroom
16. Acrostic Poems
Acrostic poems are a fantastic creative writing exercise. For each letter, kids will write a word, phrase, or whole sentence that describes their favorite father figure. Whether it's silly or serious, this activity is easily adaptable for grandpas, uncles, or brothers!
Learn More: Teachers Pay Teachers
17. Bio Poem
Give your kids the space to get creative with their poetry! They can choose to follow the given format or change the order of the lines to try and make the poem rhyme. Make it a group activity by having students write poems about each others' dads to read aloud.
Learn More: K12 Reader
18. Super Dad
Your kids can get some writing practice by listing everything that makes their Dad a superhero! This worksheet is excellent for younger writers who are building their vocabulary as each prompt asks kids for one word to describe their dad.
Learn More: Little Miss Glamour Goes to Kindergarten
19. Dad Is My Hero
This worksheet is terrific for older students who are working on paragraphs. Have them practice connecting words and using proper punctuation as they talk about their Superhero Dad. Send the letters home as a special Father's Day gift!
Learn More: Hello Creative Family
20. If You Give Dad A Doughnut
Does your Dad love doughnuts? Follow the story to see how many things Dad will need before taking a nap. Afterward, have the kids write their own stories about their Dad and his favorite snacks. Don't forget to illustrate the pages!
Learn More: Raggzz
21. Dad Interview
Create special memories by interviewing Dad. This Father's Day, plan a magical afternoon for your kids and their father figures. While they're enjoying snacks, games, and movies, kids can learn all about the extraordinary men in their lives.
Learn More: Totally Terrific in Texas
22. Tie Card
Give Dad a tie that he'll treasure forever. Kids will fill in the questionnaire before decorating their ties. Attach it to a present or send it as a card. What a great way to share warm and fuzzy feelings this Father's Day!
Learn More: Paper Trail Designs
23. Father's Day History
Combine writing practice with a reading comprehension activity. Kids can learn all about the history of Father's Day and why we celebrate it in June. After they answer the given questions, add some of your own to see how they plan on celebrating their Dads.
Learn More: Square Head Teachers
24. Quick Writes
Start your Father's Day writing lessons with a quick writing activity. Depending on the age of your students, you can choose to have them write a sentence or two for each prompt or have them write as much as they can within a given time limit.
Learn More: Pinterest
25. Father's Day Cryptogram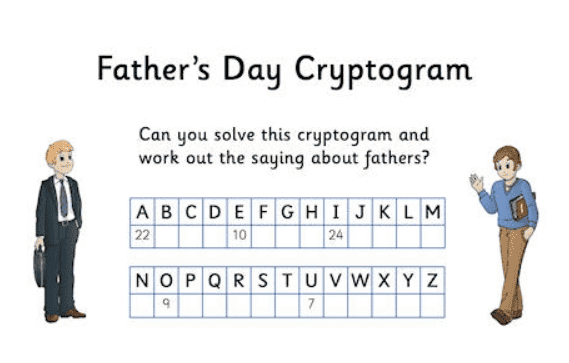 Cryptograms are a fun way to build vocabulary, critical thinking, and letter-writing skills. Kids can work in groups to see who can solve the riddle the fastest. Once they've solved the puzzle, have them create their own cryptogram for Dad to solve!
Learn More: Activity Village
26. Father's Day Crosswords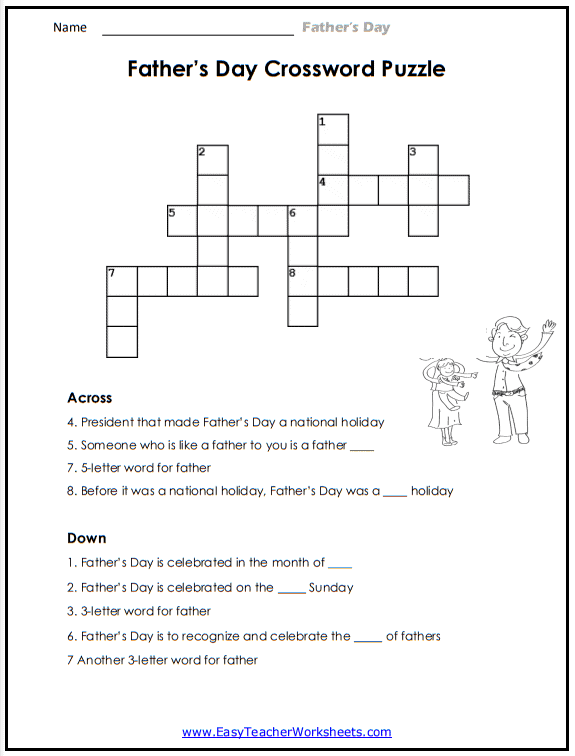 Crossword puzzles are an easy writing exercise to increase your kids' vocabulary. Create general puzzles about Father's Day or specialized ones about your kids' Dads to practice spelling words correctly to fit the squares.
Learn More: Easy Teacher Worksheets
27. Father's Day Word Scramble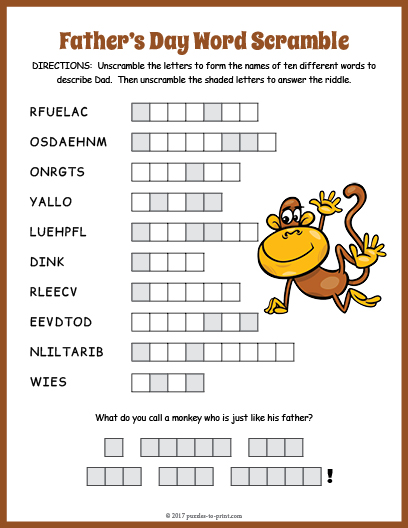 Give your kids a puzzle to solve this Father's Day. Together with Dad, they need to unscramble the adjectives to discover the hidden riddle answer. This is a simple and fun way to boost vocabulary and word recognition skills necessary for writing!
Learn More: Puzzles-to-Print
28. Story Starters
This prompt exercise helps kids understand the steps in the writing process. Once they've filled in the prompts, kids can choose which one to expand into a longer story. Give older kids the challenge of combining all the prompts into one story!
Learn More: Classroom Freebies
29. A Letter To Dad
A heart-filled letter is an ultimate keepsake for your kids' father figures. Explain the format of a letter. Then give kids the freedom to express their feelings about their father figures in a letter. They can read their letters aloud or send them in the mail as a special present.
Learn More: Pinterest
30. All About Grandpa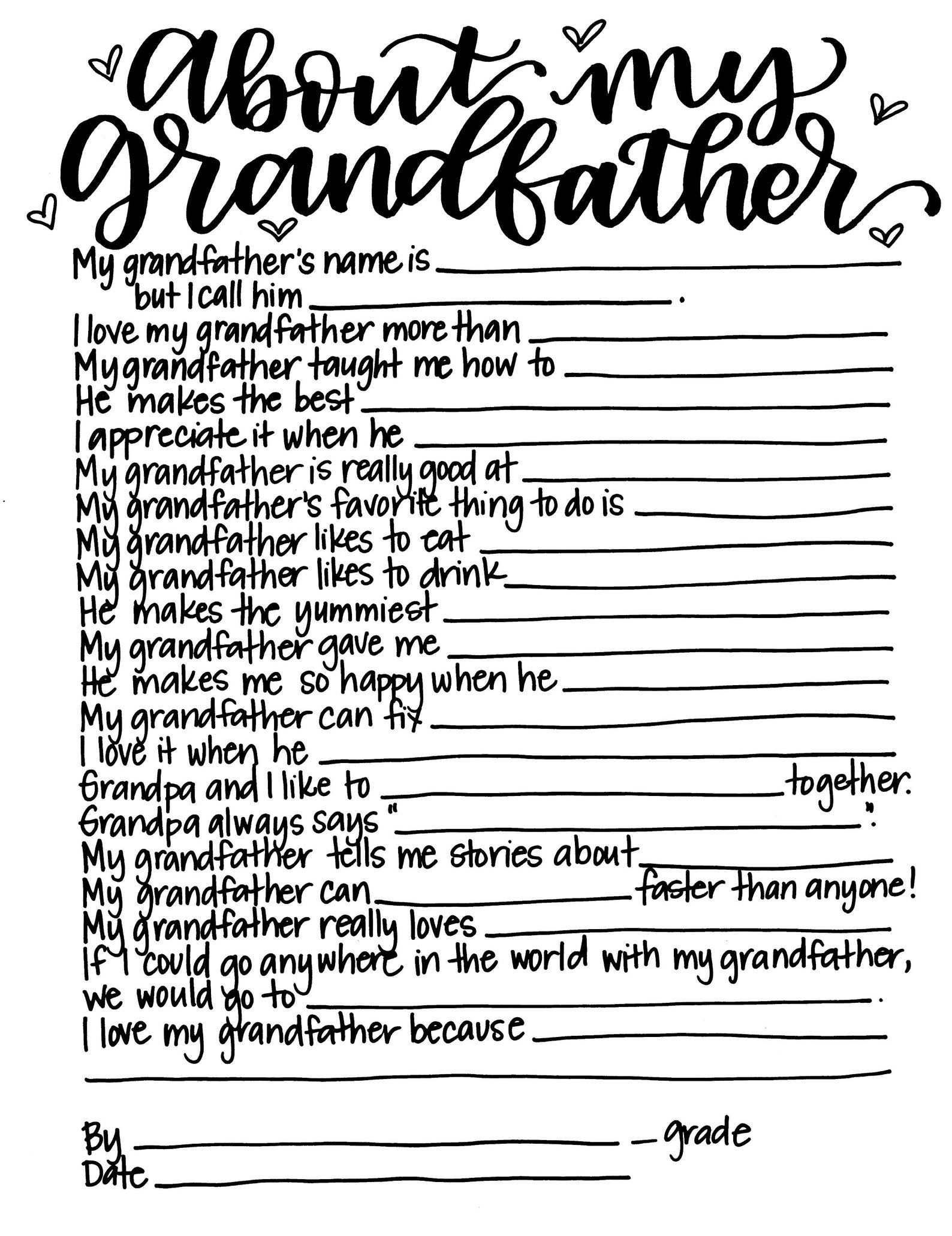 Celebrate your Dad's Dad! Expand your Father's Day writing activities to include interviews, letters, and fill-in-the-blanks about Grandpa too. A wonderful way for kids to make beautiful memories and keepsakes with their grandparents.
Learn More: Etsy