Fill-in-the-blank activities provide an excellent means for measuring specific knowledge by reducing the chance of students simply guessing the answer. Giving students a variety of gap-fill activities such as writing songs, and silly sentences, or using fun online grammar exercises helps to turn mundane activities into interactive and engaging learning experiences. Here are 19 fun-filled fill-in-the-blank activities that are designed to foster creative and critical thinking skills.
1. Online Mad Libs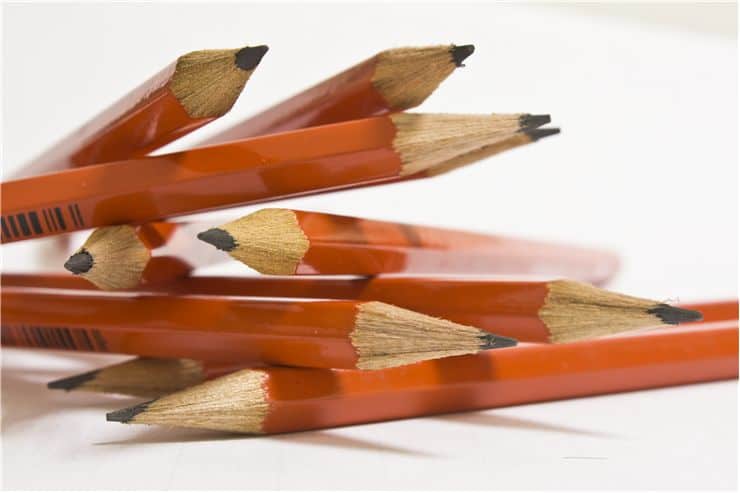 Here's a classic vocabulary practice activity where students fill in the blanks with adjectives, verbs, and nouns to create silly sentences! Encourage students to use a thesaurus to choose a variety of words and build their vocabulary skills.
Learn More: Glow Word Books
2. Word Libs Storymaker

Writing stories can be an arduous challenge for students. With this story generator, students choose a story scenario and then fill in the blank with relevant words associated with the plot. The story will be revealed after all the blanks have been filled in.
Learn More: The Word Finder
3. Create Your Word Blank Story
Creative storytellers can write a short story and have the software generate a fill-in-the-blank activity that they can share with classmates. This is a great tool for practicing students' spelling and grammar skills as well as developing creative writing and storytelling abilities.
Learn More: Word Blanks
4. Fill In the Blank Worksheets
Younger learners can practice their spelling and writing with these simple worksheets accompanied by visuals and a word box. The sentence frames provide structural support to help students build language and grammar skills.
Learn More: Parents
5. Coloring Worksheets
These gap-filling activity worksheets provide practice with writing the alphabet, spelling, and writing. A variety of templates are provided with different tasks and pictures. Students can extend their learning by coloring the pictures after filling in the blanks.
Learn More: Best Coloring Pages
6. Finish the Picture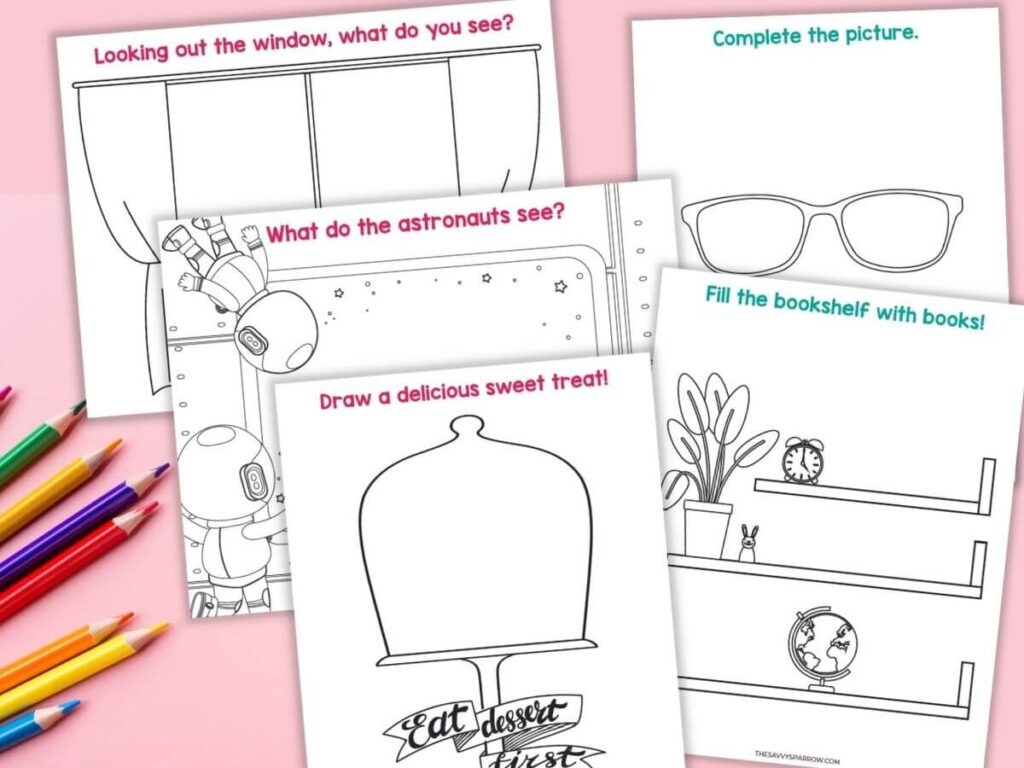 Creative students will enjoy a different approach to filling in the blanks. Students will draw pictures in the blank spaces using theme-based templates before labeling their pictures to practice spelling and grammar.
Learn More: The Savvy Sparrows
7. Fill in the Song Lyrics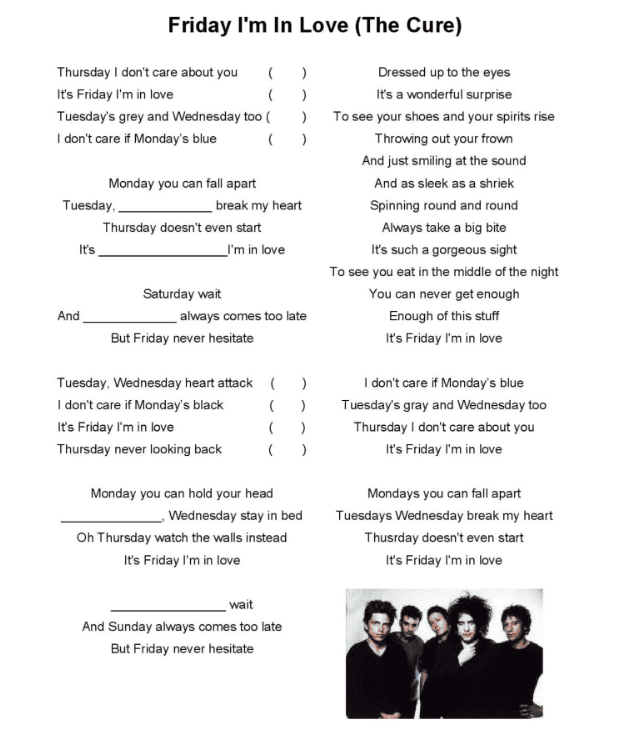 Students will love this musical fill-in-the-blank activity. They can choose from a wide variety of genres and song titles before playing the song while they fill in the blanks. As a simple extension activity, follow up with a discussion about the meaning of the lyrics.
Learn More: iSL Collective
8. Online Song Lyric Game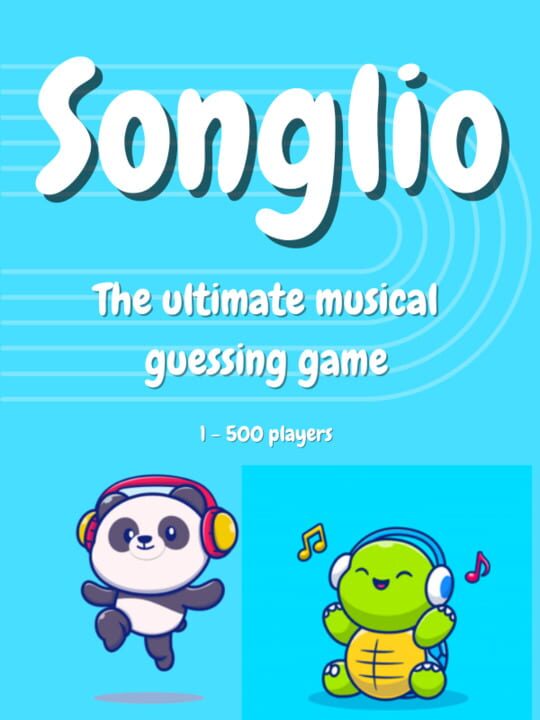 Kids enjoy online activities and this game lets them fill in the song lyrics by clicking on the right answer. Kids can play alone or invite friends to join the challenge. A wide variety of songs and genres are available to suit everyone's musical tastes.
Learn More: Songlio
9. Fill in the Blank Dialogues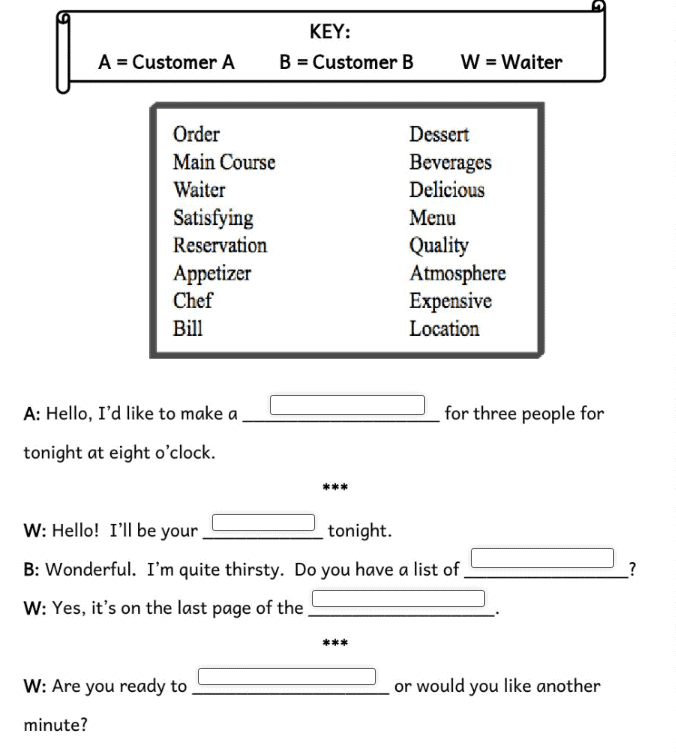 Conversations happen every day in a variety of contexts. These worksheets are based on real-world situations like visiting a medical clinic, restaurant, or store. Students will fill in the blank using the word bank, before practicing the dialogue in pairs.
Learn More: Live Worksheets
10. Movie Dialogue Quiz
Movies are an entertaining way to practice filling in the blanks. This online game has a collection of movie dialogues that invites students to provide the missing words to complete each dialogue. Afterward, you could locate the scene on YouTube and play the video for students to check their work.
Learn More: Beliefnet
11. Music Video Fill in the Blank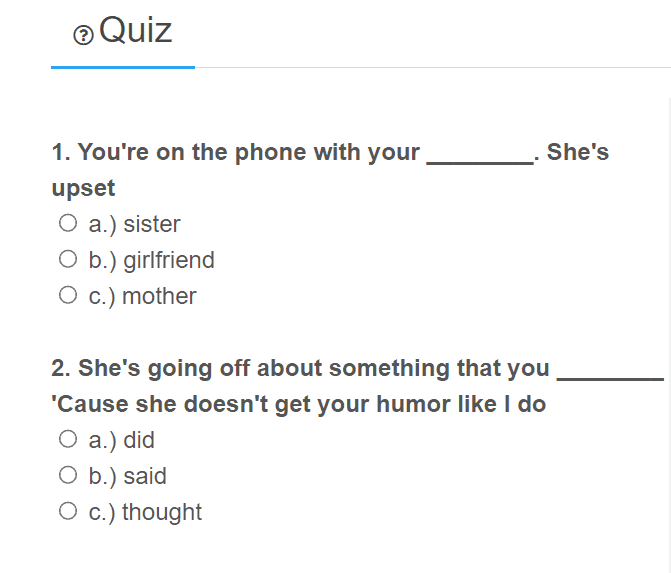 Students who enjoy watching videos are sure to love this collection, which incorporates catchy music. This series of music videos are accompanied by online quizzes that can be downloaded as a PDF. Each song has a different learning objective such as listening comprehension or grammar practice.
Learn More: ESL Video
12. Grammar Exercises
Grammar practice doesn't have to be boring! Online fill-in-the-blank grammar exercises give students a fun way to practice their language skills while becoming better writers. There are many activities to choose from such as grammar tenses, active or passive voice, and spelling exercises.
Learn More: English Grammar
13: Online Fill in the Blank Games: Kindergarten
Little ones are sure to be entertained while they learn with this fun and colorful online fill-in-the-blank game. The games provide independent practice with vocabulary and spelling, allowing parents to run errands or take care of chores around the house!
Learn More: Tiny Tap
14: Flashcard Maker
Digital flashcards provide a versatile way to practice a variety of skills or review learned concepts. Students take control of their learning by creating colorful digital flashcards where they create fill-in-the-blank questions before exchanging flashcards and testing their classmates.
Learn More: Visme
15. Fill in the Numbers
Practicing numbers or math skills can be completed with cool online fill-in-the-blank activities. Kids can practice adding and subtracting, as well as placing numbers in sequences with these engaging, animated online activities.
Learn More: Splash Learn
16. Fill in the Blank Poems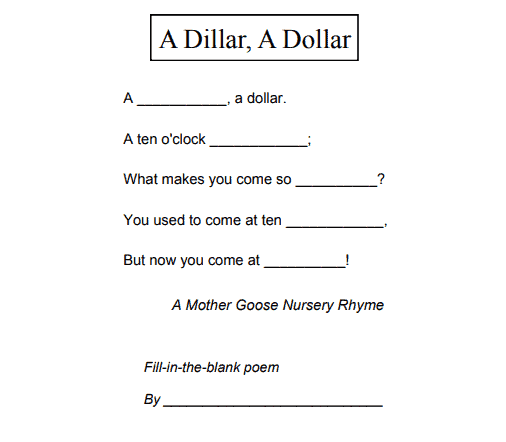 Students will develop an appreciation for poetry with these fill-in-the-blank poetry templates. A collection of classic poems are presented with blank spaces and a word bank, inviting students to choose the appropriate word to complete their literary work of art.
Learn More: Heart Touch Gifts
17. Poetry Prompts
Help students bring out their inner poet with these inspiring poetry prompts. The poetry templates are sorted by topic to guide students writing. Students can create personalized poems by filling in the blanks with their unique thoughts.
Learn More: Poetry Heals
18. Fill In the Blank Quizzes
If trivia gets your students excited to learn, a collection of fill-in-the-blank quizzes is sure to be a hit! After choosing a topic, ranging from language arts to history, have students work individually and compete against each other.
Learn More: Quizziz
19. Online Grammar Quizzes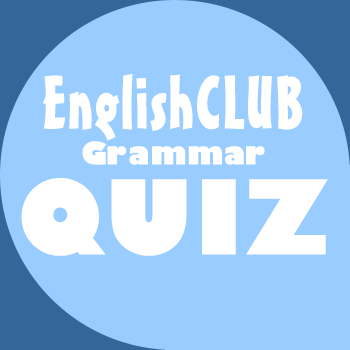 Students can take one of these downloadable, comprehensive online quizzes to test their grammar skills. This collection is composed of examples using the target structure as well as general questions to test for appropriate grammar usage.
Learn More: English Club