Fingerprint activities are a fun and easy way to improve fine motor skills, learn about color, shape, and spatial relationships and engage a variety of senses including hearing, touch, and smell. They encourage students to focus on the process of creation instead of the final product and give them plenty of room to practice their own techniques. This collection of creative art projects, fingerprint analysis labs, literacy, and math-based lessons, as well as hands-on crafts, are sure to delight every student in your classroom!
1. Fingerprint Dandelion Art Activity for Kids
These strikingly colorful dandelions can be created with finger and thumbprints. They can be as elaborate or simple as kids would like and combined with other floral prints of their choice.
Learn More: Taming Little Monsters
2. Fingerprint Poppy Craft
These eye-catching poppies, created from fingerprint patterns, make a great Spring-time craft. They can be kept super simple or embellished with grass, texture, and other natural details. The sky is the limit!
Learn More: Crafty Morning
3. Alphabet Fingerprinting Activity
What's more fun than creating your own alphabet magic using fingerprints? This adorable fingerprint alphabet activity requires nothing more than an ink pad and a piece of paper. Let students doodle to their heart's content; expressing the full extent of their creative imagination.
Learn More: Easy Peasy And Fun
4. Get Creative With Basic Fingerprint Patterns
These Valentine's day-inspired creations combine a pair of fingerprints to create adorable mini hearts that kids will love to share! They make a wonderful keepsake or gift and can be combined with an outdoor rock-hunting activity for added fun.
Learn More: Red Ted Art
5. Classic Fingerprint Experiment
Fingerprints are tiny and difficult to explore, so what better way to examine them than with this classic balloon experiment that stretches them out to larger proportions? By magnifying all the features of their fingerprints, students can study the unique combination of the arch, loop, and whorl patterns that make up their own fingerprints.
Learn More: Science Fun
6. Awesome Fingerprint Artwork Idea
This creative fingerprint activity can be combined with a mystery genre study to complete the spooky theme. Grab a black piece of paper, some q-tips, and white paint to explore the mystery of fingerprints in Halloween style.
Learn More: Living Life And Learning
7. Fingerprinting Science Activity
This forensics fingerprint activity reveals students' heat signatures and unique fingerprints. It's a wonderful way to make real-world forensics connections, study fingerprint samples, and also make a great introduction to DNA fingerprinting.
Learn More: Teachers Pay Teachers
8. Fingerprint Tree Art Project
This fun fingerprint activity is a great opportunity to discuss assorted fingerprint patterns. Teachers can help students by folding the paper in half and drawing a portion of the Christmas tree using simple triangular shapes.
Learn More: A Dab Of Glue Will Do
9. Clay Fingerprint Jewelry Tutorial
What better way to have fingerprint fun than with these clay jewelry creations? They make a lovely keepsake for preserving memories, analyzing fingerprint details, and admiring the beauty of individual fingerprint patterns.
Learn More: Hello Creative Family
10. Try a Fingerprint Types Handout and Video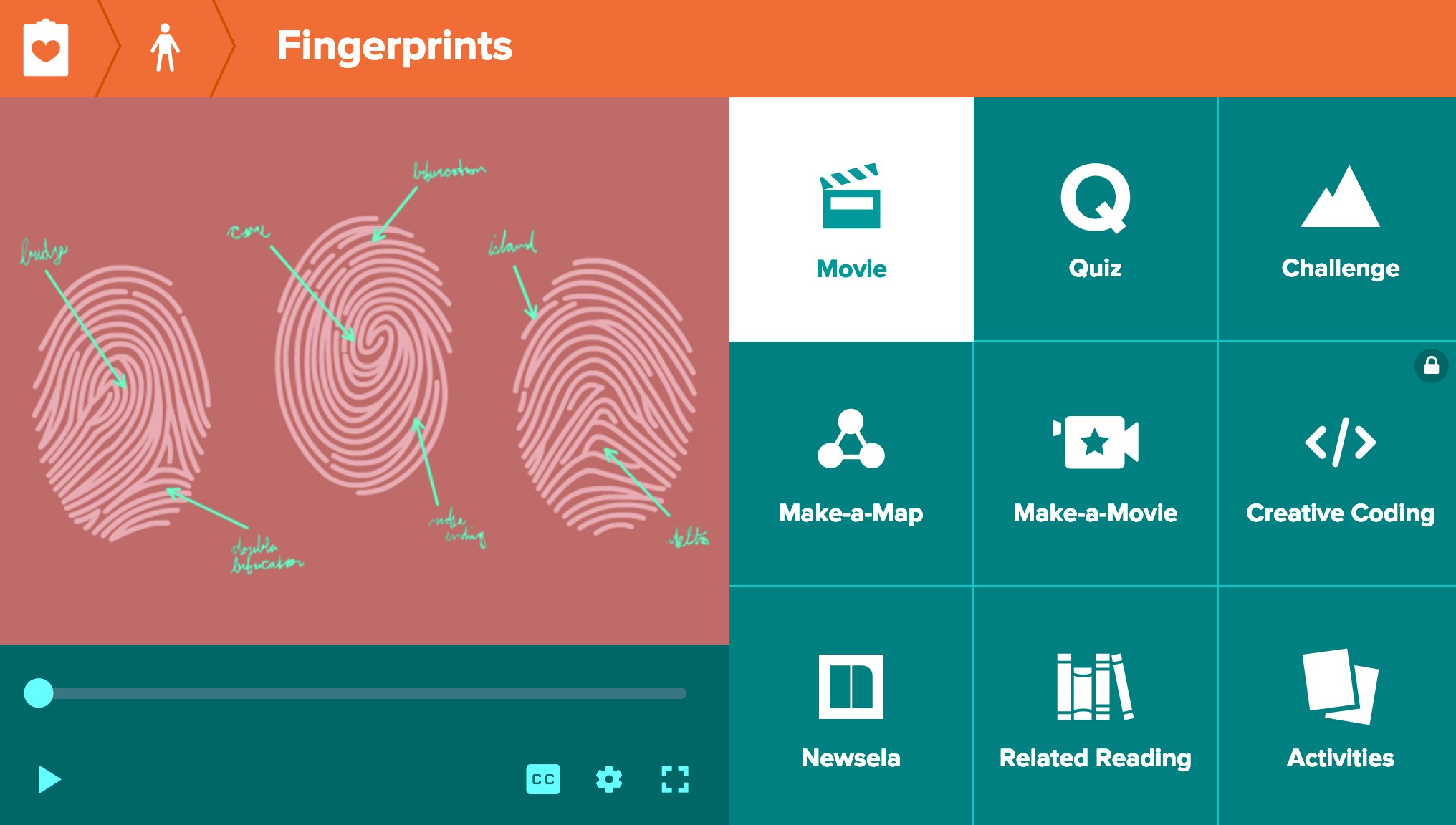 What type of fingerprint do you have? This is a great lesson for introducing students to the kids of fingerprint patterns- including loops, arches, and whorls, and discussing the role they play in crime scene investigations, detective activities, and the work of forensic scientists- all while developing their critical thinking skills.
Learn More: Brain Pop
11. Pineapple Fingerprint Art
This easy, tropical lesson is a terrific way to add a pop of bright color to your classroom. All you need are some acrylic paints, construction paper, and brushes- even makeup brushes will do if you need a cheap alternative! Why not extend the fun by adding other tropical fruits for a festive final product?
Learn More: Easy Peasy And Fun
12. Counting Bumblebees
This cross-curricular activity combines Art and Math for an engaging lesson in pattern recognition, counting, and number correspondence. This activity includes a 1-page fingerprint practice sheet for numbers 1-6 and 7-12. What better excuse is there for playing with finger paint?
Learn More: Schooltime Snippets
13. Fingerprint Drawing Station Activity
This clever card simply requires some twine, a touch of brown paint, and some sharpie markers for adding all the adorable money details. It makes a wonderful Father's day card but can easily be adapted for any special occasion. Why not challenge younger learners to improve their manual dexterity by gluing down the twine themselves?
Learn More: Crafty Morning
14. Fingerprint Art Magnets
These precious DIY glass magnets are fairly easy to make with a bit of help from an adult. They produce a beautiful, translucent effect that makes a great addition to any fridge or can be adapted into jewelry or a backpack charm. From animals to flowers and geometric shapes, the possibilities for creative expression are endless!
Learn More: Rhythms Of Play
15. Fingerprint Math Activity
This kinesthetic-learning-based fingerprint activity helps increase student recall of number facts while developing multiple abilities; including fine motor skills, addition, and counting skills.
Learn More: Life Over CS
16. Fingerprint Study
Dive into fingerprints and their uniqueness with this fingerprint study! Children will act as forensic scientists and look for their own fingerprint patterns using pencil graphite and a piece of tape. They will also compare their prints to their relatives in this family fingerprint science investigation!
Learn More: Tina's Dynamic Homeschool Plus
17. Fingerprint Science
Let children explore the different materials that can hold fingerprint samples in this fun activity! Children make prints and study their individual fingerprint patterns using play-dough and ink pads. Set out the fingerprint types handout for children to compare their own samples against and pretend to be fingerprint analysts!
Learn More: The Sprinkle-Topped Teacher
18. Balloon Prints
Make the magic of fingerprints even more exciting with this fingerprinting lab! Children use magnifying glasses to explore ink fingerprints on a piece of white paper and then place a fingerprint on a balloon. They will blow up the balloon to make a giant print that better displays the intricacies of fingerprint patterns.
Learn More: The Natural Homeschool
19. New Year's Silhouette
Students will love starting off the Spring semester with this dazzling fingerprint craft. Students first use paint to make firework-Esque fingerprint patterns on black paper. Then, they will use black stickers to write a message, like "Happy New Year!" or the year on top of the designs.
Learn More: Our Kid Things
20. Snowman Art
This fingerprint activity makes an adorable craft for the Winter! Students will use their thumbprints to paint around the edge of a paper snowman, and then add snowflakes to the background. Peel up the snowman, add eyes and a nose, and they'll have their own Olaf or Frosty friend!
Learn More: A Dab of Glue Will Do
21. 100th Day Craft
This instant fingerprint download makes a perfect craft for the 100th day of school! Challenge children to count to one hundred as they add fingerprint gumballs to their machines. For greater depth, encourage children to represent each group of ten with a different ink color.
Learn More: Etsy-Perfect Chaos Digitals
22. Heart Mugs
This delightful fingerprint heart mug is the perfect gift for students to make around Valentine's day. Children make this creative art project by using pink, red, or purple paint and creating an outline around a heart cutout. It's a simple yet sentimental present!
Learn More: The Best Ideas for Kids
23. Flower Cards
All you need is a blank piece of paper, tempera paint, and a few markers to create these lovely, unique cards for Spring celebrations! Fingerprints make up the center and petals of the flowers, and then students can add details or decorations with additional craft supplies.
Learn More: Glued to My Crafts
24. Fall Tree
Make a fingerprint tree to celebrate the colors of Fall in this beautiful art project. Discuss autumnal colors or go on a nature walk to see them in person. Then encourage children to represent what they observed on a leafless tree. Follow up at each season and compare and contrast the trees as they change!
Learn More: Toddler at Play
25. Charms
Children love making trinkets for their friends and family, and these fingerprint charms are a perfect opportunity to do so! You can either use pre-made clay or make salt dough together as a math activity. Attach the charms to a necklace or keychain to turn this awesome fingerprint artwork into a unique keepsake!
Learn More: Mosswood Connections
26. Fingerprint Counting Worksheets
Your class can work on their counting skills with these 10 free fingerprint practice sheets. From adding scoops to an ice cream cone to adding spots to a ladybug, these simple, thematic pages will help your younger students practice the skill of making sets through artwork with these fun fingerprinting activities!
Learn More: 123Homeschool4Me