Whether you're looking for actual "finish the drawing" activities or something for students to do if they finish work early, this list has your art classroom covered. Even if you already have the most amazing classroom, getting new ideas from different teaching resources never hurts. Looking to add to a current lesson, create a unique class, or for extension activities for early finishers? See below for 23 varying resource types that will help sharpen learners' artistic skills.
1. Origamis
Do you need an activity for students to do at a station after they've finished their work? Planning skills are not required for this! Just set up this video with some paper for students to work on their origami skills until it's time for the class to come back together.
Learn more: Gary Easy Origami
2. Have a Picture Doodle Challenge
Picture-doodle challenges are always a fun time. Use this template to help randomize what your students will be doodling. Perhaps you can have a prize ready for whoever has the best doodle. This is perfect for when the whole class finishes early.
Learn more: Holly McCaig
3. Silly Squiggles
Finding activities students enjoy can be tough. Themed squiggle challenges such as this one can help! Use this no-prep, printable squiggle challenge whenever your art class has extra time. You will be amazed at what students' imaginations will come up with.
Learn more: Sandra Stommen
4. Magazine Art
With magazine clippings, students can do so much! You can also use old calendar images. Challenge students in middle school to bring in their own magazines to share with the class. Simply cut out pictures you like, and use them to make a collage.
Learn more: Artsy Fartsy Life
5. Pick a Drawing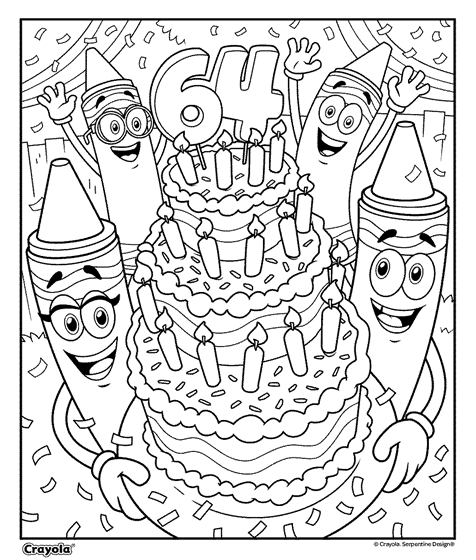 Have a classroom drawing library in your back pocket that students know they can choose from whenever they finish early. Crayola has a fantastic library of free picture products to choose from. Keep these single pages in a drawer with markers for easy student access.
Learn more: Crayola
6. Comic Book Library
Gifted students and comic book artists alike will be so excited to see comics as part of your classroom library. Some extremely meaningful learning can come from reading and looking at a comic book. Don't underestimate the power of having these available for students to browse when they finish early.
Learn more: Pop Culture Classroom
7. Art History Library
Whether your students are into contemporary artists or historical ones, art history images are a must in your early finisher station. A classroom library in an art room cannot be complete without incorporating some history. Encourage early finishers to flip through these pages.
Learn more: Education Week
8. Butterfly Finisher
Here's a no-prep worksheet that elementary students will enjoy. Print out multiple prints for a complete worksheet packet. Have watercolors available so students can easily complete the butterfly's wings.
Learn more: Nature-Inspired Learning
9. Camera Finisher
Here is another no-prep worksheet you can add to the aforementioned packet. Finding drawing exercises students can relate to can be challenging, so have them design their own photo here.
Learn more: Nature-Inspired Learning
10. Selfie Time
Bust out the colored pencils for this one! Whether they plan to make a simple picture of a stick figure or go all out, students are sure to get a kick out of drawing themselves. Once complete, you can hang these as extra classroom photographs.
Learn more: Pubdev
11. Play What Is It?
Many funny shapes can come from this starter drawing. I particularly like the difficulty level rating at the bottom of each page. Use the gauge to find a drawing that is appropriate for the age level you teach. Once finished, have students discuss their interpretation of the drawing.
Learn more: Art of Education
12. Make a Flip Book
Use this fun packet PDF with twenty unique starter pictures to create a flip book. School flipbooks that are later shared with the family offer a sentimental way to connect parents to the classroom. The best part about working on a flip book is that it can be worked on slowly; over a long period of time.
Learn more: Art of Education
13. What's Out the Window?
This picture sheet puts creative thinking skills to the test! What kind of day is it outside? Is this the view from the classroom, from home, or from some other place? Have students partner up to share what's outside their window.
Learn more: The Savvy Sparrow
14. Bookshelf
Here's a drawing packet that will put your student's creativity to the test! You can start with the bookshelf and move on to other starter drawings from the link below. I particularly like the bookshelf because it allows the teacher to see what kind of books his/her students like.
Learn more: The Savvy Sparrow
15. Ocean Mirrors
This mirroring activity kicks art skills up a notch as students use reflective symmetry to create the larger picture. Option to tape these pictures to a window and have a piece of graphing paper behind them. This will help students draw the second side to the scale.
Learn more: Woo Jr.
16. Practice Faces
Art teachers know that drawing faces is one of the hardest forms to master. Expect, perhaps, colored pencil blending techniques. See if students will be able to create recognizable pictures with this fun packet of faces!
Learn more: Woo Jr.
17. Make Shapes
Are you working on art skills or funny shapes today? I know I need some practice on how to properly draw a five-pointed star! These starter pictures are the perfect way for young children to learn how to draw the most common shapes.
Learn more: My Teaching Station
18. Think Outside the Box
Does your classroom theme focus on creative thinking? If so, encourage them to literally think outside the box with this. It might look like a cloud, but it could actually be…? As a teacher, I would love to see the inventive student examples that come from this one!
Learn more: New Hartford Schools
19. Match Pictures to Words
Doing this activity in kindergarten would be so much fun! Not only will students work on drawing primary lines as they connect the dots, but they will also utilize reading skills to match the picture to the word. This excellent mini-lesson is so well-rounded.
Learn more: Meds Photo
20. Add Directions
Let's work on some observational drawing skills! Picture activities that require some direction can be extremely helpful to those who are less artistically inclined. In this picture writing prompt activity, students will need to identify shapes, count them, and follow the directions to complete the picture.
Learn more: Great Schools
21. Color Code
If your students can read the basic colors, then this is perfect for them! They can work on number identification, color coding, and reading all at once. See how well they can stay in the lines as they finish this beautiful undersea fish.
Learn more: Small Wonders Play School
22. Finish the Pattern
The morning work activity went faster than expected and now you're stuck! Work on finishing the pattern. This is a great STEM challenge for early finishers. Turn it into an art version by having students color the car after completing each line.
Learn more: Small Wonders Play School
23. Connect the Dots
This finisher activity is about much more than drawing plain lines. Here is one of those great, pre-made digital activities to add to your finisher activity list. Students will also use math to count with this sequential art skill worksheet.
Learn more: Orchard Toys