Dr. Suess's book "Fox in Socks" is a whimsical collection of tongue twisters that is meant to be read aloud. Kids love the silly situations and rhythmic flow of the words, and the colorful pictures add to the fun of reading this book aloud. Whether you're preparing activities for the home or for the classroom, there are countless ways to enrich the "Fox in Socks'' experience for your young learner(s).
Here are the top 40 activities for teaching and enriching the classic picture book "Fox in Socks," organized by types of activities.
Activities for Developing Reading Skills
Reading aloud with young readers -- especially those who are still developing their phonemic awareness -- is a great way to encourage reading skills. It also builds bonds and creates positive reading experiences for your students, which can prompt a lifelong love of reading.
Learn more: University of Iowa
If the popular tongue twisters in "Fox in Socks" are a bit too much for you, you can do a video read-aloud. This is also a great way to introduce students to the topic and the book before they come to class: simply assign the video as homework the night before, and start the class with suitable activities such as a discussion about students' favorite aspects of the book.
Learn more: Reading Pioneers Academy
Check out this exciting video that features "Fox in Socks" with a sick beat! It will have your students moving and grooving, and it can help with the pacing and fluency of their reading, too. Play the video first thing in the morning circle time to wake the students up, or use it as a way to pull them out of an afternoon slump.
Learn more: Dr. Seuss
Enjoy a lunch of buttery noodles while you think about the Tweetle Beetle Poodle Noodle Battle. These are the best poodle noodles, so it's no wonder that they're included in the most epic Tweetle Beetle Battles. It's an easy recipe, so you could even make it together with your students in class!
Learn more: Simply Recipes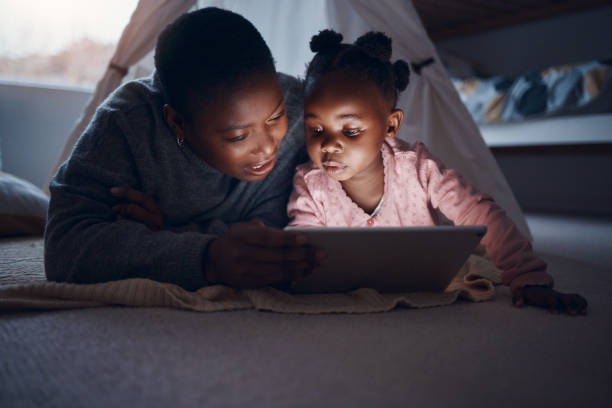 You can use this paperless version of Dr. Suess's classic book "Fox in Socks'' to bring some technology into the mix. Make sure to take some time to check out the colorful illustrations in this virtual reading activity!
Learn more: Flip HTML 5
30. Matching Fox's Clothes
This game includes clothing-related vocabulary cards, as well as vocabulary activities for items around the house. It's a great segue into spelling and identification exercises.
Learn more: Live Worksheets
31. What Does the Fox Say?
This fun music video will get kids interested in foxes and all that they really have to say. It's another fun one to do aloud together, and it helps train and reinforces animal sounds for preschool and kindergarten kids.
Learn more: Discovery plus Norge
32. Help Mr. Knox in Seussville
This online game is a fun way to review the characters and conflicts in "Fox in Socks." Players have to help Mr. Knox as he navigates and stacks so many boxes. There are also lots of other fun games and resources on this site that are especially helpful for flipped learning or individual study time.
Learn more: Seuss Ville
Printable Materials and Other Worksheets
33. "Fox in Socks" Word Search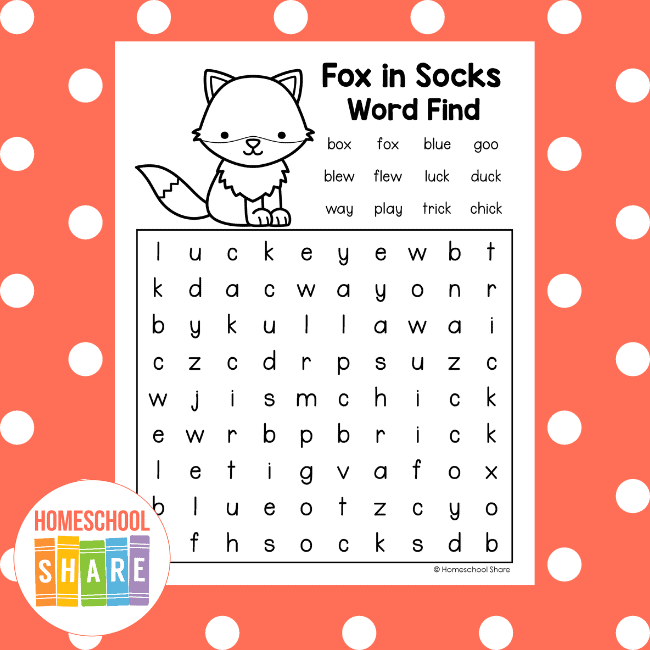 Use this super cute word search to reinforce the spellings and pronunciations of all the rhyming words and minimal pairs from "Fox in Socks". You can make its completion a competition, or you can assign it as homework. It's a super flexible activity.
Learn more: Homeschool Share
34. "Fox in Socks" Printable Worksheet
This worksheet is designed for young readers to complete outside the classroom, probably with some help from a grownup. Encourage students to make the assignment as colorful as they want, and remind them that they are free to take some liberties with the color scheme, just like Dr. Suess does in his own illustrations.
Learn more: Ryan Goodwin (TPT)
This printable features a reduced version of some of the tongue twisters in "Fox in Socks." It's designed to help practice rhyming words and minimal pairs at increasing speeds so that students can get good practice with sight words and fluency while reading aloud.
Learn more: Sarah Mahaffey
36. Matching Socks Rhymes
This quick worksheet activity helps students identify and spell rhyming words from Fox in Socks. It's useful for young readers, and it helps to develop phonemic awareness throughout the whole unit.
Learn more: Pinterest
37. Long or Short Vowel Worksheet
This printable worksheet focuses on the vowel sounds in "Fox in Socks". Have your students color the words with long vowel sounds red and the words with short vowel sounds blue.
Learn more: School With Sever (TPT)
This printable activity helps kids differentiate "real" words from the made-up words that Dr. Suess is so famous for. It's a great way to solidify existing vocabulary and expound on the learners' schema.
Learn more: Pinterest
39. Worksheet Packet for Fox in Socks
In this printable activity packet, you'll find worksheets and prompts that focus on rhyme recognition and production. There's also an activity for students to write their own tongue twisters to perform and share with the class!
Learn more: Pinterest
40. More Fun With Rhyming Words
Use this worksheet to help reinforce the rhyming words throughout "Fox in Socks". It's also a great way to practice reading minimal pairs. For even more practice, have students practice at home with their families, or in pairs or small groups during downtime in the classroom.
Learn more: Holly Gerlach (TPT)