Teachers are always looking for new ways to teach difficult concepts like fractions. For students to understand fractions, teaching takes on a lot of repetition, visual representations, and practice using manipulatives. The activities below offer a variety of unique ways to teach fractions and we're sure your students will enjoy the variety! Here are 26 fantastic fractions activities.
1. Pipe Cleaner Number Lines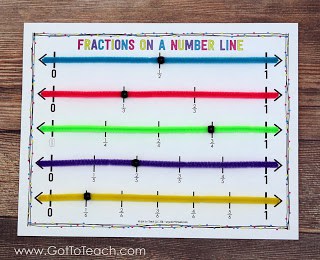 Number lines are a great fraction resource to help kids see how parts create a whole. This number line activity is hands-on and reusable. Kids will make their number lines using pipe cleaners and then use a bead as a visual model for a fraction.
Learn more: Teacher Thrive
2. Pattern Blocks
Pattern blocks are an important manipulative to demonstrate fractions. Kids will show a fraction representation using the appropriate number of blocks that make up a whole shape.
Learn more: Teacher Thrive
3. Spoons
The classic spoons game is a fun way to teach fractions. In this variation of the game, students have to collect equivalent fractions in order to grab a spoon. For example, a student would grab a card that reads 1/2 if they also have a card that reads 5/10. The goal is to grab 4 equivalent cards.
Learn more: Games 4 Gains
4. Fractions With Oreos
This is a lesson that uses edible fractions with Oreos. Students will use fraction mats that display a fraction, and then make a visual of the fraction using an Oreo.
Learn more: Learn in Color
5. Adding Fractions Game
In this activity, kids play a game to learn how to add fractions. Kids use puzzle pieces to match different pieces of a pie to equal the other pie piece. Kids have to understand how fractions add together in order to complete the puzzles.
Learn more: You've Got This Math
6. Lego Games
In this activity, kids play with Lego blocks to establish different fractions. They first build several equal towers before using Legos to model a part of the whole tower. Kids will be able to visualize how the part creates the whole in a fun and engaging way!
Learn more: JDaniel4's Mom
7. Apple Fractions
This activity can be done on its own or with a Dr. Seuss read-a-loud. Kids cut up apples to see how a whole break down into smaller pieces. They first cut it in half, then fourths, then eights. There is also a printable that goes with the activity to increase visual learning.
Learn more: Little Bins for Little Hands
8. Pool Noodle Fractions
Pool noodles are an easy tool to use if you're looking to create manipulatives for elementary classrooms. Teachers cut up pool noodles into parts and then label them. The kids then use the manipulatives to add and subtract fractions or to create equivalent fractions.
Learn more: A Few Shortcuts
9. Flower Fraction Code Breaker
This activity takes a bit of prep work, but the outcome is worth it! Kids use a flower-themed code breaker to figure out several codes. They have to read fractions and match the fraction visual to its written expression in order to break the codes.
Learn more: Royal, Baloo
10. Playdough Fractions
Playdough is another perfect tool for tactile learning. Students receive a math task that they have to create using the play dough. For example, students might have to divide a shape into fourths.
Learn more: Saddle Up for 2nd Grade
11. Connect Four Fractions
This activity is an easy variation of the classic Connect Four game. Instead of always connecting four, however, the pieces are labeled as fourths and thirds. The person who can get a set of thirds or a set of fourths in a row first wins!
Learn more: No Time for Flashcards
12. Roll & Cover Fraction Game
This is a simple roll-and-write game for kids. There are different versions of the game available in the printable pack. Kids roll a die and then mark off the appropriate fraction that is designated by the number on the die. This game helps kids learn math representations visually and with numbers.
Learn more: This Reading Mama
13. Fractions BINGO
Kids love the classic game of BINGO and teachers can apply it to learning math in a fraction unit. The teacher draws a fraction card, and the kids have to mark off the corresponding simplified fraction on their BINGO card. Fun, easy, and engaging!
Learn more: You've Got This Math
14. Fraction Read and Sort
This activity helps to build math literacy and fluency. Kids sort visual representations of fractions and match the visual with the math vocabulary word. This lesson takes some prep work, but it can be used daily to help build important literacy skills.
Learn more: Rainbow Sky Creations
15. Paper Plate Fractions
Paper plates are a great way to demonstrate fractions. Teachers can use paper plates in a myriad of ways. They can use the paper plates for a visual of fractions or cut up the paper plates to create a hands-on fraction activity puzzle.
Learn more: Terrific Teaching Tactics
16. Playing Cards Fractions
In this activity, teachers can use playing cards for a low-prep bell ringer activity. Teachers give students two cards; one will act as the numerator and the other as the denominator. Then, students have to simplify the fraction.
Learn more: Terrific Teaching Tactics
17. S'mores Fractions
This game is best used in a math center. Students play the game with partners. They draw a s'mores-themed card and then have to color in the matching fraction. The first student to complete a row wins!
Learn more: The Curriculum Corner
18. Fractionopoly
This is a fun activity based on the game of Monopoly. The best part about this game is it gets kids outside and engaging in math. The teacher creates the life-size Monopoly board using sidewalk chalk. Kids then take turns rolling the dice and they have to solve the space they land on.
Learn more: Math-n-spire
19. Fraction War
This is another fun and easy way to use playing cards to teach fractions. Kids play War using fractions. The winner is the card hand that simplifies to the highest number. The student then gets to keep the cards. The first player to get all the cards wins!
Learn more: Math File Folder Games
20. Whole-y Cow Read-a-Loud
There are tons of fraction-themed read-a-loud that teachers can use to introduce a fraction unit. Whole-y Cow is a fun one that uses poems and clues to encourage independent thinking. During the read-a-loud students can help each other apply the concept of fractions.
Learn more: Mrs. Jones' Creation Station
21. Fraction Interactive Notebook
Interactive notebooks are a fantastic learning tool for students. Students use headers and note cards to put together notes on fractions and related math vocabulary. They can also add to their notebooks throughout the unit and look back on them during future activities.
Learn more: Not So Wimpy Teacher
22. Fraction Tic-Tac-Toe
For this game, students take turns drawing cards from the deck. They then have to cover the space on the tic-tac-toe boards that match the visual representation on the card. The first students to get tic-tac-toe wins!
Learn more: Teaching with Jillian Starr
23. Fractions In Sports
There are fractions everywhere in sports! In this activity, teachers will depict how fractions exist in playing spaces of sports (like a basketball court) and the playing time of sports (like four quarters in a football game).
Learn more: Shelley Gray Teaching
24. Digital Manipulatives
Digital manipulatives allow for hands-on, visual learning. This is a great tool for engaging kids during independent work time. They will use the visual manipulatives on the computer to display fraction equivalents.
Learn more: Toy Theater
25. Equivalent Fractions Chart
For this activity, kids will make a chart that shows fractions and the equivalent decimal. The class can create this together in a group activity, or kids can make their own chart individually. The chart is a great resource for students to use throughout the unit.
Learn more: Amazon
26. Measuring Fractions
This activity is great to assign as homework or to do at a math station. Kids use measuring cups and a sand table to explore fractions. Learners can put the measuring cups in order from smallest to biggest after filling them, or they can fill a bigger cup with the smaller cups.
Learn more: The Math Maniac