Keeping preschoolers entertained is challenging at times, especially when you're on a budget. On this list, you'll find 60 assorted activities that are sure to please and the best part is that they're all free! There's a little bit of everything, from educational activities to motor activities, to social/emotional learning. Hopefully, you can find a few things for your tots here!
1. Monster Feelings
Teaching preschoolers about feelings is very important but often overlooked. In this matching game, kids walk around to find the person with the matching feeling. The catch is that they have to make the face match the one on their card, which can help them empathize with others.
Learn more: Pocket of Preschool
2. Trace the Shapes
This printable activity is perfect for station work. It gives kids the chance to practice drawing basic shapes, which is important for when they being learning more about them later in their schooling. I especially like the ones that have them tracing shapes on things like a house.
Learn more: Superstar Worksheets
3. Alphabet Workbook
A page per letter is just the thing to work on letter recognition skills with your students. This work can be done independently or in a small group and the repetition will make the letters stick in their heads. Plus, they'll enjoy getting to decorate each letter however they want!
Learn more: The Relaxed Homeschool
4. Alphabet Hats
My son came home with similar hats frequently while in preschool. Kids will learn how to identify both uppercase and lowercase letters while associating them with the pictures to learn the initial sounds.
Learn more: 123 Homeschool 4 Me
5. Color Hunt
After reading Brown Bear, Brown Bear by Eric Carle, have kids go on a color hunt. Encourage them to find at least 5 things per color and bring them back to the color sorting mats. Kids will have fun searching for items and reinforcing colors while doing so.
Learn more: Pinterest
6. How to Use Glue
Something as s simple as using a bottle of glue is often forgotten about, especially since glue sticks are so prevalent. Here's an activity that teaches preschoolers how to use just a dot of glue at a time in an engaging, colorful way.
Learn more: Just Teachy
7. Craft Stick Shapes
If you need a simple printable learning activity, then look no further. Students will construct shapes out of craft sticks on these mats. I would laminate them to increase their durability and make sure to use colored sticks.
Learn more: Taming Little Monsters
8. Block Color Cards
Two skills in one are practiced here. Kids will get some fine motor work in while they are matching the colors on the task cards. Picking the blocks up with the tweezers may be difficult for many kids, but is good practice. I would allow them to use their hands after trying with the tweezers first.
Learn more: Stay-at-Home Educator
9. Caterpillar Craft
I love these adorable little caterpillars! They are perfect to use in spring when kids are learning about all the wonderful things that happen in nature. Additionally, when making the circles and punching the holes, kids are practicing their fine motor skills.
Learn more: I Heart Crafty Things
10. Weather Activity Book
Science activities can be so much fun for preschoolers. If you are doing a weather unit, this activity book is a great extension to use during centers or for homework. There is a counting page, a matching page, one to identify which one is the largest, and a sheet that asks kids to identify the happy faces.
Learn more: Slap Dash Mom
11. Cookie Plates
If You Give a Mouse a Cookie is one of my favorite childhood books. With this painting activity, you just may get your kids to love it too! It's a simple activity with minimal resources needed. Depending on your setting, you could also make cookies.
Learn more: A Little Pinch of Perfect
12. Healthy Food Craft
Cute activity for preschoolers with many benefits. Children will learn about healthy foods, color matching, and motor skills all in one. Simply print them out and tear up some paper scraps, then kids can get to work.
Learn more: Free Kids Craft
13. Acorn Craft
How cute are these little guys?! They are great for decorating your classroom for the fall and kids will have fun assembling them. Kids can choose the mouths they want to draw on and I would use googly eyes to make them even more fun.
Learn more: Simple Everyday Mom
14. Handprint Cat
Messy, but cute, this cat activity is sure to please. Kids can choose the paint color and they may even want to color the face. This activity for toddlers will be cherished by families as well since they will have their childs' handprints to keep.
Learn more: Glued to My Crafts
15. Scissor Skills
Scissor skills need to be practiced over and over. Here you'll find multiple different printable activities for toddlers to do just that. Kids will have this essential skill down in no time using these and I love that some of them get away from the typical paper-based activities.
Learn more: Pocket of Preschool
16. Goldfish Counting Bowls
These fish cracker counting cards are perfect for math center activities. They're a favorite snack among toddlers, which is always a great motivator and the fishbowls are adorable. It helps them practice both counting and number recognition skills all in one.
Learn more: 123 Homeschool 4 Me
17. Learning Folder
As a teacher, I'm always looking for ways to track student data. For early childhood teachers, these folders look amazing. They display the skills that preschoolers should know and fit inside a file folder. They could also be used independently for kids to review what they've learned.
Learn more: This Reading Mama
18. Letter Matching
I love literacy activities that are basic skills, but still fun. Preschoolers will love matching the upper and lower case letters on these watermelon slices. It can also be used as a fun matching game that kids can play with a partner.
Learn more: Fantastic Fun and Learning
19. Color Puzzles
These puzzles are perfect for practicing colors and identifying objects that are typically those colors. You might decide to have each student make their own set so they can take them home, or you could make a class set that is laminated to practice at school.
Learn more: Preschool Play and Learn
20. Shape Bingo
Bingo is so much fun at any age. This version is great for helping little kids practice shape identification. I would laminate the cards for durability and then they can be reused year after year. They also help with listening skills. I bet most kids won't want to miss hearing a shape called out.
Learn more: Preschool Mom
21. Autumn Tracing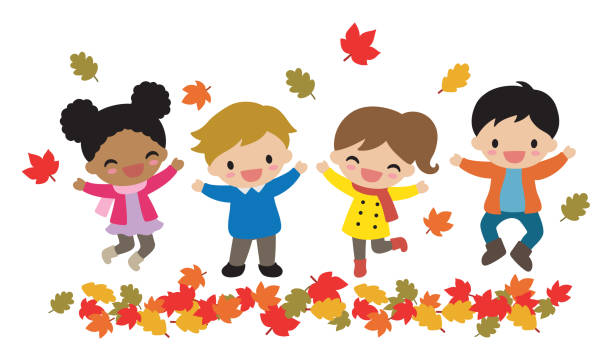 Tracing is one of those activities for preschoolers that may seem unnecessary but isn't. These leaves are cute and can be colored to use as classroom decorations. They provide kids with different lengths of lines and directions that they go in, which is helpful as well.
Learn more: The Keeper of the Memories
22. Counting Game
Print and cut out these ice cream cones and scoops for lots of counting fun. I would laminate the pieces so they can be used over and over. Add it to your center activities for kids. Kids will love choosing which scoops they want to stack up!
Learn more: Childhood 101
23. Ten Little Dinosaurs Activity
Planning on reading Ten Little Dinosaurs? Then there is a circle time activity to go along with it. Just print out the dinosaurs, cut them out, and glue them onto sticks. You can use them for so many activities after reading as well.
Learn more: Teaching 2 and 3 Year Olds
24. Plant Life Cycle
Learning about plants is interesting for kids and these printable worksheets will add to this science unit. You can use all the included activities or choose what meets your needs. I love the life cycle game myself.
Learn more: Natalina Craft
25. Hidden Colors
We all know what happens when you mix baking soda and vinegar, but simply adding color makes it that much more exciting for kids. Even your littlest learners will enjoy this activity. It gets messy, so placing it in a larger container or doing it outside are great options.
Learn more: Busy Toddler
26. Sunscreen Painting
I never knew that you could use sunscreen to paint and wish I had seen this activity before I threw away some expired sunscreen I had at home. It's also a new use for black construction paper. Kids will love this warm weather activity.
Learn more: Team Cartwright
27. Jelly Bean Experiment
This activity combines color sorting and science. Kids can separate the jelly beans into cups and add water. Then have them make observations about what they see over time and discuss their observations. It's also a good way to make all that Easter candy disappear.
Learn more: Mrs. Jones' Creation Station
28. Magnatile Printable
Looking for a different way to use magnetic tiles? These printables for preschoolers are great! There are different patterns that they can make with the tiles and it's just the right center activity. Kids already using magnet tiles, so they'll definitely love this!
Learn more: Tot Schooling
29. Walking Water
I have always been intrigued by this concept and love to see kids' reactions to it. After seeing the paper towels change color, you can do the same with white carnations so they can see that the same theory applies to plants.
Learn more: Messy Little Monster
30. Static Electricity Butterfly
This is so easy to set up and will have kids in awe to see the wings move on their own. It's an exciting activity for preschoolers and they'll be running around looking for other things that they can do this within no time.
Learn more: I Heart Crafty Things
31. How Do Leaves Breathe?
Did you know that leaves breathe? It's called respiration for them too and it's a fun class activity for preschoolers. Simply place a leaf in a bowl of water and look for the bubbles. Kids will be instantly drawn to this. They can try it with different types of leaves too.
Learn more: EDventures with Kids
32. Things That Spin
Gather up things that can spin and see what kids can get to spin. I would turn it into a preschool game where kids can see who can get an object to spin longer. You can use so many different household objects for this activity, which makes it even better.
Learn more: Pre Kinders
33. Apple Volcano
Another baking soda and vinegar activity is tons of fun. If you have an apple theme going on or studying in the fall, this is the perfect science experiment to use. Volcanos are so interesting to kids as well, so seeing something similar will draw them in as well.
Learn more: Gift of Curiosity
34. Smelling Sensory Bottles
Sensory activities are extremely important activities for preschoolers, especially scent-related ones. This is a great way to introduce scents to kids in a fun way. Just check with parents about allergies before setting this one up.
Learn more: Things to Share and Remember
35. Sink or Float with Food
Sink or float is a classic preschool activity, but what makes this one better, is that it uses food instead of other random objects. Kids will have loads of fun with this! You can encourage them to try it at home with other objects as well and it's a great way to introduce new foods as well.
Learn more: EDventures with Kids
36. Apple Suncatchers
Suncatchers are one of my favorite crafts and they are easy to make. I would use this activity post apple tasting so kids can show which ones they liked by making their apples that color. I love seeing these on classroom windows!
Learn more: Teaching 2 and 3-Year-Olds
37. Pumpkin Lacing
This activity will have kids lacing and counting in no time at all. It's perfect to add to your activities for preschoolers if you are studying pumpkins in the fall. I love activities like this and I feel like they aren't done much anymore.
Learn more: I Heart Crafty Things
38. I Spy: Fall Leaves
Another great fall activity that can be done independently. I would show kids how to make tally marks to help them count the objects for this activity. There are so many skills built in with this, which is why I really like it.
Learn more: And Next Comes L
39. Fingerprint Bats
I love negative space painting activities and this one does not disappoint. They make for a fun Halloween decoration or can be made just using white paint if you are studying bats at a different point in the school year.
Learn more: Crafty Morning
40. Play-doh Pattern Printable
These printable pattern dough mats are so much fun. Kids will love making ice cream cones while practicing AB and ABBA patterns. Laminate them so they can be used again and again.
Learn more: Preschool Play and Learn
41. Turkey Trouble
After reading Turkey Trouble kids can work on these printable worksheets. There's a sequencing activity, a problem and solution activity, and one where they can disguise a turkey!
Learn more: My Fabulous Class
42. Dinosaur Pre-Writing Printable
Tracing is a great way to teach kids how to correctly hold a writing implement and is needed to help them learn how to write. Laminating these makes it so kids can use dry-erase markers to help the dinosaurs get back to their eggs.
Learn more: Powerful Mothering
43. I Can Calm Down
We all get upset or frustrated at times, but need to learn how to calm down. Here kids will learn to stop, think and then act. After teaching it and reviewing it, it's can be placed in a visible area to remind kids of what to do. Calming activities are a necessary skill for all kids.
Learn more: From the Pond
44. Pass the Ice Cream
Learning to share is another needed skill that takes some practice. This is a simple activity that can be done as a whole class. Kids will have a blast passing the ice cream scoop around. It can be a fun preschool game as well.
Learn more: Sunny Day Family
45. Sand and Water Table
Sensory activities are always popular with toddlers. You don't need a fancy setup either. Just get a big plastic bin and some water and sand toys. I would set it up outside or on top of a tarp to make cleaning up easier. Kids will have fun for hours with this!
Learn more: Preschool Plan It
46. Bugs in a Jar
Oh no, get those bugs back in the jar! This educational game is a great way to practice counting, however, there are some kids with phobias, so take care when selecting activities for your students.
Learn more: The Measured Mom
47. All About Me
All about me activities are something I've seen my son do since he was in preschool. This one can be hung in the classroom to celebrate each child and show them that they are unique.
Learn more: The Holly Dog
48. Crayon Book
This book is a great way to review colors by using crayons. It can be used as an extension activity after reading one of the many crayon books there are out there as well. It will take some time for kids to color all of it as well, making for lots of learning.
Learn more: A to Z Teacher Stuff
49. Farm Animal Puzzles
Animal puzzles are usually a big hit. These will help kids learn the names and appearances of baby animals. Laminate them so they last longer and place them in a station when studying animals. It's also great for motor skill practice.
Learn more: The STEM Laboratory
50. Rainbow Paper Craft
I would use this to make St. Patricks Day decorations, but it is so versatile. It will take some patience for kids to keep the colors where they are on an actual rainbow, but it's doable. It requires fine motor skills as well as color matching and gluing skills.
Learn more: Live Well Play Together
51. Name Puzzles
Kids tend to get bored with worksheet-type practice when it comes to spelling their names. With these cute dogs, kids will forget that they are even learning. They can be laminated and taken home for additional practice too.
Learn more: Simple Everyday Mom
52. Popsicle Initial Sounds
Popsicle activities are so much fun! Here kids will practice the initial letter sound by using the picture to remind them of the letter sound. It can also be used as a matching game. However you choose to use them, kids will have a blast.
Learn more: Stay at Home Educator
53. Snowflake Swat!
This fast-paced game is sure to please. Kids will listen for a letter sound and have to swat the corresponding letter as fast as they can. It is great for a snowy or cold winter day.
Learn more: Preschool Powol Packets
54. Fine Motor Monster
Kids will have a blast customizing these fine motor monsters, which also help them practice their cutting skills. They can be colored however they'd like and then given a name! Kids will love creating these cute, friendly monsters.
Learn more: Fantastic Fun and Learning
55. Life Cycle of a Pumpkin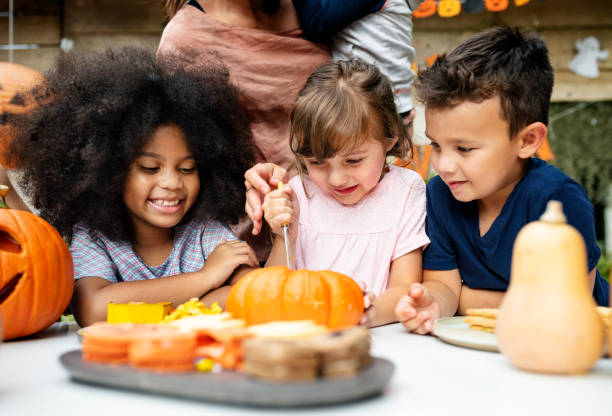 Pumpkins are usually studied in the fall and have an easy to study life cycle. Kids can use this book to color and draw what the life cycle looks like while referring back to the real one in front of them.
Learn more: Preschool Mom
56. Farm Gross Motor Cards
This whole class activity will have kids moving like their favorite farm animals and getting in some gross motor practice. You may have to demonstrate how to do some of the movements, such as galloping, depending on where you live.
Learn more: Modern Preschool
57. Fall, Dot Marker Sheets
Dot marker sheets make for some coloring fun that helps kids with their fine motor skills. These are super cute and can cover a variety of themes.
Learn more: Kids Sparkz
58. Color by Letter
Color by number is what we are used to seeing, but here kids will practice their literacy skills by coloring by letter. It also helps them learn how to spell farms. It is perfect for a farm unit!
Learn more: Simple Everyday Mom
59. Under the Sea Graph
Studying all things under the sea? This math center activity will fit in nicely. Kids have to count how many of each creature they see in the picture and color them in the bar graph below. I like how each creature has a different color with it so kids will have less confusion.
Learn more: Sarah Chesworth
60. Weather Tracing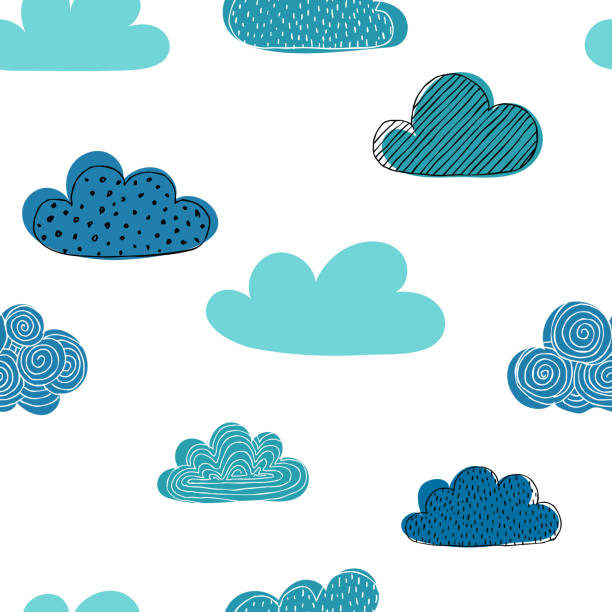 When studying the weather, you can use these tracing sheets to show kids how rain and snow fall from the clouds. They'll have fun tracing the lines from the clouds and get in some pre-writing practice at the same time.
Learn more: The Keeper of the Memories