With a unique array of activities that are inspired by the humble fruit salad, you can introduce your kiddos to new colors, fruits, and nutritious facts! Whether you choose to engage them in hands-on activities, memory exercises, or colorful crafts, our ideas afford plenty of opportunities for your littles to get to grips with a wealth of new information. Jump on board for a fruity adventure like never before!
1. Fruit Classification Carnival
Get ready for a fruit bonanza! Have your students dive into a basket of various fruits and organize them by color, shape, or size. In doing so, they'll hone their comparison and categorization skills without even realizing it!
Learn More: Etsy
2. Flavorsome Exploration
Get ready to excite those taste buds and build vocabulary! Give your students a chance to sample a smorgasbord of fruits. As they do so, encourage them to describe the flavors and textures; facilitating their understanding of adjectives and sensory words.
Learn More: Maggi Arabia
3. Artistic Fruit Ensemble
Using a palette of fruits, invite your students to design appealing fruit arrangements. After they exercise some artistic flair, they can enjoy a tasty plate of nutritious fruit!
Learn More: Hello, Yummy
4. Sensory Bin Adventure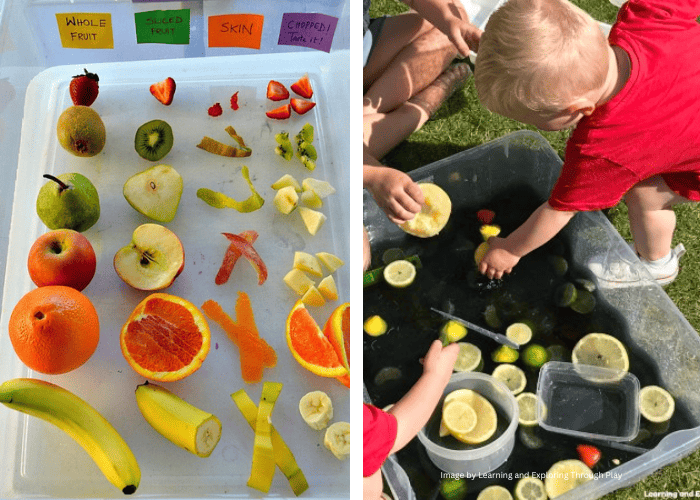 Sensory exploration comes alive with a bin full of fruits! Learners can touch, smell, and explore the fruits in all their forms- whether whole, sliced, skinned, or chopped!
Learn More: Fun Littles
5. Fruity Jigsaw Race
Teach your learners about a wide variety of fruits by inviting them to craft and then piece together bright fruity-themed puzzles. All you'll need to get going is cardboard cutouts, watercolor paints, and markers!
Learn More: Caactus Care
6. Kebab Crafting
Prepare skewers and chunks of various fruits to engage your students in a delightful threading activity. As they create their own kebabs, they'll develop their fine motor skills in a fun way!
Learn More: YouTube
7. Stamping with Fruit Slices
Here's an artistic venture with a fruity twist! Have your littles press fruit slices dipped in paint onto paper. Each learner can work with a different fruit and unveil their masterpieces to the rest of the class once they dry.
Learn More: Rhythms Of Play
8. Hide and Fruit Seek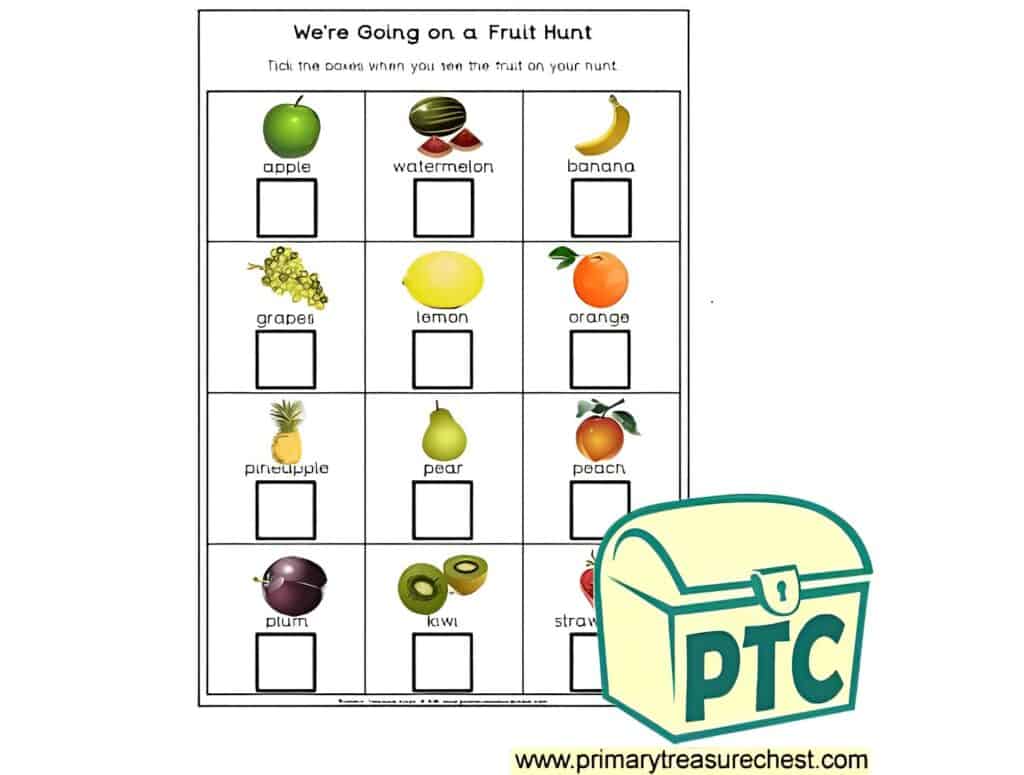 Hide plastic fruit toys or fruit pictures and watch as kiddos refine their observational skills and hunt for them. The first learner to tick all the boxes on their sheet wins!
Learn More: Pinterest
9. Fruit Patterning Bracelets
Here's another great idea for developing fine motor skills! Get your kiddos to string beads and fruit-shaped cutouts onto pipe cleaners to create patterned bracelets. As they do so, they'll learn about sequence, repetition, and design as well.
Learn More: Mama Likes This
10. Memory Fruit Match
Unleash your students' memory power with a fruit-themed card-matching game. They'll have a blast finding pairs of fruit, and in the process, improve their recall skills.
Learn More: Fun365 Oriental Trading
11. Fruit Collage Magic
Using fruit cutouts, stickers, and other craft materials, students can create colorful fruit baskets. This activity nurtures their creative expression and motor skills whilst introducing them to an assortment of fruits.
Learn More: First Palette
12. Fruit Salad Making
Welcome to the chef's corner! Have your students play chef- whipping up a delicious fruit salad. As they delve into this flavorful activity, they'll be prompted to consider the beauty of crafting a feast for both the eyes and the palate!
Learn More: YouTube
13. Rainbow Fruit Extravaganza
Calling all young artists! Here's an activity that combines color theory and nutrition. Using different paper cutouts, learners can create a fruit salad resembling a rainbow. As they cut and paste, you can teach them that each fruit delivers different nutrients and flavors.
Learn More: Mrs. Merry
14. Rainbow Plate
To test understanding of the order of the rainbow and promote a balanced diet, have your students arrange various fruits on a plate to create a rainbow. Once their picture-perfect spread has been assembled, invite them to dig in and enjoy!
Learn More: Healthy Family Project
15. Counting cocktail
Ready for a fruity numbers game? In this activity, students are given a fruit cocktail and must count the pieces of each fruit as they munch away.
Learn More: Nurture Store
16. Fruit Salad Activity Worksheet
Invite your students to map out the basic instructions required to make a fruit salad. To do so, they'll simply need to drag and drop the missing words into their correct places.
Learn More: Live Worksheets
17. Frozen Fruit Experiment
Science comes alive in this frozen fruit activity! Freeze different fruits and let your students observe the thawing process to encourage discussions about the states of matter and give them hands-on experience with real-world science concepts.
Learn More: YouTube