Looking for new and exciting ways to introduce the concepts of measurement and capacity? Gallon man is just what you need! This uniquely-crafted visual aid will guide your learners through all of their measurement tasks; helping them easily convert between cups, pints, quarts, and gallons. Furthermore, they'll be better able to identify the relationships between these units. Jump right in to discover more about how to use this handyman in your math classroom!
1. Unleash the Superhero Within
Little ones all things superhero-related! Give them a chance to transform regular Gallon Man into a superhero version! Their mission? To represent units of measure in eye-catching, superhero attire.
Learn More: Teachers Pay Teachers
2. A Gallon Man Puppet Show Extravaganza
We bet you've never thought of combining puppetry with measurements! Now's the time. Let your students design varied gallon man characters using a basic craft bundle, weave a storyline, and then animate a show that details more about measurement.
Learn More: Teachers Pay Teachers
3. Hunt for Gallon Man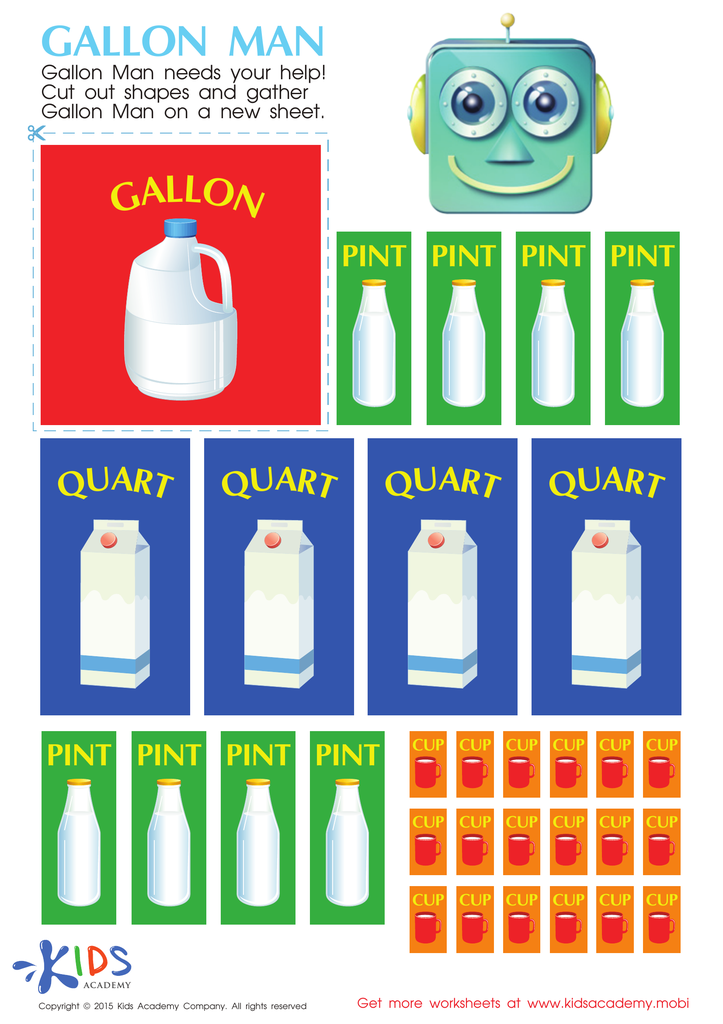 Turn your classroom into a puzzle house by cutting out the above images and inviting your students to search for the hidden pictures symbolizing different units of measure. The victors? The quickest ones to conjure a complete Gallon Man!
Learn More: Kids Academy
4. Swing to the Rhythm of Measurements
Cue the music and spark creativity by challenging your students to compose a catchy tune brimming with the words, "gallons, quarts, pints, and cups". Gauge their understanding of the measurement concepts by assessing how accurately they detail the measurement units in the lyrics.
Learn More: 3-6 Free Resources
5. Unfolding Stories: Gallon Man Comics
Dive into a world of illustrative teaching and invite your students to fill their workbooks with lively comic strips; featuring none other than Gallon Man as the hero.
6. Interactive Gallon Man Quiz
This activity is just what you need to assess student understanding and recap your measurement lessons! Set up a dynamic online quiz for your students. They'll be able to input their answers and gain instant feedback; getting an on-the-spot gauge of their comprehension.
Learn More: Futuristic Math
7. Stage Lights on Gallon Man
It's showtime folks! Implore your students to write a script and perform a play where Gallon Man is the main character- saving the world with his measurement knowledge.
Learn More: Pinterest
8. Sky Full of Gallons
Decorate those classroom ceilings and inspire your students to look up! Aid them in crafting mobiles that illustrate Gallon Man and his various units.
9. Twist and Fold with Gallon Man Origami
Teach your students to fold an origami man before detailing the metric units to transform their creation into Gallon Man.
Learn More: Origami-make
10. Break a Leg with Gallon Man
Learning has never been more fun! Get your students up and moving as you task them with a choreographing challenge. They'll need to create a dance sequence where each move symbolizes a different unit of Gallon Man.
Learn More: YouTube
11. Wall of Learning
Arm your students with paintbrushes and let one of your classroom walls be their canvas. Watch Gallon Man come to life as your kiddos bring this bountiful measurement guide to life with every brush stroke!
12. Build a Gallon Man
Print out pieces of Gallon Man, mix them up, and let the solving begin! Whether alone or in pairs, learners will love piecing together a custom-made Gallon Man puzzle to beat the clock!
Learn More: You've Got This Math
13. Measurement-themed Sports Day
Take learning outside by incorporating the concept of Gallon Man into a sports day activity. A game of "pass the gallon" is sure to spark excitement and help to ingrain the concepts of measurement.
14. Digital Gallon Man Masterpieces
Adopt a digital approach to learning by having your learners use an online platform to exhibit digital Gallon Man artwork. Round off the event with a comment and like a session to celebrate the young creators!
15. Animation Magic with Gallon Man
Allow your students to experiment with stop-motion animation to produce a short Gallon Man film. What a great way to fuse technology and learning!
Learn More: YouTube
16. Craft your Mini Gallon Man
Roll up those sleeves and prepare to bring Gallon Man to life in a hands-on activity! Have your students engage in a sensory pursuit and mold 3D models of Gallon Man using clay or play-dough.
Learn More: Amazon
17. Bookmark Your Learning
Have your students create Gallon Man bookmarks, where each color or symbol represents a different unit. Quiz them on the symbols and colors for a quick assessment as they craft.
Learn More: Teachers Pay Teachers
18. Pen Down the Gallon Man Tales
Who knew learning could be a storytelling gala? Encourage your students to weave tales starring Gallon Man as the main character.
Learn More: Pam's Place Blog