Games and the culture around games differ from community to community. Games often teach cultural norms and other important social aspects of life. Also, everyday critical thinking, concentration, and patient skills are taught through games.
The games we played as children all had some type of benefit. It's the same in all the cultures in the world. Learning about games worldwide is vital to understanding different cultures. Here is a list of 20 unique games that are played throughout the world.
A game that goes by various names and is played by many different cultures. Seven Stones originated in ancient India. It's one of the oldest games throughout Indian history. It may be an oldie, but it's certainly a goody!
Learn more: My Dream Garden
A game of strategy and teamwork! The perfect game for teaching the concept of working together to take out a stronger enemy. One opponent controls the tiger. While the other controls the sheep and blocks the tigers from taking over.
Learn more: Oributti In
Bambaram is a fun game that will spark a love for physics in any child. It will become a challenge to learn different techniques. Kids will love putting their new techniques into play. It will quickly spark intuition and understanding of physics.
Learn more: Nellai Crafts
Despite the name, Chinese Checkers was originally played in Germany. This is a popular kids' game due to the fact that it's simple to understand. A basic game that even your youngest players can take part in.
Learn more: Vivian Harris 45
Another one of those classic games that go by various names. Popular games like this have been spreading throughout the world for centuries. Simple enough for everyone to play with an endless number of techniques to develop. This child-friendly game will be a hit with everyone.
Learn more: Create Happy Moments
For some of us, tossing someone up in the air on a blanket might be a crazy idea. But for those living in the Arctic, it's quite a common game. Nalakutak is a celebration of the end of the whaling season. Starting with a circle chant. The Eskimo blanket toss helps to create a common ground between communities.
Learn more: Kunaqtahbone
Backyard games aren't only popular in the US. Korea has games similar to backyard activities you may play with your family. Tuho is a simple enough game for a child of any age. Although the concept is easy to understand, the game is not any less challenging.
Learn more: Koxican
Chinese cultural games made from pen and paper are easy enough to create. The good news, is they're even easier to understand. Abstract strategy games like this will be a hit in any home or classroom.
Learn more: Diamond x Men
Resembling the classic ball game Hackysack. Although a bit different, this game is played with a shuttlecock that's on the heavy side. The main idea is to keep it off the ground using any body part besides the hands. A backyard game kids can play for hourly trying different techniques.
Learn more: Fabulous Phebe
A traditional game played on Terceira Island, located in the Azores. This popular game is for both children and adults alike. Ancient games like this never quite run out of style, making for a fun family game night every time.
Learn more: Azores Island Girl
A game that benefits the highest jumpers. This has been a popular game played throughout the Philipines. From ancient times to current times, it's simple enough for anyone to understand. Luksong Tinik also requires nothing except hands, feet, and someone who can jump.
Learn more: Wikipedia
A game that played with an elastic band and 3 players. This game can be more difficult or simpler depending on who's playing. More experienced players start at a higher level. While less experienced players start at a lower one.
Learn more: Stoklasa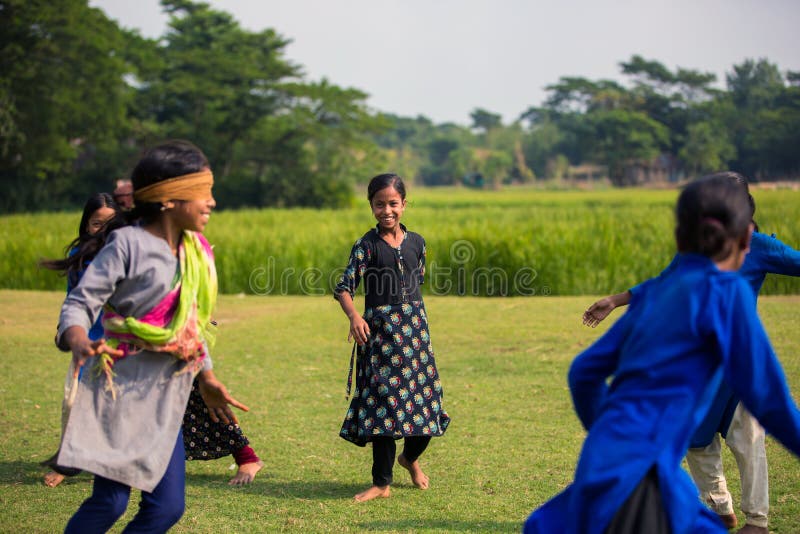 Kanamachi is a fun game for children of all ages! This game will easily keep your kids engaged for hours. Kids will start in a circle and then spread out, trying not to let the Kanamachi tag them. It will be fun to watch each group put a different spin on the game. 
Learn more: Wikipedia
A traditional game played throughout Thailand and other Southeast Asian counties. This game is simple and a popular children's game. It's easy to set up and easy to play! Give your kids the time to learn different techniques and play in their free time.
Learn more: Emerald Santos
An extremely popular game played throughout Myanmar. Sepak Takraw is rising in popularity. Even having it's very own professional league now. It's a mix between soccer and volleyball that takes a lot of technique and dedication. You'll see kids all throughout Southeast Asia playing this game after and before school!
Learn more: Myanmar Sepak Takraw
A difficult game that fosters concentration and patience. Named after the Daruma doll, which has strong resonance in Buddhist temples. Often given as gifts of good luck and perseverance. Making playing and winning this game even more exciting.
Learn more: Playing Things
Pilolo is a Ghanaian game that is super fun and exciting for kids of all ages. The game varies depending on the number of kids playing. Either way, it's a fun and engaging game for all involved. It's sort of like a race of Hide-and-seek with objects.
Learn more: Baby Boaz TV
There are some board games that can be easily created by anyone, anywhere. Board game classics like this are fun for everyone. It may take some time to get the strategy down, but once you've got it, you won't lose it.
Learn more: Steve Miller 
Originally played with stone, this game can literally be played anywhere. In more recent times, the stones have been replaced with colored plastic pieces. Although, there are no rules saying they can't be played with stone anymore. So learn the game, pick up some stones, and play it anywhere!
Learn more: Steve Miller 
Last but certainly, not least, one of the most worldly games of all is probably musical chairs. Although each country probably has its own unique spin on the game, this one is a popular game worldwide.
Learn more: Suman TV Women