By age six, most young children can understand the concept of ten and are able to write complete sentences and play complex cooperative games.
This collection of age-appropriate family board games, hands-on art projects, logic and memory puzzles, and active outdoor games is a great way to strengthen their attention skills while helping them develop the math, reading, and writing skills they will need for Kindergarten and beyond.
1. Contact Paper Q-Tip Art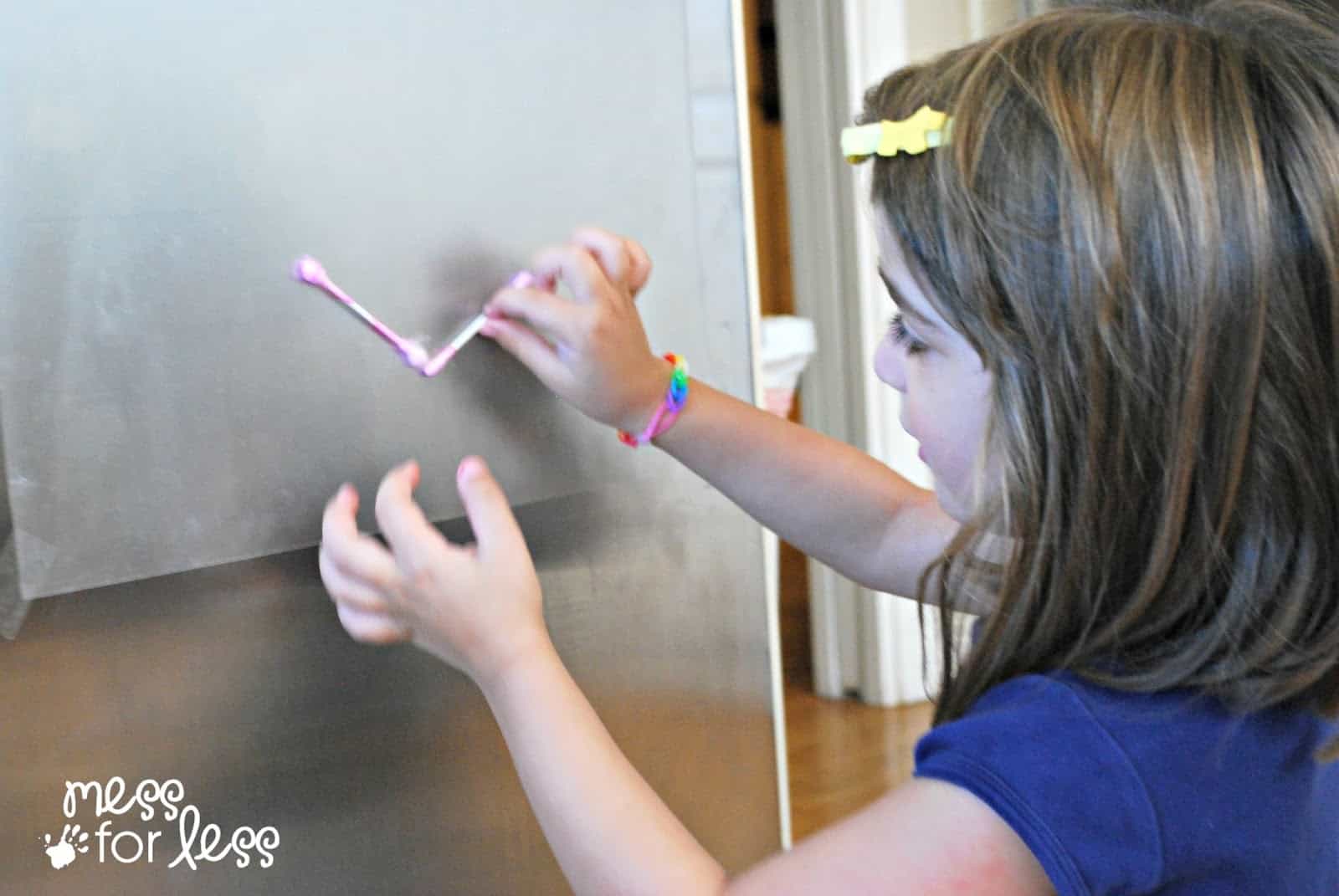 Q-tips are a source of endless artistic interpretation. This creative craft repurposes them to create beautiful art on sticky contact paper. This activity is also a great way to stretch attention spans and develop fine motor skills.
Learn more: Mess for Less
2.  Play a Matching Emotions Memory Game
Apart from improving memory skills, this educational game is a fantastic way to develop emotional intelligence and social skills by discussing a whole host of different emotions from worry to surprise to anger.
Learn more: Childhood 101
3. Play the Rooster Race Family Board Game
This unique and best-rated board game supports social development, exposes learners to numerical concepts, and sharpens cognitive skills. It's a fun and cooperative game that is sure to be hours of fun and quickly become a family favorite.
4. Play the Soma Cube Game
This colorful version of the classic Soma Cube game is made up of 3D pieces and has multiple solutions. It's an excellent way to develop a plethora of skills including problem-solving abilities and critical thinking skills.
5. Play an Educational Game of Connect 4
The classic game of Connect 4 is sure to make for a fun family game night. It's a great way to develop fine motor skills, improve visual perception and increase strategic thinking abilities and attention spans.
Learn more: Gamesver
6. Make Natural Suncatcher Wind Chimes
Collecting the flowers and leaves for this hands-on craft is a great way to incorporate physical activity into your child's learning. The artful results are bright, vibrant, and stunning!
Learn more: Hands On As We Grow
7.  Play a Process of Elimination Game
Musical chairs is a perfect game for developing a plethora of skills such as cooperative play and social skills all while staying active and having fun.
Learn more: Playworks
Your six-year-old is sure to love making a bunch of animals out of origami. Apart from helping develop a spatial sense, geometrical skills, and encouraging cooperative learning, making origami is sure to make any animal lover happy.
Learn more: Ezzy Crafts DIY
9. Throw a Minute to Win It Party
Why choose one fun game when you can play several? This collection of games for kids all cost under $15 and will keep them entertained for hours.
Learn more: Raising Dragons
10. Play a Fun Game of Memory
The popular card game Memory is a fantastic way to improve attention span, concentration skills, and focus. This engaging game also increases visual recognition and critical thinking skills and encourages children to be gracious instead of boastful winners.
Learn more: Ultra Board Games
11. Listen to Some Classic Stories
Why not listen to some renowned storytellers reading their favorite stories? Ranging from a beginner to advanced reading level, these read-a-loud books will keep your preschooler on the edge of their seat.
Learn more: Oxford Owl - Learning at Home
12. Play a Gruffalo Roll and Draw Game
The Gruffalo tells the story of a mouse who meets a cast of characters in his journey through the forest. To save him from getting eaten, he invents the Gruffalo. This roll and draw activity makes a great extension activity for bringing this magical creature to life in all his scary glory.
Learn more: Royal Baloo
13. Play an Online Matching Letter Game
This popular game challenges learners to match uppercase letters with their lowercase counterparts. By reviewing basic concepts of phonics and developing letter recognition, it supports reading fluency and comprehension.
Learn more: Education
14. Learn About 3D Shapes with a Fun Brain Game 
This action-packed game teaches young learners about 3D shapes including cylinders, cubes, and pyramids using a fun dinosaur theme they are sure to love!
Learn more: Education
This list of active games including classics such as Dinosaur tag, Duck Duck Goose, and Capture the Flag, provides players with plenty of opportunities for physical activity and active fun.
Learn more: ABCDee Learning
16. Play a Game of Cootie
Cootie is a classic game that requires young learners to roll a die and compete to draw a cootie bug. Each number on the die represents a different body part such as the head, body, or antenna. It's a great way to develop creativity and drawing skills.
Learn more: 105.7 WROR
17. Try Some Challenging Tongue Twisters
18.  Play an Educational Game of Bingo
Kids will love exploring all the different versions of Bingo in this free online resource, including Christmas, Valentine's, and Alphabet-themed Bingo.
Learn more: Crazy Little Projects
19. Learn Math by Playing the Classic Board Game of Trouble 
This classic game for 2-4 players is a terrific way to develop core math skills such as counting and comparing as well as logic and game strategy.
Learn more: Ultra Board Games
20. Play a Printable Letter Sound Matching Game