If you are looking for fun and engaging geography activities for your middle schoolers to do, read about all of the learning opportunities below.
You will find information and photos about crafts, food, websites, and hands-on activities that will be sure to reach your learner as you teach your lessons. Your students will be able to make connections and have fun while learning!
1. Sing-Alongs
Having a good old fashion sing-along will be so much fun for your middle schoolers. Songs are a catchy way for students to remember facts. You could challenge them to create their own songs to help them remember or you can show them pre-made songs.
Learn More: KLT
2. Geoguesser
Geoguesser is an excellent addition to your next physical geography lesson. The website will give you clues as to where in the world you are located. Students can take turns, work in groups or spend some time on this website independently.
Learn More: Geoguessr
3. Discovery Boxes
Discovery boxes are an interactive and sensory activity as students learn about different cultures around the world. Including many different things in these discovery boxes will help your students learn about the foods, traditional clothes, and sacred items of the culture you are currently studying.
Learn More: Whole Wide World Toys
4. Map Games
Utilizing maps often in your students' geography study time is an invaluable idea, especially when you give them tasks that require them to interact with the map. Your middle school students will enjoy games such as pass the globe and spin the globe for example.
Learn More: We Have Kids
5. Unfair Race
This interactive activity is perfect for your digital classroom as students can all manipulate the slide all at the same time and see the results in real-time. They will discuss which country has access to essential resources and how far along they are compared to other countries.
Learn More: Population Education
6. Salt Dough Map
Your students can create this salt dough map! You can have them pick a continent and then they can work on researching the topography or human geography in that area. It is a fantastic addition to any geography project!
Learn More: Kid World Citizen
7. Roll and Discover
Students can have fun with geography in their next geography class by including dice games. You can buy a pack of dice, if you don't already have them on hand, for a very cheap price. This game can be changed to suit the countries you are talking about during your lesson.
Learn More: Different By Design Learning
8. Nerf Gun Maps
After reminding students about your classroom rules, they can engage in the nerf gun map activity. You can pinpoint a spot on the map you want them to focus on or you can have them take control. It will definitely culminate in an engaging learning experience!
Learn More: Blessed Beyond Crazy
9. Recreating World Landmarks
Recreating world landmarks will allow students to make connections as they work with their hands. They can spend some time outside and then create a classroom presentation. You can extend this activity in a variety of ways while still being hands-on and educational!
Learn More: Homeschool Den
10. My Place In The World
This flipbook activity is a visual representation of your students' place in the world in relation to their surroundings. This idea is a fantastic way to allow your students to make connections and see themselves as one small part of a greater world system.
Learn More: Pinterest
11. U.S State Trading Cards
If you have a Model UN Nations club or have a lesson about trading goods and services coming up, using these trading cards is a helpful way to make the learning real and have the students involved in their own learning.
Learn More: Homeschool Den
12. Geoscavenge Rock and Mineral Hunt
This hands-on rock and mineral scavenger hunt will mix factual learning while being fun for students. You can download and print pre-made scavenger hunt sheets for the students to work with or you can make your own. Geology class has never been so fun!
Learn More: Tina's Dynamic Homeschool Plus
13. StoryMaps
Incorporating this website that allows students to tell stories through maps is a wonderful way to incorporate literacy into your next geography class. This website is completely student-friendly and you can add this idea to your distance learning options.
Learn More: Story Map
14. World Features Quiz
This interactive map can be included in a variety of activity ideas you may already have. The clickable features will tell the learner more about the location and geography associated with it. You can include researching country flags or cultures of countries in the assignment.
Learn More: Geoguessr
15. Ticket to Ride
If you have some available funds, you can purchase board games to assist with illustrating certain topics. Learn about tunnels and train stations while using the map to work through the game. Students can also work on their social skills as they work together to play.
Learn More: Amazon
16. Explore Food
An excellent idea if your class is learning about different cultures, is to have a culture day where students bring in food from their cultures and have their classmates sample it. Being able to experience different foods would add to any country's research project.
Learn More: Teacher Blog
17. Online Worksheets
Another possibility if you are doing online learning right now, is assigning students worksheets online. Online worksheets are an efficient means of assigning and assessing student knowledge throughout your online learning time. There are online worksheets that are pre-made and look at many different units.
Learn More: 3D Geography
18. The Shape of Things Puzzle
Maps are a fantastic way to teach students how countries fit together and learn about neighboring countries. You can create your own map and then cut it up to have students put it back together. If you print multiple maps, students can work in groups.
Learn More: Bright Hub Education
19. Take a Field Trip
Take your students on a field trip to have them engage in some experiential learning. Museums, science centers, and memorial sites are great places to start when taking your students out of the classroom and having them learn about geography as well as history.
Learn More: Weird Unsocialized Homeschoolers
20. Paper Mache Map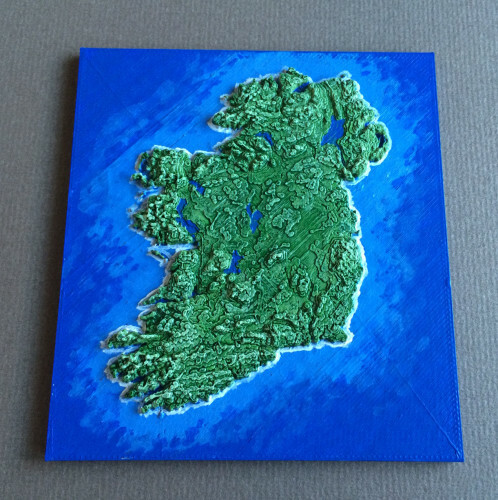 Get messy while working with paper mache. This could be an activity that students work on during class time or you can assign them this task to complete at home and bring in. You could even have each student pick a different piece and connect them to make a puzzle.
Learn More: Weird Unsocialized Homeschoolers
21. National Geographic Kids
National Geographic Kids is a website that has a lot of factual information for kids to discover. If you are learning about animals from a specific region, this website is a fantastic resource. National Geographic Kids has information about dozens of topics.
Learn More: National Geographic Kids
22. Textbook Work With Questions
If you are working with a geography textbook, writing out questions for your students to find the answers to can be a fantastic way to ensure they are reading thoroughly and carefully. Creating questions based on population, size and local languages can be included.
Learn More: Amazon
23. The Rock Cycle
Are you talking about the geology and sediment in different parts of the world for your next geography lesson? This cute and delicious lesson will be sweet for your students to participate in because they get to work with chocolate!
Learn More: Brit Geo People
24. Google Earth Landforms
Your students will enjoy looking at Earth's landforms using the Google satellites. You can give the students a list of landforms to find and check off or they can explore on their own. They will be very excited to see 3D images of planet earth!
Learn More: Google Earth
25. Color The Map Tool
Give students the chance to learn a sense of space and location while they learn about their place in this world. They will fill certain sections of the map with specific colors. They can also create a legend to help them map out the locations as well!
Learn More: ARC Gis
26. Celtic Cakes
When learning about specific regions, cooking or baking foods from that location will help bring learning to life for your students. This resource includes a recipe card that you can print and keep as a reference. You can make this recipe with your children or students!
Learn More: Tina's Dynamic Homeschool Plus
27. World Geography Games
If you have access to the internet and devices or are assigning work for online learning, this website contains many educational and engaging activities for your middle school learners to work through. They can learn about world flags, continents, and world capitals.
Learn More: World Geography Games
28. Ocean Layers Parfait
Next time you are at the store, picking up some oreo cookies, chocolate and banana cream pudding, cool whop and blue food coloring would be an excellent idea if you are interested in making ocean layers parfaits with your students or children.
Learn More: Tina's Dynamic Homeschool Plus
29. Convection Currents
Just by using a few simple ingredients, you can create your own lava lamp in your classroom or kitchen. You can customize the color and size of your lava lamps to make them just as your students would like. You can use them when discussing convection currents on Earth!
Learn More: Tina's Dynamic Homeschool Plus
30. United States Map Puzzle
This kid-friendly geography activity will have your students strengthening their critical thinking and analysis skills as they piece back puzzle pieces of the map of the United States. You can even choose the level of difficulty if your learner is more advanced.
Learn More: Amazon