Studying Black contributions to society shouldn't be limited to just Black History Month. George Washington Carver's amazing life and accomplishments should be a part of all levels of American history.
From coloring pages to hands-on agricultural experiences, these activities work to bring more attention to the role that Carver played in modern agricultural science. The lessons and resources that follow provide a wide range of learning opportunities for students of all ages.
1. George Washington Carver: An American Hero
This complete lesson plan for 2nd grade has students interacting with both primary and secondary sources (text and images) to first learn about Carver and then write an opinion piece about the qualities of a hero. Additional video resources are also available for this lesson.
Learn more: Achieve LAUSD
This activity is a great introduction to George Washington Carver for younger grades. Students learn about this famous African-American scientist and then make a short biography under the shape of an adorable peanut person!
Learn more: Grade School Giggles
3. National Geographic Kids Magazine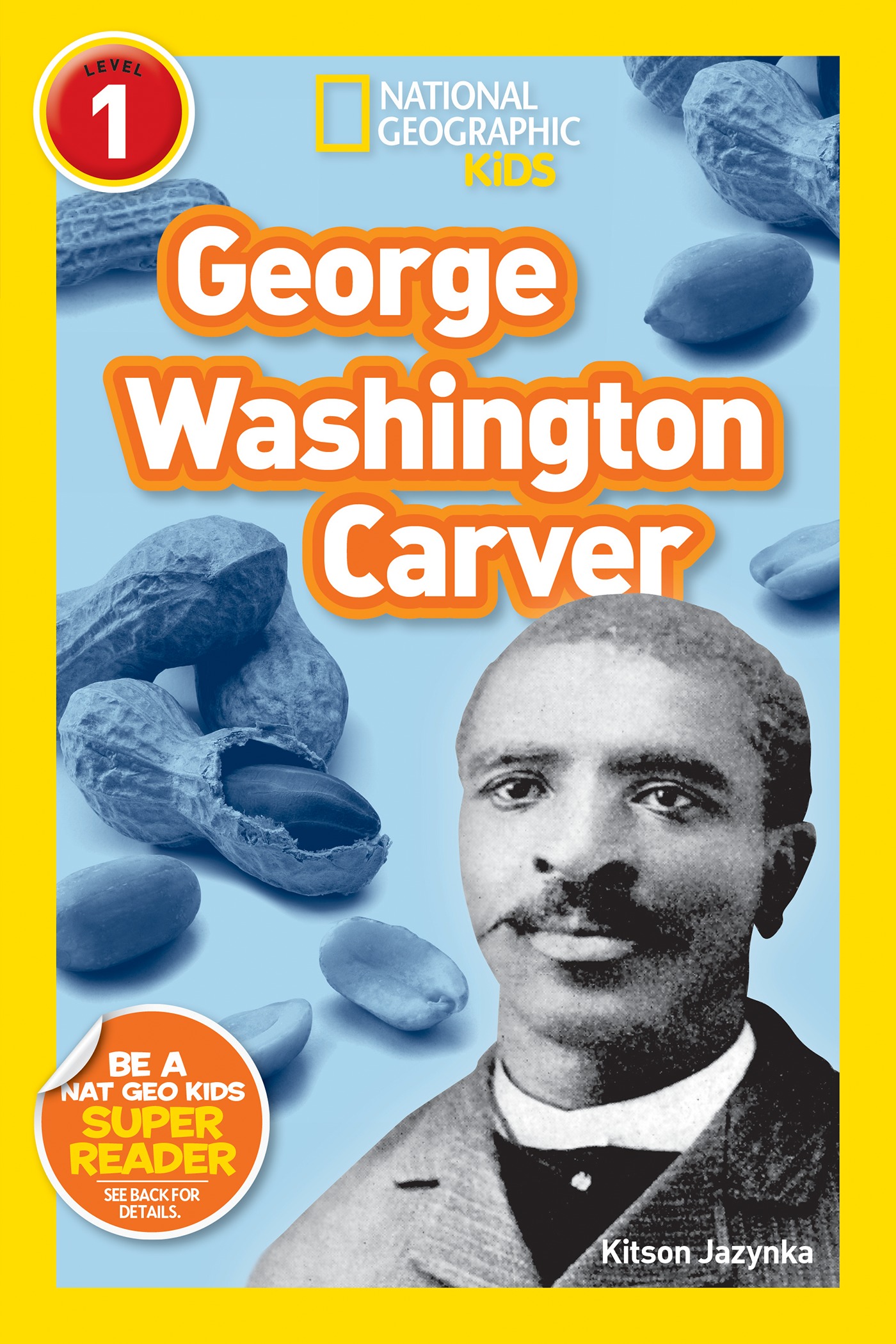 Packed with information and activities, this issue on our prominent scientist is perfect for students who gravitate towards nonfiction. National Geographic's educational resources are a top-notch and welcome addition to any teacher's classroom!
Learn more: Reading is Fundamental
4. Coloring and Activity Book
George Washington Carver's work as an agricultural scientist is explored throughout this fun activity that includes a variety of different resources for kids in early elementary. It's not a complete set of lesson plans, but a collection of useful activities for your classroom.
Learn more: Lesson Planet
This free download is a quick introduction to Carver's experiments on peanuts and sweet potatoes. It would work well as part of an interactive notebook or as a classroom coloring contest.
Learn more: Get Coloring Pages
6. USDA George Carver Coloring & Activity Book
Continuing with the coloring book theme, here is one from the United States Department of Agriculture. You can download individual pages or the entire book for free from this site.
Learn more: United States Department of Agriculture
7. History Channel's Modern Marvels Complete Lesson
This resource from the History Channel is best used with high school students. This is a complete lesson plan with vocabulary, discussion questions, extension activities, and additional resources. This would be a great review activity before the AP U.S. History test, or as a general study of Black American innovators.
Learn more: The History Channel
Best for upper elementary or middle school, this lesson has students visiting targeted websites to learn more about this lovely legume. It also has links to other resources, including some fun peanut facts.
Learn more: Education World
9. American History Plays
This collection of plays written for upper elementary includes the stories of fifteen influential Americans, including Carver. Perfect for a History Night or other parent event!
10. Early Elementary Lift-tab Book
In this George Washington Carver craft, students will work on creating a lift-tab book about him after reading through a short biography. This could be a great sub-activity or extension for students who have been working at a faster pace.
Learn more: Teacher Vision
11. Black History Month Bulletin Board
This site has many examples of great interactive bulletin boards that could be developed for Black History Month, or better yet, any month! In the example above, the peanuts lift up to reveal facts about Carver, information on peanuts, and other related details.
Learn more: Supply Me
12. George Washington Carver and the Sweet Potato
If you want to do a hands-on food activity but are in a peanut-restricted environment, this sweet potato-focused lesson should do the trick! This is an ongoing lesson that involves growing sweet potatoes, monitoring and examining their growth, harvesting, preparing, and eating! While written for a 1st grade audience, this lesson could easily work with any grade, including high school agriculture or in a project-based social studies environment.
Learn more: Captain Planet's  Project Learning Garden
13. George Washington Carver Flip Book
This Kindergarten activity is a great combination of reading, crafts, matching, and vocabulary building. Students first work through background information before creating their own flipbooks about Carver's achievements. This lesson is part of a larger Listening and Learning curriculum map, so there are many more topics available!
Learn more: UnboundED
14. Scholastic Teachables Lesson
Looking for some variety within the lesson? This unit from Scholastic includes mini-books, a graphic organizer, writing activities, and a read-aloud play!
Learn more: Scholastic Teachables
15. Leapfrog Black History Month Worksheet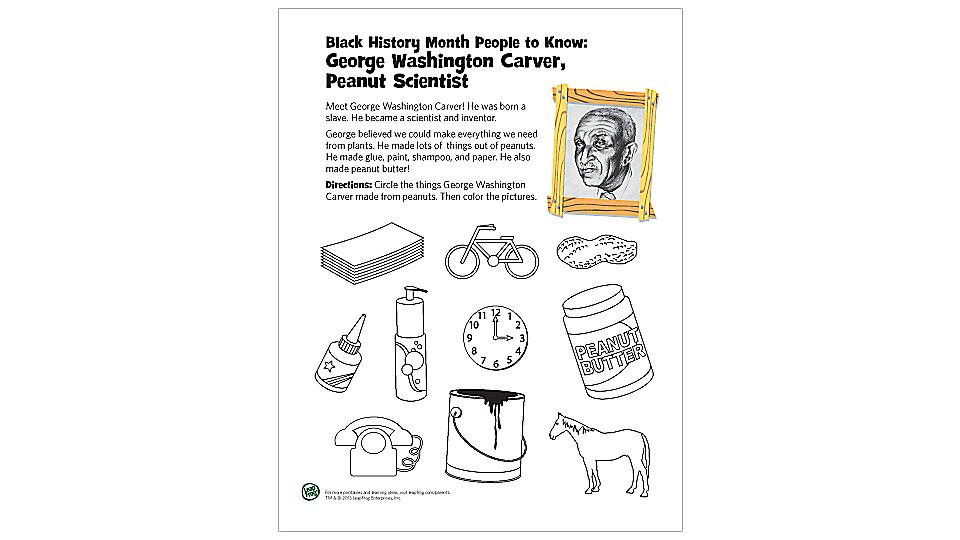 This resource from the popular early learning technology company is a simple printable activity that you can utilize without the LeapPad tablet. This fun art activity includes images of peanut butter, peanut shapes, and other products that Carver developed from plant sources.
Learn more: Leapfrog
16. George Washington Carver for Kids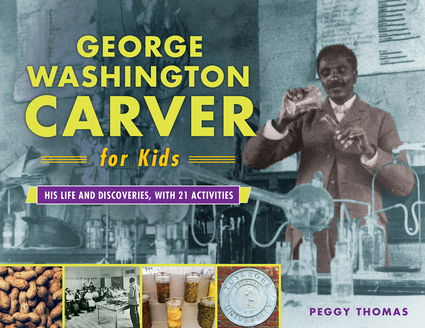 Carver was an expert on plants, and this resource has some fantastic activities that highlight his lesser-known achievements. Learn how to build a sod house, make paints from plants, and turn a gourd into a decorative bowl! Students will have a blast learning about this agricultural scientist while studying how we interact with the natural world.
Learn more: Chicago Review Press
17. Paper Plate Peanut Craft
Perfect for younger kids, this "craftivity project" encourages fine motor skills while using scissors and glue. With some advanced preparation, kids can learn about plant growth alongside one of the famous scientists whose products we use on a daily basis.
Learn more: Happy Toddler Playtime
18. Learning About George Washington Carver Activity Pack
In addition to reading and coloring pages, this resource includes more than a dozen activities, such as a timeline, mazes, and word searches.
Learn more: Write Bonnie Rose
19. Carver: A Life in Poems
Perfect for a high school English class, Marilyn Nelson has explored Carver's life and achievements through a beautiful series of poems. Highlighting some of his lesser-known achievements, such as the vibrant hue of his blue pigment, students will gain a better understanding of the man behind the advancements. This would be an excellent humanizing counterpart to some of the more common "heroification" activities.
Learn more: National Book
20. George Washington Carver National Monument, Missouri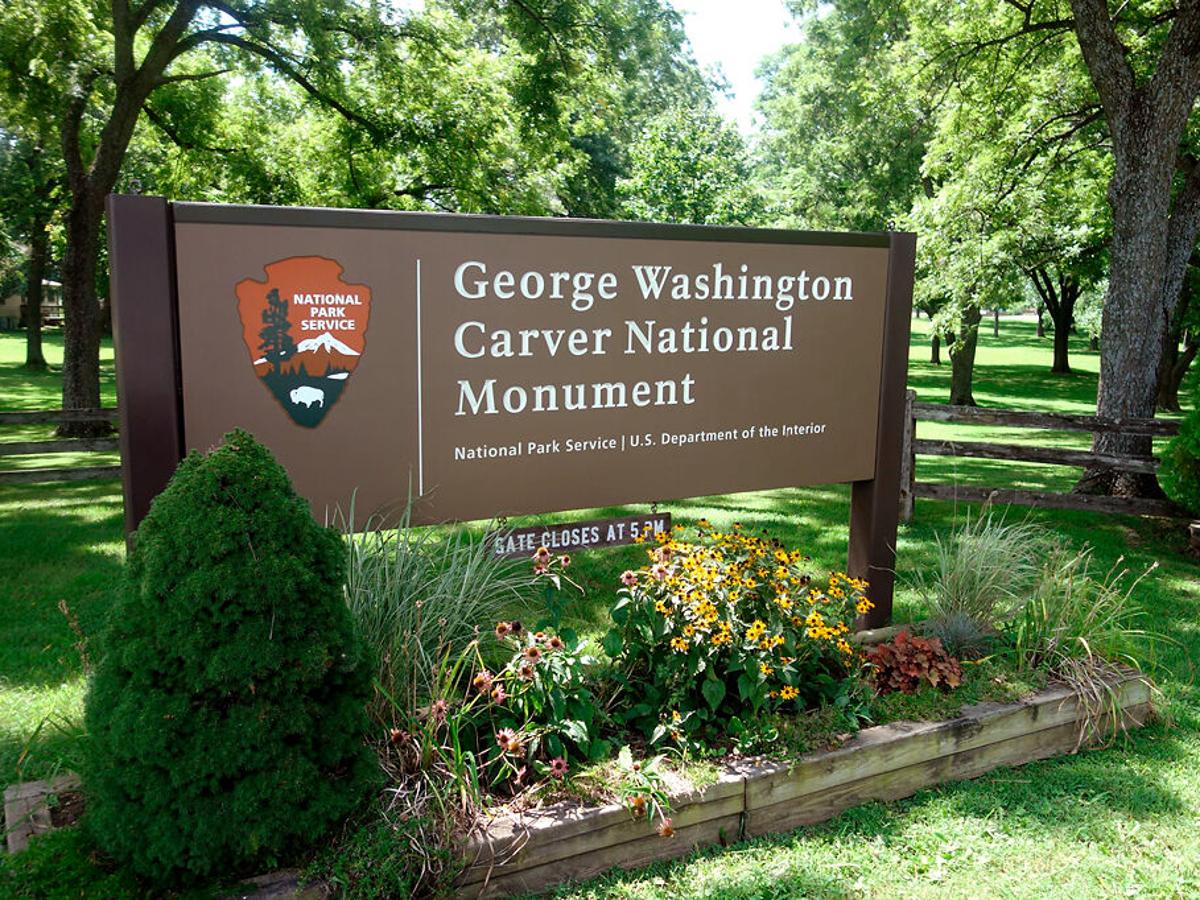 If possible, a visit to the national monument dedicated to this influential scientist is a great opportunity to experience living history. In addition to educational activities detailing Carver's achievements, there are also numerous events throughout the year that celebrate Black American history and culture.
Learn more: National Park Service
21. George Washington Carver - The Artist
This lesson is a companion to the National Parks Service "Every Kid Outdoors" campaign, which offers free admission to national parks for 4th grade students and their families. Combining science and art, students learn about Carver's life and works through a variety of activities. Even if you can't make the trip, this lesson will help students delve more deeply into the art behind the science.
Learn more: Into the Outdoors