The Giving Tree is a beautiful book of kindness, love, and friendship between a boy and a tree. It provides lessons in many areas such as selflessness and sacrifice, along with how humans and nature are intertwined. To make these messages easier for students to understand, incorporate the following activities and crafts as a starting point for discussion. Your students will be engaging in random acts of kindness in no time!
1. Recreate the Giving Tree
This craft will bring the story to life as there are removable parts to discuss as the children read the story. You will require a few materials but these should be readily available in most classrooms or at home. There are also templates available for easy download and construction.
Learn More: Bumble of Joy
2. Tree Writing Activities
The following website has many ideas for creating some beautiful writing prompts with the theme of trees. A good starting point would be to read the book with your students and then create their own similar stories to publish in the classroom.
Learn More: Around the Kampfire
3. Paper Plate Tree
For younger elementary students, this easy-to-construct paper plate tree would be an excellent accompaniment to the book. Children create the trunk by tracing around their arms on brown construction paper and then decorating a green paper plate with apples.
Learn More: Glued to my Crafts
4. Paper Bag Apples
One of the key themes from the book is the tree 'gifting' the boy some apples. This craft can be used to teach children the importance of gift-giving and showing appreciation to a friend, family member, or teacher. All you need is some old paper, paints, and newspaper to fill up the 'apple' bag. Have the students paint the outside in browns and reds, and then add some green paper leaves and a stalk!
Learn More: All Free Kids Crafts
5. The Giving Christmas Tree
This is a festive-themed giving tree perfect for Christmas time. The festive season is the perfect time to discuss the themes of the story: friendship, love, kindness, and selflessness. This Christmas tree is constructed using green lolly sticks and writing ideas that learners can use to 'give back' to others. This could also make a lovely decoration for a card.
Learn More: I Dig Pinterest
6. Cool Crosswords
Crosswords are a great way to check how much information your students have remembered from the story. This easily downloadable crossword puzzle asks simple questions about the book and students fill in the correct answers on the crossword grid.
Learn More: WordMint
7. Paper Bag Tree
This easy-to-construct paper bag tree gives children the opportunity to brainstorm ways in which to give to others. Learners will write their ideas on a series of paper leaves to pin to the tree.
Learn More: Wee Little Miracles
8. Making Food Fun
Create a Giving Tree from some healthy snacks whilst you read the book to your children. Peas, meat or meat-based products, pretzels, and a strawberry are all you need for this culinary creation!
Learn More: Creative Kid Snacks
9. Watch the Story
This YouTube video is a short animation of the story with a voiceover for students to watch again and again. They can also read along to enjoy the story further.
Learn More: Animated Children's Books
10. Story Sequence
Test your student's knowledge by asking them to sequence the story when they have read it. This can be extended and students can decorate their page or add extra information to show their understanding.
Learn More: Bing
11. Wonderful Word Searches
This easy-to-print word search gives students the opportunity to find the keywords from the book whilst practicing their spelling. Why not have the students create their own version too?
Learn More: WordMint
12. Comic Book Writing
Turn the story into a short comic book using this worksheet as a base. This is a great teaching opportunity to discuss key literary techniques such as onomatopoeia whilst your students reconstruct the story in their own words
Learn More: Pinterest
13. Read Aloud Questions
When reading the story, question your students using these pre-made prompts to aid discussion. Your students will develop their comprehension skills whilst developing a deeper understanding of the lessons in the story.
Learn More: Children's Library Lady
14. Interactive Comprehension

This interactive program allows students to have a go at online comprehension questions. They are required to count objects in the story, match up their answers, and check their spelling.
Learn More: EnglishExercises.org
15. Comparing Characters
A character trait analysis will help students compare and contrast the different elements of the characters. Students could then create a piece of writing from the point of view of one of the characters.
Learn More: Have Fun Teaching
16. Cross-curricular lessons
The Giving Tree provides so many varied teaching points; from science to math and art to community service. The following blog explains various ways to incorporate the story into numerous lessons, for example, discussing the benefits of trees in a science lesson. This is a great opportunity to build important cross-curricular links in your classroom.
Learn More: Classroom
17. A Gift Giving Lesson
After reading the story, students should be prompted to reflect on the gift that they would most like to give, and then create a simple piece of writing to explain their choice. These can then be hung up in the classroom to create an effective display.
Learn More: TeachersFirst
18. Wanting, Giving, and Greed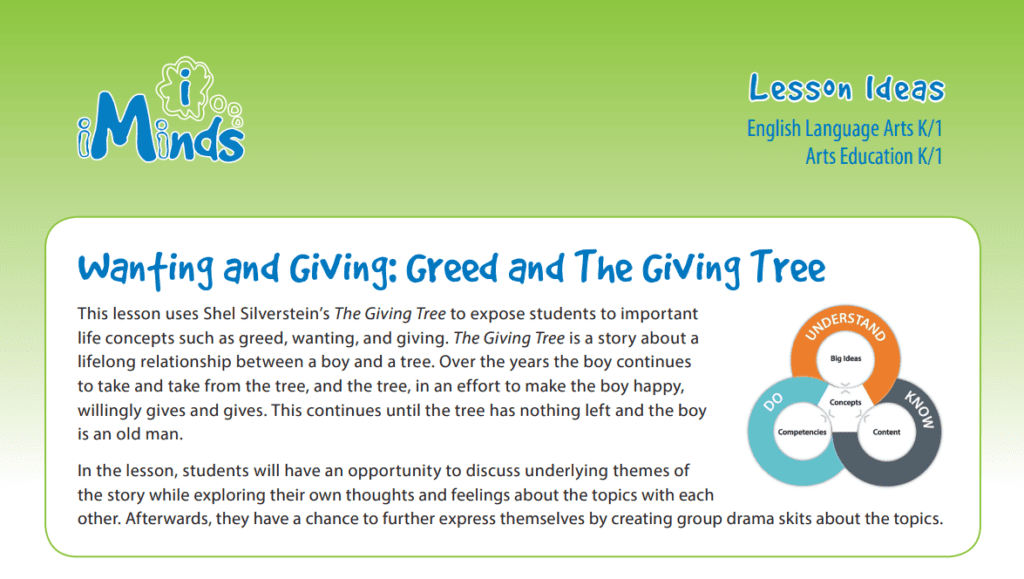 A great opportunity for PSHE lessons is to discuss the concepts of wanting, giving, and greed based on the story's themes. This comprehensive lesson plan will show you how to spark discussion with your learners and how we can link this to our everyday morals and values.
Learn More: iMinds
19. A Crown of Leaves
In a part of the story, the little boy creates a crown from leaves and becomes 'King of the Forest'. Recreate this scene with younger children whilst teaching them about leaves, trees, shapes, and colors.
Learn More: Thanda
20. Giving Like the Giving Tree
This worksheet allows students to think about people in their lives who help them in day-to-day activities. It gives them the opportunity to self-reflect and think about how they too can behave like the tree.
Learn More: Jared Dees
21. Giving Tree Leaf Craft
This is a great craft for younger children to complete around Thanksgiving. Children can collect assorted leaves and construct a collage from these, writing what they are grateful for around the trunk.
Learn More: Dickinson County Conservation Board