Allow us to help you inspire your elementary students to set and achieve their goals! Goal setting is an essential skill that helps students develop self-motivation, perseverance, and a growth mindset. We've sourced 31 unique goal-setting activities that are interactive, fun, and specifically tailored to elementary students. These activities will empower your students to dream big, take ownership of their learning, and celebrate their accomplishments.
1. Goal Collage
Tackle this project at the beginning of a new year to prompt your students to dream big! Have them create collages using both images and words that represent their goals and aspirations. Display the collages in the classroom to inspire and remind students of their dreams.
Learn More: Kiddie Matters
2. My Superpower
Ask your students to identify their strengths and talents, and then encourage them to set goals that align with their unique abilities. If they struggle, remind them of the SMART framework; where goals should be specific, measurable, achievable, relevant, and time-bound!
Learn More: Twinkl
3. Goal Board Game
Create a board game where learners can only move forward by setting and achieving goals. The game provides a fun way to reinforce the importance of setting and working toward one's objectives.
Learn More: Go Goals!
4. Bucket List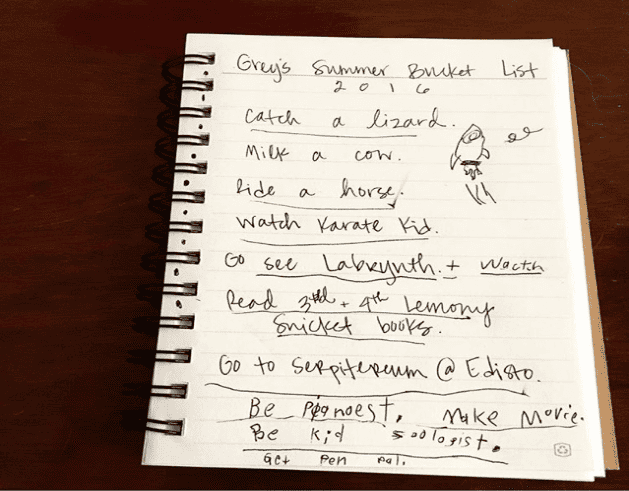 Have your students create a bucket list of things they want to achieve during the school year. They can share their lists with classmates and find common goals to work toward together.
Learn More: Emilie Maynor
5. Goal Journals
Provide each of your students with a journal to write down their goals. They can also use it to record their progress and reflections. Encourage them to regularly review and update their goals.
Learn More: Big Life Journal
6. Future Career Showcase
Invite professionals from various fields to share their career journeys with your class. This is sure to inspire your students to set long-term goals based on their interests and passions.
Learn More: Sign Up, Genius
7. Goal Tracker Bracelets
Time to get crafting! Have your learners create bracelets with beads or charms that represent specific goals. Students can wear these as a reminder of their objectives and track their progress.
Learn More: Pinterest
8. Goal-Sharing Circle
Organize a goal-sharing circle where students can express their goals, receive encouragement from their peers, and share strategies for success in a safe and non-judgmental space.
9. Positive Affirmation Cards
Provide your learners with cards where they can write positive affirmations that are related to their goals. Encourage them to keep these cards in their pockets or desks as reminders of their capabilities.
Learn More: Pinterest
10. Dream Catchers
Have your students create dream catchers with strings and decorative materials. As they weave, encourage them to think about their goals and how the dream catchers will help them capture their hopes and wishes.
Learn More: The Craftaholic Witch
11. Goal Timeline
Achieving our goals requires concrete action. Have your students create timelines that illustrate the steps they need to take to achieve their goals. The visual representation will help them understand how they need to progress to meet their objectives.
Learn More: Inspire First
12. Morning Meeting Goals
Start the day in an affirmative way! During morning meetings, allow your students to share their daily or weekly goals with the class. This promotes accountability and fosters a supportive classroom community.
Learn More: Teach Create Motivate
13. Goal Buddies
Pair your students up as goal buddies who can support each other in setting and achieving their goals. Pairs can check in regularly and offer encouragement and advice.
Learn More: HubPages
14. Class Goal Tracker
Create a large visual tracker in your classroom where students can record their progress toward individual and class-wide goals. Be sure to celebrate milestones together in order to keep motivation levels high!
Learn More: Square Head Teachers
15. Goal Auction
Hold a goal auction where students can "bid" on goals they want to work towards. This activity will encourage your students to take ownership of their aspirations and make a public commitment to achieving what they want.
Learn More: Teachers Pay Teachers
16. Reflection Walks
Take your learners on outdoor walks and encourage them to reflect on their goals as well as brainstorm new strategies that will propel their achievement rate.
Learn More: Very Well Fit
17. Goal Bingo
Add a playful element to goal setting with a fun game of Bingo! Create a goal-themed Bingo game where your students can mark off squares as they achieve different objectives.
Learn More: Bingo Baker
18. Goal Puzzles
Provide students with puzzles that they can complete as they reach milestones in their goal journey. As they assemble the puzzles, they reinforce their accomplishments and are likely to be motivated to continue working towards achieving their goals.
Learn More: Pinterest
19. Goal Slam Dunk
This is another approach to motivating your learners to achieve their goals. Set up a mini basketball hoop in your classroom and attach goals to it. Students can "slam dunk" their goals as they achieve them.
20. Goal Detective
Have your learners play the role of goal detectives; investigating and gathering evidence to accomplish their goals. They can document their findings in a goal detective journal and solve mysteries by achieving their aims.
21. Goal Reflection Letters
Reflection is helpful for getting your students to consider how far they've come since setting their goals, and better identify ways that they can improve. Have them write letters to their future selves; reflecting on their current goals and envisioning their accomplishments.
Learn More: We Are Teachers
22. Goal Treasure Hunt
Combine critical thinking with goal setting in this fun activity! Create a goal-themed treasure hunt where students must solve clues and complete tasks that are related to their goals.
Learn More: On Sunset Lane
23. Growth Mindset Gallery
Organize a growth mindset gallery where students can showcase their growth mindset journey and how it has influenced their goal setting. Have your learners develop helpful mindset tips to include on the gallery wall as well!
Learn More: Love Grows Learning
24. Goal Countdown
Create a countdown chart or calendar to mark the days leading up to achieving a specific goal. Students can track their progress and look forward to the celebration that will ensure as a result of reaching their achievements.
Learn More: Pinterest
25. Goal Action Plan
Guide your learners in creating action plans to outline the specific steps they will need to take in order to achieve their goals. This helps them break down their objectives into manageable tasks and makes the path toward achievement less daunting.
Learn More: Twinkl
26. Goal Reflection Interviews
Arrange for students to interview successful individuals who have achieved their goals. Through this, they'll likely discover insights into effective goal-setting strategies and be inspired to work on their own aspirations.
Learn More: BuzzFeedVideo
27. Goal Reflection Celebrations
It's important to take time to recognize efforts and celebrate achievements! This activity focuses on just that! Organize periodic goal reflection celebrations where students can share their progress, reflect on challenges, and celebrate achievements together.
Learn More: Number Works N Words
28. Goal Olympics
Plan a Goal Olympics event where students will participate in various goal-related challenges. They'll earn medals for their achievements and have fun working with others to achieve set goals.
Learn More: Pinterest
29. Classroom Goal Wall
Designate a "Goal Wall" where students can display their goals and give their classmates updates on their progress. This will serve as a constant reminder and source of motivation.
Learn More: The Bender Bunch
30. Goal Race
Set up a friendly competition where students must work towards achieving their goals. They can earn points or badges for each goal they accomplish, and the student with the most points at the end of the term can win a small prize.
Learn More: Pinterest
31. Goal Mentorship Program
Pair older students or volunteers with younger students to serve as mentors. The mentors can help the younger students set and work towards their goals; providing guidance and support along the way.
Learn More: Together Platform