The Going on a Bear Hunt song is a classic fan favorite in my household. If your preschooler is anything like my son, this preschool age group absolutely loves the descriptive adventure the song takes them on. Kids learn about the sounds water and mud make as they are taken through this bear-themed landscape adventure. So, why not take this song to the next level with some friendly bear activities? Read on for a list of thirty ways to enhance the bear hunt experience.
1. Watch the Video
Michael Rosen does a great job performing his famous song in this video. Watch his silly facial expressions as he takes children through the bear hunt. Listening to this song is the perfect way to start your next bear-related lesson.
Learn More: Kids' Poems And Stories With Michael Rosen
2. View Illustrations
Discover how Helen Oxenbury created her illustrations for the classic book with this short article. You can read this article out loud to your students or summarize it in your own words to let them know how the book was created.
Learn More: The Guardian
3. Dance to the Song
I love this Kiboomers version of the song. Get students out of their seats and move to the silly sound effects that are accompanied by walking through the river, grass, and mud. This is a great way to get kids excited about one of the activities or crafts listed below.
Learn More: The Kiboomers – Kids Music Channel
4. Make Binoculars
After singing the song and becoming familiar with the activities involved in going on a bear hunt, have students make their very own binoculars. I suggest asking parents to save their toilet paper rolls a few weeks ahead of time so you have plenty available for this craft.
Learn More: Messy Little Monster
5. Cross a River
The materials needed for this fun game include cones and about ten small balls. The teacher will instruct students to cross the river "if….". As long as the student meets the given criteria, they can cross, but they must watch out for the balls that are being thrown at them!
Learn More: Prime Coaching Sport
6. Make Mud
For this sensory activity, you will need three parts baking soda and one part water. Preschoolers love a great sensory experience and getting dirty, so why not have them dig their hands into fake mud that is easily washable?
Learn More: U-Gro
7. Make a Cave Craft
Grab some construction paper, paper plates, and googly eyes, and you are all set for this simple, yet fun craft. Kids will love creating a pretend cave for their bear to hibernate in. This doubles as learning about a bear's Winter habitat.
Learn More: Pinterest
8. Nature Walk Scavenger Hunt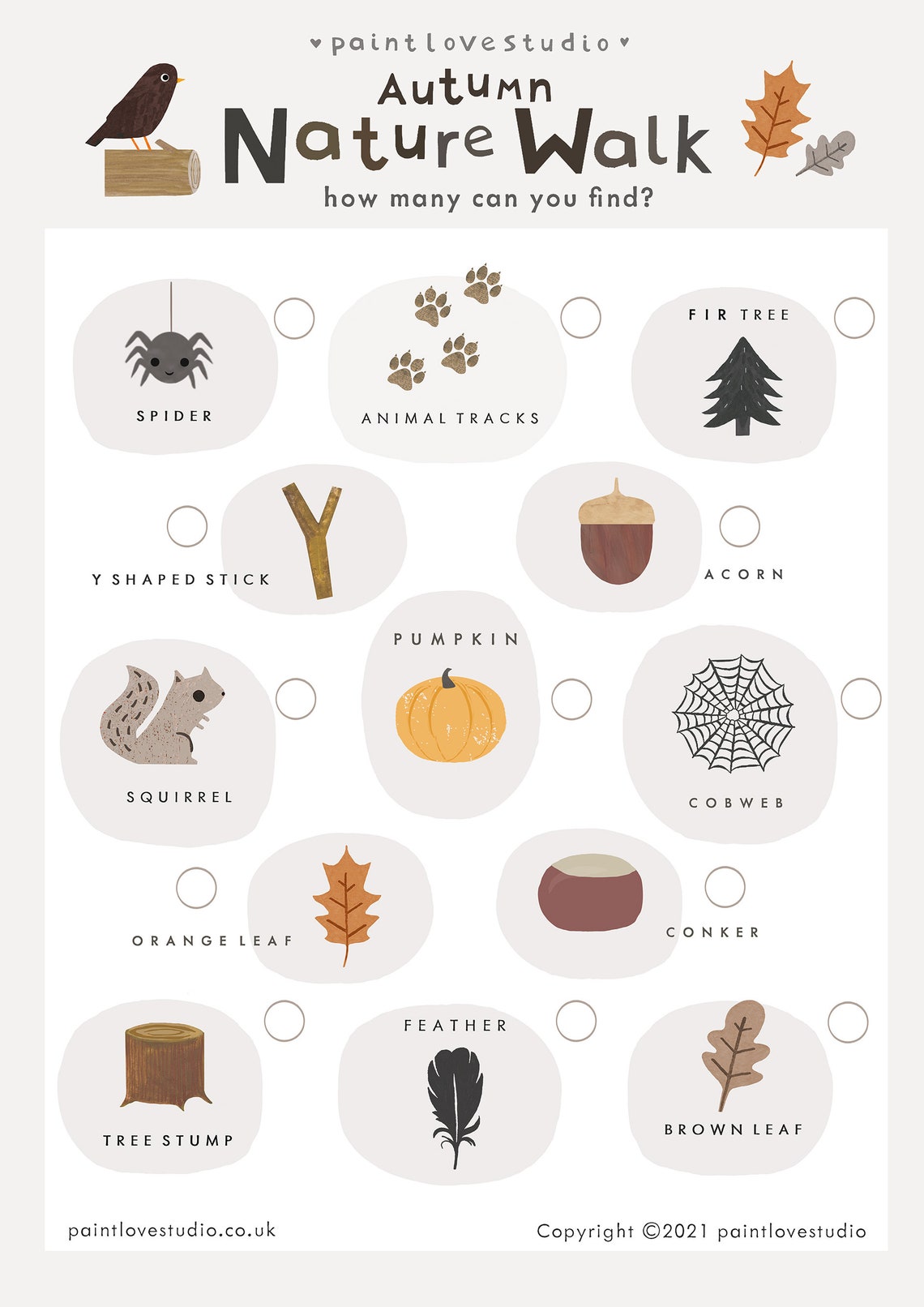 Turn your preschool bear hike into a full-time scavenger hunt! Kids will love getting outside for a walk, especially when they have a mission to complete. You can even break students into teams where some kids are tasked with finding leaves whilst others find feathers etc.
Learn More: Etsy
9. Make Bear Headbands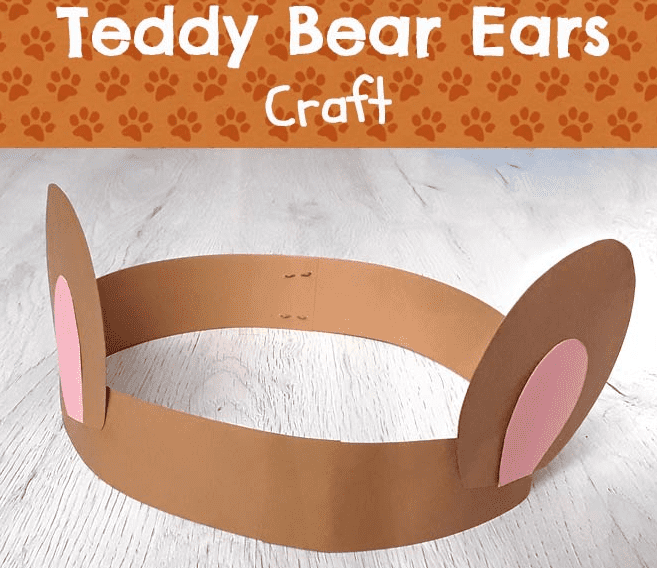 Just a few pieces of brown and pink construction paper are all you need for this simple craft. Afterward, students can wear their headbands as they dance to the bear hunt song! What a great way to dress up and engage in pretend bear play.
Learn More: Tea Time Monkeys
10. Make Bear Paper Plates
In addition to a paper plate, you will also need a paper bowl, cotton wool, googly eyes, a black pom pom, and some heavy-duty glue for this bear craft. It is a little involved, so it is probably best suited for older preschoolers who are ending the year or are getting ready for kindergarten.
Learn More: First Palette
11. Create a Brown Bear Puppet
What better way to sing along to the song than with bear hunt puppets? All you need is pipe cleaners, brown pom-poms, small lunch bags, a black sharpie, and construction paper for this super simple yet very fun sing-along craft.
Learn More: Orpheum Memphis
12. Paper Plate Bear Mask
Turn your bear hunt dance into a masked party with this craft. Perhaps allow students the option to make a mask or create the headband described in item nine above. Once everyone has their dress-up ensembles, it is time to dance!
Learn More: JDaniel4's Mom
13. Paw Print Craft
This picture shows food, but you could change the photos to use in each part of the bear hunt song. Students can work on their fine motor skills as they use a glue stick to sequence each part of the bear hunt song onto the paw print.
Learn More: Books and Giggles
14. Bear Name Counting
While this may not be a bear paw print name activity, it comes close! After writing each student's name in bubble letters, have them count how many bears they need to fill in the letters of their name. Find out whose name is the longest.
Learn More: Play Teach Repeat
15. Create a Nature Walk Collage
Fun activities are always better when they involve nature. This bear hunt sensory collage can be coupled with item number eight above. Once you get back from your scavenger hunt, use glue to create a beautiful collage like this one.
Learn More: Sparkle and Splatter
16. Eat a Snack
Everyone loves a cute snack, especially preschoolers! Get some gram crackers, marshmallows, and mini chocolate chips to create this simple snack that kids are sure to enjoy.
Learn More: DIYs
17. Read a Book
Bear books are so much fun to read. Take the classic Brown Bear, Brown Bear, What Do You See? and read it as a complementary part of your bear learning unit. It will be great for circle time to help wind down right after you have finished a bear craft.
Learn More: Amazon
18. Make a Sensory Bin
Here is a simple sensory bin with shredded paper, plastic figures, cotton balls, brown Play-Doh for the mud, and blue beads or dyed rice for the river. Let students get involved in pretend play as they stick their hands inside to move the pieces around and make up their own bear hunt story.
Learn More: Childhood 101
19. Get Muddy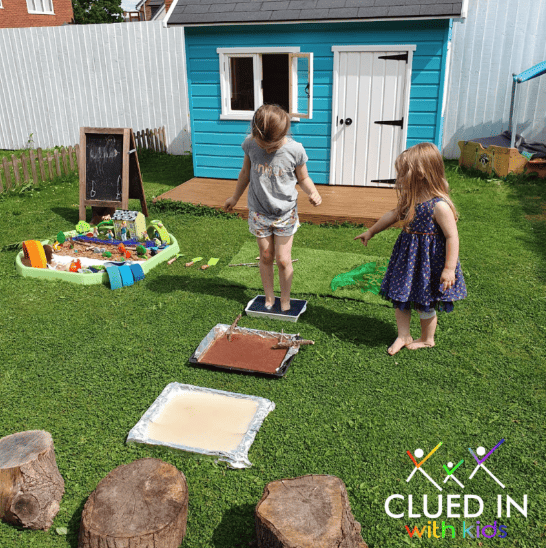 Use green food coloring to make this spaghetti look like seaweed for an authentic river experience. Grab a bucket of water and fill it with sand to create a muddy beach. This is a great outdoor activity preschooler will absolutely love participating in!
Learn More: Clued in With Kids
20. Storytelling Spoons
Here is a unique art experience students will enjoy. You can either have students create their own spoons, or you can make them ahead of time and let the kids use them as part of a bear-themed puppet show. The choice is yours.
Learn More: The Imagination Tree
21. Ignite the Five Senses
Every simple idea we have is a whole new experience for kids. Ignite each sense by having students smell fire, taste water, hear the squirt bottle, see the objects, and touch the stuffed animal. Let them take turns trying on the hat while they go on their own bear hunt.
Learn More: We Have Kids
22. Get Emotions Flash Cards
One pronounced lyric in the bear hunt song is when they say, "I'm not scared." Let kids know it is okay to be scared or feel any other emotion with these flash cards. It is important for small children to be able to name their emotions, and these cards can certainly help with emotional identification. 
Learn More: The Teaching Aunt
23. Play in a Series of Obstacles
Physical obstacles are a great way for preschoolers to get in touch with their bodies and enhance overall body awareness. Have them pretend the balance beam is the river and turn the squares into piles of fake mud for them to walk through.
Learn More: Frugal Fun 4 Boys
24. Storybook Craft
Every bear hunt needs a forest storytelling activity! Students will love putting these books together with different pieces of tissues, shredded paper, and finger paint. What a great activity to do on a rainy day.
Learn More: Blog Spot
25. Use a Word Mat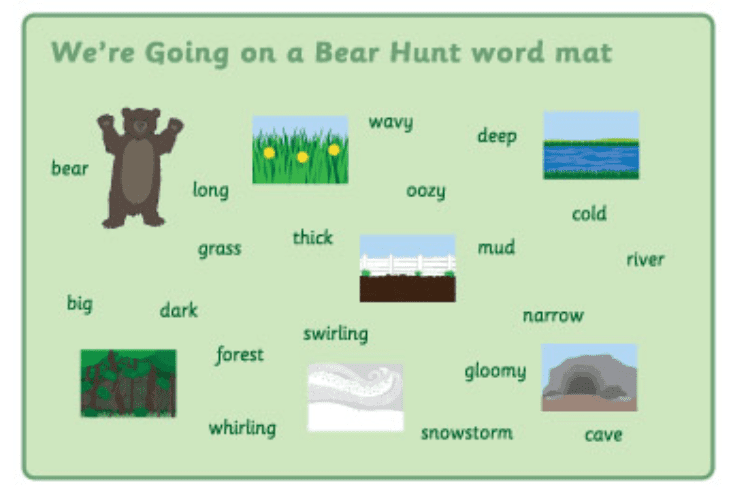 Work on literacy skills with this bear-themed word mat. Help your students identify which of these words also appear in the bear hunt song. Then these mats can be used to create crafts for easy cleanup!
Learn More: Early Learning HQ
26. Just Color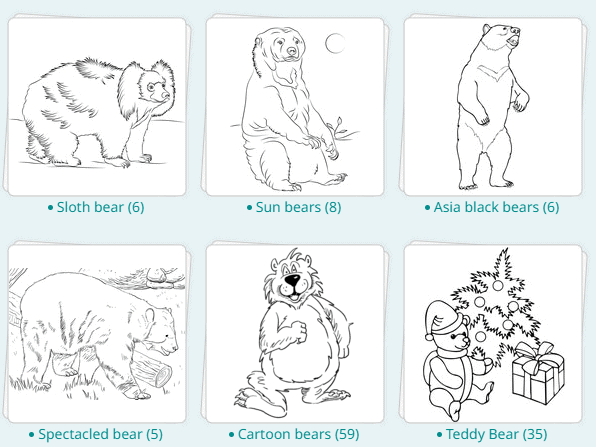 Sometimes you do not need a fancy craft or a detailed lesson. Preschoolers love to grab a crayon and just simply color. Print a few of these different bear printouts and allow students to choose the type of bear they want to color.
Learn More: Super Coloring
27. Band-Aid Letter Matching
Most young children are absolutely obsessed with band-aids. Why not turn them into a letter-matching activity? Once you have the bear created with a few letters, prepare the band-aids by using a sharpie to write letters.
Learn More: Tot Schooling
28. Sequence Events
Knowing which events happen at the song's beginning, middle, and end takes a great deal of thought. Have students work on their recall, comprehension, and sequencing skills with this fun cut-and-paste activity.
Learn More: Play Inspired Mum
29. Bring Stuffed Bears
Who doesn't love a day of show and tell? Ask students to bring in their favorite stuffed teddy bear. They can make their bears dance to the song as the class sings or have their bears form part of the puppet show. Everyone will enjoy the extra snuggles.
Learn More: B-Inspired Mama
30. Color a Map
Have students make their way through the bear hunt by coloring the scene. You can add to this activity by writing down the "swish" for the grass noise and the "splash" for the river sound. This will help students with word association.
Learn More: Brilliant Little Ideas