Embrace the enchanting world of 'Goodnight, Gorilla' with 18 creatively designed classroom activities. Each task draws inspiration from the beloved children's book- offering your students a unique way to connect with the tale and its characters. From crafting animal masks to writing their own 'goodnight' stories, these activities strive to stimulate young minds, boost creativity, and foster a love for literature!
1. A Gorilla's Night Adventure
Embark on an extraordinary journey as your students follow in the footsteps of the curious gorilla. Equipped with flashlights, they'll tiptoe through the shadows and immerse themselves in a thrilling nighttime adventure that sparks their imagination and sets their hearts aflutter.
Learn More: The Spruce
2. Goodnight Gorilla Craft
Unleash a burst of creativity as your students bring the gorilla from the story to life using vibrant paints, textured paper, and a sprinkle of magical glitter glue. With each brushstroke and embellishment, they'll craft their own unique masterpiece, infused with the whimsy and charm of "Goodnight, Gorilla."
Learn More: Pinterest
3. Cage Keys Counting Game
Unlock a world of mathematical discovery with the zookeeper's keys in this captivating counting game. Your students will count, sort, and categorize the keys- honing their numeracy skills and developing a keen eye for patterns.
Learn More: Lakeshore Learning
4. Story Retelling
Set the stage for a delightful storytelling experience as your students become the narrators of "Goodnight, Gorilla." With expressive voices and animated gestures, they'll retell the tale in their own enchanting style; transporting their classmates to a world filled with laughter, wonder, and the magic of storytelling.
Learn More: Etsy
5. Zoo Animal Charades
Get ready for a wild game of charades that will have your students roaring with laughter. They'll embody the essence of various zoo animals as they use their creativity and physicality to convey their chosen creature.
Learn More: YouTube
6. Goodnight Gorilla Scavenger Hunt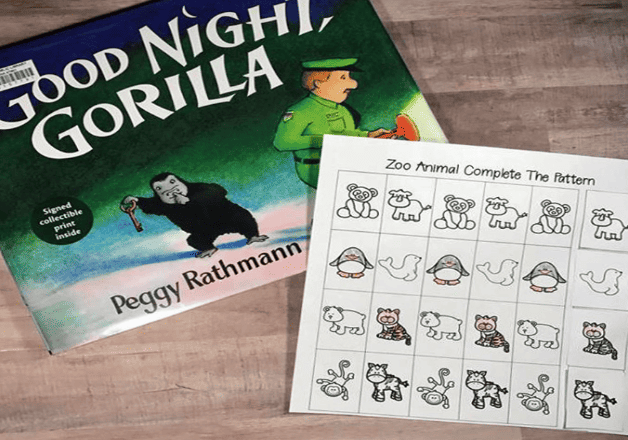 Ignite a spirit of adventure and curiosity as your students embark on a thrilling scavenger hunt inspired by "Goodnight, Gorilla." Armed with clues, they'll explore nooks and crannies; searching for hidden character images and developing their problem-solving skills and teamwork along the way.
Learn More: Fun With Mama
7. Interactive Storybook
Immerse your students in an enchanting blend of literature and play with this interactive storybook experience. With movable characters and objects, they'll become active participants in the tale- turning each page with anticipation and delight!
Learn More: Teachers Pay Teachers
8. Colorful Balloon Gorillas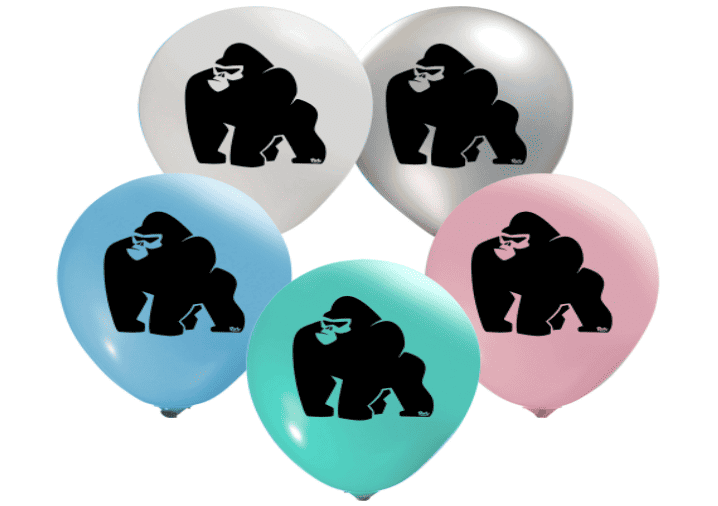 Brace yourself for a burst of pop art brilliance as your students unleash their creativity using balloons; transforming these average birthday party objects into vibrant gorilla masterpieces. With markers in hand, prompt them to bring their gorillas to life by drawing animated expressions.
Learn More: Etsy
9. Goodnight, Gorilla Puppet Show
Lights, camera, action! Watch in awe as your students take center stage and expertly manipulate puppets to recreate the enchanting world of "Goodnight, Gorilla." With imaginative storytelling, captivating voices, and a dash of theatrical flair, they'll transport the audience on a magical journey!
Learn More: Jennifer Storm Nelson
10. Sounds of the Night
From the gentle rustling of leaves to the hoots and chirps of nocturnal creatures, ask your learners to identify and explore the mysterious sounds that envelop the world after dark.
Learn More: YouTube
11. Goodnight Gorilla Collage
Step into an explosion of color and texture as your students create dazzling collages inspired by the captivating pages of "Goodnight, Gorilla." With scissors, glue, and an abundance of creativity, they'll cut, paste, and layer vibrant images of zoo animals.
Learn More: Etsy
12. Goodnight, Gorilla Yoga Adventure
It's time to unwind and find inner peace with a yoga adventure inspired by the gentle spirit of the tale's beloved gorilla. Guided by your soothing voice, your students will embark on a tranquil journey- assuming yoga poses that mimic the grace and strength of animals.
Learn More: YouTube
13. Gorilla Mask Magic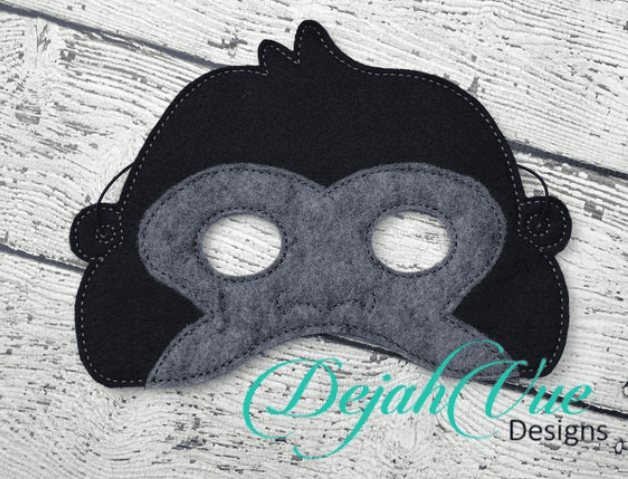 Did someone say masquerade magic? Armed with paper plates, paints, and an imaginative spirit, students can design captivating gorilla masks that embody the wild spirit of the story. As they proudly wear their handcrafted masterpieces, the classroom will transform into a jungle of creativity and self-expression!
Learn More: Pinterest
14. Zoo Animal Sorting Safari
With a menagerie of plastic zoo animals at their fingertips, your students will embark on a sorting safari like no other. Task them with grouping the animals by size, diet, or habitat; engaging in hands-on exploration that sharpens their critical thinking and organizational skills.
Learn More: Fairy Poppins
15. Goodnight Gorilla Story Map
Unleash the inner cartographers in your students as they sketch a captivating story map of "Goodnight, Gorilla." With their pencils tracing paths, landmarks, and the journey of the mischievous gorilla, they'll visualize the story's structure, setting, and character relationships.
Learn More: Wroughton Federation
16. Goodnight Gorilla Mime Show
Prepare to be amazed by the power of silence and expression as your students take the stage in a mesmerizing mime show inspired by "Goodnight, Gorilla." With a dash of whimsy and a pinch of imagination, they'll be able to effortlessly convey the story's scenes and emotions through intricate gestures; inviting the audience into a world where actions speak louder than words.
Learn More: Theatrius
17. Book Review Bonanza
Spur on the literary critics within your students as they embark on a thought-provoking book review activity. Armed with pens and paper, they'll be able to articulate their thoughts, share their favorite moments, and offer an insightful analysis of "Goodnight, Gorilla."
Learn More: Amazon
18. Gorilla Fact File Expedition
Channel the spirit of intrepid explorers as your students embark on a thrilling Gorilla Fact File expedition. Equipped with research tools and a hunger for knowledge, they'll delve into the depths of gorilla trivia to unearth fascinating facts and share their discoveries with classmates.
Learn More: Riverbank