As teachers, we all strive to create memorable experiences for our students. What better way to celebrate their achievements than by throwing a spectacular graduation party? To help you plan a truly unforgettable event, we've compiled a list of 21 graduation party activity ideas. From photo booths and trivia games to DIY crafts and personalized keepsakes, these activities are designed to bring joy, laughter, and reflection to the celebration.
1. Art Gallery Showcase
Convert your graduation party into a vibrant art gallery! Teachers can invite students to display their artwork including paintings, sculptures, and mixed media creations.
Learn More: Swope
2. Graduation Talent Showcase
Let the spotlight shine on your graduates' remarkable talents as you bid a final farewell! From singing and dancing to playing musical instruments and performing magic tricks, this talent showcase is sure to be a memorable experience for teachers and students alike.
Learn More: We Are Teachers
3. Adventure Hunt Extravaganza
Embark on an exhilarating adventure hunt that combines problem-solving, teamwork, and physical challenges. Participants must follow clues, overcome obstacles, and solve puzzles to reach the final destination.
Learn More: Osmo
4. Memory Lane Photo Booth
Step into the nostalgic realm of memory lane and design a photo booth! Teachers can set up a photo booth with props, costumes, and backdrops that reflect different eras or milestones in their graduates' lives. Graduates can then strike a pose and capture one final memory with the people who have stood by their side for years.
Learn More: Pop Life Photobooth
5. DIY Graduation Caps
Get crafty and let your graduates personalize their graduation caps! With a variety of art supplies such as glitter, stickers, and markers, each person can decorate their cap with symbols, quotes, and illustrations that represent their personal journey and aspirations.
Learn More: Simply Allison
6. Movie Marathon
Set up a cozy outdoor or indoor space for a graduation movie marathon! Teachers can curate a selection of inspiring, feel-good films that celebrate achievements, friendships, and personal growth. Graduates can then enjoy popcorn, snacks, and comfortable seating while immersing themselves in captivating stories that ring home the fact that they are graduating.
Learn More: Every Movie Has A Lesson
7. Graduation Memory Jar
Create a beautiful keepsake by making graduation memory jars. Participants can fill small glass jars with notes, quotes, and memories from their time in school. They can then finish them off by decorating the jars with ribbons, labels, and other personal touches.
Learn More: Hy-Vee
8. Outdoor Sports Tournament
Channel the spirit of friendly competition with an outdoor sports tournament. The school can organize various sports activities like soccer, basketball, relay races, and more. Participants can form teams and showcase their athletic skills and competitive school spirit one last time!
Learn More: JBCN School
9. Graduation Bingo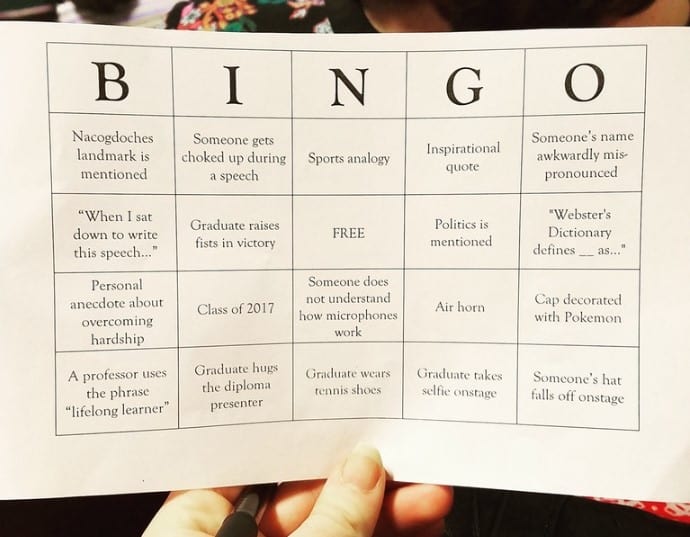 Put a twist on the classic game of bingo by creating a graduation-themed version! Design bingo cards with graduation-related words, quotes, and symbols. As participants enjoy a round, they can mark off the squares and share interesting faces related to the items on the cards.
Learn More: Awkward Family Photos
10. Time Capsule
Looking back on special memories is something that never gets old! Provide small containers or boxes in which participants can place meaningful items, letters to their future selves, or predictions about their post-graduation lives. Seal the time capsules, and set a future date for them to be opened.
Learn More: Etsy
11. Graduation Karaoke
Calling all singers to partake in a special karaoke session! Set up a stage with microphones and a selection of popular songs. Participants can take turns singing their favorite tunes or even perform duets with their friends.
Learn More: Audacy
12. Graduation Advice Wall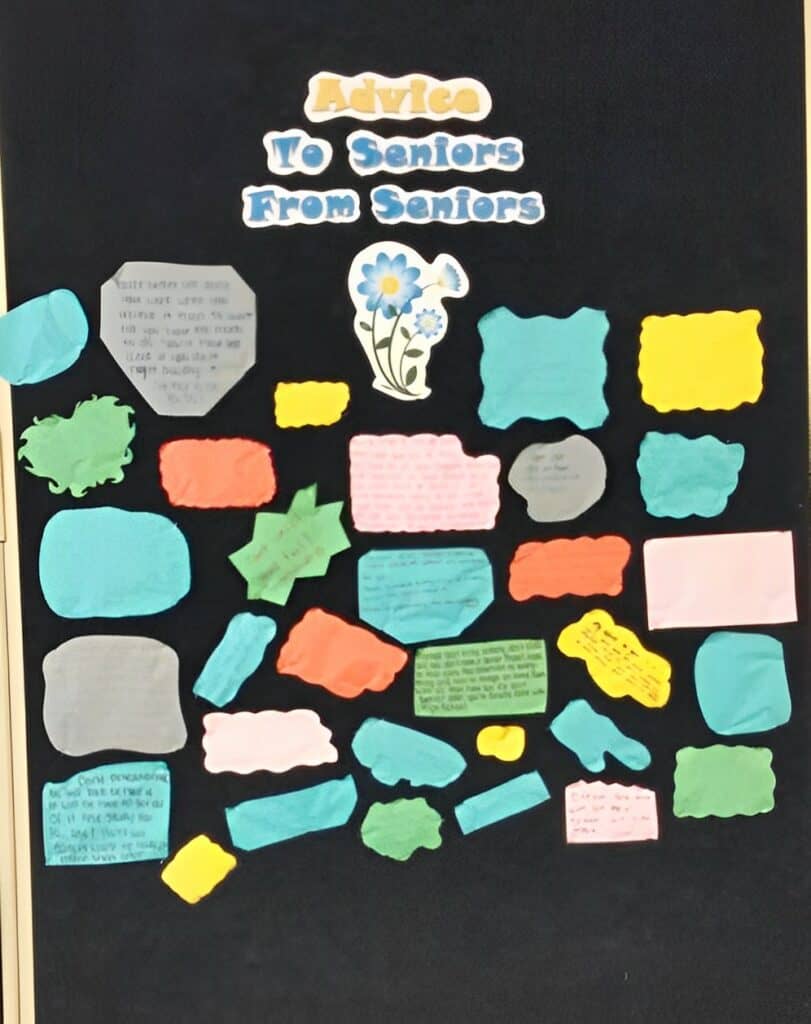 Set up a designated wall where teachers and guests can share their words of wisdom and encouragement for the graduates. Provide colorful sticky notes or cards for participants to write down their messages.
Learn More: Pinterest
13. Graduation Trivia
Test your graduate class' knowledge with a fun and engaging trivia game! Teachers can prepare a set of trivia questions related to school history, pop culture, and memorable moments. Participants can then form teams and compete to answer the questions in a bid to win a prize.
Learn More: My Party Games
14. Graduation Photo Montage
Create a heartwarming photo montage that showcases your graduates' growth throughout the years. Collect memorable photos from their journey throughout their early school years to the present. Set the montage to uplifting music and let it run on a large screen or projector.
Learn More: YouTube
15. Graduation Awards Ceremony
Organize a special awards ceremony to recognize and celebrate the graduates' accomplishments and unique qualities. Apart from academic and sporting awards, create categories such as "Most Creative", "Best Leadership Skills", or "Biggest Heart", and present personalized certificates or trophies to the deserving recipients.
Learn More: Preschool Inspirations
16. DIY Graduation Medals
Let your graduates create unique graduation medals to bestow on one another. Provide craft materials like ribbons, beads, and decorative elements for them to design and assemble their medals.
Learn More: Meri Cherry
17. Graduation DIY Photo Frames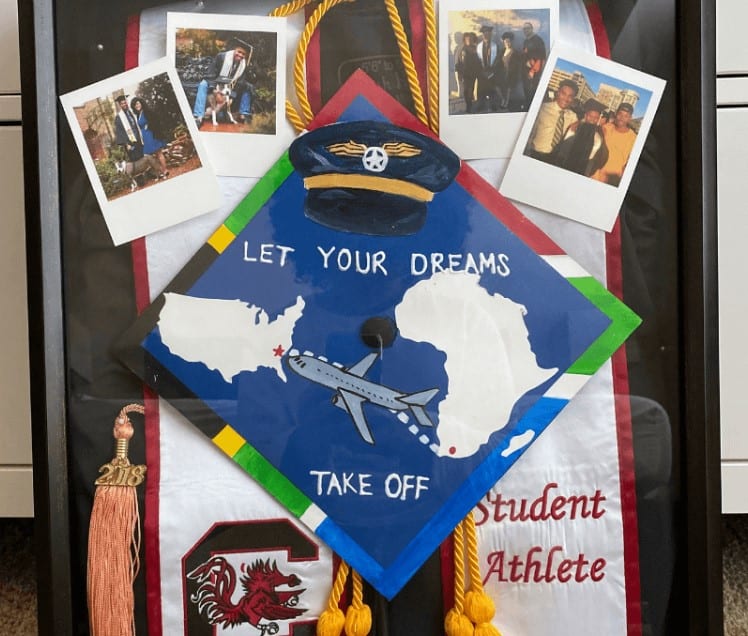 Safeguard those special photo booth pictures in graduation-themed photo frames. Using colorful cardstock, glitter, stickers, and markers, your graduates can design and decorate unique frames to display their favorite graduation photos.
Learn More: Uniquely Mickie
18. DIY Graduation Tassel Keychains
How about a stylish tassel keychain to symbolize the special graduation milestone? Provide materials such as colorful threads, beads, and keychain rings, and let your alumni get crafty!
Learn More: Amy Romeu
19. Graduation Dance-Off
Turn up the music and send your students off with a lively graduation dance-off! Participants can form dance groups or perform solo routines; expressing themselves through movement and rhythm.
Learn More: Upworthy
20. Graduation Storytelling Circle
Create a cozy storytelling circle where graduates can share their favorite memories, funny anecdotes, or inspiring moments from their educational journey.
Learn More: Learning In After School
21. Graduation Ice Cream Social
Treat your graduates to a delightful ice cream social! Set up a station with various ice cream flavors, toppings, and sauces and invite everyone to put together a customized sundae to enjoy whilst socializing with beloved classmates and teachers.
Learn More: Positively Stacey