Kids need all-around development, so I use a couple of activities to engage my class to that end. I engage my class in gross motor skills targeted activities to engage them and develop their motor skills simultaneously. Children engage in such kinds of physical activity instinctively when allowed unrestricted outdoor play. Here's a list of gross motor activities for middle school students to get you started.
1. Dance Routine Practice
Clear out the center of the class and get some kid-friendly bops playing for dance class. They can practice cute dance moves and even have dance-offs. The varied body movement helps in motor planning and coordination to help the gross motor skills. Here's a fun video of middle schoolers in a dance class.
Learn more: NJ.com
One of the best extracurricular activities to engage in to maintain a child's core muscles. It aids in the development of their gross motor skills by developing balance and body muscles. Trampolines come in a variety of sizes and shapes. Get your students bouncing and happy.
Learn more: Dragons Warriors Martial Arts
If a child doesn't seem prepared to ride a bike or is reluctant to go for a ride, a tricycle can assist them in developing their gross motor abilities. It's an enjoyable approach to get your students active. Put them on a tricycle and take pleasure in their happy giggles.
Learn more: Six Three Zero Bicycles
Jump-rope activities need a lot of concentration, especially for kids. From making sure the legs are perfectly coordinated to knowing when to jump, it helps to develop hand-eye coordination. Jump-rope activities are a delightful classic you should introduce to your class.
Learn more: Physi Kids
Get everyone to the court for some fun competition. This is one of the athletic games that are crowd favorites with tweens. It is engaging, and a good way to help kids in developing their ball skills and hand-eye coordination.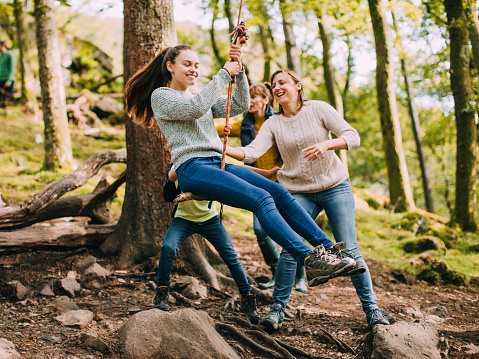 The swing is one of my first favorite gross motor activities for kids on the playground. Most people have fond memories of swinging. Using the swing strengthens the pupils' body systems and muscles. Aside from that, it's quite simple for children to learn how to swing without help.
Learn more: Dreams Time
Martial Arts are challenging activities to help children develop their flexibility and strength, particularly in their arms and legs. Some actions that develop their core muscles are punching, kicking, and flying. Karate lessons enhance the student's motor skills.
Learn more: DojoGo! - Online Kids Martial Arts
This activity helps students learn to maintain balance, particularly on their legs. It's a lot of fun to do, albeit one of the more complex activities as they could fall off when going through it. It is one of the aerobic activities that involves them walking across a plank without falling.
Learn more: Move Strong
The rules of bowling are simple. You must knock over several items that have been arranged in a specific order. It one of good bilateral activities to help students in coordinating their thoughts and the physical activity boosts the kids fitness.
Learn more: World Bowls Tour
The game of hopscotch is a classic but entertaining activity for kids. Have your kids even work on fine-motor skills by drawing the boxes. Once they are ready, your kid can start leaping through the boxes  in any sequence. Here is a guide with hopscotch rules and how to play hopscotch.
Learn more: Raising Rookies
Kids love a good race, a. It is a great way to teach healthy competition. It's also a great workout! All they have to do is make sure their egg is properly balanced on their spoon during the entire race. Here's how to play the egg and spoon race.
Learn more: Mert MUTLU
The beanbag toss has several benefits, one of which is that it improves a child's eye-hand coordination skills. Substitute a bean bag toss with a laundry basket. Kids get points with each toss. Determine the winner by the number of beanbags tossed into the basket often.
Learn more: Wiki How
This activity entails blowing up balloons and playing the Balloon toss game. The primary goal of this game is for your student to see how far they can keep the balloon in the air before it crashes back to the ground. Ensure you time it to increase the game's excitement. It's a simple game for engaging your students and developing their motor skills.
Learn more: CDYMCA
Your middle schoolers will enjoy the competition this game offers. Get on the playground with your students and the bocce ball kit. It's great exercise, and the fresh air is good for you and your students.
Learn more: Triple S Games
Nothing like a good old obstacle course to get your students pumped and moving. The students perform tasks while navigating obstacles. For an indoor obstacle course, you may create surfaces to crawl on using furniture, pillows, and blankets.
Learn more: Play Garland - Parks & Recreation
A classic competitive game to improve their ball skills. Kids throw balls at each other. Anyone who gets struck by the ball is out. The winner is the last player to evade everyone else's ball. Dodgeball is  amazing fun, develops their motor skills and fantastic team development all at the same time.
Learn more: Howcast
17. Red Light, Green Light Game
No, there's no horror show here, just your middle school kids having fun! Students must stop and freeze when you say "red light,". And they must all sprint or take steps your way when you yell "green light." Get ready, set, Red light!
Learn more: Splash Games
Puzzles are a classic game for kids. This game starts with you marking out the grid either inside or outside using masking tape. Your students will compete against one another and enjoy the challenge of winning as you introduce some healthy competition in this game.
Learn more: Bunnings Warehouse
Classic ball game for kids to improve their bilateral coordination skills. This game needs two or more players. Throw balls at each other until one drops it. Teach your students some ball skills with this video guiding you.
Learn more: Moov Kids
Red Rover is a traditional children's playground game. The more they play, they increase their skill levels. It is best played with a large group of children in a large grassy play area, such as a park or playground. Here is how to play it.
Learn more: Splash Games
Hide-and-seek is a popular children's game and a classic party game for kids. Two players conceal themselves in an enclosed place until they are seen by one or more seekers. One player counts to a predetermined number with his or her eyes closed while the other players hide.
Learn more: Wiki How
Simon Says is a group game your students can play to improve their listening skills. One player assumes the role of "Simon," issuing instructions to the other players that must be followed only when preceded by the phrase "Simon says." Here is a video guide to playing this fun game.
Learn more: Patty Shukla Kids TV - Children's Songs
Parachute games include a variety of activities, such as catapult target, team tennis, and turtle. Engage every student in this array of motor exercises for their motor skills. Each of these gross activities for kids helps the kids improve their large-muscle skills.
Learn more: Mrs. Carly Glanzman
Teaching yoga to children is so funny and rewarding. It's a great bonding experience and creative workout. It involves a combination of yoga techniques or positions that aid in stretching the muscles of the body. There's a guide to teaching yoga to children here.
Learn more: Yoga Education Resources
Grab your kids and get them moving and walking funny, like different animals. It'll help them stay active and more energetic. A list of animal walks to guide your activities is here.
Learn more: Fundoor
All your students need for these games are your golf bolas and a ladder. The game is straightforward and will help work your students' gross motor abilities. Check out this tutorial here for more details.
Learn more: Triple S Games
Scavenger hunts are a fun way to promote exercise involving gross motor function. Any middle-schooler can get by running around and finding things. As their skills develop, they can even try climbing the ladder sideways or backward.
Learn more: Learning Life
Hula-hooping and moving around are delightful gross motor activities for middle school kids and are a classic way for kids to have fun. Get your students to compete for who can do it longer. That's bound to have them doing it more fiercely. Here's a simple guide to hula hooping.
Learn more: Deanne Love