The beloved Gruffalo book by Julia Donaldson is a well-loved favorite of many children. The read-aloud is easy to pair with picture book activities and crafts. As you read aloud you can host meaningful conversations and provide many fun extension activities. You can tie this book to all content areas; even pre-writing activities! Check out this list of 25 fun Gruffalo-themed activities for inspiration on where to start.
1. Gruffalo and Friends Finger Puppets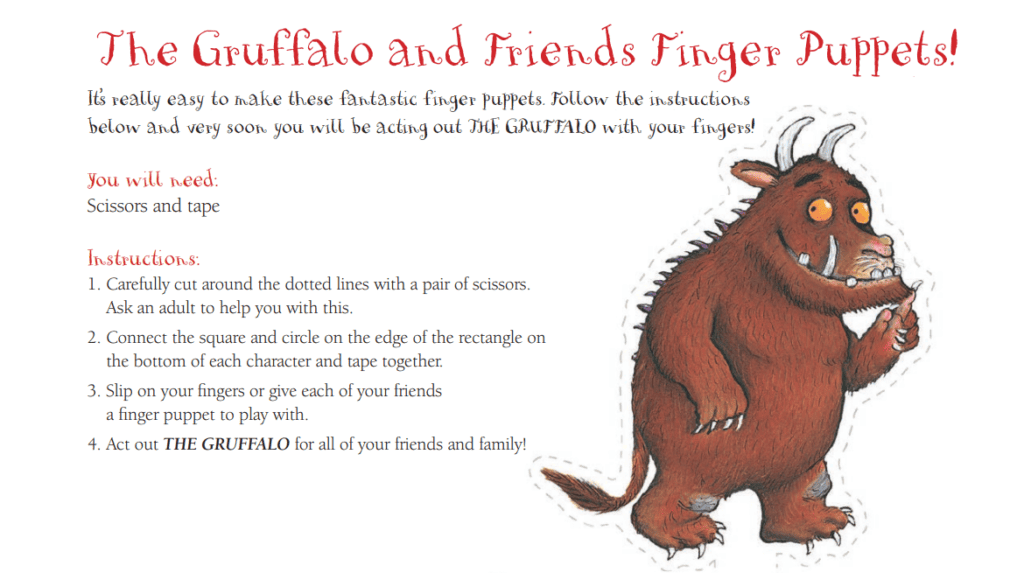 Shared reading activities are great for early readers. These easy-to-print finger puppets make a great addition to a center for students to use to retell the story. Students can use these on their fingers for sequencing story events and the visual guide will be great for all littles who are listening and watching the puppet show.
Learn More: PBS Kids
2. Spot the Differences
Youngsters need time to start noticing the differences between two similar things or images. Select 2 images with only minor differences in each of them. Give your learners time to work out the differences- either alone or in pairs.
Learn More: Words for Life
3. Connect the Dots
Another easy printable; this connect the dots activity is a good way to let students have fun while practicing numeracy. As students practice connecting the dots in number order, they will see that they are also forming a drawing of the Gruffalo. This is a fun and educational way to bring the story to life.
Learn More: Words for Life
4. Gruffalo Mask
Crafts are always fun, but this Gruffalo mask is the best! Creating these is the perfect activity for working on some fine motor practice. Students can color and cut out the mask and then wear their own creations. These are fun to wear when acting out the story through a retelling.
Learn More: Playing With Words 365
5. Gruffalo Sensory Bin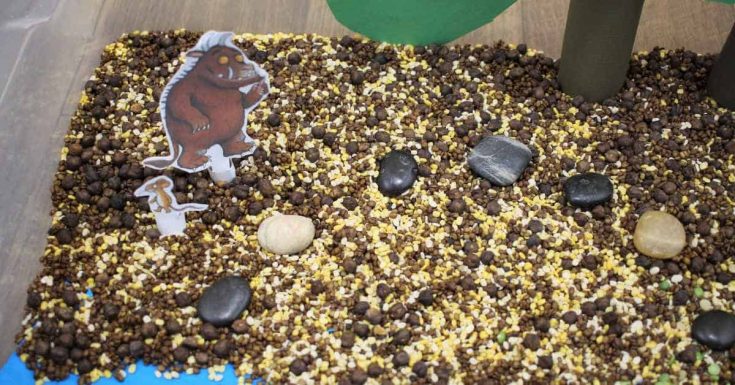 This delightful children's activity is also a great sensory activity. Make this quick and easy sensory bin for students to use in creative play. This would be fun to use for story retelling or just for free play coupled with small printable characters.
Learn More: Virtual Book Club for Kids
6. Play Dough Gruffalo
Brown play dough and a few accessories are all you need to build your own tiny Gruffalo. Let students get creative and remind them to pay attention to the features of the Gruffalo so that they can create something that looks similar to him!
Learn More: Miss O'Neill Junior Infants
7. Gruffalo Match Game
Easily printable character cards from the Gruffalo make for a fun matching game! Let students have a chance to match these characters from the book, and encourage discussion as they play this game. Ask questions about the story and help the student make personal connections with the lessons taught.
Learn More: Playing With Words 365
8. Cereal Box Gruffalo Craft
Save up your cereal boxes for this cute craft! Students can be creative with the materials they use to form the face of the adorable Gruffalo! They can draw or use shredded paper or even felt and buttons. Let them be creative and make their Gruffalo unique!
Learn More: Miss O'Neill Junior Infants
9. Spoon Retell Activity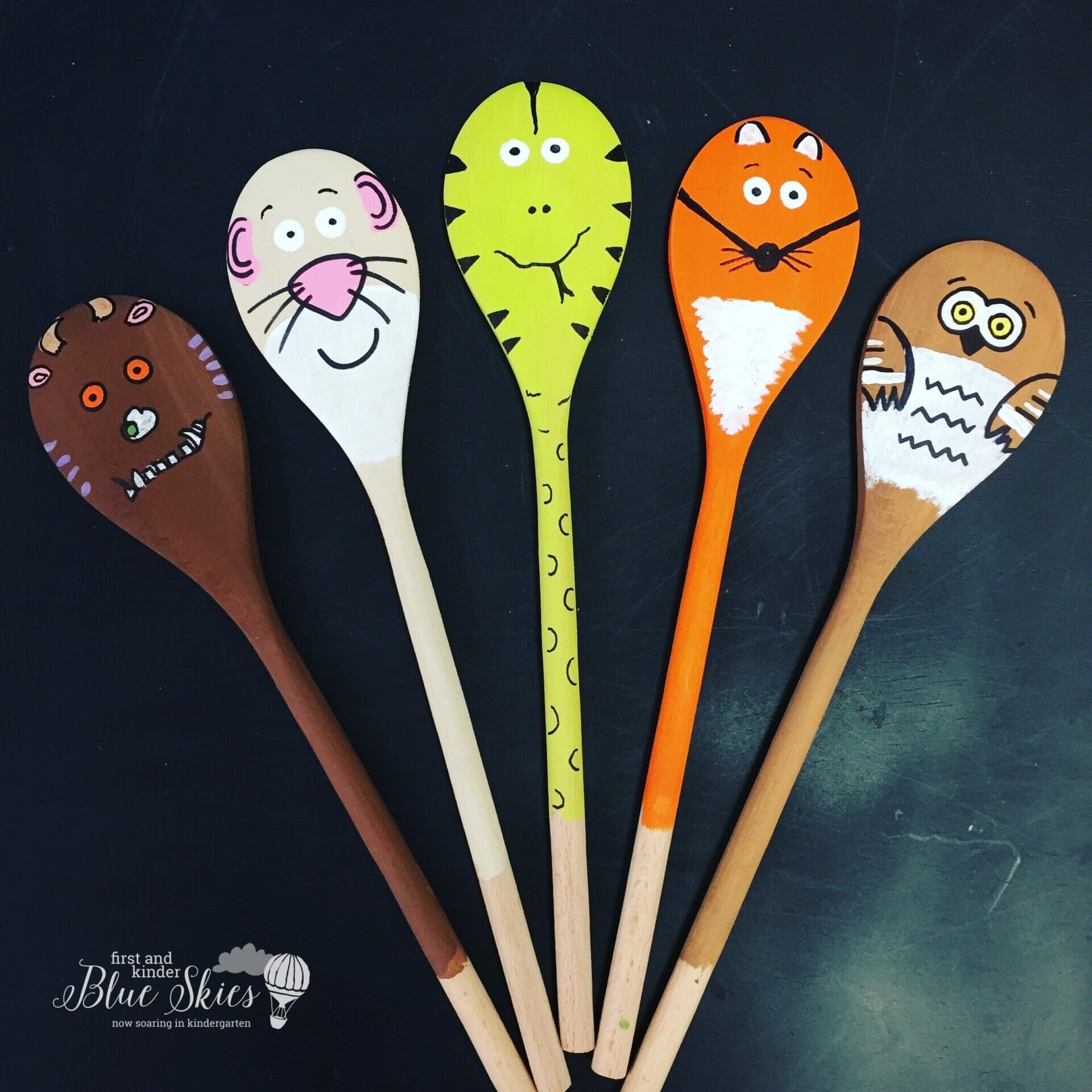 Retelling is a great skill to introduce at an early age. This is helpful in strengthening comprehension skills. Wooden spoons can be painted and decorated as animals for students to use as puppets or individual toys.
Learn More: First Grade Blue Skies
10. Sing the Gruffalo Song
Singing is a great way to enhance the learning experience. This cute  Gruffalo song is a fun and catchy tune that will help the students make connections to the book. Students could even use props to act out the song as they sing it. 
Learn More: ACADEMICUS
11. Word Building Bin
Similar to a sensory bin, this word-building bin is a fun way to let students choose words from the story and find the letters in the bin to form the word on their own. This is a perfect activity for a center for young learners.
Learn More: ACADEMICUS
12. Writing Graphic Organizers
Bring on the writing! These premade sheets will help students with literacy skills by bridging reading comprehension with writing. Students have a space to draw and prewrite, as well as add their own words. You can provide some things for the student to copy, as well as encourage students to write some of their own thoughts.
Learn More: Jodi Durgin
13. Writing Prompts
Creative writing is important because it promotes writing, but it also gives many ideas for prompts that can be used to help stir the imagination and get students started. The bonus is that the Gruffalo-themed paper is too cute! 
Learn More: Jodi Durgin
14. Make Your Own Gruffalo
Making a life-sized Gruffalo may take a bit of time but your students will absolutely love it! Let students help with it! You could also make a life-sized Gruffalo on a bulletin board if you aren't able to make an actual model.
Learn More: Teaching Ideas
15. Coding Activity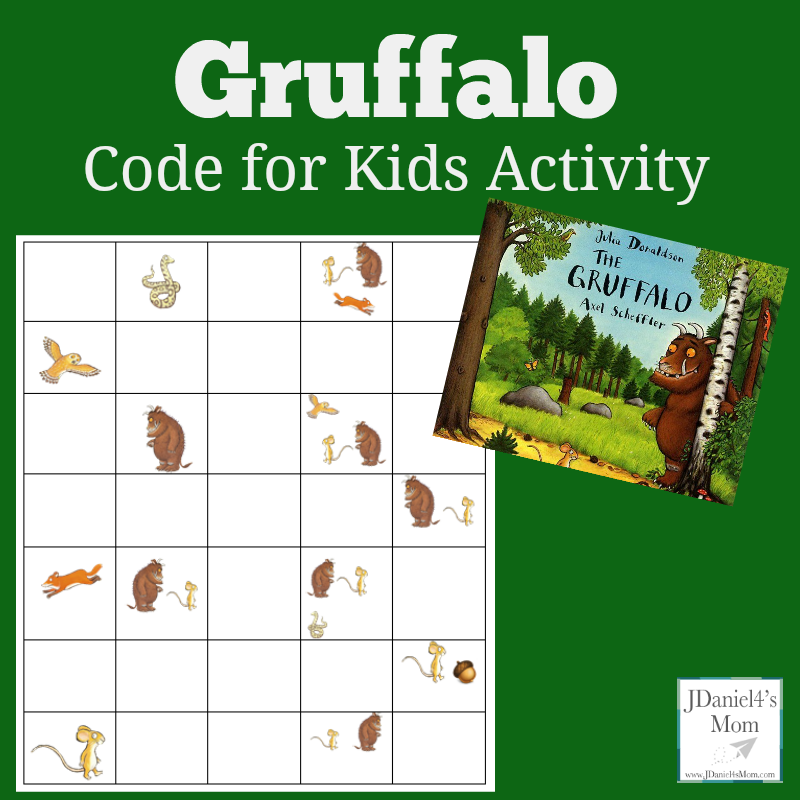 Coding is quickly becoming a fun and popular skill that kids want to learn too! This is a coding activity with a Gruffalo theme. Students will use the book and characters as a guide in this coding activity that will help students learn how to code at a young and developmentally-appropriate pace.
Learn More: JDaniel4's Mom
16. No Bake Gruffalo Cookies
No-bake cookies are always a big hit with teachers and students! Create a big paw print cookie of your favorite forest friend and enjoy your snack afterward! These Gruffalo footprints are sure to be a big hit during reading time or snack time!
Learn More: JDaniel4's Mom
17. Retell the Story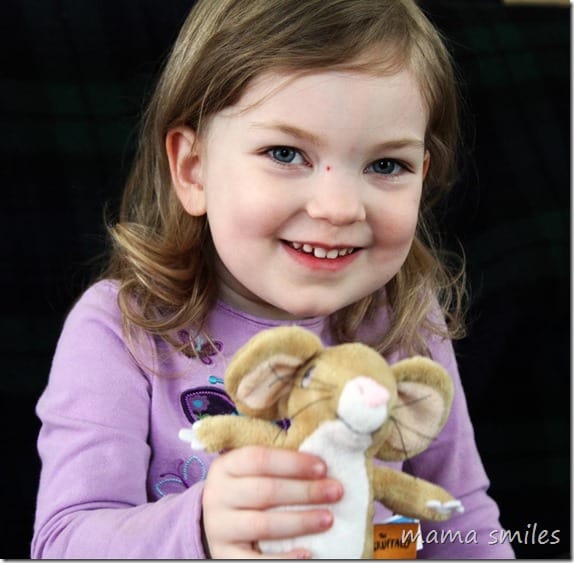 There are so many ways to retell a story. Using a puppet of this beloved character is a great way to spark interest and engagement in your students. Don't forget the clever mouse as well. Students can work together to tell this popular children's story.
Learn More: Mama Smiles
18. Build a Gruffalo Counting Activity
Anytime you can take a children's book and incorporate it into multiple learning areas, it's a huge bonus! This counting activity is a great way to do just that! Students will practice counting, number identification, and adding with this activity.
Learn More: The Lady Birds' Adventures
19. Felt Gruffalo Ornament
This forest animal craft is absolutely adorable! Let your students create a simple, felt version of their favorite little Gruffalo! Easy to make and fun to play with afterward, this little guy would be lots of fun to add to a felt forest board or just for students to play with in a center.
Learn More: The Lady Birds' Adventures
20. Rock Painting
Another simple idea, that's tons of fun, is rock painting! Let students get artistic and paint their own Gruffalo on a smooth rock. This forest animal craft only requires a little paint and a flat rock. This craft is a good one for keeping creativity and imagination at the fore!
Learn More: The Inspiration Edit
21. Gruffalo Face Craft
Give learners a paper plate and let them create their own Gruffalo! They will need small brown pieces of tissue paper and glue! They can add some paper for the eyes and the mouth as well. This adorable craft is a ton of fun and could even be used to create a mask.
Learn More: Glued To My Crafts
22. Directed Drawing
Directed drawing is a great activity for helping students improve their listening skills, fine motor skills, as well as their ability to follow directions. While each one will be adorable and individually unique, these Gruffalo drawings are precious! After they are complete, students can color or paint them! They make the perfect classroom decorations for celebrating forest week!
Learn More: Mrs. Jump's Class
23. Draw and Label Gruffalo Drawing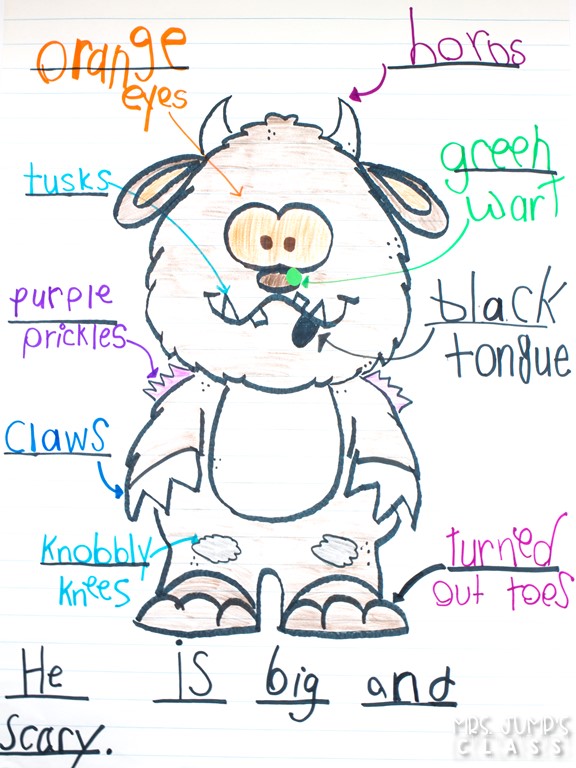 When developing early literacy skills, learning how to label is a key skill. This is a great idea for students who are just learning to write. This anchor chart can be made and done together with the whole class or you can make smaller ones to distribute to students to complete independently.
Learn More: Mrs. Jump's Class
24. Cause and Effect Anchor Chart
This anchor chart is perfect for introducing the skill of cause and effect. Having printable picture cards with example forest scenes from the book is perfect for helping students use the visuals to make connections to the story. Students can begin to see the way cause and effect work from Gruffalo and his friends.
Learn More: Emily Education
25. Character Activity
This character activity is easy for teachers to put together because they can access this awesome premade template. As the students begin to learn more about character traits, they can use words to describe the characters. This graphic organizer is ideal for comparing and contrasting the characters, and it provides a word bank!
Learn More: Schooling With Grace