If you didn't know
Haikus are Japanese poems,
This is a haiku.
This fun list of 40 haiku poems will have your Middle School students writing their own in no time. Haikus are a form of poetry dating back to 9th-century Japan. Haikus are often poems about nature but the beauty of haiku lies in the fact that it can be about anything! You can write a haiku about candy, you can write a haiku about winter. This art form can be used to capture a single moment in your daily life or to capture a moment of illumination.
The haiku format consists of 17 syllables and 3 lines. In traditional haiku, the first line consists of 5 syllables, the second consists of 7 syllables, and the third consists of 5 syllables, also known as the 5-7-5 pattern.
Original haikus often focused on nature, emphasizing simplicity, directness, and intensity.
An old silent pond...
A frog jumps into the pond,
Splash! Silence again.
-Matsuo Basho
Whitecaps on the bay:
A broken signboard banging
In the April wind.
-Richard Wright
Light of the moon
Moves west, flowers' shadows
Creep eastward.
- Yosa Buson
The crow has flown away:
swaying in the evening sun,
a leafless tree.
-Natsume Soseki
Flowers on the ground
Withered, gnarled, turning brown,
Fading back to dust.
Reaching to the sky,
Birds singing in the pine trees,
Home for animals.
-Miss Larson
Splish-splash, puddle bath!
Raindrops march in spring parade-
wake up, sleepy earth.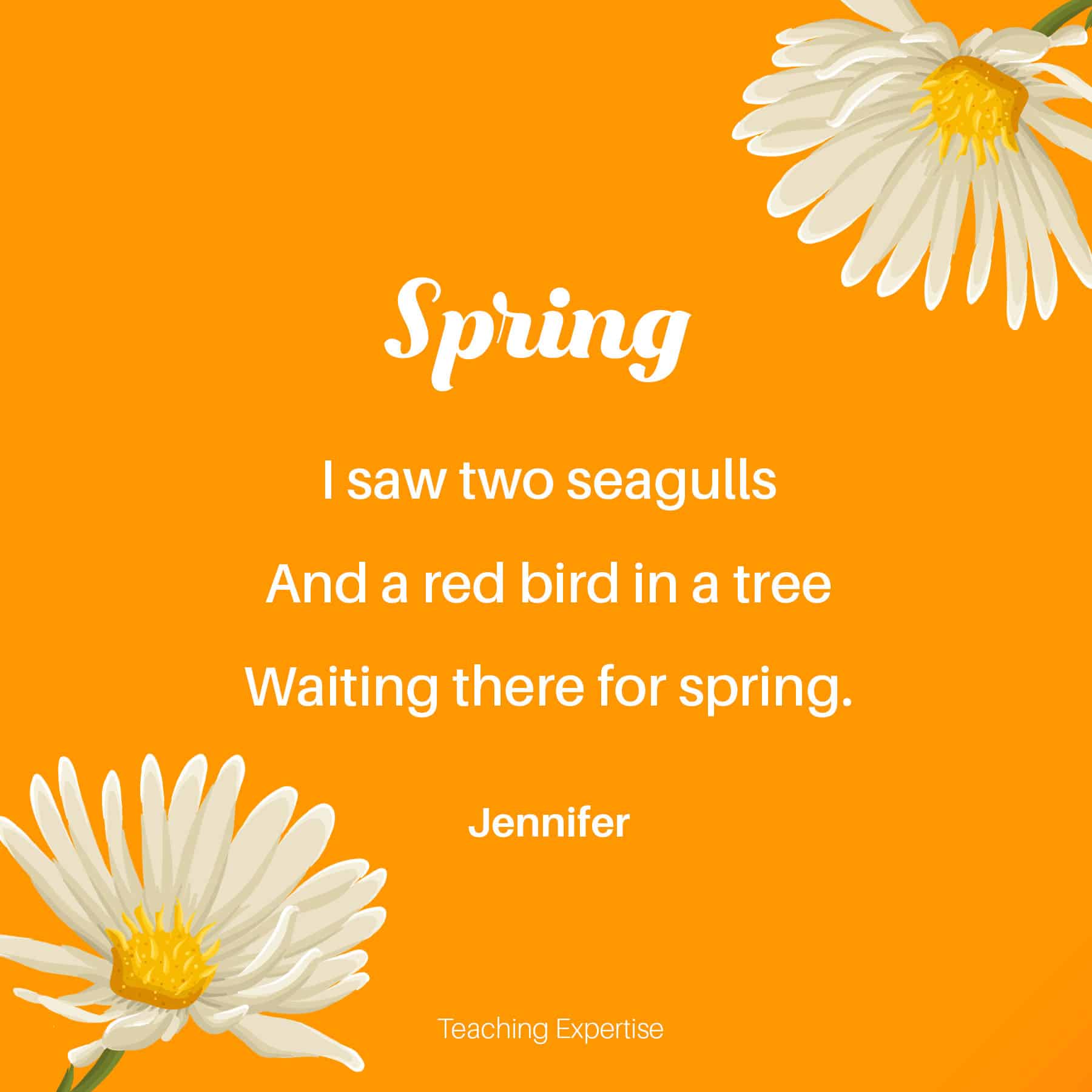 These haikus for children are fun and sweet about recognizable topics children can relate to. Incorporating haikus into your language program can help your students learn about different forms of poetry and syllables. It's a fun way to get your students to be creative and learn while having fun.
From underneath the
leaf pile, my invisible
brother is giggling.
Easter bunny hides
Easter eggs are out of sight
Kids look everywhere.
A balloon caught
in the tree- dusk
In Central Park zoo.
-Jack Kerouac
Butterflies are cool
in the big, huge, green forest.
They fly up so high!
Forever waiting...
The empty food bowl taunts me.
Well? Where's my dinner?
26. Goldfish From The Fair
Ten cents wins a fish,
Ten bucks buys a bowl and food.
Dead the next morning.
Sand in my swimsuit
Sunburn on my nose and back
Vacations are hard.
I love my Pillow.
My alarm clock is beeping.
No, no, no, no, no.
Saddle a wild horse
to jump on its back swiftly
else it rides on you...
Playing in puddles
and muddy clothes by day end
how will you face mom?
35.  Peanut Butter and Jelly
Green and speckled legs,
Hop on logs and lily pads
Splash in cool water.
You use computers,
IPods, mobiles, cameras.
Why not write letters?
Islands and islands
Scattered across the oceans
How many exist?