You're in for a bout of spooktacular fun with our collection of 31 Halloween activities that are centered around team-building! From thrilling mazes and bone-chilling challenges to mesmerizing storytelling and pumpkin-inspired games, these activities are designed to bring your students together in the spirit of camaraderie and celebration. Join us on a hair-raising journey as we create unforgettable memories, foster collaboration, and embrace the eerie excitement of Halloween!
1. Halloween Candy Corn Tower Challenge
Can your kiddos reach new heights and create a masterpiece before the time runs out? Find out by challenging them to work together and construct the tallest tower using only candy corn and toothpicks. With a ticking clock and the pressure mounting, their creativity and problem-solving skills will be put to the test!
Learn More: Little Bins For Little Hands
2. Spooky Pumpkin Seed Spitting Contest
Step right up and show off your spitting skills! In this hilarious team competition, students will gather around a designated area and take turns spitting pumpkin seeds as far as they can. The air will be filled with laughter and cheer as they aim for the longest distances. Who will be crowned the pumpkin seed spitting champion?
Learn More: Party Games Now
3. Ghostly Scavenger Hunt Adventure
Prepare for an eerie and thrilling scavenger hunt like no other! Teams will embark on a ghostly quest as they follow mysterious clues and riddles that will lead them to hidden treasures. As they navigate through haunted halls and spooky corners, their teamwork, problem-solving, and communication skills will be put to the ultimate test.
Learn More: Twinkl
4. Wicked Witch Escape Room Challenge
Calling all master puzzle solvers! Students are to be locked in a room with a wicked witch-themed escape challenge to solve. They must work together to crack codes, decipher clues, and solve mind-bending puzzles to escape before the witch casts her spell. The clock is ticking, tensions are rising, and their collaboration and critical thinking will determine if they can outsmart the witch and break free!
Learn More: 60 Out
5. Mummy Wrap Relay Race
Get wrapped up in the excitement of a mummy wrap relay race! Students will form teams and take turns wrapping their teammates in toilet paper from head to toe; transforming them into mummies. The catch? They must move as quickly as possible when passing the wrapping duties to the next team member. The team with the fastest and most well-wrapped mummy wins the race!
Learn More: YouTube
6. Haunted House Building Challenge
Unleash your learners' architectural prowess in a spooktacular haunted house-building challenge! Working together, students will use craft materials to construct the most haunted and creatively designed house. From creaky doors to creepy windows, their imaginations will run wild as they bring their haunted houses to life.
Learn More: Artsy Momma
7. Skeleton Limbo Showdown
Bend, twist, and limbo your way through the spine-chilling skeleton limbo showdown! Students will form teams and take turns shimmying under a suspended skeleton, progressively lowering the bar. As the music plays and the suspense builds their flexibility, coordination, and teamwork will be put to the test. Who will emerge as the ultimate limbo champion?
Learn More: Oriental Trading
8. Zombie Tag
Prepare for a heart-pounding game of zombie tag! One student will be the "zombie" and attempt to tag the other students- turning them into zombies. The remaining students must use their agility and teamwork to avoid the zombie's clutches and survive.
Learn More: PE With Mr. G
9. Witches' Brew Relay
Get ready to stir up some magical concoctions in a witches' brew relay! Students will work in teams, racing against the clock to transfer mysterious ingredients from one cauldron to another using spoons or ladles. But beware- any spills or mishaps may result in a potion catastrophe!
Learn More: Spaceships and Laser Beams
10. Pumpkin Decorating Extravaganza
Transform ordinary pumpkins into extraordinary masterpieces in a decorating extravaganza! Teams must be provided with pumpkins and a variety of decorating materials. With paint, markers, stickers, and other spooky embellishments, they can let their imaginations run wild!
Learn More: Meaningful Mama
11. Monster Mash Dance-Off
Get your dancing shoes on and prepare for a ghoulishly good time! Students will form teams and choreograph spooky dance routines to Halloween-themed music. They'll let loose and showcase their best monster moves in a thrilling dance-off. With creativity, coordination, and teamwork, which team will impress the judges and claim the title of the Monster Mash champion?
Learn More: Facebook
12. Haunted Charades
It's time to put your acting skills to the test in the Haunted Charades challenge! Students must work in teams- taking turns acting out Halloween-themed words or phrases without speaking. From eerie creatures to classic horror movies, their gestures and pantomimes will bring the words to life.
Learn More: Mom On The Side
13. Pumpkin Bowling
Who can get a perfect strike or get a hauntingly close spare? Find out as students participate in a thrilling game of pumpkin bowling- using small pumpkins as bowling balls and ghost-shaped pins as targets. With the strategic aim and teamwork, learners must try to knock down as many ghost pins as possible.
Learn More: Mom Brite
14. Mysterious Maze Challenge
Enter the mysterious maze and put your students' problem-solving skills to the test! Teams must navigate through a maze as they solve Halloween-themed challenges and riddles along the way. By collaborating, communicating, and thinking critically, they'll unravel the mysteries of the maze and reach the final destination.
Learn More: Twinkl
15. Spider Web Obstacle Course
It's time to conquer the spooky spider web obstacle course! Students must work together to navigate through a web of ropes and obstacles; testing their agility, balance, and teamwork. They'll need to crawl, climb, and swing their way to the finish line; avoiding the sticky traps set by the resident spiders. Can they conquer the web and complete the course in record time?
Learn More: Messy Motherhood
16. Witches' Hat Ring Toss
Channel your inner witch and aim for the perfect toss in a round of witches' hat ring toss! Students can take turns tossing rings onto tall, pointed witches' hats. With focus, precision, and a bit of magic, they can score points based on their accuracy.
Learn More: Fun365 Oriental Trading
17. Halloween Trivia Challenge
Test your knowledge of all things Halloween in this thrilling trivia challenge! Students can team up and compete to answer Halloween-themed trivia questions. From history and folklore to movies and traditions, their Halloween expertise will be put to the test!
Learn More: Parade
18. Candy Corn Spoon Race
Get ready for a sweet and thrilling relay race! Students can form teams and balance candy corn on spoons held in their mouths as they race from one point to another. The team that successfully completes the course without dropping their candy corn will be declared the victors.
Learn More: I Dig Pinterest
19. Ghost Storytelling Circle
Gather around an imaginary campfire and prepare for spine-tingling ghost stories! Students can form a storytelling circle and take turns sharing their most haunting and suspenseful tales. With vivid descriptions and captivating narratives, they can transport their listeners to a world of ghostly encounters and mysterious happenings.
Learn More: Country Living
20. Wicked Witch Potion Mix-Up
Get ready to concoct some magical potions! Students will form teams and use their creativity and imagination to mix various ingredients and create their own witch's brew. With cauldrons, potions, and a touch of whimsy, they'll be able to showcase their potion-making skills and present their unique concoctions to a panel of judges.
Learn More: Tiny Beans
21. Creepy Cryptogram Challenge
Imagine this thrilling adventure: An aged scroll and your group, huddled together under a flickering candlelight. The goal? Crack the cryptogram code leading to a hidden Halloween treat!
Learn More: ESL Printables
22. Graveyard Treasure Hunt
Embrace the thrill as you step into a moonlit graveyard and embark on a mission to decipher cryptic riddles leading to a hidden treasure.
Learn More: Talk Death
23. Cauldron Tug-O-War
Picture the tug-of-war battleground: Two groups, their determination visible, pulling at a giant cauldron filled with Halloween sweets. The team who manages to pull the cauldron over the middle marker wins!
Learn More: Ravenox
24. Halloween Costume Design Race
A box of odds and ends and a stopwatch is all you need to host a costume design race. Challenge your students to use their collective creativity to craft a costume that Frankenstein would find enviable.
Learn More: Family Handyman
25. Haunted Painting Contest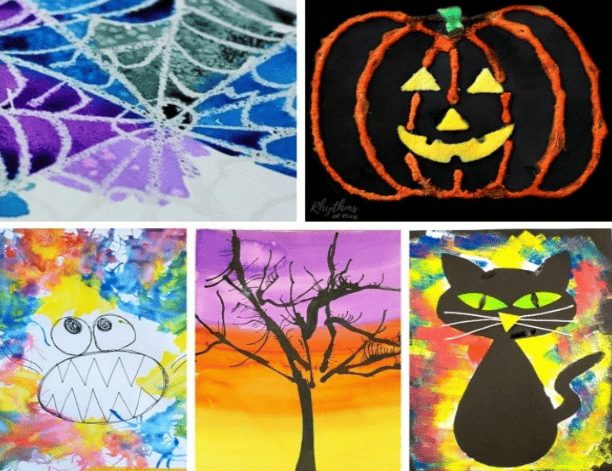 Craft a collective masterpiece that represents your team's Halloween spirit! Learners will team up and be equipped with blank canvases, paints, and brushes. The finished artwork can be proudly displayed on the classroom walls to bring the Halloween spirit to life at the beginning of the Fall season.
Learn More: Rhythms Of Play
26. Jack-o'-Lantern Pantomime
What if your group could weave a story of a humble pumpkin transforming into a Jack-o'-Lantern, using only their bodies and expressions? Get them to traverse the grounds of non-verbal storytelling by putting on a pantomime; sparking laughter and connection while showcasing each individual's unique expressiveness.
Learn More: Abby The Librarian
27. Magic Broomstick Races
Imagine- broomsticks in hand and laughter bubbling forth as groups race toward victory! Have your students mount their brooms and gallop around a circuit as they pass the broom like a baton to their awaiting teammates.
Learn More: Made By Joel
28. Creepy Creature Creation
Spooky creatures are the epitome of all things Halloween! Have your learners design their own using clay and assorted crafting materials. The team with the goriest creature can win a prize!
Learn More: Celebration Elevation
29. Frankenstein Relay Race
Have your learners embody the iconic Frankenstein movements as they use them to shuffle and stomp across a field in relay race fashion.
Learn More: Party Game Ideas
30. Spooky Spider Web Craft
Up the ante with a crafting competition! Pair learners up and have them compete to craft the largest spider web using only a spool of string. The finished products can be used to decorate the classroom or even adorn a haunted house!
Learn More: Awesome With Sprinkles
31. Black Cat Hot Potato
Put a twist on the classic game of hot potato! Position students in a circle and have them toss a black cat figurine back and forth as quickly as possible and without dropping it.
Learn More: YouTube